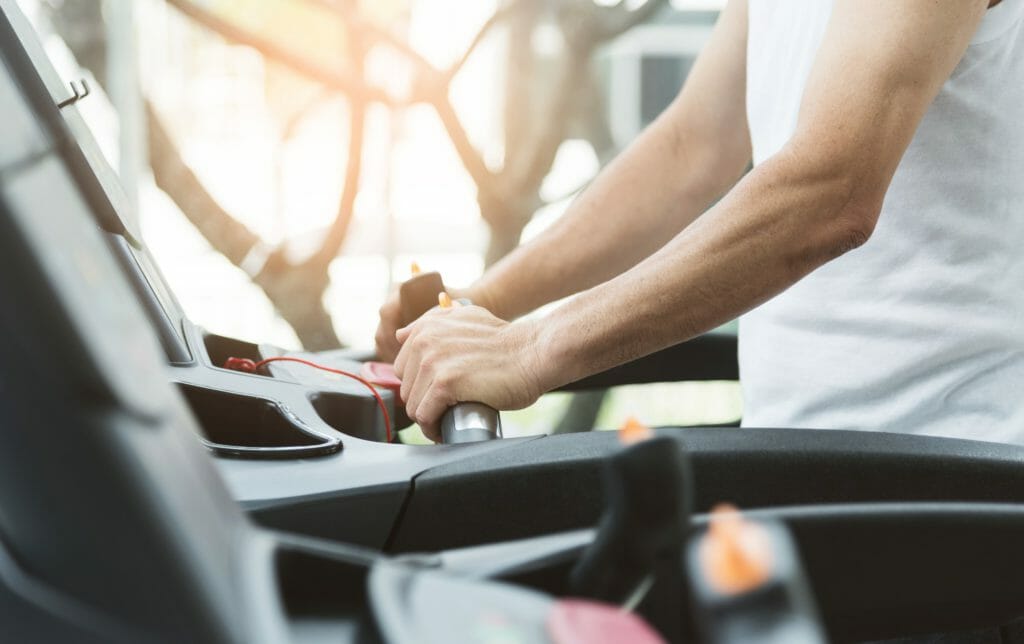 LifeSpan Fitness has made a name for themselves by offering innovative fitness machines that are well-built and easy to use –  and their TR2000e fits their mold nicely. 
The TR2000e is a moderately priced folding treadmill that comes with a nice combination of performance specs and features. 
Highlights of this model include 21 built-in workout programs, automatic folding with the push of a button, and a great warranty.
While the size and strength of the TR2000e make it a smart choice for walking and moderate jogging, serious runners may want to consider a more powerful machine.
That said, if you're looking for a quality treadmill that is really easy to fold, the TR2000e might just be what the doctor ordered.
But before you buy it's important to do your homework and make sure it's the right fit – and that's where this review comes in.
In this article, we'll talk about everything you need to know about this treadmill so you can decide whether or not it's the right treadmill for your home gym.
Let's get started!
The LifeSpan Fitness TR2000e Electric Folding Treadmill 
LifeSpan Fitness has been around in the market since 2001, offering a full-range of gym equipment for every level. Whether you're looking for residential, commercial, or medical-grade fitness machines, this reputable company likely has something to fit your needs.
LifeSpan Fitness is known for combining sophisticated programming with high-quality parts. It's like getting a solid machine from luxurious brands at a fraction of the price you'd expect.
If you're into high-tech specs, LifeSpan Fitness is a brand you shouldn't miss.
LifeSpan Fitness has some striking offerings that have made them a favorite when it comes to home fitness equipment.
Their units are foldable, have more safety features, and make unique calculations (like basal metabolic rate and body fat percentage) for your progress metrics.
What I especially like about LifeSpan Fitness is their treadmill desks. I find them revolutionary in the fitness industry.
The TR2000e is one of LifeSpan Fitness' home-use, folding treadmills. Its family includes the TR1200i, TR3000i, TR4000i, and TR5500i.
LifeSpan Fitness' home treadmills share many of the same basic features. All are equipped with smart innovations for both beginners and seasoned runners.
It's loaded with the brand's Intelli-Guard™, Intelli-Step™, and Intelli-Key™ technologies, resulting in a safer, easier, and more user-friendly workouts.
They're also packed with variable speeds and incline levels. These are perfect for intense caloric burn sessions at home, but we'll talk more about this later.
LifeSpan Fitness' TR2000e machine highlights the following:
Pros
Electronic foldable frame

2.5 CHP motor

8 individual shock absorbers

15 incline levels

11 mph max speed

21 onboard programs

6" blue backlit LCD

Pulse grip sensors

Bluetooth-ready

AUX port

Speakers

Downloadable data storage

Front and back transport wheels 

300 lb max user weight capacity

Great warranty coverage
Cons
Small running surface

Not powerful enough for serious running
Running Surface
Let's take a closer look at one of the most important factors you should consider on a treadmill – the running surface.
Running surfaces are important because they relate directly to your comfort level during use. This measurement refers to the dimensions of the tread belt and are measured in inches (W x L).
The gold standard for home treadmills is 20" x 60". It's the best belt size that can accommodate both short and tall users. It has enough legroom for you to move freely, whether walking or sprinting.
LifeSpan Fitness' TR2000e treadmill has a running surface of 20" x 56". This is a little short compared to the 60″ length we like to see, but it should be able to accommodate most users that are less than 6 feet tall.
If you're taller, however, the TR2000e might make you feel a little cramped when running at faster speeds. You may need to shorten your stride, which is very awkward especially for sprinters.
For this reason, if you are 6′ or taller, you may want to consider a longer treadmill (unless you plan to stick to walking and jogging, in which case you'll probably be just fine).
The TR2000e has a durable frame. It can accommodate users weighing up to 300 lb.
The max user weight data is one way to size up how durable the frame is. For this price range, a 300 lb weight limit capacity is pretty average, but definitely high enough to accommodate most users.
However, there are many models out there with a higher user weight threshold.
The TR2000e also features additional user protection with its non-slip plastic side rails. They provide balance and safety while starting and stopping the treadmill belt.
Additionally, this machine comes with Intelli-Guard™. It's a patented feature from LifeSpan Fitness that ensures safety by automatically pausing the belt 20 seconds after you step off the treadmill deck.
These are things you don't often see from other brands. Knowing that LifeSpan Fitness has their client's safety in mind, this makes me feel especially reassured by their products.
As mentioned earlier, one of the admirable offerings in LifeSpan Fitness' machines is its space-saving features. The TR2000e is compact, occupying a floor space of 71″ L x 33″ W x 56″ H. When folded, it only measures 50″ L x 33″ W x 56″ H.
Now if you are living in a tight apartment or have a small gym space at home, you'll likely appreciate this. You can easily fold it up once you're done.
Its powered lift system lets you fold or unfold the machine automatically with a touch of a button. It's all electronic so you don't need to worry about lifting any heavy decks.
It has 4 front-mounted and 2 rear-mounted wheels for convenient, all-direction mobility, making it one of the easiest treadmills to store.
Overall, the TR2000e has a decent yet short tread size that may be uncomfortable for taller users and sprinters. On the good side, it makes this machine more compact which is great for those trying to save space.
Motor
Another important factor to consider when looking into treadmills is the motor. It's measured in horsepower (HP) or continuous horsepower (CHP). Higher CHP is usually preferred because it produces a smoother experience during use.
For residential use, aim for at least 2.0 CHP if walking is your goal. For more serious running, it's a good idea to shoot for at least 3.o CHP.
Keeping this in mind, the TR2000e has a 2.5 CHP motor. This should be plenty of power for walking and jogging, but it does fall a little short of the 3.0 CHP recommended for running.
 Most users do agree that it has a fluid operation. It doesn't crank or hiccup during use and most people are happy with how smooth and quiet it runs.
A 2.5 CHP motor is great for people in the beginner to moderate level of fitness. More elite athletes (or people looking to put a lot of running miles on their treadmill) will be better off with a more powerful motor.
The TR2000e has a top speed of 11 mph, which is a little slower than the 12 mph max speed of stronger machines.. Not everybody can run at this speed, but it's a good option in case you're up for the challenge.
It also comes with 15 levels of incline. Combining both speed and incline gives you a lot of workout variety. You can start with light exercises and build your way up to medium and heavy routines.
Incline levels are ideal for low-impact workouts. Walking at an incline lets you burn as many calories as running, without hurting your joints. 
But it's not really a problem with the TR2000e as it's a joint-friendly exercise machine because of its 8 independent compression shocks. They help provide a safe and reliable cushioning for your knees, backs, and joints.
Overall, the TR2000e has enough muscles under the hood to support light to medium exercises. It has a variety of speed and incline levels to fine-tune your training.
Features
The TR2000e has the following features:
6″ backlit LCD: The 6″ blue backlit display offers simultaneous readouts for all your workout data. It looks pretty neat and reader-friendly. You can see your exercise program, profile, and personal data from a USB device.
Console readouts: It shows your steps, distance traveled, time of day, calories burned, and heart rate.
21 workout programs: This treadmill offers a lot of workout programs to choose from. To be specific, it has 2 heart rate programs, 2 customized user programs, and 17 preset programs (5 weight management, 5 healthy living, 7 sports training).
Bluetooth: Its optional Bluetooth offering enhances your workout by playing music, podcasts, or movie wirelessly from your phone.
USB plus: You can charge your mobile devices, but this feature doesn't work on the iPad.
Quick set buttons: These buttons are very convenient. They allow you to instantly set the speed and incline to certain values by simply pressing a button.
Contact heart rate sensors: For cardio monitoring, the grip heart rate sensors are located in the handlebars. This treadmill is also compatible with chest strap monitors, but one isn't included.
Intelli-Step™: It's a built-in pedometer that automatically keeps track of all your steps while on the treadmill.
Media holder: There's a media holder integrated into the console. However, you'll block your view of your display screen if you place a tablet or book there.
Assembly
Assembling the LifeSpan Fitness TR2000e treadmill is pretty easy.
It comes pretty much assembled. You just have to add the finishing touches like attaching other minor parts and tightening some screws.
Most users didn't have any problem with putting up the machine. They were even surprised to get it done in under an hour.
With its reader-friendly manual and pre-assembled package, I'm sure the assembly process for the TR2000e won't challenge you as much. Just make sure to have someone to assist you as treadmills can be really heavy to unpack.
Warranty
 LifeSpan Fitness protects its TR200e treadmill with the following warranties:
Frame: Lifetime

Motor: Lifetime

Parts: 5 years

Labor: 1 year
This unit has one of the best warranty offerings in this price category. This just shows how LifeSpan Fitness has so much confidence in their products.
You can't beat the lifetime warranties on both frame and motor for the TR2000e. 5 years on parts is pretty solid, while 1 year for labor is pretty standard operating procedure.
In terms of the warranty, the TR2000e has bested other higher-end models with mediocre offerings. Overall, this is a great warranty.
Final Thoughts
LifeSpan Fitness' TR2000e Electric Folding Treadmill is great if you're looking for a compact treadmill that'll last you for years.
Due to the size of the motor and running surface, I would say this treadmill is best suited for beginners to moderate level users who are into lower-impact exercises.
I love that the TR2000e comes with so many built-in workouts to choose from and the automatic folding feature is pretty unique.
The warranty on this treadmill is gonna be hard to beat too, especially at this price range.
Overall, if you fit the size requirements, the TR2000e is a nice choice. If it had a stronger motor and a larger deck, it probably would've made my list for the best home treadmills available.