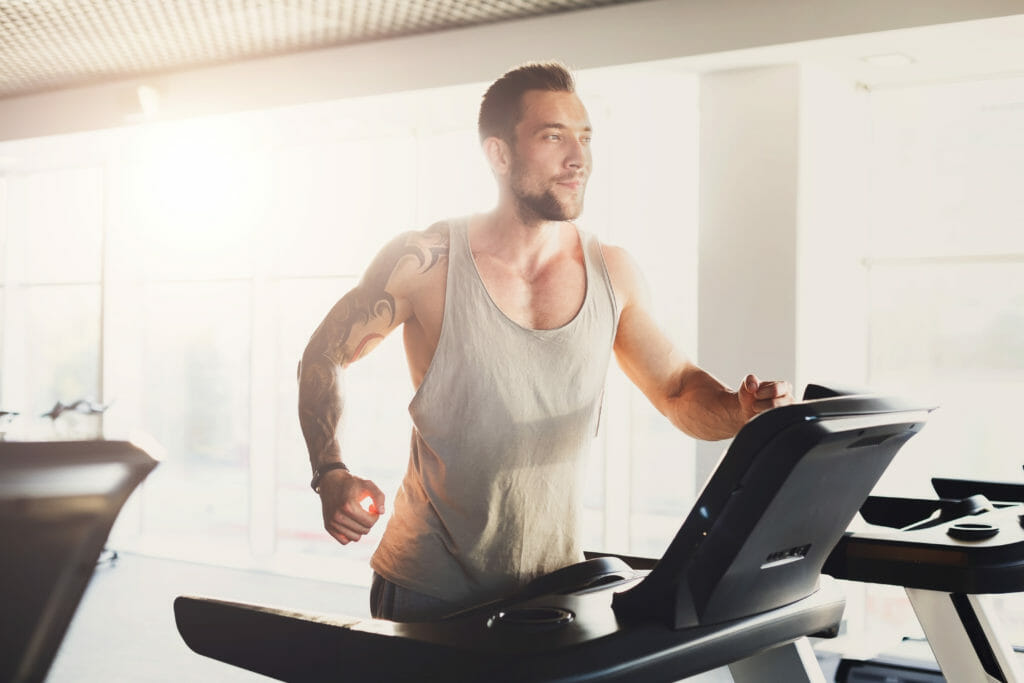 The LifeSpan Fitness TR5500iM Folding Treadmill is heavy-duty enough for serious runners, yet compact enough when folded to fit in many smaller living spaces.
In other words, the best of both worlds when it comes to home treadmills.
In a nutshell, the TR5500iM is powerful and feature-rich.
It has everything a serious runner would want in a residential treadmill, like a large running surface (22" x 60") and a powerful motor (4.0 CHP).
Combine that with a top speed of 13.5 mph, 13 incline and 2 decline levels, and 50+ onboard workout apps, and the TR5500i is a very promising unit and can offer a variety of training options for your home gym.
But is this the right treadmill for your home gym?
Well, that's what we're aiming to help you answer with this review.
In this article, we'll go over all the in's and out's that make the TR5500i what it is. After reading, you should know everything you need to in order to make the right decision.
The LifeSpan Fitness TR5500iM Folding Treadmill
LifeSpan Fitness is an exercise equipment manufacturer based out of Utah. They've been on the scene since 2001 and have provided many high-quality machines at competitive prices. 
Regardless of fitness level, body size, or budget, LifeSpan Fitness can likely offer a model to fit your needs.
Their units have high standards and are equipped with safety features, which I find especially valuable to elder users or those with kids at home.
LifeSpan Fitness is famous for their TR4000i.
It's their award-winning unit that features premium qualities at an affordable price. They also have several under desk treadmills that can help professionals stay fit while working.
Their customer support has also earned commendable reviews from users. Their machines typically have lifetime protections for frame and motor and generous warranties for their parts and labor.
The TR5500iM is their heaviest-duty residential treadmill to date and comes with the following features:
Pros
Foldable frame

Large workout area (22″ x 60″)

Powerful motor (4.0 CHP)

Large rollers

Top speed 13.5 mph

13 incline levels

2 decline levels

50+ built-in workout programs

10" full-color touchscreen display

Screen mirroring

Contact pulse sensors 

Heart rate telemetry-enabled

Dual Bluetooth speakers

3-speed cooling fan

350 lb max weight capacity

Excellent warranties
Cons
Chest strap not included

Media holder blocking the console display
Running Surface
When comparing treadmills, I always begin with the running surfaces.
The running surface is the belt size or deck area of the treadmill. It's the space where you'll run or walk. Its dimensions are measured in inches and usually written as "width x length".
A good treadmill should have a spacious running surface so you can comfortably and safely move around. This is especially important for sprinters as they don't have to shorten their stride when running at faster speeds.
If the running surface is too narrow, you'll feel cramped- kinda like you might fall off if you sway a little side to side.
If it's too short, you'll be conscious about your stride length (especially when running at faster speeds).
The ideal belt size for most users is at least 20" x 60".
At this size, most people should have enough legroom and elbow room. You can comfortably do your routines without worrying about running out of space. 
The TR5500iM has a running surface measuring 22" x 60".
It's a bit wider than our ideal size, which is great for more elbow room. After all, I've never heard anyone complain about a treadmill being too spacious.
This length is also long enough to accommodate tall users or those with longer legs. It lets you run at top speeds and incline levels comfortably.
When it comes to the frame, the TR5500iM is a heavy-duty machine that can hold users weighing up to 350 lb. It has surpassed the standard capacity of 300 lb that many home units come with. 
Having a higher weight limit capacity is nice because more users can use the machine safely.
Also, they'll feel safer and more confident working out on a machine that doesn't feel like it's gonna snap in half during a run.
The TR5500iM is well-cushioned with its 8 independent compression shocks. This technology helps reduce the impact on your joints and improves your recovery rate after exercise. 
Outdoor runners may enjoy how the TR5500iM feels better and softer with every step. It also comes with a 1" thick deck to simulate real-world conditions.
This treadmill is a good option if you want to exercise but have sensitive joints- the thick deck and shock absorbing system can help reduce any unwanted compression forces.
Additionally, the TR5500iM has an isolated frame that supports the running surface and console uprights independently. It eliminates the vibration to the touchscreen as you run, walk, or sprint.
This treadmill isn't really that compact during use though.
Unfolded, it measures 73″ L x 34.5″ W x 55.5″ H. Fortunately, the TR5500iM is foldable though, which significantly reduces that footprint when not being used.
The TR5500iM measures 40.5″ L x 34.5″ W x 65.5″ H when folded, cutting the length nearly in half.
With LifeSpan Fitness' unique EZfold™ technology, you won't exert that much effort when folding the treadmill. But if you fancy treadmills that automatically folds and unfolds itself with a touch of a button, their TR2000e might interest you.
The TR5500iM has 2 Front-mounted and 2 rear-mounted wheels for easy forward/backward transportation and storage. 
Overall, the TR5500iM has an impressive deck and frame features. It has a spacious, joint-friendly, and foldable deck that's mounted to a very sturdy frame.
Motor
Motor strength directly affects the operational quality of your treadmill. It's the motors job to provide a fluid and smooth workout.
Generally speaking, a strong motor doesn't have to exert as much effort when working (when compared to a weaker motor). Thus, treadmills with more powerful motors tend to operate more smoothly (and more quietly).
In other words, higher is better when it comes to horsepower.
Most home treadmill motors range anywhere from 2.0 to 4.0 CHP.
The TR5500iM falls near the top of this range with its 4.0 CHP motor.
This makes it an ideal training machine for serious runners and professional athletes looking for a little more muscle under the hood.
It's noted to run smoothly and quietly. It doesn't hiccup especially when running at higher intensities.
Having this much muscle under the hood, it makes sense that the TR5500iM has a top speed of 13.5 mph.
Which is great considering most units max out at 12 mph.
It's amazing if you can run at this speed, but if not, having a wider speed option is still great. You can use the available high-speed intervals later on.
The TR5500iM also comes with 13 levels of  incline and 2 levels of decline.
These are perfect for when you want to add some variety to your routine or condition your body for a hiking or trailing event. 
Not all machines have decline capabilities, so it's nice that the TR5500iM can accommodate both uphill and downhill training.
Rollers are responsible for propelling the belt down the deck.
Larger rollers are preferred because they make more contact with the belt, which makes for smoother operation, but also prolongs the life of the rollers, belt, and motor.
Many affordable units have 1.9" rollers, but the TR5500iM takes a step above the competition with its 2.5" front and 2" rear rollers.
This is pretty good considering most high-end treadmills come with rollers in the 2.5″ – 3″ range.
Overall, the TR5500iM proves to be a solid contender in its league with its very powerful motor.
It's suitable for both newbie and professional runners. It also offers a variety of training challenges with its speed, incline, and decline levels.
Features
The TR5500iM is feature-rich and comes with the following offerings:
10" full-color touchscreen: Its LCD is larger than most units at 5" or 7". I like large touchscreens because it's easier and more comfortable to monitor your training parameters like speed, time, distance, inclination, heart rate, calories burned, and etc. You can swipe through its 3 dashboard views (graph view, gauge view, and track view). 
50+ built-in programs: It has so many training options, it's doubtful you'll ever get bored here. It has one of the most comprehensive built-in programs I've encountered. You can workout daily without repeating the same routine. It has sports training, weight loss, healthy living, heart rate, and decline training programs available. Two program slots are available for user-designed workouts as well.
Intelli-Step™: It works like a pedometer that automatically counts your steps.
Intelli-Guard™: It's a safety feature specific to LifeSpan Fitness. It automatically pauses the belt 20 seconds after you step off the treadmill deck.
Dual Bluetooth speakers: A wireless connection is possible with the TR5500i for audio motivation, giving you the ability to listen to your workout tunes wirelessly through the treadmill.
Contact pulse sensors: You can get real-time cardio readings by gripping the contact pulse sensors located on its handlebars. It's also telemetric (wireless heart rate monitoring) which is better and more accurate than grip pulse monitoring. However, the chest strap is sold separately.
3-speed cooling fan: It comes with a 3-speed setting to keep you cool and comfortable. 
Screen mirroring- you can screen mirror your phone to the console and watch your favorite YouTube videos during workouts.
Media holder: You can place your phone or tablet with its dedicated media tray, but this can instantly block your console display. 
Assembly
The TR5500iM is pretty easy to assemble. 
The package consists of a pre-assembled body, a basic toolkit, and a manual. The assembly instructions are clear and straightforward, so they're simple to follow.
You'll be responsible for attaching the uprights, adding the handlebars and console, and attaching the water bottle holders.
That's about it.
It's a pretty basic assembly process and it should be finished in an hour or less (depending on how skilled you are of course).
As a piece of advice, have someone else to help you in putting up the treadmill. The machine is heavy at around 271 lb unpacked, and it may be difficult to unpack all by yourself. 
Warranty
LifeSpan Fitness protects their TR5500iM with the following home warranties:
Frame: Lifetime

Motor: Lifetime

Parts: 5 Years

Labor: 2 Years
This is one of the best warranties I've seen for a treadmill in this price range.
The lifetime warranty for both frame and motor is inarguably awesome. I like lifetime warranties because they make me feel more secure when buying any product.
It reassures you that the frame and motor and designed to last- no need to worry about outrunning this beast.
Lifetime warranties are also a great way to know that the company has a lot of confidence in their product.
The 5-year warranty on parts and 2 years on labor are pretty great too. Most machines in this price range offer a 2 or 3-year warranty on parts and 1 year for labor. 
I'm a sucker for lengthy warranties, so the fact that this treadmill comes with such a generous one is certainly a big plus.
Final Thoughts
The TR5500iM seems to be built with runners in mind.
It has all the performance specs you'd look for in a quality running treadmill: spacious running surface, powerful motor, and plenty of incline options.
This mid-priced model is in many ways more superior to a lot of pricier competitors.
Most treadmills have a top speed of 12 mph, but the TR5500iM goes beyond with a 13.5 mph. Few treadmills offer decline levels as well.
The TR5500iM is built for perfection, making it difficult to find any flaws. But if I were to nitpick, the TR5500iM would be a solid 10 if it came with a chest strap and had a better media holder.
Other than that, this machine is a home run.
If you're looking for a treadmill that's powerful enough for running, yet folds away neatly for storage, LifeSpan's TR5500iM is a great choice.