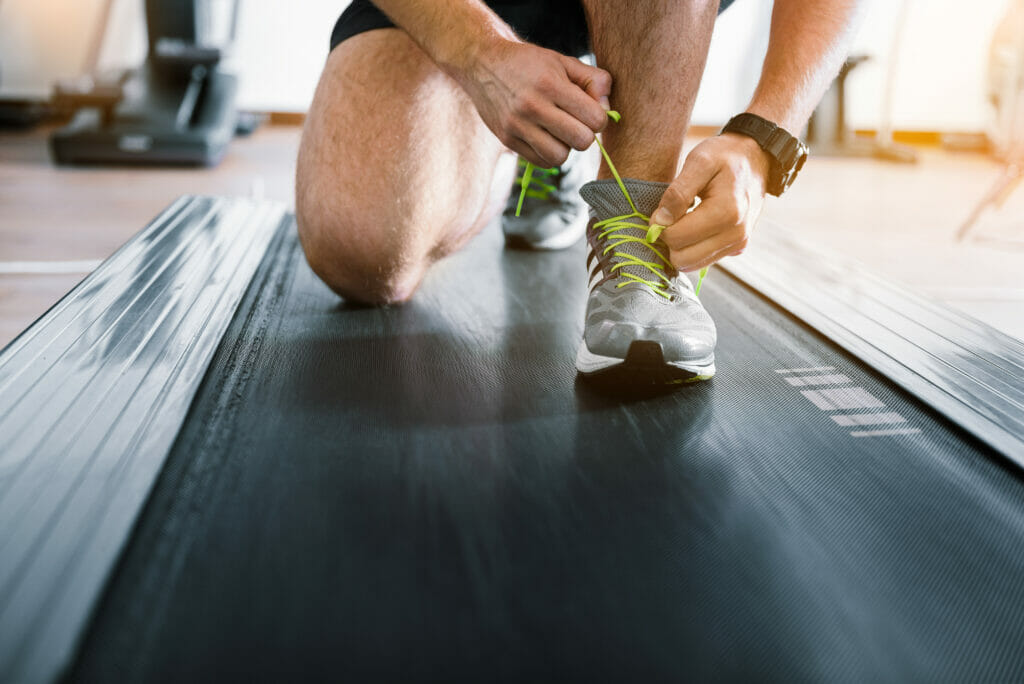 The T3 is one of Life Fitness' most popular home treadmills and it doesn't take long to figure out why.
Not only is the T3 affordable (for Life Fitness anyway), but it's sleek and full of impressive performance specs.
Highlights of this treadmill include a 20″ x 60″ running surface, a 3.0 HP motor, and a 350 lb weight capacity. And like most Life Fitness machines, you get to choose between 2 different consoles depending on your needs.
The biggest drawback is probably the fact that the T3 takes up a fair amount of floor space and doesn't fold, but otherwise there isn't much to complain about here.
If you're looking for a nice treadmill that should last, the T3 is a nice choice, but you can't just take my word for it – you gotta do your own homework.
But that's where I can help.
In this review, I'll go over all the key specs and features the T3 has to offer. I'll also explain what they all mean and compare them to other similar treadmills to provide a frame of reference.
After reading, you'll know everything you need to in order to decide for yourself wether or not this treadmill is worth investing in.
The Life Fitness T3 Treadmill
Life Fitness is easily one of the best commercial fitness brands out there, but they've got a strong residential lineup as well.
They also a fairly large lineup of cardio machines (bikes, ellipticals, treadmills), as well as a few very impressive home gyms.
The only real downside to going with a Life Fitness machine is the cost – even though they offer some more affordable models these days, these things are still pretty expensive.
Especially the consoles – I think they these treadmills should come with the Track Console standard – I mean why should the bluetooth feature cost an extra $600 considering most other home treadmills come with this feature anyway??
But more on that later.
The T3 is one of Life Fitness' more affordable models and will cost ya a bit over $3k (or quite a bit over if you go with the Track Console).
And yes, this is affordable compared to their Platinum Club Series Treadmill that goes for around $11k.
Pros
20″ x 60″ running surface
3.0 HP (6.0 HP peak) motor
Top speed of 12 mph
Top incline of 15%
FlexDeck Shock Absorption System
Choice of 2 consoles
Several built-in workouts
Heart rate monitoring
Quick start feature
Accessory tray
Good warranty
Cons
A little expensive
Doesn't fold
Running Surface
I like to start with the running surface spec because I think it's probably the most important feature to consider.
This lowly stat tells you how much room you'll have to stretch out during workouts and I agree, it's not the most interesting thing to think about, but it's still crucial.
Simply put, if a treadmill is too small for ya, you're going to notice.
If the deck is too short, you might not be able to stretch out fully when running at faster speeds.
Too narrow and it'll feel like you're walking on a tightrope, unable to deviate from side to side for fear of stepping off the belt.
Both situations suck.
Luckily, neither case will be the issue with the T3.
The T3 comes with a running surface that measures 20″ x 60″ (W x L), which has become the gold standard for home treadmills because most users will be able to use a machine of this size.
I say "most" because if you're an exceptionally tall sprinter you may need a longer belt, but 99% of users will do just fine on the T3.
These days a lot of quality home treadmills are going all in with an extra wide, 22″ width for even more space, but Life Fitness doesn't go to that size until their upgraded T5 model.
Regardless, the T3 is certainly spacious enough for comfortable walking or running.
The deck also comes with Life Fitness' patented Flex Deck Shock Absorption System that decreases stress through your legs during workouts (as much as 30% compared to running outside).
Most users agree the T3 is very comfortable to exercise on.
That's all fine and good, but what's more interesting to me is how secure the T3 is going to feel during workouts.
With an assembled weight of 243 lb, you shouldn't have to worry about this treadmill feeling lightweight or flimsy (although there are more affordable home treadmills that weigh in over 300 lb, like Sole's F85).
The T3 also comes with an impressive weight capacity of 350 lb, allowing it to safely accommodate most folks without an issue.
Oh, something else worth noting is that the T3 doesn't fold, so if floor space is an issue, this might be worth considering.
Giving up the folding feature usually makes for a more secure feel, although there are a ton of great folding treadmills these days that feel very stable.
Overall, the T3 scores pretty highly with its spacious running surface and advanced shock absorption system. It's also fairly heavy-duty, although there are plenty of more affordable treadmills that weigh a lot more.
Motor
Alrighty, moving on, let's talk motors.
Motor strength is a more interesting topic and certainly something to consider when choosing a treadmill.
The old "stronger is better" thought process is usually correct when it comes to treadmills because a stronger motor will usually operate a lot smoother than a weaker one.
Even if both motors reach the same top speed, the stronger motor will reach that speed faster and more elegantly.
Most home treadmills come with motors in the 2 – 4 HP range and if you plan on running regularly, it's a good idea to go with at least a 3.0 HP motor.
With this in mind, consider that the T3 is packing a 3.0 HP motor.
And when Life Fitness states this spec, they're saying this is the T3's continuous horsepower (CHP) – that is, the power the treadmill can maintain over time.
It's peak horsepower, or power it can achieve for only very short periods, is 6 HP.
I think some brands try to inflate their HP ratings by claiming a certain HP, which in reality is their peak HP, and trying to make people think that's their CHP.
I'm not sure that came out the way I wanted it to, as I read it, it's a bit confusing.
My point is, just because plenty of treadmills might report stronger motors, you have to make sure you're comparing apples to apples (or CHP to CHP).
Regardless, the T3 is packing enough muscle to support regular running and users agree the motor provides very smooth operation.
The T3 can reach a top speed of 12 mph, which is standard for elite home treadmills. It can also reach a top incline of 15%.
Something else worth looking at is a treadmill's roller size.
The rollers are what the belt make contact with as the glide over the deck and having larger rollers is a good thing because they make more contact with the belt.
This makes for smoother operation, but it also puts less stress on the belt and the rollers themselves.
Most quality treadmills come with rollers in the 2 – 3″ range.
With that in mind, the T3 comes with 2.6″ rollers in the front and 2″ rollers in the back, which I would qualify as large rollers.
Overall, the T3 comes with a treadmill strong enough to support smooth running and rollers large enough for smooth belt action.
Features
The Life Fitness T3 Treadmill comes with the following features:
"Go"/"Track Connect" console- with the T3, you get to choose between these 2 consoles. The "Go" is the simpler, more affordable option and comes with 12 built-in workouts and a small display screen through which you can view all your stats. The "Track Connect" console costs about $600 and comes with bluetooth compatibility with fitness apps, 16 workouts, 12 custom workouts, and 4 users. The "Track" console also comes with a media shelf and USB charger, both of which are absent on the "Go".
Heart rate monitoring- the T3 comes with grip monitors and is also compatible with wireless strap monitors and one is included with the "Track Connect" console.
Quick start- there's a quick start button that allows you to skip all the rigamarole of entering your stats and starting a workout. The T3 can even remember your favorite settings (speed/incline).
Accessory tray- this provides an area to conveniently store things like keys, remotes, phones, etc.
Water bottle holders- there's a water bottle holder on each side of the console for handy hydration during workouts.
Assembly
If you decide to purchase the T3 and assemble yourself, it shouldn't be that daunting of a task.
The hardest part is usually getting your treadmill to its final destination before assembly begins (because of the weight), but once you start, it's vey doable.
The main deck comes preassembled, so you don't have to mess with it much.
You'll be responsible for bolting each upright to the deck and then attaching the console to the uprights.
You'll have to make some cable connects to get power to the console, so just make sure no wires get pinched along the way.
All of the necessary hardware and parts are included.
It's a good idea to have a second person around, especially when it comes time to attach the console.
Overall though, if you're at least a little bit handy, you shouldn't have too much trouble getting this treadmill put together.
Warranty
Life Fitness backs their T3 treadmill with the following residential warranty:
Lifetime frame/deck
10 year motor
5 year parts
3 year console
1 year labor
You can't beat a lifetime frame warranty, but at this price point, this should be a given for any high-end treadmill.
Ten years on the motor is pretty good, but many top brands offer are offering lifetime motor guarantees too (Sole, Horizon, Spirit).
Five years on parts is very good and matches the warranties offered by most of the best brands out there (although Spirit offers 10 year parts warranties).
And a year on labor is pretty standard.
Overall, the warranty on the T3 is pretty good, but given the price I'd like to see a lifetime motor warranty.
Final Thoughts
Well, that about does it.
The T3 has a lot going for it, most notably the fact that it's sporting the Life Fitness brand name on its side – which goes a long way in my book.
That said, if we rate this treadmill on its specs and features alone, it comes off a bit over-priced.
The 20″ x 60″ running surface is great, but a lot of more affordable treadmills come with 22″ widths.
And the T3 is fairly heavy-duty when you look at its assembled weight and weight capacity, but other more affordable treadmills are much heavier and come with higher capacities.
But my biggest issue with the T3 has to do with the consoles – I don't think folks should have to pay the extra $600 to get bluetooth and a media shelf.
I guess doing it that way gives people an option to go with a simpler console if they like.
Anyway, I do think the T3 is a nice treadmill and Life Fitness is known for making some of the most durable, dependable treadmills out there.
I just think it's priced too high – but if that extra expense buys additional peace of mind, then it might be worth it.
Personally, I think their newer Run CX Treadmill makes a lot more sense- it's got basically the same specs, but is more affordable and comes standard with the Track Connect console…just sayin'.