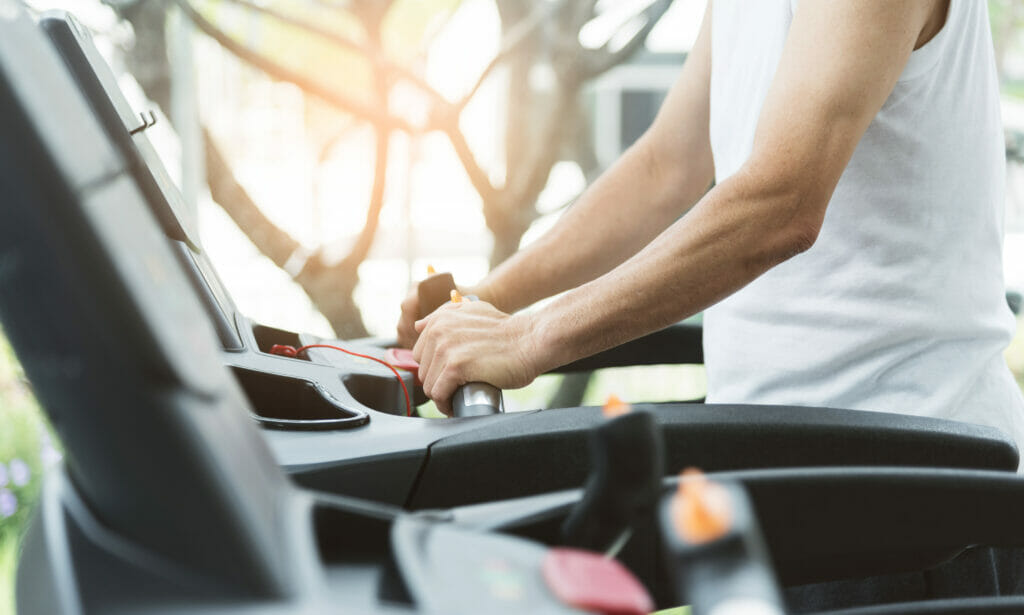 The Run CX is one of the newer additions to Life Fitness' treadmill lineup and I have a feeling it's going to be a popular one.
Not only is the Run CX the most affordable Life Fitness treadmill to date, but it also comes with a very sleek, all black paint job that certainly adds to its overall coolness factor.
Looks aside, the Run CX is packing some impressive performance specs and features too.
Like a 22″ x 60″ running surface, a very heavy-duty frame, bluetooth compatibility, and an included heart rate strap.
But even though this treadmill is affordable for Life Fitness, it's still priced pretty high for a home treadmill.
Is the Run CX worth the cost?
Well, that's what I'm here to help you figure out.
In this review, we'll go over every spec and feature the Run CX has to offer. I'll also compare it to a few of the top home treadmills to see how it matches up.
After reading, you'll be well equipped to decide for yourself whether or not this is the right treadmill for your home gym.
Let's begin.
The Life Fitness Run CX Treadmill
Life Fitness is one of the top commercial fitness brands in the world. If you go into any commercial gym in the US, odds are you'll see plenty of their cardio machines being used.
But even though Life Fitness continues to reign supreme in the commercial realm, they also have a lesser known lineup designed for home use.
This lineup includes a little bit of everything, from treadmills and bikes to home gyms and other strength training gear.
Their home models are significantly more affordable than their commercial machines, but this is one of the best brands in the world, so even their home models are more expensive than most.
The Run CX is their newest and most affordable treadmill to date.
Unlike their other treadmills, the Run CX doesn't come with different console options (only comes with the Track Connect) and it's only available online.
This model goes for a retail price of about $3000, which believe it or not, is affordable for a Life Fitness treadmill.
Pros
22″ x 60″ running surface
3.0 HP motor
Very heavy-duty frame
400 lb weight capacity
2.5″ rollers
Lots of built-in workouts
Bluetooth compatible
USB charging port
Strap heart rate monitor included
4 user profiles
Straightforward assembly
Good warranty
Life Fitness has a great reputation
Cons
Motor could be stronger
Motor warranty not lifetime
Doesn't fold
Running Surface
The first thing I always look at when checking out a new treadmill is the size of the running surface.
This spec instantly tells you whether you're going to have enough room to stretch out and be comfortable during workouts and comfort is the of the utmost importance for me.
One of the hallmarks of cheaper treadmills are the really small running surfaces.
Anyway, the gold standard for a quality home treadmill is a running surface of at least 20″ x 60″ (W x L).
At this size, pretty much all people can walk or run comfortably without running out of belt (our stride length increases when sprinting, so if you're really tall or your belt is short, you could find yourself having to shorten your stride at faster speeds).
With this in mind, the Run CX scores highly with its 22″ x 60″ running surface.
That said, pretty much all high-end treadmills come with this extra spacious deck these days, especially in this price range.
Something that does set this treadmill apart from most though, is how ridiculously heavy-duty it is.
Yes, I know that terms gets abused a lot these days and no one ever admits when a treadmill isn't heavy-duty, but when I use the term I'm being as literal as possible – this treadmill is really freakin' heavy.
This beast comes with an assembled weight of 341 lb.
For the sake of comparison, my Horizon 7.8 AT is crazy heavy and weighs in at 330 lb.
And Sole's F85, easily one of the best home treadmills around, only weighs in at 308 lb.
And I'm a believer that heavier is always better when it comes to treadmills because the extra weight is going to give you a more stable, secure feel.
In other words, make it feel more commercial like.
All this extra bulk allows this treadmill to safely hold folks weighing up to 400 lb, allowing people of all sizes to use it.
The Run CX is certainly very heavy, but something worth noting is that it doesn't fold- so if you're looking for a treadmill that can fold out of the way after use, this isn't the right option for ya.
But if you have plenty of room in your home gym and can keep the treadmill out, giving up the folding ability allows for a heavier, more stable treadmill.
Oh, this treadmill also comes with Life Fitness' popular FlexDeck shock absorption system that helps reduce compression forces through your legs.
Overall, the Run CX scores very highly in this department.
It comes with a nice spacious running surface, but I think it's the extra heavy-dutiness that really sets this model apart from most home treadmills.
Motor
Moving on, let's see what kind of power this treadmill has under the hood.
When it comes to treadmill motors, stronger is generally better, especially if you plan on running a lot.
Stronger motors tend to operate more smoothly because they don't have to work quite as hard as weaker motors to provide the same output.
Stronger motors are usually able to reach those faster speeds quicker than weaker motors (better acceleration).
If you're planning on running on the reg, it's a good idea to go with a treadmill with at least a 3.0 HP motor.
Walkers and joggers can get away with weaker motors in the 2 – 2.5 HP range, especially if they're of smaller stature.
With this background info in mind, the Run CX is packing a 3.0 HP DC motor that can reach a top speed of 12 mph and a top incline of 15%.
I didn't mention anything about DC vs AC motors, but pretty much all home treadmills use DC motors.
AC motors are often found on commercial grade treadmills because they can handle prolonged use a little more efficiently (plus AC motor treadmills cost more too).
At 3.0 HP, the Run CX is certainly strong enough to handle walkers and runners comfortably, but I have to admit it would be nice to see a little more horsepower here.
Especially considering most of the other top home models are rockin' around 4.0 HP.
One saving grace though, is that this is Life Fitness we're talking about here and they know how to make a treadmill that will perform.
By the way, this is the same motor they use on their more expensive T3 and T5 models and users don't seem to be disappointed.
But still, it's kinda tough when you see treadmills that cost $1k less packing more horsepower.
Motor strength is important, but I like to consider a treadmill's roller size too.
The rollers are the parts that allow the belt to glide smoothly over the deck and bigger is usually better because they make for a smoother feel, while putting less stress on the belt and rollers themselves.
The Run CX uses 2.5″ precision crowned rollers, which are certainly large enough to provide smooth operation (elite home treadmills typically use 2.5 – 3″ rollers).
Overall though, the Run CX is packing a motor strong enough for both walkers and runners.
It's the same motor found on their other time tested models which have plenty of happy users.
Features
The Life Fitness Run CX Treadmill comes with the following features:
Track Connect console- most of Life Fitness' treadmills give you an option with regards to the consoles, but the CX doesn't. The Track Connect console isn't super fancy or anything, but it's easy to use and it makes it easy to see all your workout stats.
Tons of workouts- this treadmill comes loaded with 15 built-in workout profiles and gives you the option to make another 12 custom workouts if you like. This is a nice feature for the folks out there that don't rely on streaming apps for their workouts.
4 user profiles- you can save info for up to 4 users, making it easy to simply hop on and get your workout started.
Bluetooth- the Run CX is bluetooth compatible, allowing you to sync up with Life Fitness' own Connect App (for metric tracking and on-demand workouts) as well as several other popular fitness apps.
Heart rate monitoring- you can grab the built-in grip monitors for a quick reading or use the included heart rate strap for more accurate measurements during workouts.
Media holder- the large media shelf is conveniently located above the console, so you don't have to worry about blocking view of your stats while using your tablet.
USB charging- you can keep your tablet charged up during workouts.
2 water bottle holders- there's room to hold 2 beverages during workouts. There's also a little storage tray for holding phones, remotes, or any other small objects that might need storing.
Assembly
If you decide to purchase this treadmill and assemble yourself, rest assured it's a very doable process.
The actual assembly procedure is pretty straightforward, the hard part will be getting your treadmill to whatever room you plan to put it in before you begin assembly.
Remember when I said this thing weighs like 340 lb?
Yeah, it's heavy, so just make sure you have plenty of helpers around to help move pieces around.
Luckily, the deck comes pre-assembled, so you won't have to mess with any of that.
You'll be responsible for attaching the 2 uprights, the console, the bridge between the uprights, and a few covers.
The instructions are easy to follow with nice large images and well-written instructions.
You'll also have to snake the console wires up from the motor to the console – just make sure not to pinch anything in the process.
Overall, I think most fairly handy people should be able to assemble without any major problems, just keep in mind how heavy this thing is.
Warranty
Life Fitness backs their Run CX Treadmill with the following residential warranty:
Lifetime frame
10 year motor
7 year parts
3 year console
1 year labor
Ok, let's take a look at this warranty one piece at a time.
The lifetime guarantee on the frame is great and should be a given in this price range, so no complaints there.
Ten years on the motor is good all things considered, but at this price range I'd expect to see a lifetime motor guarantee too.
Brands like Sole, Spirit, and Horizon all offer lifetime motor guarantees and their treadmills are significantly more affordable.
Seven years on parts is fabulous though, considering most brands top out at 5 years (Spirit does offer 10 year part warranties though).
I think 3 years on the console is pretty fair, although 5 years would've been better. A year on labor is pretty standard regardless of price range.
Overall, I think Life Fitness' warranty on this model is pretty good, but it would still be nice to see a lifetime guarantee on that motor.
Final Thoughts
Ok, that's about all I got for the Run CX.
I applaud Life Fitness for offering a more affordable home model and I think this treadmill is going to be a success.
The running surface is as large as we should expect from a high-end home treadmill and Life's shock absorption systems are renowned for their added comfort.
The motor strength is sufficient for walkers and runners alike, although for this price it would be nice to see a motor closer to 4 HP.
Although to be fair, this is the same motor found on many of Life's home treadmills and there aren't many complaints from users for any of these machines.
Honestly, I think it's the sheer heavy-dutiness of the Run CX that really sets it apart from most treadmills.
If you're looking for a rock-solid treadmill that will give you more of that commercial feel, I don't think you'll be disappointed with the Run CX.
It doesn't hurt that this treadmill is sporting the Life Fitness logo either because let's be real – these guys make some of the best treadmills in the world.
All things considered, the Run CX isn't perfect, but I think it's one of Life Fitness' best deals (if the motor was a little stronger and backed by a lifetime warranty it would be a grand slam).