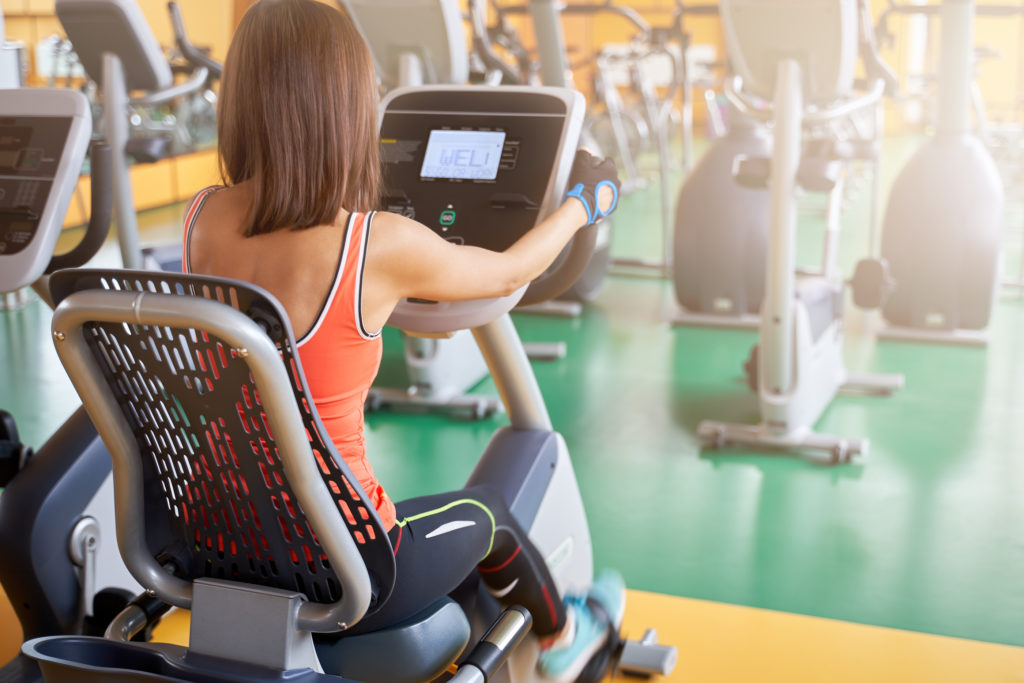 Life Fitness's Platinum Club Series Recumbent Lifecycle is a commercial-grade exercise bike designed for the home gym. As the "Platinum" title indicates, this is this the fitness giant's most luxurious and advanced recumbent model to date.
Truly worthy of any club gym or rehab facility, this recumbent bike comes with a heavy frame, an over-sized contoured seat, and 26 levels of smooth magnetic resistance to work with.
It's also backed by a solid warranty.
But is it really worth the extravagant asking price?  Perhaps, but it all depends on what you're looking for.
And that's what this article is here to help you figure out. In this review, we'll take a close look at everything this recumbent bike has to offer. After reading, you'll know everything you need to in order to make the right call regarding this luxury model.
The Life Fitness Platinum Club Series Recumbent Lifecycle Exercise Bike
Life Fitness machines are a staple in any commercial gym. If you've ever been to a Gold's or YMCA, you've seen their work. They specialize in cardio equipment (treadmills, ellipticals, bikes, etc), but they offer strength training equipment as well.
Even though the brand is known as a commercial manufacturer, they also have a residential lineup marketed for home use.
Although looking at their lineup, it's hard to tell the difference between their commercial and home use machines -this is a good thing when it comes to quality (but a bit of a bummer when it comes to price).
There are difference between their commercial and home use equipment- the commercial machines are designed to withstand constant use from multiple users each day. There's also differences in the commercial warranties.
But their residential models are designed after their popular commercial models (and as expensive as the home units are, the commercial ones cost even more).
The Platinum Club Series is Life Fitness's highest-end residential lineup and consists of a treadmill, an upright bike, and an elliptical, as well as the recumbent bike we're here to discuss.
There tend to be subtle difference between their Platinum lineup and their Club Series + lineups, with the biggest differences being found in the sophistication of their monitors.
Pros
Heavy-duty frame
400 lb weight capacity
Luxury seat
26 levels of magnetic resistance
14 workout programs
2 fitness tests
SE3HD console
Oversized pedals
Telemetry heart rate monitoring compatible
Good warranty
Assembly and installation usually included with purchase
Cons
Chest strap heart rate monitor not included
Frame
The best thing about a recumbent bike (and the thing that makes a recumbent bike a recumbent bike for that matter) is how easy it is to get on and off of.
This is of course because of the horizontal (or recumbent) alignment of the frame.
Not only does this make it easier to access the seat, but it puts less stress through your joints during use- which is why these machines are always found in rehab clinics.
There are other advantages to recumbent bikes (and to see a more thorough discussion, check out my recumbent bike guide), but in order to appreciate these you have to ensure your bike has a stable frame to begin with.
If the frame is small or weak, you're probably going to feel it during your workouts. The bike might wobble or vibrate during use, or even worse, parts might loosen.
These shouldn't be issues with high-end recumbents like the Platinum Club Series Recumbent Lifecycle (which I'll refer to as simply the "Lifecycle" from now on because the name of this bike is ridiculously long).
This bike is large and heavy- which is a good thing, because it makes for a more comfortable and stable ride.
Which is really the tell-tale sign of a commercial machine. One of the biggest differences between gym quality bikes and most home exercise bikes is size.
Gym bikes are bigger and feel more spacious, more comfortable to use. Home bikes tend be smaller because they have to be made more affordably and are usually only being used by a single person (don't have to withstand constant use throughout the day).
I might be rambling a little here, I apologize, but my point is that the Lifecycle (like commercial equipment) is a lot bigger and heavier-duty than most home bikes.
This thing weighs 214 lb. For the sake of comparison, the Sole LCR (which is an excellent home model) weighs 145 lb. And the LCR is heavier than most.
The sheer weight of this bike is a good sign of frame integrity, but another is its weight capacity. The Lifecycle has a max weight capacity of 400 lb.
Most home recumbents have weight limits between 300 – 350 lb (the Sole LCR is 350 lb).
Again, this bike is built like a tank, just like their commercial bikes.
The last thing I want to mention here is the flywheel. With most home bikes, I talk about flywheel weight and why it's important for the quality of your rides.
According to some of the reps I've discussed this with, commercial grade machines usually don't use heavy weighted flywheels because their technology enables them to provide the smooth feel without them.
Something to do with pulleys and ratios…I'll be honest, the science behind it is beyond me. But the fact is, the recumbent bikes you use at Gold's don't use heavy flywheels.
Home models (or nice ones anyway) use heavy flywheels because it's a more cost effective way to provide a smooth ride.
The Lifecycle, being designed after Life Fitness's commercial models, also doesn't use a heavy flywheel. But the sophistication of their magnetic system provides a workout you'd expect from any commercial bike.
Seat
I hate to assume, but again I'm assuming most people opt for a recumbent bike because it offers a comfortable way to exercise. And by comfortable, I mean a way that doesn't cause discomfort in joints that other exercise modes might.
A big reason recumbents are comfortable for most folks is the seat. These bikes come with larger seats and backrests, putting the rider in a more comfortable position than traditional upright or spin bikes do.
That said, not all recumbent bike seats are created equal.
Cheaper bikes tend to come with harder, smaller, seats that are less fun to sit on, especially for longer rides.
The Lifecycle doesn't fall into that category though. This is a luxury bike, and as such, it comes with a large, soft seat that is quite comfortable to sit on for extended workouts.
Both the backrest and the seat are contoured and filled with high-end padding for extra comfort and durability. You'll also notice there's a little built-in lumbar support.
The backrest isn't adjustable, but the resting angle is set at a slight recline, which most riders should find comfortable. You can easily adjust the seat position (while sitting) along the frame by using the red release handle in front.
Overall, this is a comfortable seat. I believe it's the same Comfort Curve seat you'll see on the commercial models.
Features
The Life Fitness Platinum Club Series Recumbent Lifecycle comes with the following features:
26 resistance levels- the Lifecycle gives you a lot of room to adjust the intensity of your workouts with 26 magnetic resistance levels.
14 workout programs- it's hard to count up all the workout options on this model because they're split over different categories. Based on my calculations, you get around 14, not counting the 2 included fitness tests (Fit Test and U.S. Navy PRT). These included the classic options like manual, random, and hills as well as several heart rate guided workouts and goal oriented workouts. All together, you get a lot of options to choose from.
Discover SE3HD display- this is Life Fitness's most advanced console to date and it's a big reason the price is as high as it is on this bike. Through this 16″ HD touchscreen display, you get access to Life Fitness On-Demand, which is a collection of workouts (42 I think) you can choose from for no extra subscription fee. Unlike most other consoles though, you can also access tv, the internet, and integrated apps, giving you a ton of entertainment options to make your workouts more interesting.
Telemetry heart rate monitoring- this bike is compatible with Polar chest straps, but I don't think one is included with purchase (a bummer at this price point).
Grip heart rate monitoring- the stationary handles not the sides of the bike are equipped with contact heart rate monitors, so in case you don't have a chest strap, you can still conveniently grab the handles and get an idea of what your heart rate is.
Quick start button- just like the exercise bikes we've grown to love in our local gyms, the Lifecycle has a quick start button which allows you to simply hit it and get rolling without having to go through a ton of menus.
Wide ride pedals- the pedals on this bike are wide, making them comfortable to use with or without shoes. The ratcheting straps make them easy to adjust for a quick fit.
Media shelf- there's a built-in media shelf at the base of the console in case you want to read a magazine or use your tablet during your workouts. Due to its location, you'll be blocking the console if you place something on it. But you probably won't find yourself using your tablet while using this bike, considering you can access all the media directly through the SE3HD.
Removable water bottle holder- last but not least (ok, in this situation it is least), you get a removable water bottle holder. Hey, we all gotta stay hydrated.
Assembly
Luckily, if you decide to purchase this recumbent bike, Life Fitness usually throws in free shipping and assembly. This is great, because putting the Lifecycle together by yourself could be a little intimidating.
Life Fitness produces great products, but their assembly manuals kinda suck. There aren't any written directions, just images with arrows pointing to what goes where.
I think they do this with the expectation that professionals will be doing the assembly on these products.
In the off chance you do find yourself doing assembly yourself, take your time and be careful not to pinch any cables in the process of adding the console mast- it would be disappointing to finish and find some of your console features don't work.
Overall, professional assembly is recommended on this one.
Warranty
The Life Fitness Platinum Club Series Recumbent Lifecycle comes with the following warranty:
Lifetime frame
3 year parts
1 year labor
Overall, a pretty good guarantee here. Considering the price, it would be nice to see 5 years on parts and 2 years on labor, but 3 and 1 respectively are pretty standard.
Given the size and durability of this bike, it's unlikely something would break down.
Final Thoughts
Ok, that about does it for the rundown on the Lifecycle. There's really no arguing the fact that this is a really nice bike. I mean come on, this is Life Fitness we're talking about here.
The real question is whether or not it makes sense to invest this much into a home exercise bike.
The way I see it, there are a few things to consider when answering this question:
First of all, if you want a truly commercial-grade recumbent bike in your home, then yes, this is the bike to get. If you want the type of bike you've used at rehab or have used at your YMCA, this is a smart choice.
If you just want a nice recumbent bike for home use and aren't necessarily looking for a commercial grade machine, then you probably shouldn't get this bike.
There are plenty of high-end recumbent bikes that work great and will cost you a lot less. The Sole LCR for example, one of my favorites, will cost you a fraction of what the Lifecycle costs.
If you want the Lifecycle, but aren't worried about all the fancy tech features in the console, you might want to consider their Club Series + Lifecycle: it's basically the same bike but you get the choice of the less expensive console.
But if you really want the best of the best, then the Platinum Club Series Recumbent Lifecycle is what you're looking for.