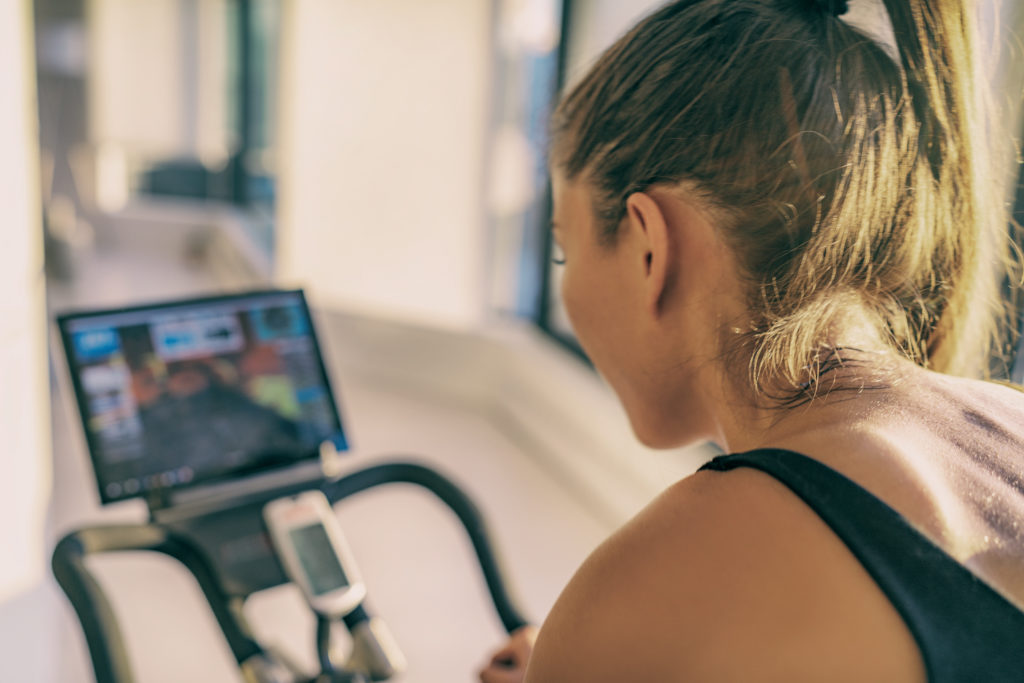 Wow, that's a long name. Anyway, if you're looking for a gym quality upright exercise bike, Life Fitness's Platinum Club Series LifeCycle is worth considering.
With its heavy frame, comfort curve seat, and high-end pedals, this bike is designed to mimic the experience of riding one of their popular commercial grade machines.
But let's be real- this is a luxury bike with a luxury price tag. But if you have the budget and are looking for one of the most comfortable upright bikes on the market, the LifeCycle may just be the right option.
In order to make that decision, you should do your research and learn as much about this bike as you can.
Luckily, you've come to the right place.
In this review, we'll discuss everything the LifeCycle has to offer, as well as where it may fall a little short. In the end, you'll have a better idea as to whether or not this is the right bike for your home gym.
The Life Fitness Platinum Club Series Upright LifeCycle Exercise Bike
Life Fitness is a well-known provider of commercial grade fitness equipment. If you've been to any gym in the U.S. in the last 50 years or so, odds are you've come across their work.
A little less-known fact is that they also have a residential lineup.
Their residential equipment is very similar to their commercial grade machines, but with a few key differences.
The commercial equipment is designed to withstand continuous use from multiple users, meaning they come with more robust motors, drive trains, etc.
The warranties are also different, with the residential guarantees usually being longer. The prices are also often significantly different (with commercial equipment costing more).
The original Lifecycle was apparently the first electronic exercise bike. Life Fitness has kept the legacy alive over the years, maintaining and progressing their exercise bikes over the years.
Their Platinum Club Series LifeCycle (which I'll refer to as simply the "LifeCycle" from now on) is one of 3 home use upright bikes currently available in their lineup.
Pros
Smooth drive system
26 levels of resistance
Large, comfortable seat
Large, multi-grip handlebars
Heavy-duty frame
400 lb weight capacity
Choice of console
Chest strap heart rate monitor included
At least 13 workouts to choose from
2 fitness tests included
Wide, weighted pedals
Installation and delivery usually included with purchase
Decent warranty
Cons
Seat not fully adjustable
Handlebars not adjustable
Price
Flywheel
I like to start all of my exercise bike reviews with a discussion on the flywheel. The flywheel is the part of the bike that spins as you pedal, creating both the resistance you push against and the "feel" of the bike.
When it comes to bikes (and ellipticals for that matter), having a heavier flywheel is usually preferred because the extra weight makes for a smoother ride.
That's because heavier flywheels create more momentum as they spin, thus reducing any unwanted lag between pedal strokes.
Upright bikes aren't particularly known for having heavy flywheels (unlike spin bikes), although some high-quality models are starting to use them (the 30 lb flywheel on the Sole LCB comes to mind).
This said, commercial grade bikes don't play by the same rules.
That's because these more expensive machines tend to have more technologically advanced drive trains and resistance systems that don't need a heavy flywheel to provide a smooth ride.
And since the LifeCycle is designed after Life Fitness's commercial bikes, it also doesn't use a heavy flywheel.
Which can be an advantage for folks looking for light resistance or easy start up (heavy flywheels take a little more effort to get going from a cold start).
Users agree the pedaling action is smooth and fluid as you increase or decrease the resistance. Speaking of which, the LifeCycle comes with 26 resistance levels to work with, giving you plenty of control over the intensity of your workouts.
The resistance is controlled by large buttons conveniently located in the middle of the handlebar- very reminiscent of all the exercise bikes I've used at Gold's or my local YMCA.
Seat
One of the biggest advantages of investing in a bike like this is comfort. Larger, upgraded features, like the seat and pedals, make for a more enjoyable experience.
The seat on the LifeCycle is large, soft, and contoured to fit your bottom more comfortably than most standard home exercise bikes.
Seat comfort is where most home bikes fall short. It's assumed that bike seats are going to be a little uncomfortable (or a lot for unexperienced riders), especially during longer rides.
But that really shouldn't be an issue here.
If you take a look at the seat, you'll notice the curved shape of both the widest section in the back and as you go from back to front.
This design makes for a more comfortable platform for your rump (especially when compared to the flat, hard seats most bikes come with).
The seat is comfortable, but it isn't fully adjustable. Meaning you can't adjust the horizontal (fore/aft) position of the seat. You can adjust the height easily by lifting the small lever, but no horizontal adjustments.
This may seem a little surprising for a bike in this price range, but commercial grade uprights found in gyms don't come with fully adjustable seats either.
This may be because most users can find a comfortable fit without messing with the fore/aft position.
Not having the fore/aft adjustment may also make the seat more stable and able to hold heavier users, but don't quote me on that.
Overall, this is one of the most comfortable seats you're going to find on a home exercise bike. The seat isn't fully adjustable, but it's very easy to sit on.
Handlebars
The handlebars on this bike are large and multi-grip. Something I've noticed and realized from personal experience, is that when it comes to the thickness of handlebars, larger is more comfortable.
Not only do they feel more substantial, but the larger circumference is more comfortable on your hands, especially when standing up on a spin bike.
The LifeCycle has large, thick components from top to bottom and this includes the handlebars.
The handles aren't adjustable like some- again, this is modeled after the bikes you see in the gym. But what you miss in adjustability, you gain in stability (hmm, that kinda rhymes).
The handlebars have 2 sets of grip heart rate sensors, built-in in convenient locations, allowing you to check your rate whether you're using the narrow grip or the racing grip (distal handles).
Overall, not much else to say here. The handlebars are large, comfortable, and sturdy.
Frame
The seat is comfortable and the handlebars are fine, but what really stands out to me on this bike is how large the frame is. And I mean this in the best way (can you fat shame a bike?).
Looking at the seat post and the console mast, the LifeCycle looks like it's built like a tank.
This extra girth is great because it ensures a sturdy, stable feel during your workouts. The last thing you want is to feel the handlebars or seat wobbling during use.
That won't be an issue here. Like the club bikes, the LifeCycle is designed for stability.
This is seen more objectively when we look at the weight capacity. Looking at this stat gives us a great idea as to how well-built the bike is. After all, bikes with higher weight limits have to be stronger don't they?
The LifeCycle comes with a 400 lb weight limit. For comparison's sake, most high-quality home bikes come with weight limits in the 300 – 350 lb range. And even that's pretty good.
At 400 lb, this bike can safely accommodate most users.
When thinking about frame integrity, I also like to look at total bike weight. Again, heavier bikes are preferred, because it means they're built with larger, bulkier components (which are more durable).
This bike weighs 176 lb fully assembled. This is massive for an exercise bike. For the sake of comparison, that's 46 lb heavier than the Sole LCB I mentioned earlier (30 lb flywheel) and about 116 lb heavier than the popular Schwinn 170.
Overall, this bike is rock-solid. I love the heavy frame and high weight limit. You won't have to worry about any unwanted wobbling or shaking during your workouts.
Features
The Life Fitness Platinum Club Series Upright LifeCycle comes with the following features:
Choice of console- you can select between the hi-tech Discover SE3 HD console (16″) and the simpler Discover SI option (10″). The SE3 HD comes with an HD touchscreen, tv connections, internet options, and access to apps and entertainment (as well as LifeFitness On Demand). The Discover SI is large and also a touchscreen, but it's lacking all the extra entertainment options (it also costs about $3000 less). Click here for more info on console options.
13 workouts- this bike comes standard with about 13 workouts total (including classic programs like hills and random as well as heart rate led and goal related programs)
2 fitness tests- there are also 3 fitness tests you can access on this bike, which include the Fit Test and US Navy PRT. These are a great way to gauge your progress over time
Integrated reading rack- the reading/media rack makes it easy to read a book or watch your tablet during workouts
Wide pedals- the pedals on the LifeCycle are wider than most, weighted, and come with ratcheting pedal straps for easy adjusting
Telemetry heart rate monitoring- this bike is compatible with chest strap heart rate monitors and a Polar strap is included with purchase
Transport wheels- this bike is really heavy, luckily there are built-in transport wheels in the front to make moving a little easier
Quick start button- just like at the gym, you can hit the quick start and start working out immediately
Customized cooldown- also like the gym bikes, there's a cool down function after your workout. You can also customize to your liking..
Assembly
If you purchase the LifeCycle, you'll most likely receive free delivery and free installation (Life Fitness is almost always running a deal involving free delivery and installation).
And with free installation, that means they arrange professional assembly for ya.
But, in case you do find yourself having to assemble this bike on your own, don't worry, it shouldn't be that bad. There's not a lot to it.
You'll have to attach a few bolts and screws, but the most complicated part is probably attaching all the cables in the correct places on the console (and this depends on which type of console you choose).
I'll be honest, I don't particularly care for the assembly manual. There aren't any written instructions, just images. The images are large and easy to read, but they can be a little confusing at first.
Luckily, there aren't many steps to begin with.
If you have the option, opt for the free installation, but worst case I imagine most folks can get this bike assembled themselves if they have to.
Warranty
The Life Fitness Platinum Club Series LifeCycle comes with the following warranty:
Lifetime frame
3 year parts
1 year labor
Ok, let' see what we've got here. Lifetime on frame is good (and expected in this price range). Three years on parts is ok, I'd prefer 5 for a bike this expensive, but not awful.
A year on labor is pretty standard these days, again, 2 years would be nice given the price.
Overall, a pretty solid warranty. Could be a little better, but could also be worse.
Final Thoughts
There you have it.
That's about all there is to the Life Fitness Platinum Club Series LifeCycle (that name really is crazy long). After looking at it, I think it's pretty easy to say this is a nice exercise bike.
But I doubt many of you are surprised there. After all, this is Life Fitness we're talking about here.
My favorite features are the super heavy-duty frame, the comfortable seat, and the wide pedals.
These are the places I think you'll notice the biggest difference between a bike of this caliber and your standard home exercise bike.
The only real downsides I see (other than the price) are that the seat isn't fully adjustable and you can't adjust the height of the handlebars.
The warranty could also be a little longer, but that's me nit-picking.
Overall, the LifeCycle is a high-end, commercial grade upright.
It's luxurious from top to bottom. If you're looking to add a commercial grade upright bike to your home, this is about as good as it gets.