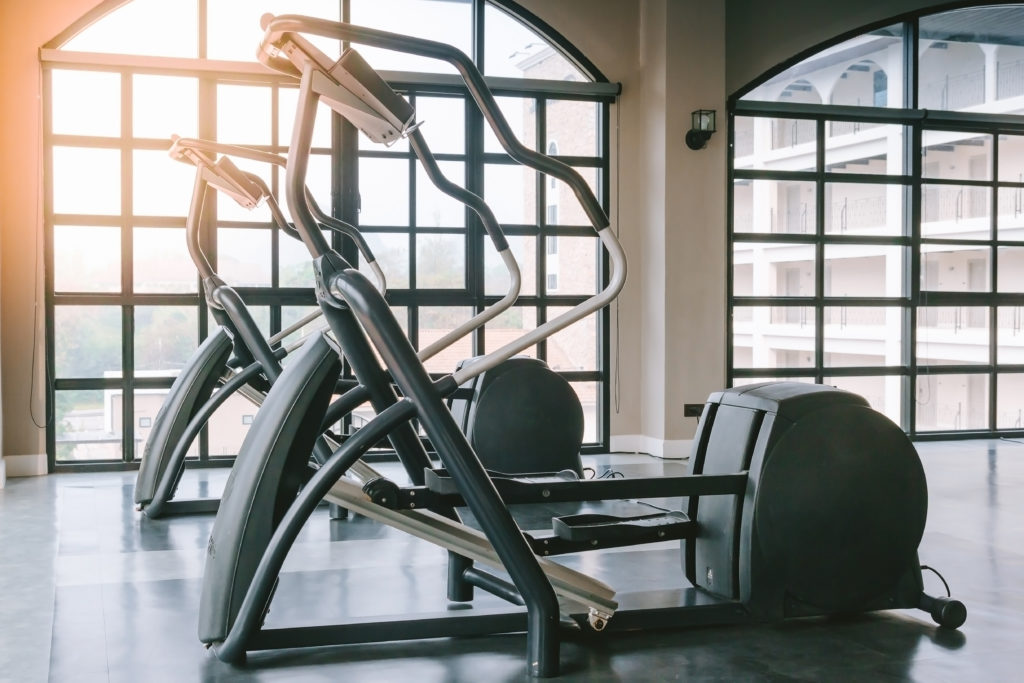 The Platinum Club Series Elliptical Cross-Trainer is the most advanced home model Life Fitness currently offers. As the name implies, this is a luxury machine designed to mimic the feel and quality of a commercial trainer.
Any machine sporting the Life Fitness name should be held to high standards. After all, they're one of the most well-known fitness equipment brands in the world. You certainly can't go into any commercial gym in the states without seeing their products everywhere.
The Platinum Club Series is equipped from head to toe with commercial grade components, including a hi-tech touchscreen display that gives you access to tv, the internet, and loads of workout options.
If you're looking for a commercial grade elliptical to add to your home gym, the Life Fitness Platinum Club Series is probably as close as you can get without literally buying a commercial machine (for an even higher price).
But considering the size of the investment, you need to do your due diligence before deciding. That's where we come in.
This review will discuss everything this elliptical does and doesn't have going for it. After reading, you'll have a better understanding of what this model has to offer and hopefully whether or not it's the right choice for your home.
The Life Fitness Platinum Club Series Elliptical Cross-Trainer
Life Fitness is a very well-known provider of commercial gym equipment- that's an understatement, they're everywhere, I challenge you to find a commercial gym in the USA that doesn't use their equipment.
Anyway, turns out they also have a residential lineup of cardio equipment.
Their residential equipment is high-end and rather pricey ($2000+), but it's all built to meet the same exceptional standards of quality that their commercial equipment is held to.
The Platinum Club Series Elliptical is the highest-end cross-trainer in their lineup. As such, it comes with the most advanced console and smoothest operation.
Pros
20″ stride length
Commercial grade, heavy-duty frame
400 lb weight capacity
26 levels of magnetic resistance
16″ HD touchscreen display
Access to cable tv, internet, fitness apps
42 workout programs
Fitness testing
Limitless user profiles
Oversized, non-slip pedals
WhisperStride technology
Cons
No power incline
Warranty could be longer
Price
Stride Length
When comparing ellipticals, I like to start at the stride length. For me, it's a quick and easy way to spot a lemon- subpar ellipticals come with tiny stride lengths.
I also like to start with this spec because it relates directly to the comfort of the machine. Ellipticals with small stride lengths aren't going to be comfortable for taller users.
Think about it- do you want to have to shorten your stride with every step you take during your workouts?
Me neither.
The Platinum Club Series comes with a fixed, 20″ stride length. Twenty inches is the gold standard for home models because it's been shown that most people can use an elliptical of this size comfortably (without having to shorten their stride).
I say the stride length is "fixed" because it isn't adjustable. Some ellipticals, especially in this price range, may offer adjustable stride lengths, meaning you can adjust the settings a little to customize your fit.
I'm a little surprised Life Fitness doesn't offer an adjustable length on this model, but I'm not too concerned. With a 20″ stride length, most people will find this elliptical comfortable to use.
The frame those pedals are attached to is commercial grade all the way. This elliptical has a weight capacity of 400 lb and a total machine weight of 452 lb fully assembled.
This means this elliptical is going to feel like the ones you've used at the local Gold's.
Overall, the Platinum Club Series has an adequate stride length to fit most people comfortably. The frame, however, is heavy-duty in all the best ways.
Flywheel
The flywheel is usually the second place I look when examining ellipticals. Flywheel weight is an important spec to consider because it relates to how smooth and powerful the elliptical is going to be during workouts.
Like spin bikes, heavier is usually better.
And that's because the extra weight builds more momentum as the flywheel spins. As this momentum builds, it reduces any lag time between pedal strokes, making for a buttery smooth ride.
Heavier flywheels should also, theoretically, provide more overall resistance than lighter ones (because you're pushing against more weight). Although this depends a lot on the quality of the magnetic resistance system too.
High-end ellipticals like this one should come with flywheels in the 20 lb and up range (and by up, I mean really up…the significantly cheaper Bowflex BXE216 comes with a 35 lb flywheel).
I haven't been able to find the exact flywheel weight for the Platinum Club Series because Life Fitness doesn't offer it in any of their product info. I've reached out to Life Fitness, but haven't heard anything back yet (I'll update when I do).
Update: turns out commercial grade ellipticals (like this one) don't use weighted flywheels. Instead, they're designed a little differently (with different gear ratios and whatnot) so they can provide the same smooth resistance without the need for heavy flywheels.
So, we can't really judge this elliptical based on its flywheel. But, we do know that this trainer comes with 26 levels of magnetic resistance, which gives you a lot of control over the intensity of your workouts.
This elliptical also doesn't offer adjustable incline settings. This might be surprising when considering all the more affordable home models that do, but think about the commercial grade ellipticals you've used before…did they have incline settings?
Some styles do, a lot don't.
But again, the Platinum Club Series is marketed as a residential elliptical, but it's designed to mimic the commercial machines Life Fitness provides, where performance is stressed over everything else.
And when it comes to performance, it's tough to beat a Life Fitness elliptical.
This model is designed with their WhisperStride technology, making your workouts almost completely silent. The enhanced ergonomics of each stride makes for a natural, smooth feel that is commercial like in the best way.
Overall, I'm not sure how this elliptical stacks up in the flywheel department, but I like that it comes with 26 resistance levels. The smooth, quiet operation is a definite plus.
Features
The Life Fitness Platinum Club Series Elliptical comes with the following features:
Discover SE3HD display- this is Life Fitness's most advanced console. The HD touchscreen display gives you access to all of the workouts, as well as an internet browser and cable tv. You can also connect to integrated workout apps and interactive courses for added workout enjoyment.
42 workouts- through the display mentioned above, you get access to a library of workouts, including all the standard options (manual, hills, random, etc) as well as several goal oriented and heart healthy workouts.
Limitless user profiles- there's no limit to how many user profiles you can create to save workout data. This comes in especially handy for large families with multiple users.
Fitness tests- you can access a few different fitness tests with this elliptical, including the U.S. Navy PRT. These fitness tests are a fun way to gauge your progress as well as make goals for yourself (or compete with friends).
Resistance buttons in moving arms- you can adjust the resistance conveniently from the moving handles. This ensures you don't get out of the zone when making intensity adjustments.
Oversized, non-slip pedals- the large pedals provide the comfortable feel of using a commercial grade elliptical.
Telemetry heart rate monitoring- this elliptical is compatible with chest strap heart rate monitors, but one isn't included. You can also use the grip monitors included on the stationary handles.
Integrated accessory tray- the included tray can hold a water bottle, remote controls, keys, or anything else that needs storing during your workouts.
Assembly
Luckily, if you purchase directly through Life Fitness, white glove delivery and installation is included (sweet!). This means they will deliver the elliptical and assemble in which ever room of the house you prefer (sure beats having it dropped off at your front door).
Considering the size and weight of this machine, this is a pretty sweet deal.
However, if you insisted on assembling yourself (if you live in Illinois you have the option of actually picking up from their warehouse and taking it home yourself…not sure why anyone would choose this option), the assembly manual is pretty good.
All of the images are large and it's pretty easy to tell what's going on in each step (although there aren't written directions).
There's a scale image of all the hardware at the beginning for easy reference. The most complicated part is probably keeping track of all the wires that are necessary for the advanced console.
Overall though, assembly on the this model is surprisingly straight forward.
Warranty
The Platinum Club Series Elliptical comes with the following warranty:
Lifetime frame
3 year parts
1 year labor
Considering the price of this model, I think the warranty is a little short. Lifetime on the frame is good of course, but I'd like to see at least 5 years (or more) for parts.
Same goes for the labor guarantee- 1 year is standard for most companies, but there are plenty of less expensive ellipticals offering 2 and even 3 year labor warranties (like the NordicTrack Commercial 14.9).
Overall, I think there is room for improvement in the warranty department.
Final Thoughts
The name says it all- the Platinum Club Series Elliptical is a commercial grade machine that's going to give you the sensation of working out at your local gym.
The most notably highlights for me are the advanced SE3HD console and the WhisperStride system. The console is like having a computer, a smartphone, and a tv at your fingertips all at the same time.
The WhisperStride system provides a quiet workout that reminds you of the good ol' days when you actually had time to workout at your local gym.
This elliptical isn't perfect- it's lacking some common features like power incline and the warranty could be longer.
But if you're looking for a commercial grade elliptical to add to your home gym, the Life Fitness Platinum Club Series is the way to go.