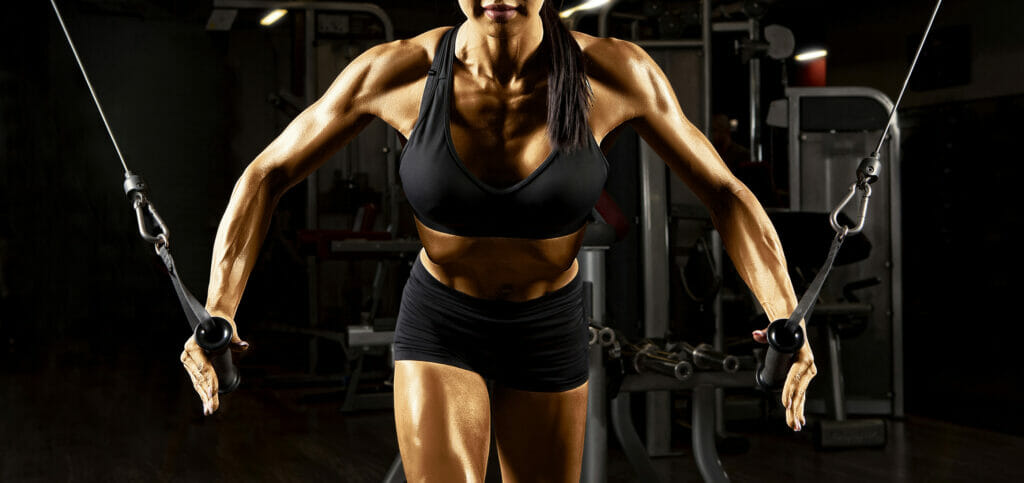 The G7 is Life Fitness' answer to what a home functional trainer should be – sleek, smooth acting, and heavy-duty.
And with 2 fully adjustable pulleys (20 height positions) and dual 160 lb stacks, the G7 is well-equipped to provide almost unlimited exercise variety.
The G7 also comes with a few unexpected extras, like several handles, an exercise mat, a stability ball, and a foam roller.
And like all other Life Fitness products, it's backed by a great warranty.
All things considered, I think the G7 is certainly an elite home gym, but it's also priced as such – the real question is whether or not it's worth the cost.
Well, that's what we're here to help you figure out.
In this review, I'll go over all the specs and features you can expect to find on the G7. I'll also try to compare it to some of the other best trainers around to see how it stacks up.
After reading, you'll know everything you need to to decide for yourself whether or not the G7 is worth investing in.
Off we go.
The Life Fitness G7 Home Gym
Life Fitness is a premiere fitness brand known around the globe for creating world class equipment.
Few brands have a better reputation or a more loyal following.
Their specialty is commercial gym equipment, but they've also got a pretty vast collection of home machines to choose from as well.
Life Fitness may be more known for their cardio machines, but their home gym lineup is no slouch either.
When it comes to home gyms, they've only got a few to choose from.
There's their entry-level G2, which is a pretty standard single stack gym; there's also their G4, which is an upgraded variation of their G2.
With the G7, Life Fitness switched things up and went with a functional trainer design.
The biggest (and really only) downside to going with Life Fitness is often the cost – their products aren't cheap.
But even so, their home gyms, including the G7, are priced competitively. If you decide to invest in the G7, expect to spend around $4k.
Pros
11-gauge steel frame
Dual pulleys, each with 20 height adjustments
Can fit in corners
Smooth cable action
Smooth pulley adjustments
Plenty of attachments included
Built-in pull up handles
Built-in storage for water bottle, towel, exercise booklet
Great warranty
Cons
Weight stacks only 160 lb
Not compatible with add on weight
Price
Frame
You'll find functional trainers in every commercial gym and they're becoming popular choices for home gyms too.
That's because you can perform pretty much any strength training exercise you can think of with a quality functional trainer.
And as the name implies, they can also be used to practice functional or sports specific tasks as well – think swinging a bat or a golf club.
As a PT, we use 'em all the time for rehab purposes – they're great for rotational core strengthening moves or even simple rotator cuff/shoulder exercises (the height adjustable pulleys come in very handy).
Anyway, the term "functional trainer" really refers to any single/double pulley home gym system.
When comparing these gyms, I like to start with a quick glance at the frame itself where I'm basically checking for size and heavidutiness (I'm not sure that's a word).
Most high-end trainers are made out of 11-gauge steel, which is really the thickest steel you're likely gonna find on a home unit.
Life Fitness doesn't provide these specs regarding their G7, but I reached out to one of their reps and discovered that the G7 does in fact come with an 11-gauge steel frame.
Which is what I'd expect from Life Fitness.
Looking at the assembled weight is another great way to get an idea as to how heavy-duty the gym should feel (it can also give ya an idea as to the gauge of steel used if that spec isn't provided – heavier gyms probably use thicker metal).
The G7 comes with an assembled weight of roughly 700 lb, which is significantly higher than the cheaper trainers that come in at around 500 lb or so, but pretty standard when compared to other high-end trainers.
The G7 takes up a footprint of roughly 70″ x 49″ or 6′ x 4′ (L x D), which again, is pretty standard for most home functional trainers.
The curved design of the frame means it could fit nicely in the corner of a room though, which could be beneficial for home gyms with more limited space.
The G7 is a dual pulley system, meaning there are 2 independent pulleys, each with it's own 160 lb weight stack (10 lb increments).
Each pulley comes with 20 different height options, giving you a ton of control over where you place 'em.
Users are pretty unanimous on the fact that the pulleys work exceptionally well, providing smooth cable motion and being easy to adjust quickly.
Something worth noting is that, like most functional trainers, the G7 utilizes a 2:1 pulley ratio.
This means the pulley systems are designed so that you're really lifting half of the weight you rack up on each stack (100 lb feels like 50 lb).
This means the G7 can provide a max of 80 lb of resistance per pulley.
This should be plenty of weight for most home lifters, but it might not cut it for the folks looking for a lot of resistance.
And honestly, there are plenty of more affordable functional trainers out there that come with dual 200 lb+ stacks.
Given the price, I don't think it would be asking too much to expect 200 lb stacks on the G7, especially since it isn't compatible with add-on weights.
If you're wondering why most functional trainers come with a 2:1 pulley ratio, it's because it allows you to move the cables a lot farther without having to elevate the stack so much.
Which comes in handy when doing a lot of the rotational and functional movements that trainers are commonly used for.
It also tends to give the gym a smoother feel.
Otherwise, this gym also comes with built-in pull up handles and a nice middle section that can hold a towel, a water bottle, and a built-in exercise booklet.
Overall, the G7 scores highly with the 11-gauge frame and I like that it can be placed in a corner, but it would be nice to see heavier stacks.
Attachments
Since all functional trainers use carabiners to connect handles to the cables, you can mix and match handles between brands easily.
That said, Life Fitness includes the following attachments with purchase of the G7:
Pair of medium length strap handles
Ankle strap
Thigh strap
Straight bar
Stability ball
Fitness mat
Foam roller
Ok, so Life Fitness includes a fairly generous selection of attachments with this home gym.
The strap handles allow you to perform any single/double arm move, including the popular chest flys. With a bench, you could also use both pulleys at the same time to do chest presses.
The ankle/thigh straps allow you to target your lower body, doing moves like hip abduction/adduction, hip extension, etc.
The straight bar could be used for bicep curls, tricep extensions, rows, etc.
And then the last 3 are just little bonuses Life Fitness throws in.
You could always purchase V bars, tricep ropes, or metal handles separately through other venders if you like.
Overall, Life Fitness includes a decent amount of accessories with the G7, more than some other brands.
Assembly
Functional trainers, including the G7, come with a lot parts and hardware, including pulleys and cables that need to be routed correctly for proper performance.
In other words, assembly is quite involved.
This isn't the type of home gym I'd want to assembly myself.
Actually, it isn't the type of gym Life Fitness wants you assembling yourself either – if you purchase directly through Life Fitness, I think they require you to opt for their white glove delivery, which includes delivery and installation.
I know it sucks being forced to pay for their assembly, but in the long run I think it's a blessing – you don't want to spend all day messing with this thing only to not have it work correctly.
I say let the professionals do it.
They come in as a team and will have the G7 unpackaged and assembled in a few hours.
If you purchase the G7 somewhere else, you may have the option to assemble yourself.
And if you really like putting things together or are just lookin' for a challenge, have at it (just keep in mind this thing weighs 700 lb).
Warranty
Life Fitness backs their G7 Home Gym with the following residential warranty:
Lifetime frame
Lifetime parts
3 year wear items
Yeah, that's a legit warranty.
Seeing a lifetime guarantee on the frame is awesome, but seeing it on the parts too is even more rare.
And in this case, the "parts" cover the pulleys and all hardware.
The cables and any upholstery are covered under the 3 year wear items guarantee, which is also pretty good.
Overall, I think this is a great warranty. It certainly adds extra peace of mind when deciding on a purchase of this magnitude.
Final Thoughts
Well, that about does it for the G7.
This home gym is high-end from top to bottom.
I like that it's constructed with a heavy-duty, 11-gauge steel frame and I like that it's designed to fit nicely in corners.
I also like that the pulleys come with so many adjustment points and that Life Fitness includes so many attachments with purchase.
And that warranty is about as good as it gets for functional trainers.
The only real downside I see (other than the fairly high asking price) is that the weight stacks are only 160 lb and they aren't compatible with any add ons.
Again, folks that won't ever need more than 80 lb of resistance per arm won't notice, but more gifted lifters might find themselves needing more resistance.
So, is the G7 worth the cost?
Based on the overall quality and warranty… yes, probably.
Paying for the "Life Fitness" name adds about $1k to the asking price, but with it you're buying the peace of mind that is knowing this gym will last a lifetime.
(Plus it's pretty darn sleek lookin').
That said, there are plenty of other high-end functional trainers that offer similar specs and don't cost nearly as much (that aren't sporting' the "Life Fitness" name).
If you're looking for a ton of resistance, I like REP's FT5000, which comes with 2 x 220 lb stacks (and costs under $3k).
XMark's popular trainer is another nice option, coming with dual 200 lb stacks and plenty of attachments.
All that said, if you're cool with the price and just want a great functional trainer that'll last, the G7 isn't a bad investment.