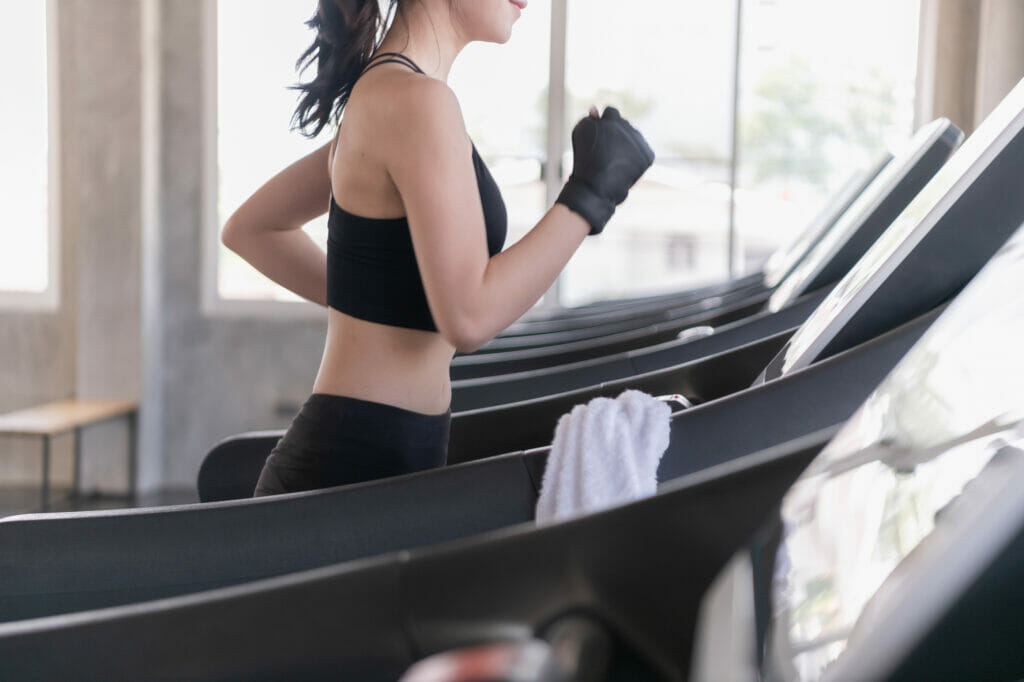 Life Fitness is one of the premiere fitness brands out there and with machines like their Club Series + Treadmill, it's easy to see why.
As the name might imply, this beast of a treadmill is commercial grade from top to bottom.
With a 4.0 HP AC motor, 3.5″ rollers, and a ridiculously heavy-duty frame, the Club Series + would fit right in in any commercial gym around the world.
But it also comes with some interesting tech features that can make it a fun choice for home use as well, like the option to choose your console based on workout and entertainment needs.
Throw in Life Fitness' famous Flex Deck Shock Absorption System and a generous warranty and it's pretty safe to say the Club Series + is a home run of a treadmill.
But is it really worth the extravagant cost?
Well, that's what we're here to find out.
In this review, I'll go over all the specs, features, and everything else in between that this treadmill has to offer.
I'll also try to compare the Club Series + to other top home treadmills to see how it stands up.
After reading, you'll be well-equipped to decide for yourself whether or not this is the right treadmill for your home gym.
Well, let's get to it.
The Life Fitness Club Series + Treadmill
Life Fitness made a name for themselves as a commercial brand. I imagine we've all seen their cardio and/or strength machines in our local gyms before.
When I was still going to the Gold's around me, I enjoyed using their treadmills on a fairly regular basis.
Well, enjoyed as much as I would enjoy running on any treadmill that is.
Anyway, Life Fitness also has a pretty extensive residential lineup as well.
They've got a handful or so of home treadmills to choose from and even though Life Fitness is known as a luxury brand, they've got several treadmills that won't completely break the bank.
Like their new Run CX Treadmill, which I think is one of the brand's best deals yet.
The Club Series + (which I'll refer to as simply the "Club Series" from now on) is one of Life Fitness's highest-end models, with only their Platinum Club Series model costing more.
Pros
4.0 HP AC motor
22″ x 60″ running surface
FlexDeck Shock Absorption System
Extremely heavy-duty frame
3.5″ rollers
400 lb weight capacity
Top speed of 12 mph
Top incline of 15%
Choice of console
Great warranty
Cons
Price
Long wait times to receive
Running Surface
Let's start this review off with a look at the Club Series' running surface.
I think this is a smart place to start because it instantly tells you how much room you'll have and whether or not you can expect a comfortable workout experience.
As a commercial grade treadmill, we would expect the Club Series to be packing a spacious running surface…
And those expectations would be correct.
The Club Series comes with a 22″ x 60″ running surface, which is large enough to comfortably accommodate walkers and runners of all heights.
This is also about as large as any home treadmill comes these days, although there are a few extra long treadmills out there with 62 – 63″ lengths.
Anyway, the running surface on this treadmill is as large as we should expect to see, so no concerns there.
The Club Series also scores very highly in terms of heavy-dutiness (I don't think that's a word, but I like to use it all the time anyway).
When considering how heavy-duty a treadmill is, I think it makes sense to look at the machine's assembled weight because this spec tells us exactly how heavy it is.
And heavier machines tend to feel more stable and secure during workouts.
The Club Series comes with an assembled weight of 434 lb, which is very heavy for a treadmill.
For the sake of comparison, my Horizon 7.8 AT weighs in at around 330 lb and it's really heavy-duty for a home treadmill (and feels rock solid).
Well, the Club Series has a good 100 lb on my 7.8 AT.
By the way, this extra size and weight is one of the biggest differences between commercial grade and residential treadmills, so if you're looking for the commercial feel, you'll appreciate all this mass.
All this weight allows the Club Series to safely hold folks weighing up to 400 lb, which is an impressive weight limit for a treadmill too.
Something else worth noting, is that this treadmill comes with Life Fitness' patented Flex Deck Shock Absorption System, which reduces the strain on your legs during workouts (some say by as much as 30%).
Life Fitness treadmills are famous for being some of the most comfortable treadmills to use and this is why.
Otherwise, the Club Series comes with additional, less technical upgrades that most home treadmills can't hang with –  like cast aluminum side rails, brushed stainless steel vents, and a legit corrosion/stain resistant pain job.
In other words, it looks like the treadmills you see in the gym.
Overall, there's nothing to complain about when it comes to the frame department. This treadmill has a spacious running surface, a heavy-duty frame, and an advanced shock absorption system.
Motor
Even though personally I think the running surface is a more important spec to consider, I do think it's more fun to talk (and write) about motors.
When thinking about home treadmill motors, it's usually all about strength – because most home treadmills come with DC motors.
And strength is certainly important to consider, especially if you plan on running.
Most home treadmills come with motors in the 2.0 – 4.0 HP range and if you plan on running on a regular basis, it's a good idea to look for one that's packing at least 3.0 HP.
Generally speaking, stronger motors will provide a smoother workout because they don't have to work as hard to provide the same output as a weaker motor.
For example: a 3.0 HP and a 4.0 HP might both have a max speed of 12 mph, but the 4.0 HP motor will be able to reach that speed faster and struggle less to maintain it.
There's also the issue of HP vs CHP (continuous horsepower).
HP usually refers to the max power a motor can reach for even a short period, while CHP refers to the functional power it can maintain over time.
This means CHP is a more useful spec when it comes to home treadmills.
But you'll see both HP and CHP used when researching treadmills and it's a good idea to keep this difference in mind when comparing motors.
The Club Series comes with a 4.0 CHP motor that can reach a peak output of 8 HP – this is very strong for any treadmill.
But what really sets the Club Series' motor apart from most is the fact that it's an AC motor.
I'm no mechanic, but AC motors are usually only found in commercial grade treadmills because they're more efficient than DC motors, allowing them to run for longer periods without over heating.
This makes them a better choice for commercial settings, where a treadmill is expected to be used frequently by multiple users.
Speaking of efficiency, the motor on the Club Series comes with an IE2 rating, which I believe is code for "highly efficient" (more efficient than an IE1 but not quite as efficient as an IE3).
So, the Club Series comes with a very powerful, AC motor – this makes it well-equipped to withstand hours of daily use by multiple users.
The motor on this treadmill is very impressive, but I like to consider the rollers too.
The rollers are the parts that allow the belt to glide across the deck and larger is bigger because they put less stress on the belt (and make for smoother operation).
Most home treadmills come with rollers in the 2″ – 3″ range, but anything over 2″ is pretty good.
With this in mind, the Club Series comes with 3.5″ rollers, which I'm pretty sure are the largest rollers I've ever come across.
With a strong, AC motor and huge rollers, the Club Series is able to provide a true commercial feel.
This treadmill also comes with a max speed of 12 mph and a max incline setting of 15%, all of which is standard for most treadmills.
Overall, the Club Series scores highly with a powerful, AC motor and huge rollers. This is one of the nicest motors you're going to find on a treadmill.
Features
The Life Fitness Club Series + Treadmill comes with the option to choose between 3 different consoles and the features you get depend on which console you go with.
So here's a quick rundown on the differences between them. For a more in-depth description, you can check it out on Life Fitness' site:
SE3 HD Console
21.5″ HD touchscreen display
Connects to internet
Bluetooth compatible
Compatible with fitness apps like RunSocial, Life Fitness Connect
Includes entertainment apps (Netflix, YouTube, etc)
TV
Internet browser
Apple/Samsung Galaxy Watch compatible
ST Console
21.5″ touchscreen display
Connects to internet
Bluetooth compatible
 TV
SL Console
LED display
22 built-in workouts
Bluetooth /ANT+ compatible
Compatible with fitness apps
Apple Watch compatible
Ok, so the SE3 HD console is the most sophisticated option and costs the most; the SL console is the least advanced and costs the least.
And the ST console is somewhere in the middle.
I guess it's cool that Life Fitness gives us the option to save a little cash and go with a more basic console, but my only real complaint about this treadmill is that I think the consoles are too expensive.
And I really have this complaint about all Life Fitness treadmills.
There's a $2500 difference between the SE3 HD console and the SL console…
Sure, it looks great and it's sleek as hell, but come on – I could buy a 75″ ultra HD flatscreen for that price.
Assembly
I include a short discussion on assembly for all my treadmill reviews, so I kept this section in here for the sake of continuity, but if you purchase a Club Series, pros will be doing the assembling for ya.
Life Fitness requires white glove installation for this model.
Which I think is a blessing because this thing weighs over 400 lb and would be a real pain in the you know where to move around.
Plus, you don't want to drop that kind of cash on a treadmill and then risk messing something up during assembly.
So, if you do decide to purchase this treadmill, you can rest assured that the professionals will take care of all the heavy lifting and make sure it gets put together correctly.
Warranty
Life Fitness covers the Club Series + Treadmill with the following residential warranty:
Lifetime frame
Lifetime motor
10 year parts
1 year labor
6 months cosmetic items
This is a quality warranty.
I'd expect to see a lifetime frame and motor guarantee for a treadmill in this price range, but you never know.
And 10 years on parts is great considering many top treadmills max out at 5 years.
A year on labor is pretty standard regardless of price range, although Sole offers 2 years for labor on most of their products.
Overall, I think Life Fitness offers a very generous warranty on this treadmill (as they should considering the price).
Final Thoughts
Alrighty, that about does it for the Club Series +.
I have to say, it's usually more fun to write reviews where I can find stuff to complain about. I mean, no treadmill is perfect and there's always something that could be better.
And since I try to keep my reviews as objective as possible, I don't like to come off like I'm trying to hype up a product to my readers…
But there's really not much to complain about when it comes to this treadmill.
It's a luxury treadmill, so we should have high expectations to begin with, but the Club Series still doesn't disappoint.
In terms of performance, you can't do better than a 4.0 HP AC motor with 3.5″ rollers.
And with a frame that big and heavy, you won't have to worry about this treadmill feeling anything less than commercial grade.
And it's even backed by a great warranty.
As I mentioned above, my only real complaint is that I think Life Fitness' advanced consoles are too expensive – but, I guess that's one of the perks of being Life Fitness.
Speaking of price, the cost of this treadmill with the SL console (just over $7k) isn't bad for a commercial treadmill.
Keep in mind, the fact that it has an AC motor will instantly set the price over $5k.
Oh, something else that sucks is that if you decide to purchase one of these elite treadmills, you'll have to be patient – wait times can be as long as 6 months because they're build to order.
But if you're looking for one of the best treadmills in the world, the Club Series + is definitely worth it.