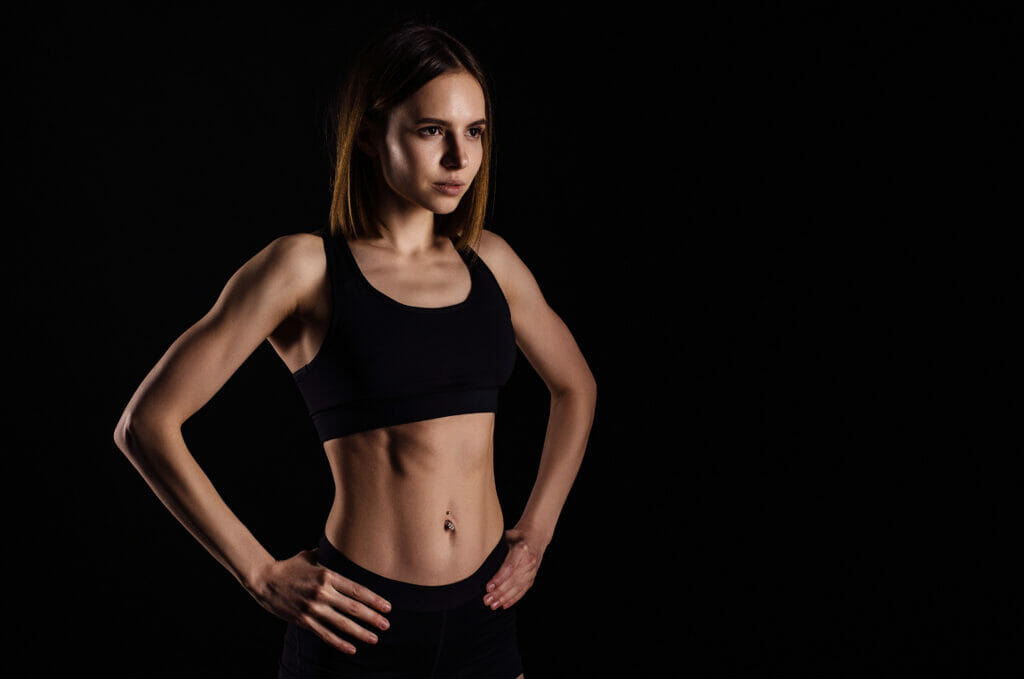 Inspire's known for their innovative home gym systems and their M3 Multi Gym fits nicely into their impressive lineup.
At first glance, the M3 might not look that much different than any other single stack home gym, but if you look a little closer, you'll notice some of the unique features that set the M3 apart from most.
The fact that it comes with a 215 lb stack is a good start, but the M3 also utilizes different pulley ratios for each station, giving you access to enough resistance to get the job done.
It also comes with independent press arms (with free movement handles), dual high pulleys, an adjustable position leg developer, and additional mid/lower pulley stations for tons of workout variety.
There's an interesting built-in ab-crunch station as well – I don't love the motion of it, but it's still pretty cool Inspire was able to fit it in.
Toss in a lifetime warranty on everything and it's fair to say the M3 has a lot to offer.
But all this awesomeness isn't cheap, so before you commit, you need to make sure it's the right gym to meet your needs – and that's where I can help.
In this review, I'll go over everything this home gym does and doesn't have going for it, but I'll also try to compare it to some of the other top options in this price range.
After reading, you'll know whether or not the M3 is worth investing in.
Off we go.
The Inspire Fitness M3 Multi Gym
Inspire is an elite fitness brand with a stellar reputation in the biz.
They're likely most well-known for their innovative functional trainers, like the FT2, which comes with a built-in Smith bar that utilizes weight stacks for the resistance.
But their Multi Gyms are pretty impressive too and they've got several to choose from.
The M3 we're here to go over now is one of Inspire's higher-end home gyms and as I'm writing this, it's listed for $3,699.
This is a little pricey for a single-stack home gym system, but again, the M3 isn't your run-of-the-mill home gym.
Let's start this review off with a look at the gym itself, then we'll go into more detail with what each station has to offer.
Pros
Heavy-duty frame
215 lb weight stack
Varying pulley ratios for different stations
Independent press arms
Free movement handles for press arms
Adjustable angle press arms
Ab crunch station
Dual high pulleys
High quality leg developer
Compatible with a leg press attachment
Lifetime warranty on everything
Cons
A little pricey for a single stack system
Have to be careful using ab crunch station
Tricep rope not included
Frame
In terms of appearance, I would say the M3 is an attractive gym system. I like the matte black and I find the general shape and design to be pretty sleek.
More importantly, that sleek frame is built out of 11-gauge steel, so you won't have to worry about it being able to handle the stresses of daily use.
And the power coat finish will help protect it from dings and scratches, which is always nice.
With the following dimensions, 73″ x 40″ x 84″ (L x W x H), the M3 is pretty standard in terms of dimensions, but keep in mind you'll need a little extra floor space to actually use it.
But with an assembled weight of 523 lb, the M3 is heavier than a lot of single stack systems.
Part of this is due to the heavier stack it comes with, but part of it also due to the heavier-duty construction.
Being this heavy will certainly make it harder to transport and assemble, but in the long run it's a good thing because it'll also make it feel more secure during use.
Overall, the M3 is a sleek, heavy-duty home gym.
Stations
A gym's "stations" refer to the different pulley locations and having more typically makes it easier to perform a large variety of exercises.
The M3 comes with the following included stations:
Press arms- all home gym machines come with a press arm station of some sort, but the M3's press arms stand out for a few reasons. For starters, they act independently of each other, so you can isolate and press with one arm at a time. They also come with free movement handles (nylon strap attached to each press arm), which essentially let you treat each press arm as a dumbbell, but they also let you perform pec flys. Finally, the press arms are adjustable position – you can change the angle of your chest press, but you can also position them so that you can do standing shoulder press, which is awesome.
Dual high pulley- many home gyms come with a high pulley station, allowing you to do exercises like lat pulldown or tricep extensions, but the M3 comes with 2 high pulleys positions side-by-side, again allowing you to isolate and work each arm individually.
Mid-pulley- there's a pulley located right above the head rest for the press arm station, which can be used for functional moves, like core rotations/diagonals. I could also seeing it working well for standing cable face pulls (depending on your height).
Leg developer- Inspire does a nice job with their leg developers, making them more comfortable than most. The leg developer on the M3 lets you do hamstring curls and leg extensions, but it comes with an adjustable starting position for added comfort.
Ab crunch station- the headrest for the press arm station is attached to a cable, allowing you to grab the handles by it and perform resisted crunches. This is a cool idea, but the therapist in me could see some folks developing neck pain if they aren't careful. Mostly because the resistance is coming from the neck position, so you'll have to focus to ensure you're using your abs to perform the movement (and not your neck flexors).
Lower pulley- finally, there's a traditional lower pulley located near the weight stack. This gives you access to hip abduction/adduction/extension, bicep curls, upright rows, or anything else you'd like to do from a low starting position.
The M3 is also compatible with a leg press attachment (sold separately for ~$1k), which would give you access to the popular leg strengthening exercise, as well as calf raises.
Overall, the M3 scores highly with so many pulley stations, giving you access to 100+ different strength training moves.
Resistance
The M3 is a single-stack home gym, meaning the resistance for all your exercises will be provided by the weight stack located at the rear of the gym.
The M3 comes with a 215 lb stack, with each weight plate weighing 10 lb.
But the actual resistance you'll feel depends on the pulley ratio for whatever pulley you're using… and on the M3, there are varying pulley ratios.
You have to keep in mind that pulleys are simple machines, designed to make lifting weight easier – so on most home gyms, it feels easier to lift the weight on the stack vs a dumbbell or plate of the same weight.
But again, it all depends on the pulley ratio.
A lot of home gyms use a 2:1 pulley ratio, meaning that it feels like you're lifting half the weight loaded on the weight stack (60 lb on the stack would provide 30 lb of resistance).
On the M3, the different stations have the following pulley ratios:
High/mid/lower pulleys- 2:1
Leg developer (extension)- 1:1
Leg developer (ham curl)- 4:3
Press arms – 2: 1.2
Alright, lets look at what we have here.
With the high/mid/lower pulleys, you have a 2:1 ratio, meaning you'll be lifting half the weight racked – but this is fine because most of us won't need a ton of weight with these exercises.
With knee extension, we get a 1:1 ratio, giving us access to more resistance where most of us are able to lift more weight.
With the press arms, you'll be lifting 60% of the weight racked, so just a little more than the ratio found on the other pulleys.
It would be nice to have a 1:1 pulley ratio on the press arms, but I doubt that was feasible, given all the other stations.
Overall, I like that Inspire designed the M3 with varying pulley ratios because it gives us access to more/less weight depending on the needs of the exercise.
FYI, the leg press attachment comes with a 1:2 pulley ratio, giving you access to 430 lb of resistance.
Accessories
Inspire's M3 Multi Gym comes with the following included accessories:
4x D-handles
EZ curl bar
Extension chain
Ankle strap
Alright, nothing too mind blowing here, but the M3 comes with everything you need to get started.
The D-handles can be used to do anything and the curl bar comes in handy for curls (duh) and tricep extensions.
Speaking of triceps, it would be nice if a tricep rope was included, but you can easily get one for like $10 on Amazon.
You'll notice that a lat pulldown bar isn't included here – that's because the M3 comes with dual high pulleys.
You could attach both pulleys to a single lat pulldown bar if you wanted, but you could also use the D-handles to perform lat pulldowns, giving you more range of motion.
Assembly
As you'd probably expect, the assembly process for the M3 is pretty involved – after all, there are a lot of pulleys and moving parts here.
If you're good at following instructions and enjoy the process, you'll probably be fine putting the M3 together yourself – the manual is well-written and easy enough to follow.
But if putting things together isn't your forte, you'll be better off letting the professionals do it for you.
If you purchase through Johnson Fitness, I believe you can get white glove delivery and installation for only $199, which is a pretty sweet deal.
Also, keep in mind this gym weighs over 500 lb – if you assemble yourself, you'll have to get it to its final destination for assembly yourself.
Overall, this is one I'd probably let the pros do, but if you do decide to assemble yourself, make sure you have at least 1 helper with ya to get the job done.
Warranty
Inspire offers the following home warranty on the M3 Multi Gym:
Lifetime frame
Lifetime parts
Yup, the M3 is covered from head to toe with a lifetime warranty.
Most gyms like this come with a lifetime frame guarantee, but we don't see a lot of lifetime parts warranties (Body-Solid does offer lifetime parts guarantees on some of their home gyms).
And yes, Inspire's parts warranty does include the pulleys, cables, upholstery, and everything else found on the M3.
Overall, this is the perfect warranty.
Final Thoughts
That about does it for the M3.
All things considered, I think the M3 is a pretty incredible home gym system, so I don't have much to complain about here.
It would be nice if a few more attachments were included, but given the quality and sophistication of what the gym has to offer, this is a small complaint at best.
But it's not cheap, so you have to make sure it's really worth investing in before you make a final decision.
And in an attempt to assist with this process, I want to finish this review off with a quick rundown on a couple of similarly-priced competitors.
You know, so you can see what else is available in this price range.
The first one that comes to mind is Body-Solid's G5S, which is usually priced somewhere around $3000.
The G5S is a heavy-duty home gym that comes standard with a 210 lb stack and it comes with high/mid/low pulleys, a leg developer, and a press arm station with included pec fly handles.
It's a great gym, but the M3, with its varying pulley ratios and upgraded leg developer have it beat in my humble opinion.
There's also Life Fitness's G4, which is priced around $3,200.
The G4 is a good example of a well-built single stack system – it comes with a 160 lb weight stack, a 2:1 pulley ratio, and the typical stations you'd expect on any self-respecting multi gym.
But it's lacking all the cool features that make the M3 unique, like the varying pulley ratios, independent press arms, and dual high pulleys (not to mention Life only offers 3 years on the cables).
Overall, as I think these 2 examples help show, Inspire's M3 is a unique home gym with features not found on most competitors.
If you're looking for a high-quality gym machine that's built to last (and you have the budget), I think Inspire's M3 is a great choice.