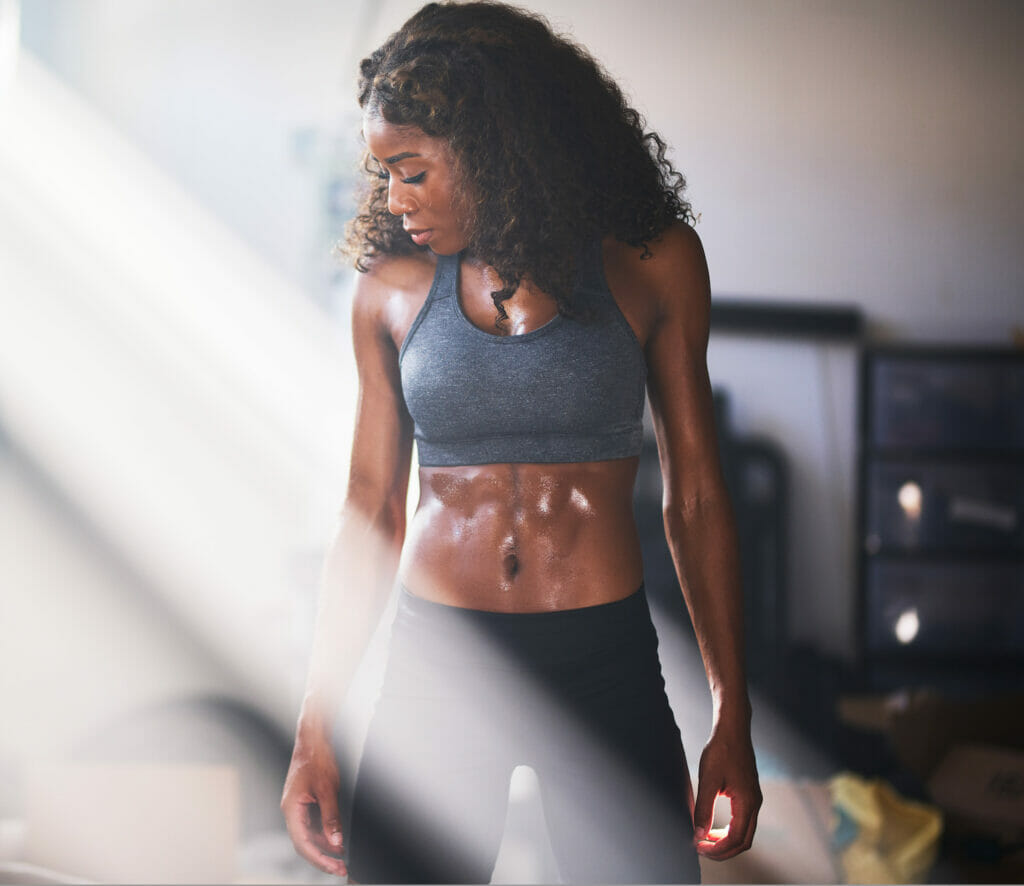 Life Fitness is one of the most well-renowned names in fitness equipment today. And even though they're most known for their commercial gear, they've got an impressive lineup of home machines to choose from too.
Like their G4 Home Gym.
The G4 is a classic, all-in-one fixed motion home gym that provides access to all the key strength training exercises you'd expect.
Highlights of this gym include an adjustable angle press bar, dual pivot pec/reverse fly arms, 3 pulleys, and a single stack with 160 lb worth of resistance.
And since this is Life Fitness we're talking about here, of course the G4 is covered with a lifetime warranty.
Overall, if you're looking for a high-end home gym machine that's safe to use and built to last a lifetime, the G4 is a smart choice.
But before you decide on an investment of this size, you gotta do your homework- and that's where I come in.
In this review, I'll go over all the specs and features the G4 has to offer. I'll also try to compare it to other home gyms to help you get an idea as to how it stacks up against the competition.
After reading, you'll know whether or not the G4 is the right home gym for your home gym.
Let's get rollin'.
The Life Fitness G4 Home Gym
If you've ever worked out in any commercial gym in the United States, odds are you've come across Life Fitness. They're easily one of the most popular commercial brands and for good reason- their equipment is awesome.
When I think of Life Fitness, I immediately picture their treadmills and other cardio machines, but they have plenty of strength training machines too.
And as I mentioned above, their home lineup is almost as extensive as their commercial one.
The only real downside to Life Fitness and their home equipment are the prices, which can be steep for a lot of folks.
There's really no getting around the fact that Life Fitness is a luxury brand.
When considering the G4 (or any Life Fitness product for that manner), what you have to keep in mind is that you get what you pay for- Life Fitness is one of the best brands in the game and they know it, so they're gonna make you pay for it.
Moving on, the G4 is really one of 3 home gym systems Life Fitness offers. The others consist of the G2, which is another classic home gym, and the G7, which is a functional trainer system.
The G4 falls right in the middle in terms of cost and comes with a retail price of roughly $2600.
Pros
Heavy-duty frame
300 lb weight capacity
160 lb stack
Adjustable angle, multi-press arms
Leg developer
Dual pivot pec fly arms
3 pulley system
Several accessories included
Compatible with leg press attachment
Access 30+ exercises
Great warranty
Cons
Frame
The G4 is a heavy-duty, fairly compact, all-in-one home gym machine. Yeah, I know there's a lot going on in that sentence, so let's break it down a little.
The term "heavy-duty" gets thrown around a lot from us fitness equipment bloggers (myself included) and honestly, it doesn't always mean a lot.
When I use the term, I'm referring literally to how heavy a machine is and how strong the frame is.
I think the best way to gauge how heavy-duty a gym or any piece of equipment is, is to look at a few specific features- like the machine weight and weight capacity.
You can also look at the materials it's made of, but pretty much all home gym frames are made out of steel, so that might not tell ya that much.
So, back to the specs I mentioned.
Even though heavier machines are more of a pain to assemble and move, being heavier is a good thing because it's going to make for a more stable machine during use.
Heavier gyms aren't going wobble or move around as much as lighter ones.
In the case of the G4, that shouldn't be an issue- this gym weighs 484 lb assembled, which is much heavier than many other home gyms.
For the sake of comparison, Body Solid's Powerline P2X (which is an impressive gym in its own right) only weighs about 391 lb.
And in case you're wondering, both gyms have the same 160 lb weight stack.
The extra weight is indicative to how much more robust the G4 really is (remember when I said you get what you pay for?).
Even though the G4 is a lot heavier than most, it still comes with the same 300 lb weight limit, which is pretty standard for all similar home gyms.
In terms of space, the G4 comes with the following dimensions assembled (not counting the optional leg press attachment): 86″L x 70″W x 83″H.
This is a bit larger than many of the other single stack home gyms (the P2X included), so definitely something to keep in mind if space is limited.
But in terms of home gym equipment, it's still fairly compact, considering this could be the only piece of strength training equipment you need.
Life Fitness recommends a floor space of 10′ x 8′ for comfortable use – remember, you'll want a little wiggle room for moving around and performing all the exercises.
Overall, the G4 scores highly with its heavy-duty frame. It's not the most compact home gym around, but it's not that much bigger than the comps either.
Stations
Alright, let's get to the good stuff- the workout stations.
The G4 comes with all the options one would need to get a full body workout in. These include:
High pulley- this is where the lat pulldown bar is located and it's a must for lot's of great moves (like lat pulldowns of all varieties, as well as the popular tricep extensions).
Multi-press arms- here's the star of the show. These arms are connected to the middle pulley and they allow you to do some essential strength training moves. You can adjust the position of the arms to perform chest press, as well as varying degrees of incline press and shoulder press. There's also the pec fly arms that can be used for pec flys (duh), but you can also reverse them and use them to perform rear delt flys. You can even position the arms to do rows, and with the different grip positions to choose from, you can hit the back from any angle you like.
Leg developer- this station is attached to the lower pulley and it lets you target all the major muscle groups in your legs.
Low pulley- the lower pulley can also be utilized separately from the leg developer to perform additional leg moves, like hip abduction/adduction (using the included ankle cuff). Attaching other bars to the lower pulley allow you to perform other exercises, including bicep curls and upright rows.
Optional leg press- the G4 doesn't come standard with a leg press attachment, but it's compatible with one in case you want to grow your home gym in the future (costs about $700).
Overall, you can perform 30+ exercises with this home gym system.
Resistance
The G4 is a single stack home gym. This means it comes with one stack of plates, as opposed to a dual-stack system that comes with 2.
This stack weighs 160 lb, which is pretty standard, but you can upgrade it up to 210 lb for an additional cost.
Something to keep in mind when thinking about how much resistance this gym can provide- the cables work on a 2:1 ratio.
This means that lifting 100 lb on the stack will feel like lifting 50 lb in real life.
This is how most home gym machines work, although I don't think all gyms utilize the same 2:1 cable ratio.
Home gym machines like the G4 are great because they're safe to use and offer a lot of difference exercise variety, but they aren't the best options for serious strength training.
Old school dumbbells and barbells are still the gold standard when it comes to that.
Machines like the G4 don't take up nearly as much space though, and the fixed movement pattern makes for a very structured workout.
Overall, the 160 lb stack is common, but it's nice you can upgrade and get an additional 50 lb if you need it.
Accessories
Life Fitness includes the following attachments with purchase:
Lat bar
Row bar
Triceps/ab straps
Ankle cuff
The above attachments are really everything you'll need to get started and many of them can be used for more than 1 exercise.
Speaking of exercises, along with the owner's manual, Life Fitness also includes an exercise booklet with little magnetic exercise cards that can stick right to the gym to help you along the way.
The only accessory I see messing is a pair of standard handles- this would be a nice touch in case you want to do single arm moves.
And I already mentioned about the optional leg press attachment.
Assembly
The G4 isn't a home gym most people are going to want to assemble themselves- to say that it's an involved process would be a gross understatement.
If you're curious, check out the assembly manual- there are all kinds of small pulleys, cables, discs, and components that need to be managed and routed.
Looks like a nightmare to me.
Luckily, I don't think Life Fitness really gives you an option of assembling yourself- you have to pay for shipping and professional assembly at the time of purchase.
If you purchase in person from a show room you could probably convince them you can assemble yourself, but I'm not sure why anyone would want to do that to themselves.
If you ask me, it's worth the extra $300 to have the professionals assemble for ya.
Warranty
Life Fitness backs the G4 Home Gym with the following residential warranty:
Lifetime frame
Lifetime parts/pulleys/welds
3 year pads and cables
I think this is a great guarantee for this home gym.
You can't beat a lifetime guarantee on the frame and all parts because that's as long as it gets. Three years on the wear items isn't bad either, although I'd expect those cables to last a lot longer than that.
I know it can suck to spend this kinda cash on a home gym, but seeing a great warranty like this can definitely add a little peace of mind.
The G4 is certainly built to last a lifetime.
Final Thoughts
Well, that about does it for the G4 Home Gym.
I really don't have anything to complain about here- this is a heavy-duty gym that's well-built and it comes with all the workout stations you'd want out of a single stack system.
Honestly, this is exactly what I'd expect from Life Fitness.
The G4 is on a different level than the other more affordable gyms (like the Powerline P2X and Marcy Gyms)- it's larger and heavier-duty and it's going to give that commercial feel they can't offer.
The only downside, of course, is the price.
But as I've already mentioned a couple times now- you get what you pay for.
If you're looking for one of the best single stack home gym machines around, the Life Fitness G4 is indeed worth the investment. Highly recommended.