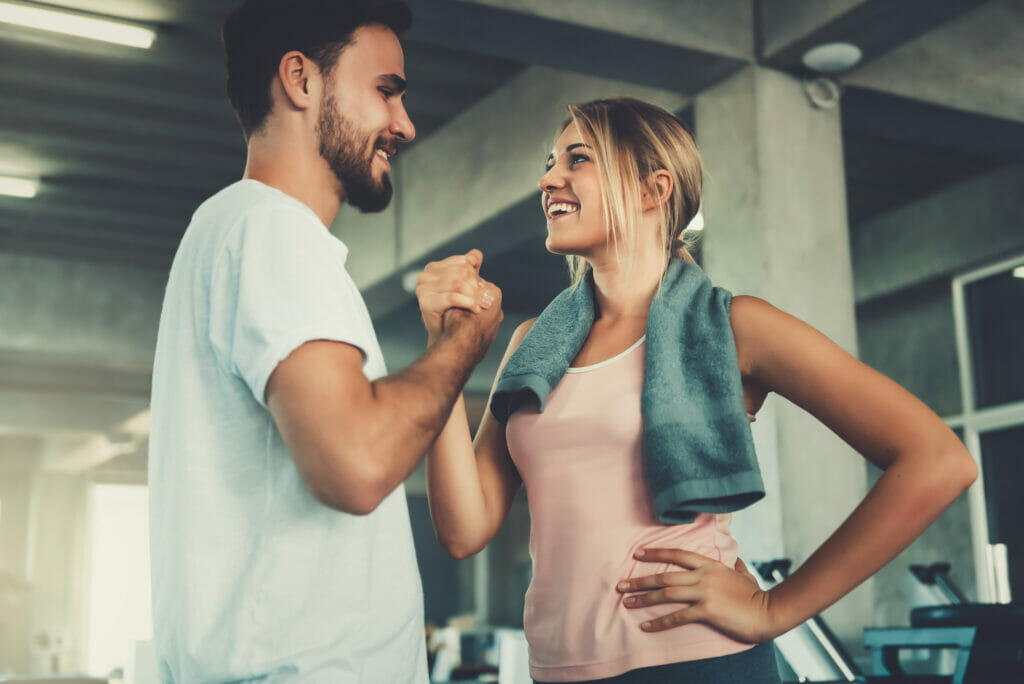 Inspire Fitness' M2 packs a whole lot of gym into such a compact frame, making the name "Multi-Gym" a bit of an understatement.
Personally, I would've named it something like the "M2 Whole-Bunch-A-Gym", but I agree, that doesn't exactly roll off the tongue.
Names aside, the M2 is a really cool home gym system.
At first glance, it doesn't look much different than your typical single stack system, but when you start diving into the finer details, you start noticing some pretty sweet upgrades.
Like most respectable multi-gyms, the M2 comes with a chest press station, a leg developer, an upper pulley station, and a lower pulley station, but it also comes with an independent middle pulley station for functional training moves.
You'll also notice that the leg developer is easily adjustable and looks more like something you'd see on a stand alone leg extension machine, instead of the kinda weak developers found on a lot of similar gyms.
These upgrades are nice, but what really stands out to me about the M2 is that it utilizes different pulley ratios depending on what station you're using.
This means the same weight stack will feel heavier or lighter depending on which exercise you're doing.
Overall, I think the M2 is a great multi-gym, but it's not cheap – before you buy, you need to make sure it's really what you're looking for.
And that's where I can help.
In this review, I'll go over everything this home gym does and doesn't have going for it and I'll also try to break it down into its different stations so you'll know exactly what it's capable of.
After reading, you'll know whether or not it's the right gym for your home gym.
Alright, let's do this.
The Inspire Fitness M2 Multi-Gym
You don't see a lot of marketing for Inspire Fitness, but they're a great brand – some (like myself) might even say they're casually creating some of the best home gyms out there.
They offer a few cardio machines here and there, but they really specialize in strength training equipment.
Their functional trainers are especially impressive, but as I believe this review will prove, their multi-gym systems are pretty spectacular too.
As I'm writing this, they've got several home gyms to choose from and the M2 is one of their more mid-range models.
Prices can change, but Inspire's seem to be pretty consistent, so expect to pay somewhere around $2700 for this home gym.
I want to start things off with a few words on the gym itself, then we'll dive right into the different stations that make this gym "multi-".
Pros
Solid frame
Compact footprint
Smooth pulley action
Tons of workout variety
Adjustable angle, multi-press arms
Free handle option for press arms
Lat pulldown station
Middle pulley
Upgraded leg developer
Lower pulley
Compatible with leg press attachment
Different pulley ratios used with each pulley station
Amazing warranty
Cons
Challenging assembly
Weight stack could be a little heavier
Would be nice if more attachments were included
Frame
The M2 is a good looking home gym, sleek with its protective powder coat finish, but more importantly, it's a stable gym with a solid foundation.
It's frame is constructed out of 2″ x 4″ oval and 3″ round 11-gauge steel, giving it a stable feel.
One of the notable signs of more affordable gyms (not that the M2 is a more affordable gym) is that they come with lighter-weight frames and components.
Well, this isn't an issue with the M2.
This gym takes up a footprint of around 65″ x 49″ (L x W), which is pretty compact for a multi-gym like this – many comparable gyms are upwards of 80″ long.
The compact footprint may come in handy for homes with less floor space, but with an assembled weight of 400 lb, this gym ins't lightweight.
There are heavier multi-gyms out there (Body-Solid's G5S weighs in at 511 lb), but this is still pretty robust considering it comes with a single, 165 lb stack.
For the sake of comparison, Marcy's popular 150 lb Home Gym weighs in around 260 lb… remember what I said about affordable gyms coming with lighter-weight frames?
Anyway, the point is that the M2 is a pretty heavy-duty home gym with a solid frame – so you won't have to worry about it wiggling around or rocking on you during workouts.
Stations
A multi-gym's "stations" refer to the different areas and pulleys it comes with and these are what largely determine what exercises you can do with the gym.
Inspire's M2 comes with the following workout stations:
Chest press – this gym comes with an adjustable angle chest press attachment located front and center. This allows you to perform chest presses at varying angles, but you can also use it for shoulder presses and seated rows. There is no separate pec fly station, but you can adjust the press arms all the way back out of the way and unlock the free handles to perform moves like flys and various chest presses without the fixed arms. This is a cool take on the pec station and it adds a nice level of variety to the chest press.
High pulley – the high pulley is commonly used for lat pulldowns, but it can also be used for tricep extensions or high rows.
Leg developer – the M2 comes with a high-end leg developer that's a bit heavier-duty than the ones found on a lot of multi-gyms. The angle is easily adjusted with the pull pin, allowing you to perform leg extensions and seated ham curls without having to get up to change positions.
Mid-pulley – you don't see a mid-pulley on all home gyms like this, but it's a great feature to have. This pulley can essentially be used like a functional trainer, allowing you to perform various trunk rotation moves, rows, standing bicep curls, or anything else you'd want to do from this position.
Low-pulley – finally, there's a pulley located at the bottom of the gym, giving you a convenient place to connect your ankle strap for hip strengthening moves, but it also works great for seated rows, standing bicep curls, and more.
Resistance
The M2 is a single stack home gym that comes standard with a 165 lb stack, with 10 lb increments between plates.
For this price range, it would be nice to see a little more weight on that stack, say 210 lb or so, but you can add an additional 50 lb to that stack for another $130.
So, I wouldn't consider this a huge deal (and there are other more expensive gyms that also come with 160 lb stacks, like Life Fitness' G4).
Anyway, the size of the stack on the M2 is pretty average, but what isn't average is the differing pulley ratios for each station.
FYI, the pulley ratio tells us how much resistance that stack is providing – keep in mind pulleys are designed to make lifting weight easier, so a lot of times the weight racked is easier to lift than if you were to lift a dumbbell of identical weight.
A lot of gyms use a 2:1 ratio, meaning that you feel half the weight you rack.
This means that putting the pin at 100 lb feels like lifting 50 lb, and so on.
Well, with the M2, you get different pulley ratios at different stations to more closely match the resistance you'll likely need.
More specifically, the stations on the M2 come with the following pulley ratios:
Chest press – 1:1.2
High pulley/leg extension- 1:1
Leg curl – 4:3
Mid/low pulleys – 2:1
Ok, so, some interesting stuff here.
The mid- and low-pulleys are the only stations that offer the expected 2:1 ratio and this is nice because these are the areas where we usually do fine with less weight.
The chest press, where a lot of us may need more weight, actually comes with a 1:1.2 ratio, meaning it makes it 20% harder than the weight you've racked.
That means selecting 100 lb would feel like 120 lb – or selecting 165 lb would feel like 198 lb.
This is a cool feature that I don't think I've ever seen before on any other multi-gyms, but I like it.
The high pulley and leg extension come with a 1:1 ratio, meaning you're lifting every pound you rack and the leg curl comes with a 25% reduction in weight since we don't usually need as much resistance for that exercise.
Overall, this is a unique feature to the M2 and I could see a lot of folks appreciating the differing pulley ratios because it should make finding the proper resistance easier.
Accessories
The Inspire M2 Multi-Gym comes with the following included accessories:
Lat bar
EZ curl bar
2x D-handles
Ankle cuff
Extension chain
Ok, not an extensive list of included accessories, but enough to get you started.
And since handles are pretty universal, you could use any other brand's handles and they'd work just fine.
Personally, I'd like to see a triceps rope and some row handles included, but these affordable accessories could easily be purchased separately.
Some ab straps would be nice too.
Oh, the M2 is also compatible with Inspire's leg press attachment, a stand alone leg press center that lets you safely perform the popular move (1:2 ratio).
Assembly
If you decide to purchase the M2, you need to decide whether you're going to tackle the assembly yourself or pay extra for the professional assembly.
Personally, this is one where I'd strongly consider going with professional assembly.
I'm a guy who enjoys following directions and putting things together, but there are a lot of parts with this one – and a lot of cables that need routing and attaching.
Yup, the assembly is pretty involved with the M2, plus you'll need several socket wrenches/wrenches to get the job done, so you'll need a well-stocked tool box too.
And don't forget – this things weighs like 400 lb, so you'll need help moving things around too.
Overall, if you're gifted at putting things together, it's very doable; but again, might be better to let the pros tackle this one.
Warranty
Inspire Fitness covers their M2 Multi-Gym with the following home warranty:
Lifetime frame
Lifetime parts
Yeah, nothing to complain about here.
You can't beat a lifetime guarantee on everything because that's as long as it gets – and yes, that parts guarantee even covers all the cables, pulleys, and upholstery.
Inspire also offers a light commercial warranty on the M2:
Lifetime frame
10 year parts
The fact that Inspire offers a light commercial warranty is a good sign when it comes to the overall quality of the gym, but they offer a generous one at that.
Overall, I love to see a great warranty and you aren't gonna find a better one than this.
Final Thoughts
Well, I think that'll about do it for the M2.
This is an interesting home gym with a lot of great features. It offers all the workout stations I'd expect, but it also comes with a few nice surprises.
I especially like the inclusion of the free handles with the chest press station and the fact that different stations come with different pulley ratios.
I also like the upgraded leg developer because I feel this is where a lot of multi-gyms fall short.
And that warranty… fahgettaboudit.
The only downside I see, other than the challenging assembly, is that it would be nice if it came with a few additional accessories and it would be nice if the additional 5 weight plates were included with purchase.
But these are small complaints at best.
Overall, I think the M2 is a great home gym and likely one of the best multi-gyms in its class.
Prices for the M2 are usually the same across sites, but if you're looking for professional assembly, it might be a better idea to purchase through Johnson Fitness. They offer free curbside shipping and white glove delivery with assembly is usually only like $199.