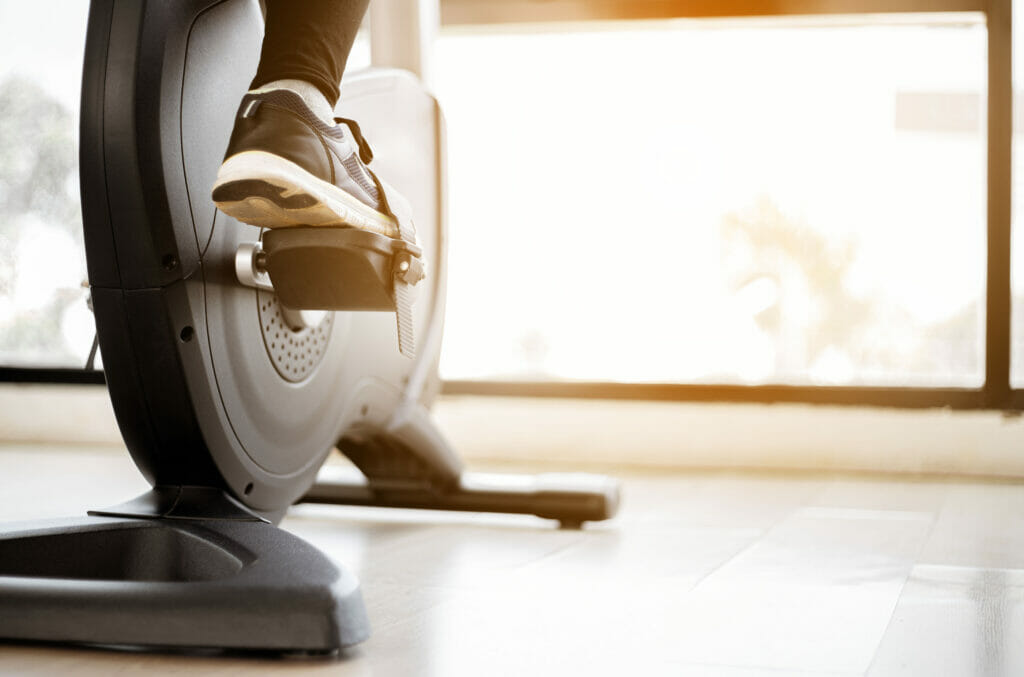 The Horizon 5.0U is a budget-friendly upright bike designed to be comfortable and easy to use.
Right off the bat, you'll notice this upright bike looks a little different than most – yup, that's a step-thru frame, something most uprights don't have.
The low step-over height of this cycle makes it easy to access, but it also comes with plenty of great performance enhancing features as well.
Like a 15.4 lb flywheel, 100 levels of magnetic resistance, a fully adjustable seat, and a sturdy frame that can handle riders weighing up to 300 lb.
The console also comes with a few nice features we don't often see on bikes this affordable as well, including bluetooth, USB charging, and a built-in cooling fan.
The biggest downside I see is that the 5.0U doesn't come with many workout programs, so if this is your thing, this might not be the right bike for ya.
Otherwise though, if you're looking for a quality upright bike that takes it easy on the budget, I think Horizon's got a great option here.
But before you decide, you've gotta know what to expect – and that's where I can help.
In this review, I'll go over everything this bike does and doesn't have going for it and I'll also compare it to some of the other top options in this price range.
After reading, you'll know whether or not the 5.0U is the right upright bike for your home gym.
The Horizon 5.0U Upright Bike
I'm a fan of Horizon as a brand and have been for some time, so I'm excited to see them coming out with some newer cardio machines.
I'd say Horizon is one of the top brands when it comes to moderately-priced equipment, but their lineup is pretty small.
As I'm writing this, they only offer 4 exercise bikes to choose from and that's including the newer 5.0U and 5.0R models.
I've actually had Horizon's 7.8AT Treadmill in my home gym for some time now and I couldn't be happier with it – easy to use, smooth running, and heavy-duty.
Anyway, we're here to talk about the 5.0U, so back on point.
At the time of writing this, Horizon has the 5.0U listed for around $549, making it quite affordable for an upright model.
Let's start things off with a look at the most important performance specs.
Pros
15.4 lb flywheel
100 magnetic resistance levels
Step-thru frame
Solid frame
300 lb weight limit
Bluetooth
USB charging
Cooling fan
Fully adjustable seat
Easy assembly
Good warranty
Well-priced
Cons
Only 5 workout programs
Very simple console
Resistance
We don't see a lot of new upright bikes coming out these days, but they can still make a great addition to your home gym because they offer a comfortable way to get a great workout in.
I tend to think of upright bikes as kind of a middle ground between recumbent bikes and indoor cycles – they're not as comfortable as a recumbent, but they're usually a little more comfortable than an indoor cycle.
Anyway, when comparing upright bikes, it's still a good idea to look for the flywheel weight and number of resistance levels because these stats can tell you a lot about what to expect performance wise.
Like most any other type of exercise bike, having a heavier flywheel is usually a benefit because the extra weight tends to provide a smoother overall feel.
And that's because the extra weight builds more momentum, helping eliminate any lag between pedal strokes.
That said, upright bikes aren't really known for having really heavy flywheels – not like indoor cycles anyway.
Most home uprights come with flywheels in the 10 – 30 lb range, but uprights in this price range usually come with flywheels weighing somewhere between 10 – 15 lb.
With that in mind, Horizon's 5.0U comes with a 15.4 lb flywheel.
This is at the top of the expected range for this class and it's a bit heavier than what the other top comps come with.
For example, Schwinn's 190 only comes with an 8 lb flywheel and Nautilus' U618 comes with a 13 lb flywheel.
So, by comparison, the 5.0U is packing a pretty heavy flywheel, which is going to help it provide a smooth pedaling feel during workouts.
That flywheel is paired with a magnetic resistance system that offers 100 different levels to work with.
This is a lot of resistance levels for an upright bike and personally, I like the idea of having more levels because it gives you more play to make smaller adjustments to the intensity.
It doesn't mean you get more total resistance, but it does mean you can make smaller adjustments between levels.
Which is something I like.
Overall, I think the 5.0U scores highly in the resistance department. I like that it comes with so many resistance levels and at 15.4 lb, the flywheel is as heavy as we can expect to see in this price range.
Frame
The 5.0U has a heavy flywheel, but what about the rest of it?
One of the biggest bummers about affordable exercise bikes is that they, well, feel affordable.
By this, I mean they feel lightweight and kinda wobbly when getting on 'em and there's always more movement from the frame during workouts.
Unfortunately, this is true because affordable bikes are made from lighter-weight components – hence the smaller price tag.
But even so, not all budget bikes are created equal.
When comparing bikes, I like to look at the assembled weight and weight limit to help give me an idea as to how stable and secure I can expect the bike to feel during workouts.
And for me, seeing bigger numbers in both categories is always a good sign that the bike will feel more secure during use.
The 5.0U comes with an assembled weight of 87 lb, which is pretty light in the grand scheme of upright bikes (Sole's LCB weighs in at 112 lb)
But it's still good for this price range, especially considering the similarly-priced Schwinn 190 weighs in at 81 lb.
This heavier frame will help the 5.0U feel solid as you use it and with a 300 lb weight limit, folks of all sizes can safely enjoy this bike.
And with the step-thru frame, it's easier to get on than most.
Overall, I like how heavy this upright bike is and it's always a good sign to see a high weight capacity, but the step-thru frame is what really stands out here.
Features
Horizon's 5.0U Upright Bike comes with the following included features:
LCD console- the console on this upright is pretty simple, so it doesn't have any of the higher-tech touchscreens or anything like that going on. But it's brightly-lit and large enough to easily see during workouts.
5 workout programs- that console comes with only 5 workout options (calorie, distance, weight loss, intervals, and manual mode), so it's a little limited to compared to what some bikes offer, but it does have most of the classic profiles to choose from.
Fully adjustable seat- the 5.0U comes with a padded saddle that's fully adjustable, meaning you can adjust the height and horizontal position, making it easier to find a comfortable riding position.
USB charging- there's a place to plug in a charger, allowing you to keep your phone or tablet charged up during rides.
Bluetooth- the console is bluetooth compatible with fitness apps and wireless heart rate monitors, allowing you to keep a closer eye on your pulse during use.
Tablet holder- there's a built-in tablet shelf in the console, giving you a place to put your tablet/phone/book, although it will cover the majority of the console.
Cooling fan- the built-in fan can help keep ya more comfortable during longer, harder workouts.
Water bottle holder- and yup, there's even a place to conveniently store your beverage of choice.
Assembly
If you decide to purchase the 5.0U, the last thing you should be worrying about is putting this bike together – the assembly process is pretty simple.
The majority of the frame comes pre-assembled, so you won't have to mess with anything too technical.
Assembly basically involves attaching the stabilizers at the bottom, putting the seat on, connecting the console mast to the frame, hooking up the console, putting on the pedals, and attaching a few covers.
That's it.
And Horizon's assembly manual is actually pretty well-done – the images are large, making it easy to see everything and the written directions are easy to follow.
Overall, assembly on this bike should be a piece of cake.
Warranty
Horizon backs their 5.0U Upright Bike with the following home warranty:
10 year frame
2 year parts
90 day labor
Alrighty, all things considered, this is a pretty good warranty.
Ten years on the frame is good for this price range and matches what Schwinn offers on their 190. Nautilus offers a 15 year frame warranty on their U618, but that's certainly not the norm.
And 2 years on parts is realistically as good as we can expect to see on a $500 upright bike (although again, Nautilus out does themselves and offers 3 years on parts).
90 days on labor is short, but given the price, it isn't heard of. In fact, Schwinn offers the exact same guarantee.
Overall, this isn't the best warranty in this price range (that honor goes to Nautilus), but it's certainly better than most.
Final Thoughts
Ok, I think that'll do it for the 5.0U Upright Bike.
Overall, I think this is a really nice bike for the price.
It comes with a heavy flywheel, 100 resistance levels, and a pretty robust frame for such an affordable upright.
The console isn't really anything spectacular, but the warranty is really good and I like the step-through frame, which I could see being a big perk for folks dealing with mobility issues.
I mentioned Schwinn's 190 and Nautilus' U618 throughout the review because these 2 bikes are often considered the best uprights in this price range.
And I think the 5.0U holds its own well against both of 'em.
They both come with a lot more workout programs, but the 5.0U has a heavier flywheel and a lot more resistance levels to play with.
So, it really boils down to what's most important to ya – if you like having a lot of workout programs to choose from, I'd go with Schwinn or Nautilus (personally, I'd go with the U618 because Nautilus' price on this bike is amazing).
But if you like having more control over your workouts, I could see the 5.0U making a lot of sense.
Either way you go, it's unlikely you'll be disappointed – these are all great bikes for the price.