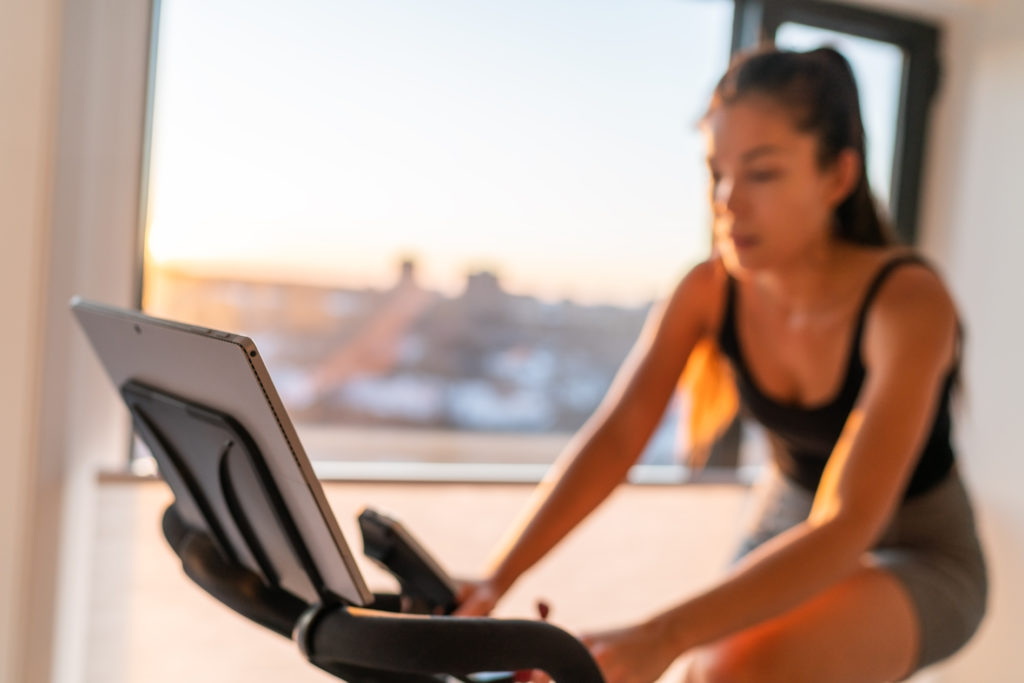 The Nautilus U618 is a popular home upright bike that offers a good combination of performance and price. For roughly $600, you get a comfortable stationary bike that is loaded with workout options and easy to set up.
Highlights for the U618 include 29 workout programs, bluetooth connectivity to fitness apps, and an included chest strap heart rate monitor.
Simply put- the U618 isn't perfect, but for the price it's tough to beat (I actually think it's one of the best upright bikes on the market).
If you're looking for a nice stationary bike to add to your home gym, the Nautilus U618 may be a good choice. This review is here to help you figure that out.
In this review, we'll discuss everything this bike does and doesn't have going for it. In the end, you'll know everything you need to know about this model to decide whether or not it's the right fit for ya.
The Nautilus U618 Upright Bike
The Nautilus brand is part of Nautilus, Inc. (makes sense) which owns several other brands like Schwinn and Bowflex.
You'll notice a lot of similarities between the 2 brands (Nautilus and Schwinn that is), but there are some subtle differences.
The U618 is almost identical to the Schwinn 170, which is also a top model.
Ultimately, I'd pick the U618 over the 170 because the warranty is better and the weight capacity is a little higher.
But regardless, the U618 is Nautilus's highest-end upright bike.
Improvements over the U616 include a nicer seat, weighted pedals, a tilting console, a heavier frame, and an included chest strap.
Pros
29 workout programs
25 levels of magnetic resistance
Fully adjustable seat
Multigrip handlebars
325 lb weight capacity
Tilting console
DualTrack display
Bluetooth compatibility with fitness apps
Wireless chest strap included
Weighted pedals
Easy assembly
Good warranty
Cons
13 lb flywheel
Some complaints about seat comfort
Flywheel
Flywheel weight is an important topic for spin cycles because these bikes are designed to mimic the feel of riding a road bike.
The heavier flywheel provides a smoother ride because it builds more momentum as it starts spinning.
Heavier flywheels can also provide more overall resistance (theoretically) because it takes more energy to get it moving in the first place.
This comes in handy when doing the higher intensity workouts that spin cycles are often used for.
But flywheel weight is important to consider for any exercise bike (or elliptical for that manner).
Regardless of what kind of exercise bike your riding, heavier flywheels are still going to provide a smoother ride.
Upright bikes don't usually advertise their flywheel weights because a lot of home units come with really light flywheels.
This may be because lighter flywheels make for lighter machines that are easier to move. It might also be because lighter flywheels require less material, making them cheaper to produce.
It might also be because upright bikes aren't usually used for high intensity workouts, so folks might think flywheel weight isn't as important.
Regardless, it took a little doing to find the real flywheel weight for the U618, but according to the folks at Nautilus its flywheel weighs about 13 lb.
This is pretty light, but it's actually pretty good when compared to other bikes in the same price range.
It's very light when compared to higher-end models though, like the Sole LCB, which comes with a 30 lb flywheel.
The heavier flywheels will be appreciated by more advanced riders looking for a more substantial piece of equipment.
Although the U618 is packing a light flywheel, it does come with 25 levels of magnetic resistance.
This gives you a lot of control over the intensity of your workouts.
The magnetic resistance system also makes for really quiet operation.
Overall, the U618 has a light flywheel that is best suited for lower intensity workouts. Folks looking for more intense workouts might want to consider a bike with a heavier flywheel.
Seat
One of the biggest perks of choosing a traditional upright bike over a spin cycle is the seat. Upright bike seats are usually a little larger and more cushioned than the standard bike seats on spin cycles.
The U618 comes with a gel seat cushion, but some users have complained that the seat is still too hard.
If so, you could easily swap out the seat for a nicer one of your choosing or you could go the more economic route and purchase a gel seat cushion (I got this one for my Diamondback 510Ic and it helped a lot).
Seat comfort in this price range isn't a gimme unfortunately. What does impress me is that this seat is fully adjustable, meaning you can adjust the horizontal position (fore/aft) as well as the height.
Having the ability to control the fore/aft position is very helpful in finding the right fit.
Overall, the seat on the U618 is pretty standard, but I like that it is fully adjustable.
Handlebars
The handlebars on this bike offer multiple grips, which is nice because you'll find you often want to change your grip for comfort depending on the workout.
For example, if you're working at higher resistance levels (or standing) you'll most likely want to grab the handles in the farthest position from you (known as the 3rd position in cycling I believe).
The U618 also comes with an adjustable elbow rest- a pretty neat feature I haven't seen much on other models.
The nicest features of the handles in my opinion, are the up/down resistance buttons located at the end of each handle. This makes it easy to rapidly adjust the resistance without having to alter your grip during your workout.
You also have the built-in grip heart rate monitor located in the front of the handlebar.
Overall, the U618 scores highly in the handlebar department with the adjustable elbow rest and the built-in resistance buttons.
Frame
Frame integrity is a critical to your overall comfort level when exercising on a bike. If the frame is weak and flimsy, you're not gonna feel stable during your ride.
This is a common problem with a lot of affordable exercise bikes.
Frame strength is also important because you have to make sure the bike can safely handle you. You really don't want your new exercise bike falling apart in the middle of a ride.
The U618 is fairly lightweight (only weighs about 83 lb fully assembled) but has an impressive weight capacity of 325 lb. The higher the weight limit, the stronger the frame has to be.
For a bike in this price range, this is pretty good.
Features
The Nautilus U618 comes with the following features:
Tilting console- you can adjust the angle of the console to improve visibility of the screen and all your workout data during use.
DualTrack screens- the console comes with 2 displays (a larger one and a smaller one) allowing you to see all your workout data at the same time. The smaller one comes in handy when you're using the tablet holder, which will likely block the big screen.
29 workout programs- one of the biggest perks of the U618 is the library of workout programs it comes with. If you like a lot of workout variety, this bike has got ya covered.
Bluetooth- the U618 is bluetooth compatible with several workout apps for data tracking.
RideSocial app- you can also use bluetooth to connect to the RideSocial app, which is a free fitness app that allows you to ride with other folks on scenic trails around the world.
Wireless chest strap included- not only is this bike compatible with wireless heart rate monitoring, but Nautilus includes one with purchase. A pretty sweet perk for a bike in this price range.
Built-in speakers- you can listen to your smart phone or mp3 player through the console on the built-in speakers.
Weighted pedals- weighted pedals make your pedaling action a little smoother they ensure the pedal is always facing upright, which makes it easier to get your feet situated before each ride.
Fan- there's a built-in cooling fan to help keep you comfortable during your more strenuous workouts.
Assembly
Putting the U618 together is a pretty straightforward task that most able bodied folks should be able to complete on their own without paying extra for professional assistance.
Nautilus does a great job on their assembly instructions. Each step comes with large images and written directions walking you through each task.
I especially like that they magnify the hardware that is to be used for each connection- definitely makes it easier to figure out which bolt and washer goes where.
The necessary Allen wrench and screwdriver tool are included (although I don't like using that little screwdriver thingy, I'd much rather use my own).
Overall, assembly is pretty easy. I'd expect to spend an hour or so getting the job done.
Warranty
The Nautilus U618 comes with the following warranty:
15 year frame
3 year parts
1 year labor
For a bike in this price range, this warranty is pretty decent.
We should expect to see a lifetime frame warranty on higher-end bikes, but I think 15 years is more than fair, especially when compared to the other bikes in this price range.
Plus, would anyone really be disappointed if they only got 15 years of use out their exercise bike??
The parts warranty, at 3 years, is pretty good too.
Even higher end models rarely exceed 5 years on parts.
One year on labor is also standard, so no surprises there.
Overall, I like the warranty, nice job Nautilus.
Final Thoughts
Nautilus is a respected home fitness brand known for providing high quality, affordable products and their U618 fits this mold perfectly.
The U618 comes loaded with 29 workout programs and 25 resistance levels, which will give you a lot of options in terms of workout variety and intensity.
I also like that this bike can handle users up to 325 lb- this indicates a solid frame and quality construction that shouldn't be assumed in this price range.
The tech features are also pretty impressive here.
I'm pleasantly surprised that Nautilus throws in a free wireless chest strap with purchase.
The biggest downside is probably that 13 lb flywheel, but realistically, that's as good as it gets in this price range.
Overall though, I think the U618 has a lot to offer. I think it would work well for beginner to moderate level cyclers who are looking for a decent upright bike.
More advanced athletes or people looking for a bike with a more commercial feel should consider a more robust bike, but for the money, the Nautilus U618 is easily one of the best exercise bikes available.
A smart buy indeed.