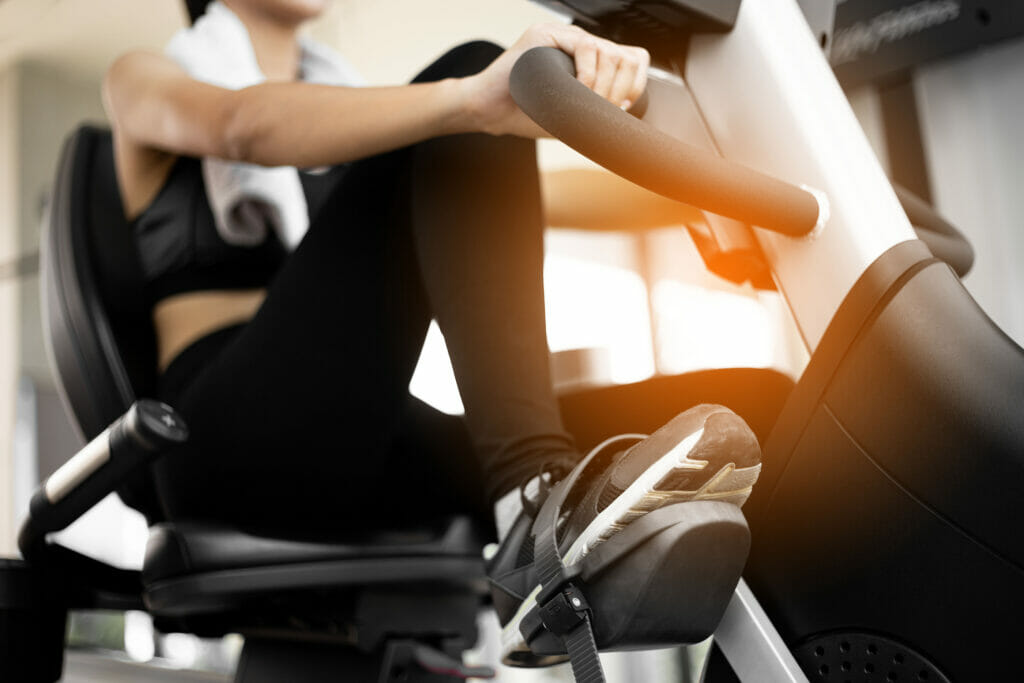 Comfortable, affordable, and easy to use, Horizon's new 5.0R Recumbent Bike has a lot to offer for folks looking for a reasonably-priced home recumbent bike.
With a 15 lb flywheel and 100 resistance levels, this recumbent bike can hang with any comp in its price range when it comes to performance.
And with a surprisingly heavy-duty frame that can handle riders weighing up to 350 lb, the 5.0R is tough enough to safely hold riders of all sizes.
Additional features include weighted pedals, bluetooth, USB charging, and a built-in cooling fan.
Toss in a solid warranty and you've got the makings for a best-in-class recumbent bike, but before you start pulling out your wallet, you should learn the full story.
And that's where I can help.
In this review, I'll go over everything this recumbent bike does and doesn't have going for it.
After reading, you'll know whether or not it's worth investing in.
Let's begin.
The Horizon 5.0R Recumbent Bike
For those who aren't especially familiar with Horizon, allow me to introduce 'em to ya.
Horizon's part of the Johnson Health Tech group, which also owns higher-end brands like Vision and Matrix Fitness.
Horizon is Johnson's most affordable brand and they've got some great products to choose from.
Their exercise bikes and ellipticals are great, but I'm especially fond of their treadmills. I actually have a Horizon 7.8 AT Treadmill in my home gym as we speak and I couldn't be happier with it.
Anyway, the 5.0R we're here to go over now is Horizon's only recumbent bike at the time of writing this.
This model seems to have replaced their older model, the Comfort R, which is no longer being offered (they also have a newer upright bike available, the 5.0U).
As I'm writing this, the 5.0R is going for around $650, making it very affordable for a home recumbent bike.
Let's start things off with a rundown on the performance side of things.
Pros
100 resistance levels
15.4 lb flywheel
Heavy-duty frame
350 lb weight limit
Step-thru frame
Comfortable seat
Bluetooth
USB charging
Built-in cooling fan
Heart rate monitor compatible
Tablet holder
Great warranty
Well priced
Cons
Not many built-in workout programs
Resistance
Recumbents are like most other exercise bikes in the fact that most use weighted flywheels and magnetic resistance systems to create the force you pedal against during workouts.
And this pairing of the flywheel and magnetic system doesn't only create the resistance you work against, it also largely determines how smooth the pedaling motion will feel.
Having a heavier flywheel is usually preferred (especially with really affordable exercise bikes) because the extra weight builds more momentum as it spins.
And this momentum helps keep the pedals moving a little on their own, reducing lag or awkwardness throughout the pedal stroke.
This is why I like to compare flywheel weights when looking at exercise bikes because all other stuff equal, having a heavier flywheel is usually a benefit.
Anyway, with this in mind, the 5.0R comes with a 15 lb flywheel.
In the grand scheme of home recumbent bikes, this is on the lighter-side, especially considering bikes like Sole's LCR comes with a 31 lb flywheel.
But the LCR also costs about 3x more than the 5.0R, so it's not a fair comparison.
When you look at bikes in its price range, the 5.0R's 15 lb flywheel holds up pretty well.
For example, Schwinn's similarly-priced 290 Recumbent Bike only comes with an 8 lb flywheel and Nautilus' R618 comes with a 13 lb flywheel.
XTERRA's SB2.5r has it beat with its 22 lb flywheel, but that's certainly not the norm for this price range.
So, the 5.0R's flywheel is about as heavy as we can expect for this price range, but it also comes with 100 magnetic resistance levels.
A lot of indoor cycles have adopted the 100 level scale (made popular by Peloton), but this is the first recumbent bike I've come across to do this – and I like it.
Having more resistance levels doesn't necessarily give you more resistance, but it does allow you to make smaller adjustments between levels.
Which is a good thing because you can really fine tune your intensity during workouts.
Plus, with 100 levels, you could easily follow along with Peloton's digital app if you wanted to.
Overall, the 5.0R scores highly in the resistance department. I like that it comes with a heavy flywheel for its price range and the use of 100 resistance levels is great.
Frame
Having a smooth operating resistance system is important, but it's also important to have a robust frame that isn't gonna feel flimsy on ya while using the bike.
Determining how heavy- or light-duty a bike's gonna feel can be tough without getting the chance to test drive it first, but there are a few specs we can look at to get a better idea.
These include the assembled weight and the weight capacity.
The assembled weight tells us how much the bike weighs and seeing a bigger number here is a good indicator the bike will feel more stable while you're on it.
After all, heavier bikes will be harder to move, meaning they should move less while using 'em.
Personally, I like to see assembled weights over 100 lb for any exercise bike to ensure a nice stable frame.
Well, with that in mind, the 5.0R comes with an assembled weight of 123 lb, which is really impressive for such an affordable recumbent.
For the sake of comparison, the R618 and SB2.5r mentioned above both weigh around 108 lb; and there are plenty of affordable recumbents that weigh less than 100 lb too.
With this much weight to it, the 5.0R is going to feel stable during workouts.
And this is just further proved when we look at the 350 lb weight limit this bike comes with.
This is high enough to safely support most riders, but it also puts the 300 lb limit most bikes in this price range come with to shame.
Seeing such a high assembled weight and such a high weight capacity are good signs when it comes to the overall quality of this bike.
Overall, the 5.0R scores very highly in the frame department too.
Features
The Horizon 5.0R Recumbent Bike comes with the following included features:
LED console- the console on this bike is pretty simple, no fancy touchscreens or anything like that, just a brightly-lit LED display that's easy to read.
5 workout programs- this recumbent doesn't come with a ton of built-in workout programs either, but it does have all the classic options (manual, calorie, distance, weight loss, and intervals).
Bluetooth- the 5.0R is bluetooth compatible with fitness apps (sharing your cadence) and wireless heart rate monitors, allowing you to get a more accurate reading during your workout.
Comfortable seat- the seat on this bike is large, cushioned, and includes built-in lumbar support for a more comfortable ride.
Step-thru frame- you'll notice how low to the ground the frame on this recumbent is. This makes it easy to step across to access the seat from either direction.
Tablet holder- there's a built-in tablet holder in the console, so you can access your pad without having to block your view of your workout stats.
Cooling fan- the 3-speed fan will help keep ya cool during those more strenuous workouts.
USB charging- and the charging port will help you keep your devices charged up during while you ride.
Water bottle holder- and yup, there's even a place to put your water bottle.
Assembly
If you decide to purchase the 5.0R, I wouldn't worry too much about putting it together – as long as you're able bodied and able to follow simple instructions, you'll be fine.
The assembly process for this bike is straightforward and Horizon does a nice job with their assembly manual, making it easy to follow.
Assembly includes attaching the 2 stabilizers, connecting the console mast, the seat post, the seat, and the console.
There's likely a few covers here and there as well, but nothing too complicated.
It's really just bolting a few components to the main frame, so I would think most folks will be able to assemble the 5.0R themselves without having to invest in professional assistance.
Warranty
Horizon covers their 5.0R Recumbent Bike with the following home warranty:
10 year frame
2 year parts
90 day labor
Ok, all things considered, this is a pretty good warranty for a $600 exercise bike.
Ten years on the frame is about as good as we can expect for this price range, although Nautilus does offer a 15 year frame guarantee on their R618.
Two years on parts is also pretty generous given the price, but again Nautilus goes the extra mile and offers 3 years.
90 days on labor is pretty average for this price range.
This warranty matches what Schwinn offers on their recumbents and beats out what XTERRA offers on their SB2.5r (5 year frame, 1 year parts).
So, overall, this isn't technically the best warranty you can find in this price range, but it isn't far off (and to be fair, the R618 does cost about $150 more than the 5.0R… just sayin')
Final Thoughts
Well, I think that about does it for the 5.0R.
I like Horizon as a brand and I think this is a great recumbent bike for the price.
In terms of performance, I like that this bike comes with a relatively heavy flywheel and I love how heavy-duty the frame is (something that shouldn't be taken for granted in this price range).
Feature wise, there isn't anything too fancy going on here, but it does come with bluetooth and a cooling fan, which is nice.
And as mentioned above, Horizon backs this recumbent with a generous warranty.
The only real downside I see is that it doesn't come with many built-in workouts, so if that's something you're looking for, you may be better off with another option.
But otherwise, I think the 5.0R is a good deal and easily a contender for the top recumbent bike in the ~$650 price range.
Speaking of which, I think Horizon was smart to price this recumbent like they did, making it a tad cheaper than some of the other top competitors.
If you're looking to get a great bike and save a little cash along the way, I think the 5.0R makes a lot of sense.