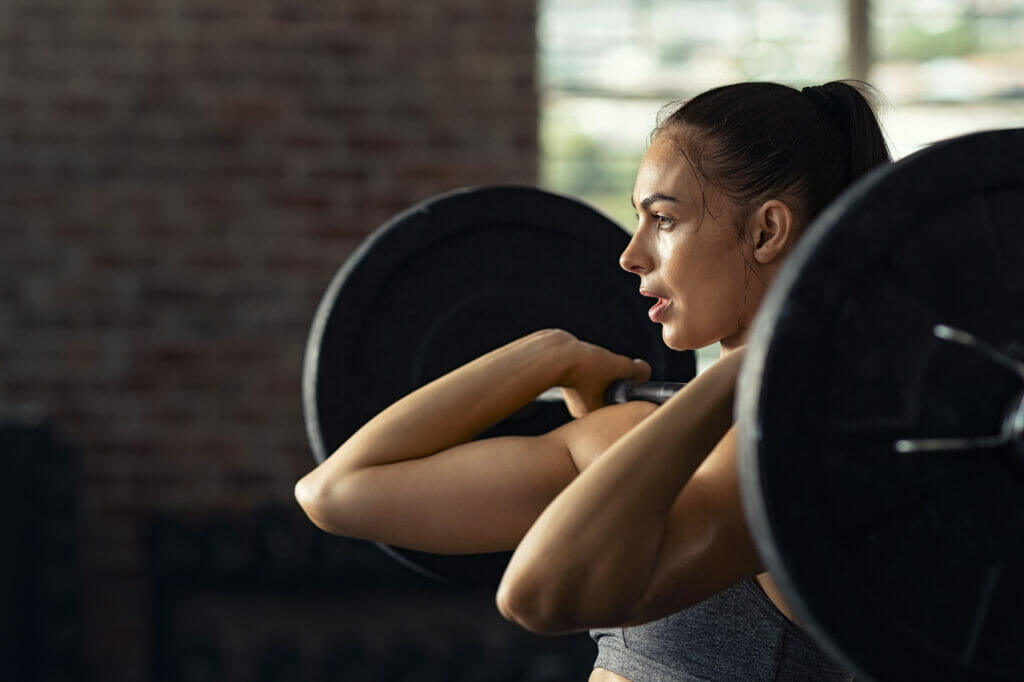 The G15 is one of the newest additions to Force USA's popular lineup of All-In-One Trainers and this new gym comes with a lot of the classic features we've seen on previous models, but it's got a couple of tricks up its sleeve too.
Like all the other All-In-One trainers, the G15 combines the functions of a power rack, a Smith machine, and a functional trainer into a single piece of equipment.
But with the G15, you get to choose between a 2:1 and a 4:1 pulley ratio for the adjustable pulleys.
This gym also comes with dual 285 lb weight stacks for the functional trainer, giving you access to a ton of resistance without having to mess with stacking plates.
Additional highlights include an 11-gauge steel frame, a ton of included attachments, and the ability to perform a ridiculous amount of different strength training moves.
All things considered, it's pretty safe to say the G15 is an impressive home gym system, but is it really the right fit for your home?
Well, that's what I'm here to help you answer.
In this review, I'll go over all the in's and out's that make up this home gym.
After reading, you'll know everything you need to in order to make the right call regarding the G15.
The Force USA G15 All-In-One Trainer
Force USA is most well-known for their All-In-One Trainers, but they offer plenty of bars, benches, plates, and other weight lifting accessories too.
Pretty much anything you'd need to train with barbells and plates.
I also like their budget-friendly power rack, the MyRack, that allows you to build-out your system one piece at a time.
Anyway, back to their Trainers.
There are 7 All-In-Ones to choose from and the biggest difference you'll find is that half of 'em come with weight stacks and the other half don't.
After you get past that feature, there are more subtle differences in pulley ratios and features.
The prices on these systems vary greatly and opting for a gym with dual stacks significantly increases the price (and rightly so).
The G10 and G15 are their 2 newest gyms and they're very similar – the one big difference being that the G15 comes with dual weight stacks.
The G15 is one of their most expensive gyms and will likely cost ya around $6k.
Pros
Combines power rack, Smith machine, and functional trainer
3″ x 3″, 11-gauge uprights
Very heavy-duty frame
992 lb weight limit on power rack
772 lb weight limit on Smith machine
2 x 285 lb weight stacks for functional trainer
Westside spacing on rack
Counter-balanced Smith bar
22 height adjustments for each pulley
Choice between 2:1 or 4:1 pulley ratio
Ton of included attachments
Compatible with even more attachments
Good warranty
Cons
Challenging assembly
Expensive
Frame
These All-One-Trainers have a lot of features and a lot of stuff to cover. The best way to do that for me, is to break my review up and discuss each part separately.
Before we dive into the different stations though, I want to quickly go over a few things about the G15's frame in general.
When looking at power racks and Smith machines, I like to consider the gauge of steel used in the frame.
Thicker steel, or lower gauges, make for heavier-duty gyms that'll be able to hold more weight and feel more stable during use.
The G15 comes with 3″ x 3″, 11-gauge steel uprights, which is about as large and thick as you can expect to find in a home gym system.
The size and thickness of these steel components are going to make the G15 feel more secure than a gym that uses smaller, thinner components.
And considering how heavy this thing is (shipping weight over 1,200 lb!), you won't to worry about it wobbling or shaking during workouts.
Something else worth considering is how much floor space a gym like this takes up.
The G15 takes up a footprint of almost 7′ x 4.5′ (W x D) and requires a minimum ceiling height of 7'8″ for most folks to do full pull ups.
And keep in mind you'll need additional floor space to move around and comfortably use all the stations.
Overall, the G15 is a large, heavy-duty gym system, which is a good thing as long as you have the floor space for it.
Power Rack
Ok, let's take a look at each station separately now to see how they each stack up.
At it's core, the G15 is a power rack that allows you to perform all the classic barbell strengthening exercises – think bench presses, squats, military presses, etc.
Those 3″ x 3″, 11-gauge uprights are put to work with the power rack station and they don't disappoint.
With a max weight limit of 992 lb, the G15 can hang with the strongest lifters out there.
Each upright also comes with 60 different height positions, allowing for precise placement of J-hooks and safety bars – including Westside spacing throughout the bench zone.
When compared to Force USA's other Trainers, the G20 and G10 are the only other gyms that offer Westside spacing (and the G15 and G10 offer more height adjustments than the G20).
Overall, the power rack on this gym is legit – it comes with robust uprights that allow it to hold serious amounts of weight.
Smith Machine
I know Smith machines get a bad rap sometimes, but I still like 'em.
A quality Smith machine allows you perform basically all the same moves the power rack does, but with the extra stability and safety that having the bar attached provides.
Plus, with the adjustable safeties, you've always got a built-in spotter, making it safe to lift alone.
The Smith machine on the G15 is pretty identical to the ones found on all their other Trainers.
It comes with 14 different height positions and a max weight limit of 772 lb (which is impressive for a home Smith machine by the way).
It's compatible with Olympic size plates and the linear bearings make for smooth motion along the guide rails.
Users generally agree the Smith machines on all Force's Trainers work smoothly as expected, thanks in part to the counter-balanced bar.
Something else worth noting, is that the final lock off position for the Smith bar is way at the top of the rack, allowing you to get it out of the way when working with the power rack of pulleys.
Overall, the Smith machine station on the G15 scores highly with its impressive weight capacity and smooth operation.
Functional Trainer
A functional trainer is just a fancy name for a pair of adjustable pulleys, but whatever you call it, these things add a ton of workout variety to your gym.
With quality pulleys, you can perform pretty much any exercise you can think and they work great for isolation and rotational moves.
And the functional trainer on the G15 is high-quality indeed.
Each pulley comes with 22 height adjustment options and the built-in handles make it easy to set your height where you need it.
The G15 comes with 2 x 285 lb stacks, one for each pulley, that provide the resistance for the functional trainer.
That's all great in itself, but what's really interesting about the functional trainer on this gym is that you can choose your pulley ratio.
And to make sure we're all on the same page here, the pulley ratio tells ya how much resistance you're really lifting when using the pulleys.
Most functional trainers come with a 2:1 pulley ratio, which means if I select 60 lb worth of plates, it'll feel like I'm lifting 30 lb (or half the weight selected).
This might sound like a bummer, but doing this allows you to extend the cable farther without the stack having to travel as far; it also tends to make for smoother operation.
Well, the G15 allows you to select between a 2:1 or 4:1 pulley ratio.
With a 4:1 pulley ratio, you'd be lifting ¼ of the weight selected on the stack.
This gives you the ability to work with very small weights, which could be nice for rehab purposes or specific isolation moves.
And since you can switch between the 2:1 and 4:1 ratios rapidly (connecting to both carabiners or just 1), it makes for an easy option to switch between resistances without having to adjust the stacks.
That said, I think it would be more useful if you could choose between a 2:1 ratio or a 1:1 ratio (where you lift every pound you rack).
The physics behind the pulley/cable set ups might not allow for this, but it would still be awesome because you would get access to a ton of resistance with each stack.
I just don't know how useful the 4:1 ratio would be to most users.
The G10 is the only other Force USA Trainer that comes with this feature – all of the others either come with a 2:1 or 1:1 ratio.
Overall, the functional trainer on the G15 is sophisticated and the dual 285 lb stacks are great. And I like the idea of choosing your pulley ratio, I just don't know how much a 4:1 ratio would be necessary.
Attachments
One of the great things about Force USA is that they include a ton of attachments with their All-In-One Trainers.
And the G15 is no exception. It comes with the following attachments:
Pull up handles
Pair of J-hooks
Pair of safety bars
Low row footplate
Lat pulldown bar
Dip handles
Knee anchor for lat pulldowns
Suspension trainer anchor
Pair of standard cable handles
Pair of adjustable nylon handles
Tricep rope
Tricep V-bar
Short bar
Revolving straight bar
Close grip row handle
10x Olympic collars
4x band pegs
6x carabiners
8x plate holders
2x barbell holders
2x exercise charts
Ok, I think I missed a few there, but the point is the G15 comes with every handle and accessory you need to start lifting.
The only things that don't come with the G15 are the Olympic plates, the barbells for the power rack, and a bench.
And if the above isn't enough, the G15 is also compatible with an upgrade kit that's sold separately which includes:
Pair of jammer arms
Vertical leg press plate
Core trainer
Barbell row handle
Pair of metal handles
Ankle cuff
TV mount
The takeaway here is that the G15 comes with a ton of handles/attachments and is compatible with even more.
There's no denying the fact that the G15 is expensive, but with so much exercise versatility, it would be the only gym system you'd ever have to buy.
Warranty
Force USA backs the G15 All-In-One Trainer with the following residential warranty:
Lifetime frame
2 year moving parts
The lifetime frame warranty is awesome and 2 years on parts isn't bad either.
Sure, a longer parts guarantee would be welcomed, but 2 years is pretty standard.
Overall, I think Force USA does a pretty good job on their warranties. And give how heavy-duty this thing is, it should last the long haul.
Final Thoughts
Ok, that about does it for the G15.
If you're looking for a single piece of equipment that can fulfill every lifting need you'll ever have, an All-In-One Trainer could make sense.
And as All-In-Ones go, the G15 is top of the line.
I like that it's manufactured out of 11-gauge steel and that the power rack and Smith machine come with such impressive weight limits.
It's also pretty baller that there are 2 x 285 lb weight stacks for the functional trainer.
And it's also great that Force includes so many attachments with purchase.
My only hesitation regarding this gym is that adjustable pulley ratio – I don't see this being a super useful feature for most users.
For the cost, I think I like the G20 better because it comes with a 1:1 pulley ratio and a few extra attachments (leg press and landmine station included).
But if you think you'll use the 4:1 ratio, then yes, I think the G15 is indeed a smart investment.
I mean, it basically combines every other type of home gym into a single, badass piece of equipment.
P.S. – use the promo code HOMEGYM5 for an extra 5% off.