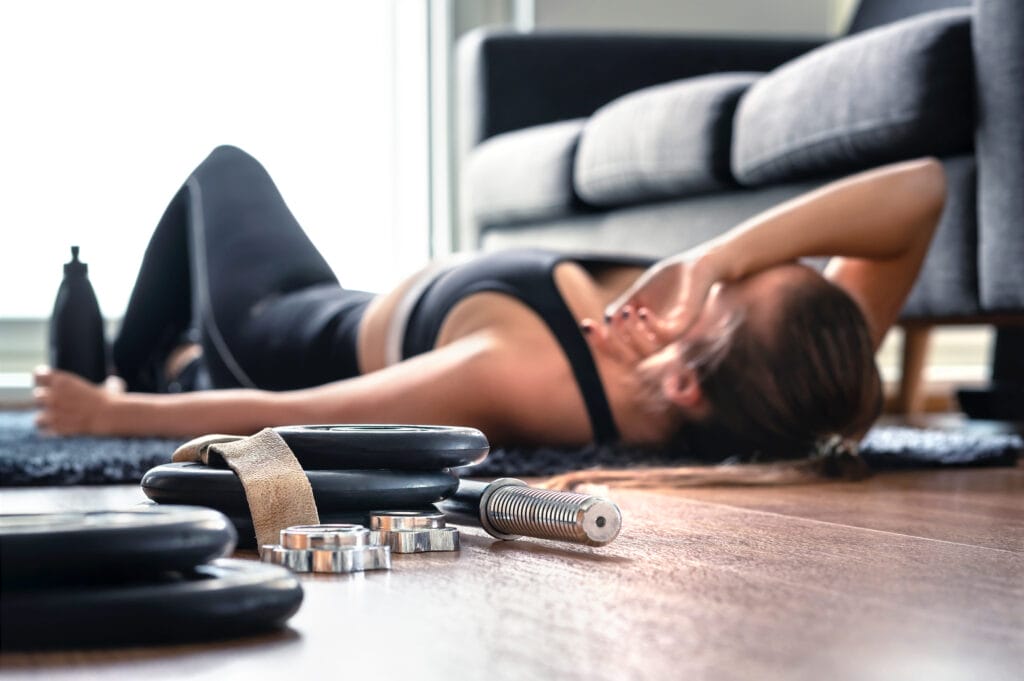 The Max Trainer SE is BowFlex's latest addition to their elliptical lineup and with it, they'e giving folks the opportunity to save some serious cash by opting for a less sophisticated console.
Instead of the large, touchscreen displays found on the Max Total 16 and their Max Trainer M9, the SE comes with a 7″ LCD console that's pretty basic by comparison.
But the upfront savings and fact that you don't have to pay a monthly membership to use it could still make it a smart investment.
And with a compact footprint and 16 levels of magnetic resistance to work with, the SE is still capable of offering a great workout.
And it looks like BowFlex even upgraded their warranty for this model too, which is always great to see.
If you're looking for a reasonably-priced elliptical/stepper, I think the Max Trainer SE could make a lot of sense, but before you buy, you'll want to check out this review.
Here, I'll go over everything you need to know about this machine, but I'll also compare it to some of the other top steppers/HIIT trainers in this price range (as well as BowFlex's other Max Trainers).
After reading, you'll know whether or not the SE is the right option for your home gym.
Off we go.
With an LCD console, 16 magnetic resistance levels, and a compact frame, the Max Trainer SE could be a smart option for people looking for an affordable HIIT trainer that doesn't require a streaming membership.
The BowFlex Max Trainer SE
I have absolutely no numbers to back this statement up, but if I had to guess, I'd bet that these Max Trainers are BowFlex's most popular products.
Their treadmills, bikes, and home gyms are still legit, but I get the feeling these trainers are selling more than anything else.
I could be wrong, who knows.
Anyway, BowFlex has these Max Trainers categorized as ellipticals, but to me, they act a lot more like steppers than anything else.
Sure, they have moving handles like an elliptical does, but your leg motion on these machines more closely matches that of a stepper machine, meaning it's more vertical than horizontal.
BowFlex has released several of these trainers over the years and the Max Trainer SE is the latest addition to their lineup.
As I'm writing this, BowFlex is still offering the Max Total 16 (their highest-end trainer),  the Max Trainer M9 (mid-range trainer), and the more affordable Max Trainer M6.
In terms of the hierarchy, with an asking price of around $1499, the Max Trainer SE finds itself between the M6 and the M9.
Pros
Quiet, smooth pedaling
Low impact
16 levels of magnetic resistance
Compact footprint
Heavy-duty frame
300 lb weight limit
Large, brightly-lit console
JRNY compatible
2 months of JRNY included
Bluetooth compatible
USB charging port
Tablet holder
Large, multi-grip handles
Reasonably priced
Good warranty
Cons
Only 4 built-in workout programs
Resistance
The SE utilizes a magnetic resistance to create a quiet, smooth pedaling motion and with 16 levels at your disposal, you have a decent amount of control over the intensity of your workouts.
When comparing the different Max Trainers, you'll notice that the number of resistance levels actually varies a little bit from model to model.
The higher-end models come with 20 levels, while the SE and M6 only come with 16.
This isn't a huge difference, but generally speaking, having more resistance levels to play with is a good thing because it allows you to make smaller adjustments to your resistance.
Regardless, 16 levels is enough so that you won't feel like you're having to make huge leaps in resistance with each incremental increase.
As I mentioned earlier, the SE is basically what you'd get if you combined an elliptical and a stepper machine – which means a stepper-like leg movement combined with the arm movements you typically see with an elliptical.
This is great because unlike a traditional stepper machine, you can get a full body workout on the SE.
And being able to use your arms means you may be able to handle heavier resistances when you feel like it.
Combining the upper and lower body action also means you'll be able to get a full body workout in, while bringing your heart rate up faster.
This fact makes the SE (and all Max Trainers) well-equipped for HIIT style workouts, where you go all out for short periods, followed by rest.
Now looking at the SE, you may notice that this model doesn't have the built-in fan at the bottom like the other Max Trainers do.
This means the SE doesn't use any fan resistance – only magnetic.
The other Max Trainers technically utilized a little fan resistance to augment their magnetic systems, but to be honest, I always thought the fans were there more for show than anything else.
Well, the SE doesn't have this fan, so it relies 100% on the magnetic system and the result is a quieter machine.
Overall, the SE scores highly with a smooth, quiet magnetic resistance system with plenty of resistance levels to give you good control over your workouts.
Frame
I've mentioned a few times already that the Max Trainer SE is compact, but let's get a little more specific.
To be exact, the SE takes up a footprint of roughly 47″ x 31″ and is about 65″ tall.
For the sake of reference, this is about the same length as your average indoor cycle and only about 6-7″ wider than said exercise bike.
It's also 2.5′ shorter than your typical home elliptical machine.
The SE is only about 2″ shorter than the other Max Trainers, so there isn't a huge different in terms of size between the models.
But the compact design of the SE can certainly help it fit in areas where other cardio machines couldn't fit.
And even though this is a compact cardio machine, it's surprisingly robust.
If we look at the assembled weight, we'll see that the SE weighs in at almost 164 lb, which is pretty good for a cardio machine in this class.
Personally, I always like to see a higher assembled weight because the extra bulk makes for a more stable feeling machine (meaning it won't feel flimsy or wobbly while using it).
With this much weight behind it, the SE will feel secure during workouts.
And if you compare this to the other trainers, it's actually the heaviest model in their lineup – it's about 8 lb heavier than the Max Total 16.
Maybe removing the fan made room for additional frame hardware…
Either way, the SE is the heaviest-duty trainer of the bunch.
And with a weight capacity of 300 lb, it can accommodate most users safely.
Oh, I also want to mention that BowFlex recommends a minimum ceiling height of 15″ on top of however tall you are – this way you'll be sure not to accidentally hit your head.
But unless you're 7′ tall or have ceilings lower than 8′, you should be good to go.
Overall, I'm impressed with the SE's compact, heavy-duty frame (and it looks pretty sleek too).
Features
The BowFlex Max Trainer SE comes with the following features:
7″ LCD console- the SE doesn't come with a touchscreen, but it does come with an updated LCD screen that's large, brightly-lit, and with color. This console makes it easy to see all your stats during workouts and the included 'burn rate' tells you how many calories you're burning per minute for added motivation.
4 workout programs- the SE only comes with 4 built-in workout modes (manual, fat burn, calorie burn, and stairs), so not a ton of options to choose from. But it's compatible with JRNY, which gives you unlimited workout options.
JRNY compatible- yup, JRNY is BowFlex's answer to iFit and through it, you can access instructor-led workouts, scenic routes, metric tracking, and that kind of stuff. Since this trainer doesn't have a touchscreen, you'll have to pair your tablet or phone to it via bluetooth to access JRNY. BowFlex includes a free 2-month trial with purchase and if you'd like to continue, it's only $99/year. But you don't need a JRNY membership to use this machine.
Bluetooth- as mentioned above the SE is bluetooth compatible with JRNY, but it's also bluetooth compatible with heart rate monitors.
USB charging- there's a charging port so you can charge you tablet of phone during workouts.
Multi-grip handles- the handles are large and offer several different grip options. This aids comfort, but it also allows you to target different muscle groups during workouts.
Tablet holder- there's a large tablet holder located above the console, allowing you to view your content without blocking the console screen.
Water bottle holder- finally, there's a conveniently located water bottle holder front and center, giving you a good place to keep your beverage of choice.
Assembly
Assembly for the SE should be pretty straightforward – the process itself isn't complicated and BowFlex does a great job with their assembly manual.
The main unit comes pre-assembled, so you'd be responsible for attaching the legs, pedals, console, handles, and a few covers.
All the necessary equipment and tools are included, so don't worry about having a stocked toolbox.
And I like that BowFlex's instructions include life-size images of the hardware because it makes it a lot easier to choose the right ones.
Keep in mind that this trainer has got some weight to it, so you might want to have a second person around to assist with moving it if necessary.
Otherwise, I think self-assembly is very doable for this cardio machine.
Warranty
BowFlex covers their Max Trainer SE with the following home warranty:
10 year frame
2 year parts
1 year electronics
1 year labor
This is a good warranty.
Ten years on the frame is solid for a machine in this price range and it matches the frame warranty ProForm offers on their more expensive Pro HIIT H14.
Two years on parts is pretty standard for a cardio machine like this, as is the 1 year electronics warranty.
And a year on labor is standard procedure as well.
Yeah, the warranty here is surprisingly good considering BowFlex offers shorter warranties on their more expensive Max Trainers.
If you look at the other models, they come with 3 year frame, 3 year parts (ok, they beat the SE out here), and 90 day labor warranties.
So again, all things considered, I think the SE is backed by a solid guarantee.
Comps
Before I wrap things up here, I wanna talk a little about some of the other comparable HIIT trainers out there.
You know, so we can get an idea as to how the Max Trainer SE really stands up against the competition.
There aren't a ton of these cardio machines out there and there are even fewer in this price range, but there are a few machines worth mentioning.
The first one I want to bring up is ProForm's Pro HIIT H14, which is a bit more expensive at around $1799.
The H14 is a larger, heavier-duty machine and it comes with 26 resistance levels, a 30 lb flywheel, and a 14″ HD touchscreen console for iFit streaming.
This is a nicer model, but to be fair, it costs more too.
And if you don't want streaming workouts, it probably doesn't make a lot of sense in the first place.
Spirit's XS895 is another nice HIIT trainer that comes with an adjustable height step, a heavy-duty frame, 20 resistance levels, and a great warranty.
But at around $2k, the XS895 is quite a bit more expensive and probably not a fair comp.
BowFlex's other Max Trainers are also obvious comps, so here's a quick rundown on the biggest differences between 'em:
Max Total 16
Max Trainer M9
Max Trainer M6
Resistance Levels
20
20
16
Console
16" HD touchscreen
10" HD touchscreen
Small LCD
Handle Grips
6
4
4
Assembled Weight
155.4 lb
148.8 lb
148 lb
Warranty
3 year frame
3 year parts
1 year electronics
90 day labor
3 year frame
3 year parts
1 year electronics
90 day labor
2 year frame
2 year parts
90 day labor
Price
~$2500
~$2000
~$1300
So, the Max Trainer M6 is very similar to the SE, although the SE comes with a nicer console, a heavier-duty frame, and a much better warranty.
Final Thoughts
Ok, I think that'll about do it.
Based on what the SE has to offer and what the above comps come with, I'd say the SE holds its own well with any HIIT style trainer in its price range.
Again, there aren't a ton of these machines in this price range to begin with, but still.
I like the updated frame design and upgraded LCD console, but what I really like is the heavier-duty build and extended warranty.
And I also like that the SE is compatible with JRNY through your own tablet, but that you don't have to sign up for it if you don't want to.
With the other Max Trainers, you really need a JRNY membership to take advantage of all the cool stuff the touchscreen consoles has to offer.
The only real downside I see here is the new console only comes with a few workout programs, but again – if you want more, you can sign up for JRNY.
Overall, I think BowFlex has a winner here.
If you're looking for a compact, affordable cardio machine, BowFlex's Max Trainer SE is worth checking out.