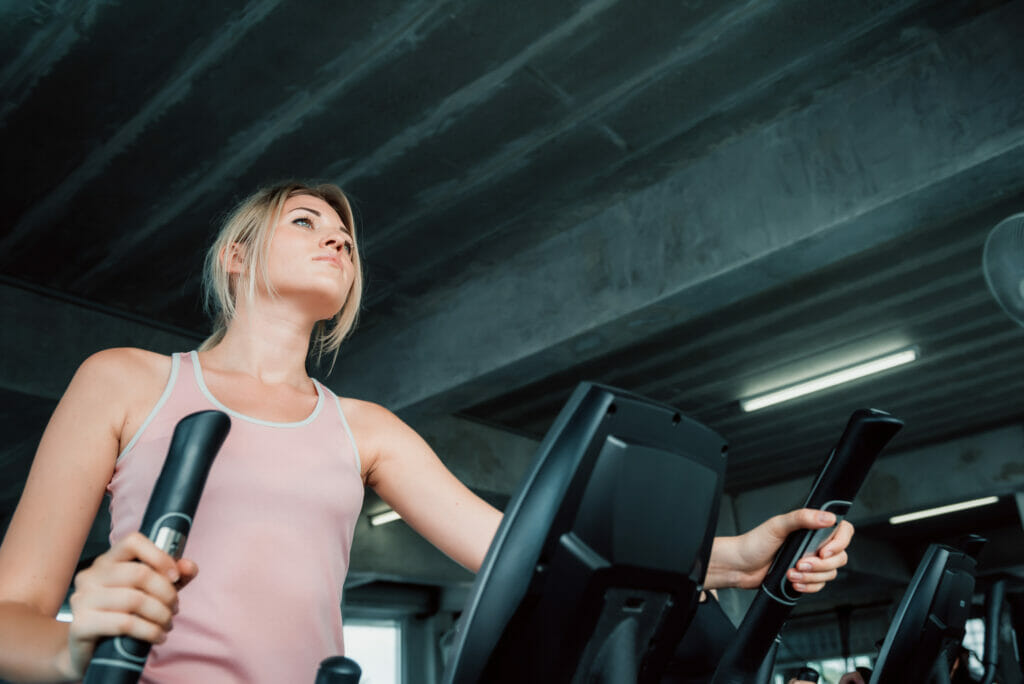 The Max Total 16 is Bowflex's newest addition to their popular lineup of HIIT trainers, which are designed to provide intense, interval style workouts while taking up little floor space.
The most notable highlight of the Max Total 16 is the 16″ HD touchscreen console that gives you access to all workouts and metrics, but there's a lot of other good stuff going on here too.
Folks looking for a low impact workout will likely appreciate how gentle this machine is on the joints and the fact that it provides a full body workout is a definite plus.
It also comes with bluetooth speakers, an included arm band heart rate monitor, and a free year of JRNY (Bowflex's streaming platform).
The biggest downside is probably the short warranty; well, that and the fact that you have to use JRNY to access the entertainment apps.
But if you're looking for a potent, compact fitness machine, I think the Max Total 16 is a pretty good buy – but before you decide, you need to do your own homework.
And that's where I can help.
In this review, I'll discuss everything the Max Total 16 does and doesn't have going for it. After reading, you'll know whether or not this is the right fitness machine for your home gym.
The Bowflex Max Total 16
Bowflex is a well-known, trusted brand that's been around for decades.
And even though they started out with their innovative power rod home gyms, it seems as if they've progressed more to the world of cardio machines lately.
I mean they still offer a couple of their home gyms, but it's been a while since a new model came out (and I can't remember the last time I saw a commercial for one).
Regardless, Bowflex is still relevant in the world of home fitness, thanks to their treadmills, bikes, and HIIT trainers.
The Max Total 16 (MT16) is their latest HIIT trainer, but they've been around for years.
You can still choose from some of the older models too if you like (M9, M6) and it's not a bad idea to compare – the biggest difference between the M9 and MT16 is the bigger console.
And prices can change, but at the time of writing this, the MT16 is going for around $2500.
Pros
Compact footprint
Full body workout
HIIT style workouts
20 levels of magnetic resistance
16″ HD touchscreen console
300 lb weight limit
Multi-grip handlebars
Access to instructor-led workouts (JRNY)
Scenic destinations (JRNY)
Entertainment apps (JRNY)
Personalized workouts (JRNY)
Bluetooth speakers
Armband heart rate monitor included
12 months JRNY included
USB charging port
Media shelf
Cons
Could be heavier-duty
Short frame warranty
Entertainment apps only accessible through JRNY
Resistance
If you look at a lot of fitness blogs, you'll notice that many of them include the Bowflex Max Trainers on their "best ellipticals" lists, but I don't consider these machines ellipticals.
When I think of an elliptical, I think of the longer, more oval shaped pedal motion paired with a set of moving handles.
Yes, the Max Trainers have elliptical style handles, but their pedal motions are a lot closer to that of a stepper than an elliptical.
So personally, I don't consider them ellipticals, I think they deserve their own category (HIIT trainers) – or should at least be compared with other steppers.
Semantics aside, the MT16 offers a full body workout, and it's pretty effective at doing just that.
As I just mentioned, the pedal motion is basically that of a stepper, but unlike most other stepper machines, the MT16 also comes with moving handles that get your core and upper body more involved.
And since the pedals and handlebars are connected to the same resistance source, they both get to work against resistance.
When it comes to resistance, the MT16 mainly utilizes a magnetic system, although there's also a fan system that augments your resistance a little.
Magnetic systems are nice because they're smooth and quiet, but the fan can kick in at higher speeds for even more resistance.
The MT16 comes with 20 levels of resistance, giving you a fair amount of control over the intensity of your workouts.
Having more resistance levels is generally a good thing because you can make smaller adjustments to your resistance between levels.
The combination of the stepping pattern and the upper body involvement makes the MT16 well-equipped to provide a full body workout.
And having 20 levels of resistance to work with ensures folks of all fitness levels will be able to get as challenging a workout as they're looking for.
Overall, the MT16 scores highly in this department – users agree the MT16 can easily kick your butt.
Frame
Besides the fact that this Max Trainer can provide intense, full-body workouts, another big perk is that it doesn't take up that much floor space.
To be more specific, the MT16 takes up a footprint of 49.3″ x 30.8″ (L x W), or roughly 4′ x 2.5′.
The width is comparable to most home ellipticals, but the MT16 doesn't take up nearly as much length when compared to the 70″+ length of most full size ellipticals.
So, if your workout space is limited, this could be a huge plus.
The MT16 is compact, but is it heavy-duty?
I know this term gets thrown around so much by fitness bloggers that it's virtually lost all meaning, but when I use it, I try to be as literal as possible.
When trying to determine how "heavy-duty" (aka stable) the MT16 is, I think it makes sense to look at the assembled weight – because this tells us exactly how heavy it is.
And a heavier machine is more likely to feel stable during workouts.
The MT16 comes with an assembled weight of 155 lb, which isn't bad, but I'm not sure it's high enough to really be considered "heavy-duty".
It's probably not fair to compare this weight to the weight of ellipticals because those machines are much bigger – so let's look at some other HIIT trainers on the market.
There's ProForm's HIIT H7, which is of very similar design to the MT16, and it comes with an in box weight of 225 lb.
I hate it when brands give us the "in box" weight because that includes the weight of packaging, making it harder to discern what the actual product weight is.
But, if we estimate 50 lb or so for packaging, that still puts the H7 at around 175 lb.
There's also Spirit's XS895 HIIT Trainer and that comes with an assembled weight of 205 lb.
So, based on these comps it looks like the MT16 is a bit on the light side, but most users don't complain about it feeling lightweight of flimsy.
And with a max weight limit of 300 lb, the MT16 is rated to hold fairly large folks.
But given the weight of this machine, don't be surprised if it rocks a little during strenuous workouts.
Features
The Bowflex Max Total 16 comes with the following features:
16″ HD console- the star of the show here is the large, HD touchscreen console that makes it easy to see everything and make all selections. The resistance levels are adjusted using a separate knob, but everything else is adjusted by touching the screen.
Access to JRNY- Bowflex gave this trainer that huge console because it's designed to pair with JRNY, their streaming platform. JRNY gives you access to instructor-led workouts, metric tracking, scenic destinations, music playlists, customized workouts, and entertainment apps. Bowflex includes a free year with purchase and then I think it's about $20/month (or less if purchased annually).
Entertainment apps- through JRNY, you can access all the top entertainment apps (Netflix, Amazon Prime, Disney+, HBOmax, Hulu) direly through the console, which is awesome, but you can only do this if you're paying for JRNY (which kinda sucks).
Multi-grip handlebars- the handlebars on this trainer are huge, offering 6 different grip options. This gives you a lot of choice when it comes to targeting different upper body muscles.
Bluetooth speakers- you can listen to your music wirelessly through the built-in bluetooth speaker.
Heart rate monitor- Bowflex also includes a bluetooth armband heart rate monitor, so you can keep an eye on that heart rate during workouts.
USB charging port- you can plug your devices into the USB port and keep 'em charged during workouts.
Media shelf- there's a convenient place to store your phone, wallet, or anything else that might need storing.
Water bottle holder- and yes, there's even a place to hold your water bottle.
Assembly
If you do decide to purchase the MT16, you'll have to choose between self assembly or paying for professional assistance.
If you are a family member is fairly handy, I say save the money and do it yourself – the process should be pretty straightforward.
The main frame comes preassembled, but you'll be responsible for attaching the stabilizers, the pedals, the handles, the console, and several covers.
I think Bowflex does a nice job with their assembly manual and all images are large enough to see where everything goes.
The necessary tools are included and there are also helpful assembly videos on YouTube if you need a little extra guidance.
The MT16 isn't super heavy or anything, so 1 able bodied adult will likely be able to assemble themselves, although having a second person for the first step would be helpful.
Overall, the assembly process for the MT16 shouldn't be too bad. I'd expect most folks to be able to have this thing up and running in 1-2 hours.
Warranty
Bowflex backs their Max Total 16 with the following residential warranty:
3 year frame
3 year parts
90 day labor
I'm a stickler for warranties and this one doesn't impress me too much.
Three years on the frame is quite short, considering ProForm offers 10 years on their HIIT trainers and Spirit offers a lifetime frame guarantee on theirs.
Three years on parts is actually pretty good though.
But 90 days on labor is nothing for a fitness machine in this price range.
Overall, I think this short warranty is probably the MT16's biggest flaw.
Final Thoughts
Alrighty, that's about all I have for the MT16.
All things considered, I think this is a pretty interesting machine.
It seems like the whole world is getting into the whole streaming workout thing, so I guess it makes sense that HIIT trainers do the same.
So, if you're bored with bikes and treadmills and looking for a new way to join the world of streaming fitness, I think the MT16 could be a good buy.
I think it could certainly be a little heavier-duty and that warranty could definitely use some work, but users seem to be overwhelmingly happy with this trainer.
Before buying though, I would think about whether or not you really plan on using JRNY – because all of the best features on the MT16 are only accessible through the paid service.
And if you're not going to use JRNY, do you really need that large HD touchscreen?
That's a personal question, but I would say no.
That's my long-winded way of saying that yes, I think the MT16 is a pretty good buy IF you plan on investing in a JRNY membership.
If not, I think it makes more sense to go with a different trainer (like the heavier-duty, longer warranted Spirit XS895).