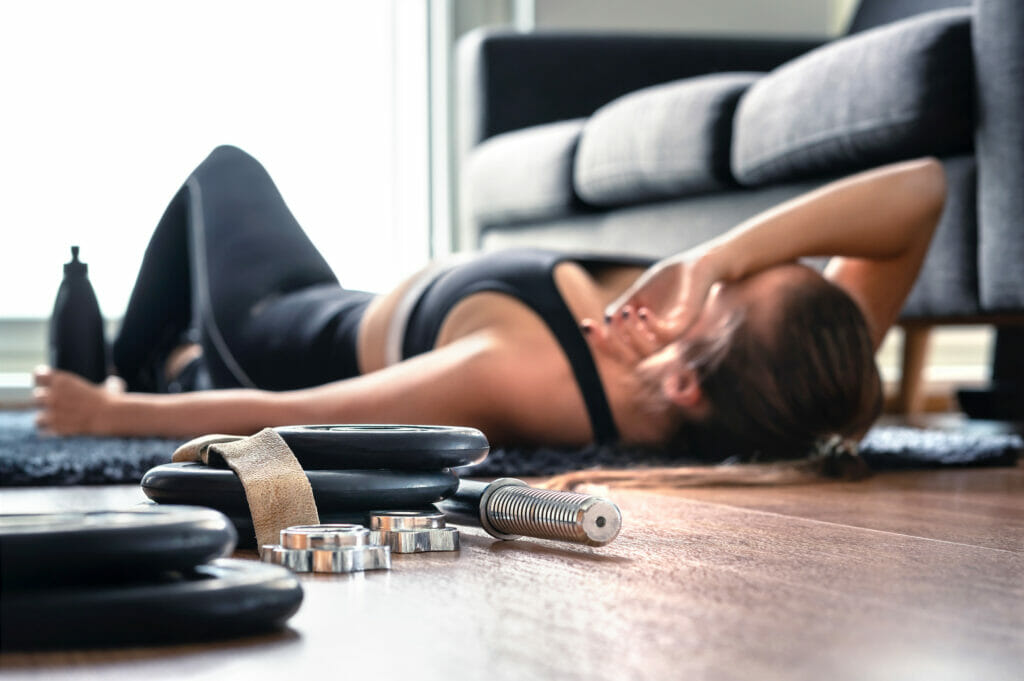 The M9 is Bowflex's newest addition to their Max Trainer lineup. With this upgraded model, you get a new 10″ HD touchscreen display that opens up all kinds of workout and entertainment possibilities.
Using Bowflex's fitness app, JRNY, the M9 gives you access to unlimited instructor-led workouts, scenic routes, and all kinds of workout metric tracking.
And unlike most streaming equipment, the console on the M9 also lets you access your favorite entertainment apps, like Netflix, Disney+, and Amazon Prime.
And even though the new hi-tech screen is hard to miss, this is still a Max Trainer we're talking about here, so it also has what it takes to provide as intense a workout as you can handle.
Long-story-short: if you're looking for a new cardio trainer that's effective and fun to use, Bowflex's Max Trainer M9 is a great choice.
If you're interested in hearing the longer story, keep reading.
In this review, I'll go over everything the M9 has to offer. After reading, you'll know everything you need to in order to decide whether or not this machine is worth investing in.
The Bowflex Max Trainer M9
The Max Trainers are just one of the many innovations Bowflex has created over the years.
From the original Bowflex power rod home gyms to their newer VeloCore Bike, Bowflex has made a name for themselves for thinking outside of the box.
I think it's great to see a company that continues to push the envelope- especially in an area like home fitness where sometimes it feels like we see the same old machines everywhere we look.
Anyway, the Max Trainers have been around for awhile and there have been several different models over the years.
Even though Bowflex is only offering their newer models (the M9 and M6) directly, you can still find the older models (M3, M5, M7, M8) on retail sites like Amazon and whatnot.
The biggest difference we see on the M9 compared to the M8 is the touchscreen display.
And I don't mean to say that like that isn't much of a difference because it really is- especially considering the M9 is cheaper through Bowflex (~$2000) than the M8 is through Amazon.
Pros
10″ HD touchscreen display
20 levels of magnetic resistance
Unlimited instructor-led workouts (JRNY)
Scenic routes (JRNY)
Entertainment apps (JRNY)
Metric tracking (JRNY)
High intensity, full body workouts
Bluetooth speakers
Bluetooth arm band heart rate monitor included
USB charging port
Multi-grip handles
Large, textured pedals
Compact frame
300 lb weight capacity
Cons
Short warranty
Some complaints about user friendliness of apps
Resistance
The M9, like all of the other Max Trainers, is designed to be a HIIT trainer.
HIIT, or high intensity interval training, as the name implies, is a style of workout that involves short, intense bouts of activity followed by longer rest breaks.
The general idea is that exercising in this manner causes your heart rate to spend more time at higher levels than more traditional cardio training.
Which in turn, causes you to burn more calories, burn more fat, increase metabolism, improve cardiovascular health and what not.
You know, basically all the good stuff we all want to achieve through exercise.
HIIT workouts have been studied for some time now and there's really no denying their effectiveness.
The key however, is getting your heart rate high enough during those interval periods.
Most professionals agree that in order to make HIIT workouts effective, you have to get your heart rate up to 75 – 90% of your heart rate max during those intervals.
For those out there that haven't done this type of interval training before, you should know that it's pretty intense.
Getting your heart rate up to almost its max means you're basically going all out during intervals.
Well, this type of exercise is exactly what the M9 is designed for.
If you look at the movement pattern of the M9, you'll see it basically combines the movement of a stair climber with an elliptical.
The pedal motion isn't quite as vertical as a stair machine- it does involve a little horizontal movement, but not nearly as much as an elliptical.
But like an elliptical, you get the upper body involvement, making it more of a full body workout (which is helpful for getting that heart rate elevated).
The M9 utilizes both a magnetic and a fan based resistance system.
This means you have a magnetic flywheel that spins as you pedal, allowing you to adjust the baseline resistance from a dial, but you also get added air resistance as you pedal faster and faster.
This means that, unlike a machine that uses only air resistance, you can pedal slowly against high resistance.
Speaking of which, there are 20 resistance levels to choose from, giving you a wide range of intensities to work with.
Even though you could pedal slowly, keep in mind this machine is designed for interval training – combining speed and resistance with the stair climbing motion is a very effective way to burn calories in a short period of time.
Overall, the movement pattern and the combo of magnetic and air resistances makes the M9 a very effective calorie burning machine.
Frame
One of the nice things about all the Max Trainers is how compact they are. Unlike treadmills and ellipticals, these HIIT machines don't take up a lot of floor space (which makes them a good choice for smaller homes).
The M9 takes up a footprint of only 49.2″L x 30.5″W.
When it comes to ceiling height, Bowflex recommends taking the tallest user and adding 15″- this is the minimum ceiling height you should have to make sure there aren't any unwanted head injuries.
Even though the frame is compact on the M9, it doesn't take anything away from the structural integrity of the frame.
The M9 still comes with a 300 lb weight limit, which is pretty good for any home fitness machine.
I also like to look at the assembled weight to get an idea as to how heavy-duty a machine is. The M9 weighs almost 150 lb assembled, making it a pretty substantial machine.
The design of the M9 should make it pretty comfortable for most folks to use.
I mentioned the stepping pattern above, but when you look at the handles and pedals, you'll notice how large everything is.
There are both stationary and moving handles, allowing for many different grips during your workouts. And the large, textured pedals will ensure your feet have plenty of wiggle room.
The M9 is also a pretty low impact form of exercise.
If you have achy joints the stepping pattern might not be as comfortable as the more horizontal pattern on an elliptical, but it would be less impactful than say using a treadmill.
Overall, the M9 is pretty heavy-duty. I like how over-sized all of the components are and I think this will add to user comfort.
Features
The Bowflex Max Trainer M9 comes with the following features:
10″ HD touchscreen- the large touchscreen display makes it easy to make all selections and see all metrics and whatnot very clearly during workouts. It also works very well with all of the stuff you can access through JRNY.
On demand classes- JRNY is Bowflex's fitness streaming app and it costs $19.99/month (you can save more if you sign up for a year at a time). While it's optional to sign up for this service, you can't access most of its features without a subscription. Through JRNY, you get access to unlimited on demand workouts. These workouts are instructor-led and custom to you. You can also be coached while watching your entertainment apps. There are also 4 standard workout programs that you can access without the JRNY app.
Scenic routes- through JRNY, you can access up to 50 or so scenic routes around the world, making it feel like you're out running somewhere exotic or beautiful.
Entertainment apps- this is one of the coolest features if you ask me. The touchscreen tablet comes with several built-in entertainment apps that you can watch during workouts. These include Netflix, Amazon Prime, Hulu, Disney+ (you have to have your own subscription to each). Some folks have complained that the console could be more user friendly when it comes to using these apps, but that's something Bowflex is sure to work on with future software updates.
Metric tracking- the JRNY app allows you to track all of your workout metrics as well as set goals and see personal bests.
Heart rate monitoring- you can grab onto the stationary handles to check your heart rate or use the included bluetooth arm band for a more accurate reading.
Bluetooth speakers- you can listen to music from your phone or tablet wirelessly through the built-in bluetooth speakers.
USB charging port- you can also charge your pad up during your workouts using the USB charging port located behind the console.
Water bottle holder- this handy feature allows you to, uh, hold your water bottle during workouts. Hey, hydration is important people!
Assembly
Bowflex does a great job with their assembly manuals- better than most I'd even say. The manual for the M9 is straightforward and easy to read.
I like the large images they include with each step because it makes it much easier to see what's going on along the way.
They include large images of all the hardware, making it easy to see which pieces are being attached with what.
All necessary tools are also included, which is always nice.
Overall, I think most people will be able to assemble the M9 themselves without too many issues.
The assembly process is pretty simple- you're basically just attaching components to the mostly preassembled frame.
You'll have to attach things like the pedals, handles, console, and stabilizing feet. You'll also have to make a few simple cable connections to hook up the console.
I'd expect to spend an hour or so getting this machine unboxed and assembled.
Warranty
Bowflex backs the Max Trainer M9 up with the following warranty:
3 year frame
3 year parts
90 day labor
There's really no getting around the fact that this is a short warranty for a fitness machine in this price range.
It's kinda hard to compare the M9 to treadmills and ellipticals because it is a different type of machine, but even so, 3 years on the frame is really short.
I'd like to see a lifetime frame guarantee from a $2000 machine (this is what most nice treadmills and ellipticals will offer; ProForm offers 10 years on their HIIT trainers).
Three years on parts isn't bad- definitely in the ballpark when compared to other machines in this price range (2-5 years is pretty standard).
But 90 days on labor is much shorter than the 1 year most other brands offer.
Overall, Bowflex's warranty on the M9 has a lot of room for improvement. Personally, I consider this lackluster warranty to be the M9's biggest flaw.
Final Thoughts
Bowflex's Max Trainers are an interesting group of cardio machines that offer a nice alternative to people who are bored with treadmills and bikes.
The M9, like the others, are designed to offer high-intensity workouts that can help you burn a ton of calories in a small amount of time.
And as the Max Trainers go, the M9 is the most technologically advanced model of the bunch.
The large HD touchscreen pairs nicely with the JRNY app, giving you basically unlimited workout and entertainment options (as long as you're cool with paying the subscription fee).
(And if you're not cool with paying for a streaming subscription, I don't recommend the M9 because all of the coolest features require the JRNY app).
Tech aside, the M9 is also well-equipped to deliver great workouts.
I like the oversized pedals and that the handles have so many grip options- I think these features will significantly improve comfort during use.
My biggest complaint would be the short warranty- I think Bowflex could do a little better in this department.
Overall though, I think the M9 is a nice cardio machine. I think it would make a good option for people interested in workout streaming and using entertainment apps during their workouts. Recommended.