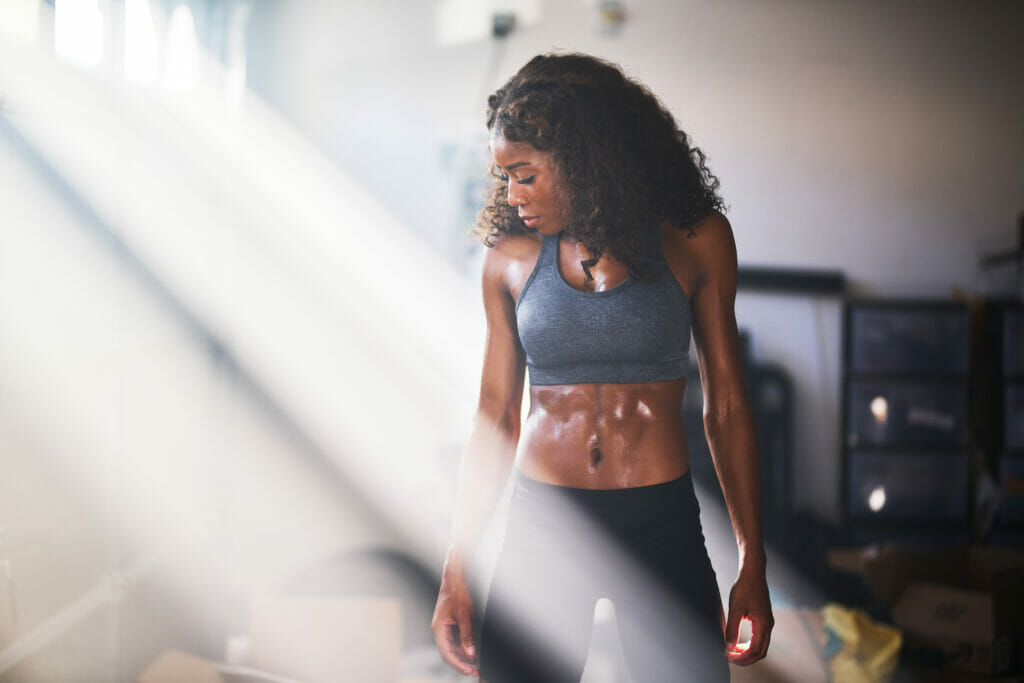 If you're searching for a compact cardio machine that can provide a doozy of a workout, Bowflex's Max Trainer M6 is definitely worth considering.
Designed for HIIT style workouts, the M6 allows folks to get a full body workout while burning a bunch of calories in less time than most traditional cardio machines.
Highlights of this trainer include 16 resistance levels, multi-grip handles, and the option to access unlimited on demand workouts through the JRNY app.
There's also a cool "burn rate" display that motivates by showing you exactly how many calories you're burning per minute during your workouts.
Overall, the M6 is an effective home exercise machine that can help you reach your fitness goals, but like everything else in life, it's not perfect (especially when it comes to the warranty, but more on that later).
Before you make any decisions, it's important to learn as much as you can- and that's where I come in.
In this review, I'll go over everything the M6 has to offer- we're talking specs, features, and every thing in between.
After reading, you'll know whether or not this is the right cardio machine for your home gym.
The Bowflex Max Trainer M6
Bowflex got their start with the creation of their innovative power rod home gym systems. And even though they're still pretty popular, I feel like Bowflex is known more now for their other creations.
The fitness brand has been busy over the years and they continue to come up with new and exciting ways to exercise.
When you think about all of the innovations they've introduced us to over the years, it's hard to come up with another fitness brand that thinks outside of the box more than Bowflex.
I mean, this is the brand that gave us SelectTech dumbbells, TreadClimbers, LateralX trainers, and more recently the VeloCore Bike.
Their creative machines are great, but people shouldn't forget that Bowflex's good ol' fashioned cardio machines (treadmills and ellipticals) are some of the best around.
And then there's their Max Trainers, which have become very popular over the last few years.
Bowflex has come out with several models over the years, but now they're offering the M6, the M9 and the newer Max Trainer SE directly (older models can still be found on sites like Amazon).
The M9 comes with a significantly more sophisticated console than the M6, but the 2 models are very similar in terms of performance.
Pros
Full body, HIIT style workouts
16 magnetic resistance levels
300 lb weight capacity
Compact frame
Burn Rate meter
JRNY compatible
Bluetooth compatible with apps
Bluetooth heart rate monitoring
5 standard workout programs
USB charging port
2 user profiles
Straightforward assembly
Cons
Short warranty
No speakers
Resistance
The M6 (as well as all the other Max Trainers) are designed to be used for HIIT workouts. In case you aren't familiar, HIIT stands for "high intensity interval training" and it's a very effective workout style for burning calories and losing weight.
In order for HIIT workouts to be effective though, you have to make sure those intervals are intense enough to get your heart rate really high.
We're talking at least 80% of your heart rate max high.
The M6 is well-equipped to do this.
For starters, the M6 uses a full-body movement pattern that includes a stepping motion with your legs and an alternating  push/pull motion with your arms.
This combo is going to activate more muscles, which is going to increase heart rate faster.
The other side of the equation is the resistance. The M6 comes with 16 resistance levels, giving you a lot of play with adjusting the intensity.
This makes it easier for beginners and more advanced athletes alike to find a resistance level adequate to get that heart rate pumping.
(P.S.- even though the M6 is designed for HIIT workouts, doesn't mean you have to use it in that manner. You can do lower intensity, steady-state cardio workouts too).
The M6 uses a magnetic resistance system which makes for a quiet, smooth workout experience.
You might also notice that fan at the bottom of the machine. It looks to me like this machine is designed to take advantage of air resistance too.
So, I asked a Bowflex rep and they said the fan does augment the resistance, though most of it comes from the magnetic system and the 16 levels you choose from.
Overall, the combo of the stepping pattern and the magnetic resistance on the M6 should be capable of challenging users of all fitness levels (as much as they want to be challenged).
Frame
Even though I imagine a lot of people will be drawn to the M6 because of the type of workouts you can do on it, the fact that this is such a compact machine should also grab the attention of folks with smaller homes.
The M6 has a footprint of only 46″ x 26″ (L x W), meaning it takes up roughly half the space as some full size ellipticals and treadmills.
This could be a game changer for people living in smaller apartments or who are simply lacking room in their homes for larger equipment.
And even though the M6 is compact, it's still built tough.
Tough enough to hold users weighing up to 300 lb even.
I like to look to the weight limit to get an idea as to how robust or heavy-duty a machine is.
Personally, even though I only weigh about 200 lb, I like to see at least a 300 lb weight limit on cardio machines because seeing a high value in this spec is a good sign of overall quality.
I mean, a machine with a 300 lb weight limit has to be a little tougher than one with a 200 lb weight limit right?
I also like to look at a machines assembled weight- again, I think heavier is better because it'll make for a more stable base to workout on.
Less moving and wobbling, and whatnot.
The M6 comes with an assembled weight of 148 lb, which is heavy-enough to make for a stable machine.
Overall, the M6 comes with a strong, compact frame that's capable of holding larger folks without taking up much floor space.
Features
The Max Trainer M6 comes with the following features:
Burn Rate display- the console on this trainer is pretty simple, just a small backlit LCD screen, but the Burn Rate meter at the top is pretty cool. It's like a speedometer, but instead of telling you your speed, it tells you how many calories you're burning in real time. It's an effective motivator during workouts.
Bluetooth compatible- the M6 is bluetooth friendly, allowing you to sync up with Bowflex's JRNY app or other popular fitness apps for tracking.
Heart rate monitoring- you can also use bluetooth to connect a wireless heart rate monitor for more accurate heart rate readings during workouts.
USB charging port- this features allows you to plug your devices in and get a charge during workouts.
JRNY compatible- JRNY is Bowflex's fitness app. It's a paid subscription service ($19.99/month) that gives you access to unlimited instructor-led workouts, metric tracking, scenic routes, and all that jazz. Like most apps these days, it comes with all kinds of workouts, not just ones for the M6. You'd have to use your phone or tablet to view the JRNY app when using the M6.
2 user profiles- you can save 2 user profiles on the M6 (and both profiles can use the same JRNY subscription, fyi).
5 workout programs- if you don't choose to sign up for JRNY, you'll still have access to the 5 standard workout programs included with this trainer. These include the 14 minute interval workout, manual, stairs, fat burn, and calorie burn. With JRNY, you get access to unlimited workouts.
Magnetic media rack- there's a large media rack at the top of the console. It's magnetic, which helps keep your tablet or phone from sliding around during workouts.
Multigrip handles- the handles are large and offer different grip options, allowing you to customize your workout as well as target different upper body muscle groups.
Water bottle holder- there's a large water bottle holder in the front for storing your workout beverage of choice.
Assembly
Bowflex does a really nice job with their assembly manuals. I like how they include large images with each step, including zoomed in images of the hardware- it makes it a lot easier to tell what goes where.
The assembly process for the M6 is a straightforward one.
Most of the main unit comes preassembled. You'll be responsible for attaching the stabilizer feet, the handles, pedals, and console.
There's also a few covers to attach, but nothing too crazy.
All necessary tools are included.
Overall, putting the M6 together should be very doable for most folks. I'd expect to spend an hour or so getting it unboxed and assembled.
Warranty
Bowflex backs their Max Trainer M6 with the following warranty:
2 year frame
2 year parts
90 day labor
Ah, we come to the warranty- the Achilles' heel of the M6.
There's really no sugar-coating the fact that the warranty on this trainer kinda sucks. The worst part of it for me is the 2 year frame guarantee- that's really short.
Especially for a cardio machine in this price range.
Most comparable machines come with a lifetime frame warranty because it's really unlikely that the frame is gonna break down.
Two years on parts isn't awful- at least Bowflex is more in the right ballpark here. Most similarly priced machines come with parts warranties in the 2- 5 years.
But 90 days on labor is much shorter than the 1 year that's standard operating procedure for most brands.
Overall, I'd say this warranty is the M6's biggest drawback.
Final Thoughts
Even though I just ripped its warranty a new one, I do like the Max Trainer M6. I think it offers a new way to exercise for people who are bored with the idea of jumping on a treadmill or bike.
And I think the fact that it's so compact is going to make it a great option for homes with smaller workout areas.
I don't think I mentioned it earlier, but it would also make a great choice for someone who doesn't have a lot of time to spend working out.
HIIT workouts in general are usually shorter, but the M6 comes with a 14 minute interval workout that's designed to kick your butt.
And I don't care how busy you are, everyone can find 14 minutes in a day to exercise.
I wish Bowflex would back the M6 with a better warranty because they're a quality brand with a good reputation- I'm not sure why the guarantee on these Max Trainers is so short.
Overall though, I think the M6 is a pretty good buy. If you're looking for a more hi-tech console, check out the M9– the extra $300 gets you an HD touchscreen and streaming entertainment apps (and the warranty is a bit better too).