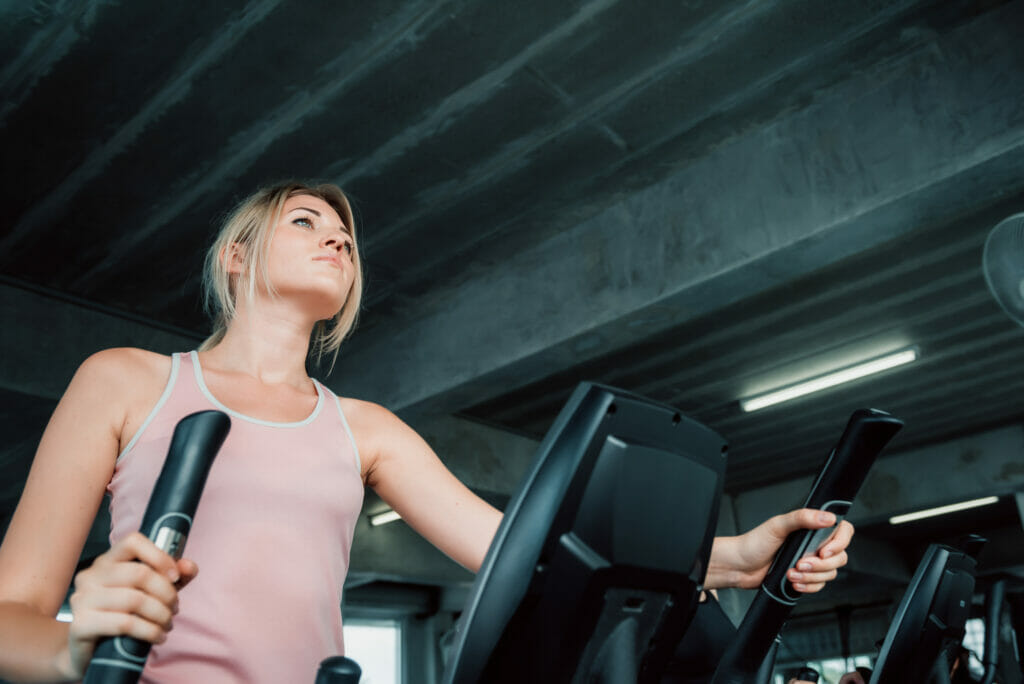 Spirit's XS895 HIIT Trainer basically takes an elliptical trainer and combines it with a stepper machine.
The result is a compact cardio machine that can provide as intense a workout as you can handle.
Highlights of the XS895 include a 23 lb flywheel, 20 levels of incline, 20 levels of resistance, and bluetooth compatibility.
It also happens to be backed by one of the best warranties on the market.
Long-story-short: if you're looking for an elite stepper/HIIT machine to add to your home gym, I think Spirit's XS895 is a great choice.
If you're interested in the longer story, keep reading.
In this review, I'll go over everything this HIIT trainer has to offer- we're talking specs, features, and everything else in between. I'll even compare it to a few of the other big names in this category to see how it stacks up.
After reading, you'll know everything you need to in order to decide for yourself whether or not this is the right option for your home gym.
The Spirit Fitness XS895 HIIT Trainer
I'm not sure if Spirit's as well-known as some of the other big names in home fitness. This could be because they can be a little harder to find and you can't always buy their products directly through their website.
Regardless, I think Spirit is easily one of the best home fitness brands out there.
Like Sole (another one of my favorites), Spirit builds no-BS fitness machines that are straight forward to use and designed to last.
They also back their machines with amazing warranties, but more on that later.
The XS895 is labeled as a HIIT trainer, meaning it's capable of providing intense workouts. There's really nothing fancy about HIIT, it's just all about getting that heart rate up throughout repeated, short bursts of activity.
Of course some machines are better equipped to do this than others.
The XS895 accomplishes this by combining the movement patterns of an elliptical and a stepper, while getting the arms involved via the moving handles.
The result is a full body workout that's more than capable of raising your heart rate.
The XS895 comes with a full retail price of about $2500, but you can usually find it a few hundred bucks cheaper through fitness retail sites like Fitness Factory.
Pros
Full body workout
23 lb flywheel
20 levels of magnetic resistance
20 levels of adjustable incline
Heavy-duty frame
400 lb weight capacity
Compact footprint
Multi-grip handlebars
Handlebar controls
Bluetooth compatible
Heart rate monitor compatible
Amazing warranty
Cons
Console a bit dated
Heart rate monitor not included
Resistance
As I mentioned above, the key to achieving an effective HIIT style workout is being able to get your heart rate elevated high enough to take advantage of all the benefits.
Which according to most professionals, is somewhere between 75 – 90% of your heart rate max.
The XS895 has a few tools at its disposal to help ya get that heart rate where it needs to be.
I've mentioned that the movement pattern for this trainer is somewhere between that of an elliptical and a stepper.
I say this, because with the XS895 your legs go through more of an arc movement, instead of a purely up and down vertical movement we tend to see on traditional steppers.
That, plus you get to use your arms on this machine, unlike most traditional steppers.
Anyway, the XS895 utilizes a 23 lb flywheel and a magnetic resistance system to provide the resistance for you to work against during workouts.
When it comes to flywheels, being heavy is a good thing because the extra weight equates to smoother operation.
But the extra weight is also good when it comes to overall resistance- the heavier the flywheel is, the more effort it'll take to get it moving.
At 23 lb, the flywheel on the XS895 isn't massive, but it should be heavy enough to provide a smooth feel while pedaling.
For the sake of comparison, ProForm's HIIT Trainer Pro comes with a 30 lb flywheel, which is significantly heavier.
But it's not all about the flywheel, the XS895 also comes with an adjustable incline angle you can use to increase the intensity.- 20 levels of it to be exact.
Increasing/decreasing the incline also changes the step height (because of that arc movement pattern we were talking about).
At the lowest incline setting (43°), you'll be working with a 10″ step height, but at the highest (60°) you'll be working against a 14″ step up height.
I think this is a nice feature because it gives you the ability to customize the feel of your workouts too, as well as make them more difficult of course.
And when it comes to the comps, it's also a feature that neither the aforementioned HIIT Trainer Pro or Bowflex's Max Trainer M9 can offer.
Overall, the XS895 scores highly in the resistance department. It doesn't have the heaviest flywheel, but with 20 levels of resistance and 20 levels of adjustable incline, this machine has enough muscle to challenge users of all skill levels.
Frame
It's important to have a nice resistance system, but it's also important that your cardio machine feel stable and secure during use.
I mean nobody wants a machine that's going to feel wobble or shake during workouts.
With the XS895, this shouldn't be an issue.
This trainer comes with a powder-coated steel frame and weighs 205 lb fully assembled (when it comes to assembled weights, being heavy is a good thing because it makes for a more stable base).
For the sake of comparison, Bowflex's M9 weighs about 149 lb.
The extra bulk of the XS895 is a good thing because it's going to give a heavier-duty, commercial feel (literally).
This trainer also comes with a max weight capacity of 400 lb, which is impressive for any fitness machine. Seeing a weight limit this high is another good indicator of the machine's overall build quality.
As is the fact that this machine is rated for commercial use.
The XS895 takes up a footprint of 54″ x 24″, so it's fairly compact compared to traditional ellipticals or treadmills.
Overall, this trainer scores highly with a heavy-duty frame that's capable of safely holding folks of all sizes.
Features
Spirit's XS895 comes with the following features:
7.5″ LCD console- the console on this machine is a bit dated looking, but it's large enough and backlit, so you can easily see all your workout metrics during use.
10 workout programs- this trainer doesn't come with a ton of built-in workouts like some of its competitors, but it has a little bit of everything. The workouts include 5 standard profiles (fat burn, cardio, etc), as well as a manual mode, 2 heart rate guided workouts, and 2 custom user workouts.
Handlebar controls- you can control both the resistance and the incline from the stationary handlebars (I think it would've made more sense to include these on the moving handles?)
Bluetooth- the XS895 is bluetooth compatible with Spirit's fitness app, which allows you to keep track of all your workouts, as well as choose from different displays. Spirit's app is also compatible with other popular fitness apps (MapMyFitness, FitBit, etc).
Media rack- there's a small media rack in the middle of the console, giving you a place to put your tablet if you so choose (although it will block the console screen).
Heart rate tracking- there's a pair of grip monitors built-into the stationary handles, but this machine is also compatible with telemetric monitors (although one isn't included).
Multi-grip handlebars- the moving handles come with different grip options, allowing you to target different upper body muscles during workouts.
Cooling fan- there's a built-in fan to help you stay cool and comfortable during those HIIT workouts.
Audio jack- you can plug your phone or mp3 player up to the console and listen to your workout playlists through the built-in speakers.
Assembly
The assembly process for the XS895 is pretty straightforward. That said, I don't think Spirit does a very good job with their instructions.
They take a process that should probably be split into 6 or 7 steps and they cram everything into 2 steps.
There's a single image for each step with several things going on in each one.
It would be a lot easier to see everything if they split it up into more steps, but luckily there isn't that much to do.
The main unit comes pre-assembled and even the pedals are already attached.
If you purchase, you'll be responsible for attaching the rear stabilizer, the console (make sure not to pinch those wires when you snake 'em up through the mast), the moving handles, and a few covers.
All the necessary hardware and tools are provided.
Overall, assembly should be very doable without professional assistance. Might be a good idea to have a second person available to help if necessary just due to the weight of this machine alone.
Warranty
Spirit Fitness backs their XS895 HIIT Trainer with the following residential warranty:
Lifetime frame/brake
10 year parts
1 year labor
There's no getting around it, this is a great warranty.
You can't beat a lifetime guarantee on the frame, but it's the 10 year parts guarantee that really stands out to me.
Most quality brands stop at 5 years on parts, so Spirit's warranty is 2x as long as pretty much everyone else's.
Speaking of which, ProForm offers 5 years for parts on their HIIT Trainers and Bowflex only offers 3 years.
1 year on labor is pretty standard stuff, nothing too special there.
Oh, Spirit also offers a commercial warranty on this machine:
Lifetime frame
5 year brake
3 year parts
1 year labor
Their commercial warranty is also very generous compared to other commercial guarantees and the fact that this machine comes with a commercial warranty is a good sign in itself.
Overall, Spirit offers some of the best warranties in the world.
Final Thoughts
After looking at all the specs and features the XS895 has to offer, I think it's pretty safe to say this is a nice cardio machine.
I like that it comes with an adjustable incline that allows you to change the step length, but I think it's the overall heavy-dutiness of this machine that impresses me most.
This trainer is bigger and heavier than most of the competition
It also comes with a higher weight capacity and a much better warranty.
Speaking of the competition, the biggest competitors I see are probably ProForm's HIIT Trainer Pro and Bowflex's M9- both of which are very nice machines in their own rights.
The XS895 compares very well to these other trainers and surpasses them both in a few areas (it's also the only one that offers an adjustable incline).
That said, if you're looking for a more sophisticated trainer with touchscreens or loads of workouts to choose from, the XS895 isn't your best bet- the simple console is probably its biggest limitation.
But if you're looking for a HIIT trainer that's easy to use and built to last, Spirit's XS895 is definitely worth investing in. Highly recommended.