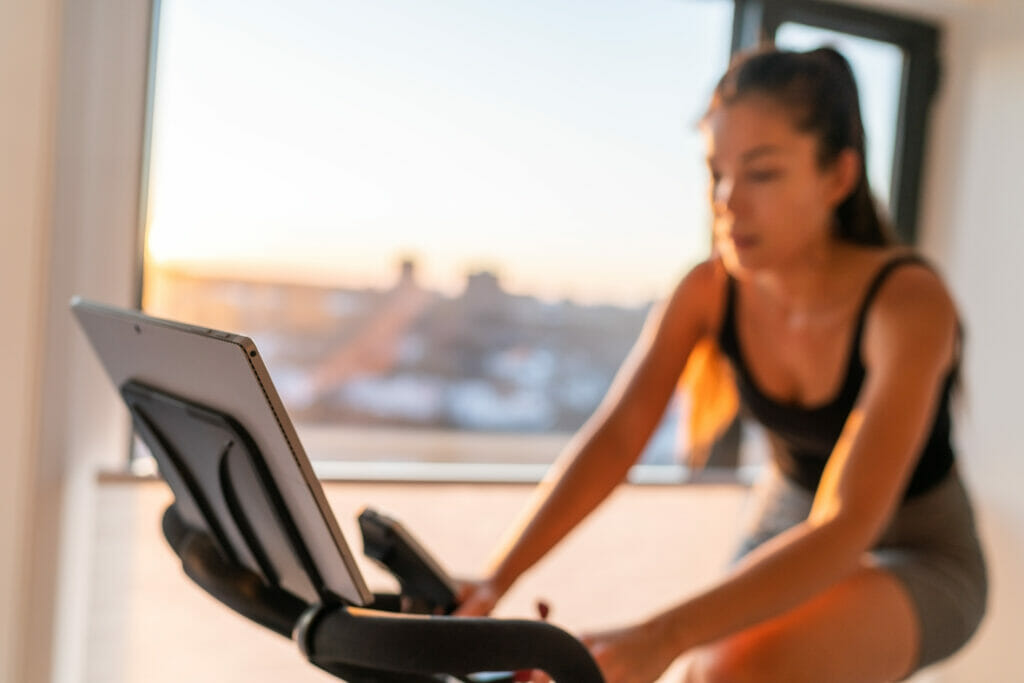 The YESOUL S3 is an affordable indoor cycle who seems to be taking a page out of Echelon's book by ditching the traditional console and instead opting to let folks use their own tablets to track their workouts.
Which can be a good thing for the folks out there who already own a tablet and are looking to save some cash.
It also allows the S3 to be compatible with multiple fitness apps, instead of being held hostage by a single provider.
Highlights of this budget-friendly cycle include 100 levels of magnetic resistance, a fully adjustable seat, a large tablet holder, and a free armband heart rate monitor with purchase.
And I have to say, it's also pretty sleek looking for such an affordable model.
That said, the S3 is far from perfect – with a light flywheel and low weight capacity, larger or more advanced users should probably consider other options.
All things considered, if you're looking for a budget cycle to invest in, the YESOUL S3 isn't a bad choice – you just have to know what to expect.
And that's where I come in.
In this review, I'll go over everything this bike has to offer. We're talking performance specs, features, pros, cons, warranties, and pretty much anything else you can think of.
After reading, you'll know whether or not the S3 is the right spin bike for your home gym.
Let's do this.
The YESOUL S3 Indoor Cycling Bike
YESOUL is a fairly new Chinese fitness brand that's only been around for a handful of years.
They specialize in budget-friendly indoor cycles and additional accessories to be used with said cycles – heart rate monitors, foam rollers, mats, massagers, etc.
They've only got a few bikes to choose from at the time of writing this, but their selection could always expand in the future.
The S3 is their entry-level model and doesn't come with an included console.
There's also their G1 Pro and G1 Plus that come with 10″ and 21″ consoles respectively.
As I mentioned in the intro, YESOUL reminds me a lot of another big brand that was an up-and-comer not too long ago: Echelon Fitness.
At the time of writing this, the S3 goes for about $450 or so (depending on when/where you purchase), making it very affordable as far as indoor cycles go.
Pros
Very affordable
100 levels of magnetic resistance
Fully adjustable seat
Free access to instructor-led workouts (through app)
Strap heart rate monitor included
Height adjustable handlebars
Easy assembly
Tablet holder
Water bottle holder
30 day money back guarantee
Cons
Light flywheel
Lightweight frame
Low weight capacity
Short warranty
Resistance
When checking out a new bike, I think it's a good idea to start with the resistance system.
I think this is the most important part because it's responsible for providing not only the resistance you'll be working against, but also the overall feel of the pedal motion.
And when I say resistance "system", I'm talking about the flywheel and the resistance mechanism (friction brake vs magnetic).
There's also the drive train I guess, but I don't worry that much about a belt vs a chain – I never notice much difference (but for the record, the S3 comes with a belt drive).
Anyway, most indoor cycles benefit from having a heavy flywheel because the more weight it has, the more momentum it can build as it spins.
And more momentum means less lag between pedal strokes, which makes for a smoother feel.
The S3 comes with a 7.5 kg, or roughly 16.5 lb, flywheel – which is pretty light for a spin bike considering these days, even affordable cycles are casually packing 30 lb+ flywheels.
This light flywheel is probably the S3's biggest downside, although most users still report a fairly smooth feeling pedal motion.
On the plus side, this bike does utilize a magnetic resistance system, which certainly isn't a given at this price point.
And not only does it come with a magnetic system, it comes with 100 resistance levels, which is pretty unheard of in this price range.
Keep in mind, having more resistance levels doesn't mean more resistance, but it does mean you have more control over that resistance.
You know, you can make smaller changes.
And the 100 level scale is the same one Peloton's app uses-  so if you're thinking' of buying the S3 and then using the Peloton Digital app, this is a big plus.
And I like that you can see which resistance level you're on through the YESOUL app, but more on the console later.
Again, users generally agree that the S3 provides a smooth peal motion and is very quiet during use, which is expected with the magnetic resistance and belt drive.
Some folks have mentioned that they wish the S3 could provide more overall resistance, which isn't too surprising given the cost and how light the flywheel is.
Considering this, as well as how lightweight the bike is (more on that next), it's safe to say the S3 is best suited for smaller users and beginning to moderate riders.
Overall, the S3 comes with a light flywheel, but it earns bonus points for its magnetic resistance system with 100 levels.
Frame
Ok, let's move on and discuss the bike itself.
A common characteristic of most affordable bikes is that they're lightweight – and by this, I'm really talking about their assembled weight.
The assembled weight spec tells you exactly how much the bike weighs and is a key spec to consider.
Generally speaking, heavier bikes will feel more stable and secure during workouts, where lighter bikes will be more likely to wiggle or wobble some.
Now to be fair, there are reasons why some bikes cost less than others – and being lighter (less material) is one of 'em.
And if we're shopping for a budget bike, we should have realistic expectations and expect these bikes to be lighter-duty than the more expensive models.
But it's still a good idea to compare weights.
With all of this in mind, the S3 comes in with an assembled weight of about 68 lb, which is pretty light for even budget cycles.
For the sake of comparison, the affordable JOROTO X2 weighs in just over 90 lb and the Yosuda cycle weighs in at around 73 lb.
Now both of these bikes come with very heavy flywheels (and neither uses a magnetic system), so the extra weight is likely found there.
Regardless, the S3 is a lightweight bike.
This bike also comes with a max weight limit of only 265 lb, which again indicates that it's designed with smaller users in mind.
Overall, the S3 weighs a bit less than a lot of other budget cycles and also comes with a smaller weight capacity, making it a better choice for smaller riders.
Seat
Honestly, there isn't a lot to say regarding the seat on the S3, but I do just wanna point out a couple of things.
First, pretty much all spin bikes, regardless of price, come with uncomfortable seats.
This is just the way it goes.
These bikes are designed to mimic the feel of riding road bikes and road bike seats are uncomfortable.
The good news is that you'll eventually get used to the feel; and if you don't you can always get a gel overlay for added comfort.
The S3 comes with a standard saddle, so expect it to be small and firm.
More importantly though, is the fact that it's fully adjustable, meaning you can adjust both the height and fore/aft position.
Having a fully adjustable seat is important because it makes it a lot easier to find a comfortable riding position.
Pretty much all spin bikes are coming with fully adjustable seats these days, but it's still something to check for.
The seat on the S3 comes with 10 seat height adjustments and according to users, it's best suited for folks 6'2″ or under.
Handlebars
There's not a lot to say about the handlebars either, other than the fact that they're multi-grip and height adjustable.
They offer all the traditional grips most riders will require during workouts (narrow, standard, and wide) to accommodate different riding conditions.
The handlebars aren't fully adjustable, so you can't adjust the fore/aft position.
Personally, the handles on my Peloton don't allow me to adjust their fore/aft position either and I've never had any issues with finding a comfortable position.
I don't think this feature is as important on handlebars as it is on seats.
Also, if you pay attention to the design of the frame, you'll see that the handlebars are on a diagonal plane with regards to the seat.
So, as you adjust the height of the handlebars, you're actually adjusting the fore/aft position a little too at the same time.
Overall though, the handlebars are pretty standard.
Pedals
Spin bikes typically come with pedals that are designed for use with sneakers (toe cages) or cleats. Some come with dual-compatible pedals that can accommodate both.
The S3 comes with toe cage pedals that are to be used with sneakers.
This is a good thing if you don't want to mess with getting riding cleats and all that and if you already have SPD cleats, you could always swap 'em out pretty easily.
Some users have complained about issues with their pedals coming off unexpectedly during workouts, which certainly isn't a good thing.
In these cases it's always hard to determine what happened- could've been a malfunction of the pedal or an issue with it being installed correctly.
I actually had that happen to me once with a Diamondback cycle…not sure if I had installed the pedal incorrectly or what.
Overall though, the pedals on the S3 are pretty standard for a bike in this price range.
Console
Ok, so the S3 doesn't come with a built-in console. Instead, it's designed to pair with a tablet with the YESOUL app installed.
Through the app, you can view and track all your workout metrics like cadence, speed, distance, calories, and resistance level.
Surprisingly, the app also gives you an estimate of power output (watts), although it's unlikely this is very accurate.
You can also track your real time heart rate through the YESOUL app, using the included armband heart rate monitor YESOUL includes with purchase.
You can also access various instructor-led workouts through the app and guess what- the app is free!
Yeah, I know, crazy right?
How refreshing is it to see a fitness app that doesn't require a monthly subscription?
The S3 connects to your tablet/app using bluetooth, which you can also use to connect the S3 to a few other fitness apps, like Zwift and Apple Fitness+.
The S3 comes with a large tablet holder that places your tablet nicely in front of the handlebars during workouts.
Personally, I think it would be nice if the S3 came with a small, LCD console that could display basic metrics too.
This way, you could still see your resistance level if you're having issues connecting with your app (a problem I've had with Echelon bikes in the past).
Overall though, if you're comfortable connecting your tablet to bluetooth devices, you shouldn't have any issues using your tablet as your console on the S3.
Warranty
YESOUL backs their S3 Indoor Cycling Bike with the following residential warranty:
Yeah, that's not much of a warranty, but in this price range it's to be expected.
That warranty covers both the frame and parts, so if anything goes wrong in the first year, you should be covered.
YESOUL also offers a 30 day money back guarantee, which means you can get a full refund for any reason within this time (I think you have to pay shipping costs upfront, but are then reimbursed).
Overall, this warranty sucks, but it's pretty par for the course for bikes in this price range.
Final Thoughts
Ok, that's about all I got on the S3 Indoor Cycle.
As affordable cycles go, I think the S3 is an interesting model.
I think its best feature is its magnetic resistance system with 100 levels – I really don't think I've ever seen a bike this affordable offer this before.
Most bikes in this price range come with fewer resistance levels or use friction brakes (which I don't like).
It's also nice that YESOUL includes a free heart rate strap.
The biggest downsides I see are the lightweight flywheel and lightweight frame – this bike is best suited for smaller, less experienced riders.
The warranty is also very short, but as I mentioned above, all bikes in this price range come with really short (or no) warranties.
The S3 reminds me a lot of Echelon's EX-15, which also has folks use their own tablet as the console (the EX-15 also comes with a light flywheel, but has fewer resistance levels).
All things considered, if you're of smaller stature and looking for an affordable cycle, I think the S3 is a pretty solid choice.