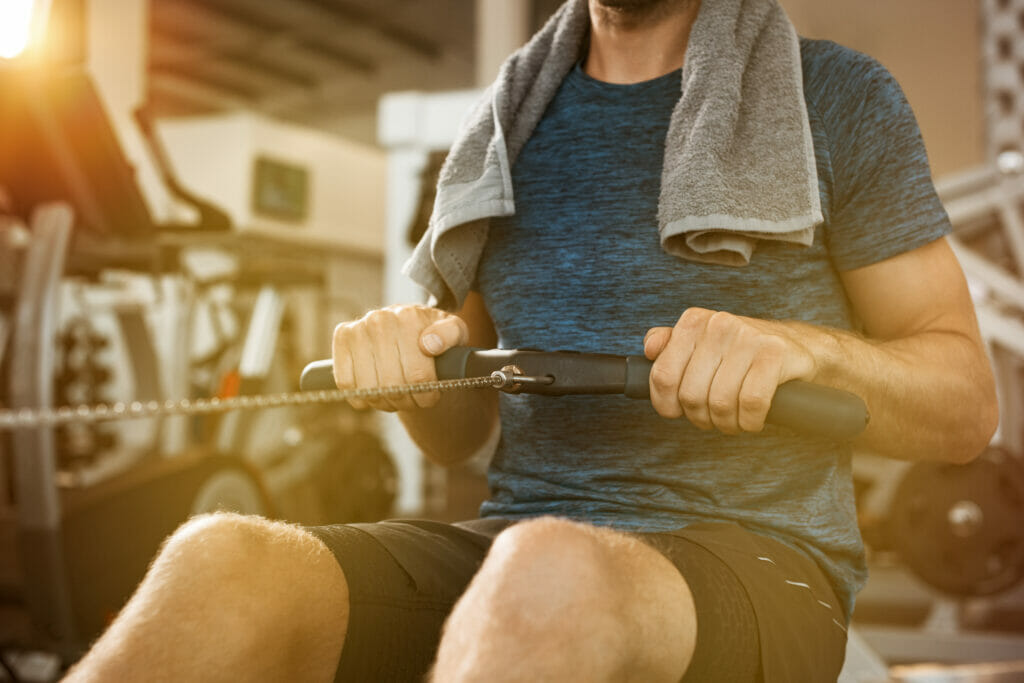 XTERRA's ERG600W is an affordable water rower with some pretty impressive specs. So if you're looking for a water rower with a great quality to price ratio, this one is worth taking a second look at.
Highlights of the ERG600W include an adjustable water level tank, a dual track aluminum rail, 5 built-in workout programs, and a pretty generous warranty (given the price).
Overall, if you're looking for a budget water rower, the ERG600W has a lot to offer.
But it has its drawbacks too- most notably the fact that it only fits folks up to 6'1″ tall.
Before you buy, you need to learn as much as you can to ensure there aren't any unwanted surprises when your new rower arrives.
And that's where I come in.
In this comprehensive review, I'll go over everything the ERG600W has going for it, as well as the areas where it falls a little short.
After reading, you'll know everything you need to in order to make an educated decision regarding whether or not this is the right rowing machine for your home gym.
Off we go.
The XTERRA ERG600W Water Rower
XTERRA is a popular name in budget home fitness equipment. They've got a huge lineup of equipment to choose from, with the majority of their models costing well under $1000.
They remind me a lot of Sunny Health & Fitness- another high quality brand that takes it pretty easy on the wallet.
But unlike Sunny, XTERRA backs their products with generous warranties- something we rarely see in the world of budget fitness equipment.
XTERRA specializes in cardio equipment and they've got plenty of models to choose from in each category.
When it comes to rowing machines, they offer all varieties.
The ERG600W is 1 of 2 water rowers currently in their lineup.
Their other water rower, the ERG650W, is an upgraded model with a more advanced rower, longer warranty, and higher weight limit.
The ERG600W usually runs for around $700, making it fairly affordable in the world of water rowers.
Pros
Water resistance system
6 water levels to choose from
Dual rail design
300 lb weight limit
Large, adjustable pedals
Higher seat (13.4″)
Stores vertically
5.5″ console with 5 built-in workouts
Heart rate monitor compatible
Easy assembly
Great warranty
Cons
Only fits users up to 6'1″ tall
Console not backlit
Resistance
I've mentioned a few times already that the ERG600W is a water rower, but I should probably back up a little and make sure everybody knows what that means.
Rowing machines come in several different varieties based on the type of resistance they use (hydraulic, magnetic, air, and water).
There are a lot of rowers these days that use a combination of both magnetic and air resistance systems, but even these still mostly run off of a magnetic system.
Each type of rower has its advantages and disadvantages, but since the ERG600W is a water rower, we'll skip the others and go straight to that type.
If you're interested in learning more about the other types of rowers too, check out my full rowing machine guide for more info.
Water rowers are great for a few reasons.
First of all, these rowers use water to create the resistance you're rowing against, so if you're looking to mimic the sensation of rowing a real boat, these rowers are the closest thing you can get to that.
With a water rower like the ERG600W, the resistance you feel depends on how hard/fast you row (just like a real boat).
If you row faster, you'll feel more resistance from the fans cutting through the water in the tank. Row slower, and you'll feel less resistance.
Water rowers also produce that relaxing "swishing" sound as the fans push through the water.
Personally, I like that noise and find it relaxing, but if you're looking for a really quiet rower, a water rower might not be the best choice for you (magnetic rowers are quieter).
Anyway, your resistance depends on how fast you're rowing, but the ERG600W gives you a little more control over the feel of your workouts by allowing you to adjust the water level in the tank.
This is a pretty common feature for water rowers and they all have different levels to choose from.
The ERG600W comes with 6 water levels to choose from, with 1 being the lowest (least resistance) and 6 being the highest (most resistance).
This makes sense if we think about it- putting more water in the tank gives you more water to pull against.
XTERRA includes a funnel to make filling the tank easier and a siphon for removing water from the tank.
Adding/removing water isn't that bad, but I don't think most people will have to mess with the water level that much.
I would start at level 3, right in the middle, and adjust from there. Once you find a comfortable water level, remember that you can increase or decrease the intensity level of your workouts by adjusting your rowing speed.
Frame
The last thing you want in a new rower is a flimsy frame that wobbles and shakes every time you use it. And unfortunately, this can be a pretty common feature in budget rowers.
This shouldn't be an issue with the ERG600W though.
XTERRA gave this rower a stable frame that can safely hold folks weighing up to 300 lb.
In terms of weight limits, this is about average for most quality rowers in this price range.
Something worth considering though, is the fact that XTERRA states that this rower is designed to fit users with heights between 5′ 1″ and 6′ 1″.
This height limitation is pretty small for a rower.
Taller folks are going to have to go with a larger machine.
I'm a little surprised by the 6'1″ limitation, because when you compare the ERG600W to the ERG650W, their overall lengths are about the same (and the 650W can fit folks up to 6'4″).
Regardless, if you're over 6'1″, I'd pass on this model.
Something this rower has going for it though, is a higher than normal seat. With a seat height of 13.4″, this rower is easier to get on and off of than most other rowers (with an average 9″ seat height).
The dual slide rail design also reduces chances of breakdown, and users seem to agree that the ERG600W provides a smooth rowing action.
The pedals are also adjustable with large velcro straps, making it easy to fit shoes of all sizes. The pedals also flex a little with you during use.
Oh, something else you should know- this rower doesn't fold for storage, but you can tilt it up and store it vertically (which is essentially the same thing anyway).
Overall, this rower comes with a sturdy frame that provides a smooth rowing action, just make sure you're not too tall to fit.
Console
Most rowers, especially in this price range, come with very simple consoles. The console on the ERG600W is pretty simple too, but it does come with some nice features.
The LCD console here is 5.5″ diagonally. It isn't backlit, so I wouldn't try to use it in the dark, but it's easy enough to see in normal lighting.
It displays all the standard rowing metrics you'd expect to see: time, 500 m split time, calories, distance, strokes, strokes/min, pulse.
It even comes with 5 built-in workout programs to choose from, including time countdown, distance countdown, calories countdown, strokes countdown, and a race program.
The console is chest strap heart rate monitor compatible, but one isn't included with purchase.
This console is powered off of 2 AA batteries, which are included.
Overall, the ERG600W comes with an easy to use console that's pretty basic, although the inclusion of 5 built-in workouts puts it a step ahead of most in this price range.
Assembly
XTERRA does a great job of making the assembly process as painless as possible with this rowing machine.
The owners manual is easy to follow. There are large images and clearly written instructions for each step along the way. I also like that the necessary hardware is clearly labeled for each step.
Speaking of steps, there are only 5 of them.
You'll be responsible for attaching the front and rear stabilizers, attaching the seat to the rail, and then attaching the rail to the main base.
Then you just attach the console and you're ready to go.
All necessary hardware and tools are included.
Overall, putting the ERG600W together should be a very straightforward process. I bet most folks can have it up and functional pithing 20-30 minutes.
Warranty
XTERRA backs the ERG600W Water Rower with the following residential warranty:
5 year frame
2 year parts
90 day labor
Overall, I think this is a great warranty for a rower in this price range.
I'd like to point out that this is the same frame warranty you'll find on the Ergatta, one of the highest-end home rowers on the market (which costs 3x what the ERG600W does).
I don't say this to bash the Ergatta, but more so to show how awesome XTERRA's guarantee is.
Two years on parts is equally as good, especially considering an elite rower like the Hydrow only offers 1 year on parts.
It would be nice to see a full year on labor, but this is a budget rower we're talking about here, so 90 days on labor isn't too surprising.
Overall, this is a great warranty for this rower. XTERRA lives up to their generous reputation once again.
Final Thoughts
That about does it for XTERRA's ERG600W.
All things considered, I think this rowing machine has a lot going for it.
It's an affordable water rower for one, but it's also got a higher seat height than most, making it easier to access for folks with mobility limitations.
I also like that the console comes with a handful of built-in workouts.
The biggest drawback I see is that it only fits users up to 6'1″ tall, which significantly limits the amount of people who can comfortably use it.
But it's the warranty that really sets this rower apart from most in its price range.
If you look at Sunny's Obsidian Surge (another great rower for the price), it only comes with a 3 year frame and 6 month parts guarantee.
Overall, if you're looking for an affordable water rower that can provide a little extra peace of mind in the warranty department, XTERRA's ERG600W is a great choice.
If you're a little taller and have a little more room in your budget, you might want to consider XTERRA's ERG650W– it comes with a higher weight capacity, more workouts, and can fit users up to 6'4″.