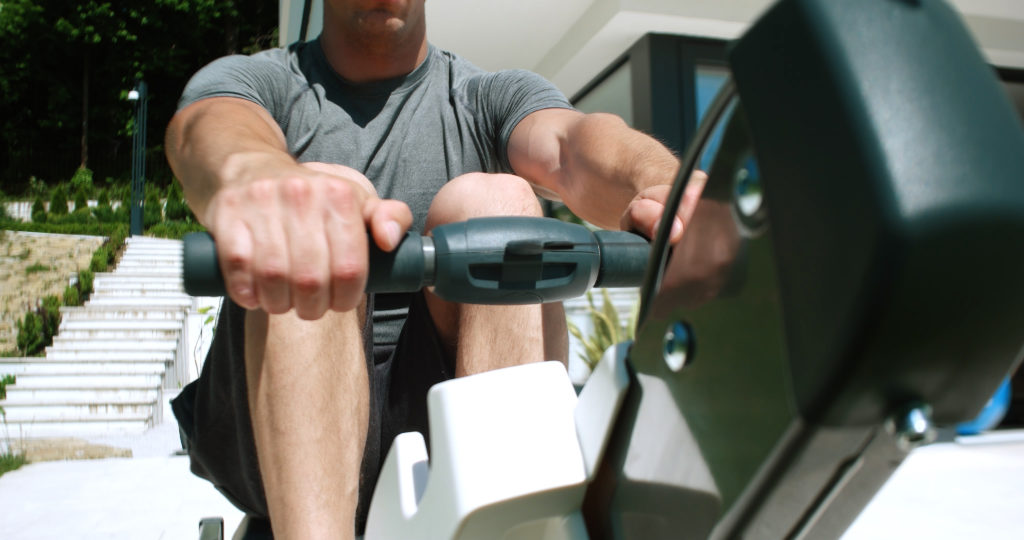 Sunny Health & Fitness's Obsidian Surge Water Rowing Machine offers a significantly more affordable alternative for those looking to reap the benefits of a water rower without having to take out a second mortgage.
Hyperbole aside, water rowers can be pretty pricey. But at roughly half the cost of most, the Obsidian Surge is surprisingly competent and should suffice for beginner to moderate level rowers.
Highlights of this model include a sturdy steel frame, a heart rate compatible monitor, and a solid warranty.
But is the Obsidian Surge the best water rower for under $500?
If you ask me (and if you're reading this, I'm assuming you are), I would say yes. But don't take my word for it, take a look for yourself.
This review will take you on an up close and personal tour of everything this rower has to offer.
We're talking specs, features, and everything in between. After reading this article, you'll know everything you need to in order to figure out whether or not this is the right rower for your home gym.
Let's get started.
The Sunny Health & Fitness Obsidian Surge Water Rowing Machine
I've been researching and reviewing Sunny Health & Fitness (SHF) for a few years now and they never cease to amaze me. They really have mastered the art of creating affordable workout equipment that works better than you'd expect (for the price).
They offer a little bit of everything fitness related with the majority of their products falling well under $1000.
I'm especially fond of their spin bikes because they tend to have much heavier flywheels than the competition.
The Obsidian Surge (great name by the way) is one of 2 water rowers SHF currently offers. With a sale price of about $400, it's one of the most budget friendly water rowers you're going to find.
P.S.- Obsidian is an igneous rock that forms when lava hits water and cools instantly, creating a smooth textured volcanic glass. It's usually black (confession- I had to Google this).
Pros
Light weight, steel frame
Smooth rowing action
Adjustable water levels
300 lb weight capacity
Advanced R2 monitor
Racing mode
Heart rate monitor compatible
Recovery mode
Easy assembly
Can store vertically
Decent warranty
Great price
Cons
Heart rate monitor not included
Foot pedals pivot
Resistance
The Obsidian Surge is a water rower, meaning it uses a flywheel submersed in a tank of water to create the resistance for you to row against.
This rower has 16 fan blades attached to the flywheel. Every time you pull the handle, the flywheel spins. Your resistance is the result of these fan blades pushing through the water.
This makes a lot of sense for a rowing machine because this is what happens when you row an oar on a boat. This is why water rowers provide the most realistic sensation of rowing a boat on water.
Just like rowing a real boat, the harder you pull, the more resistance you get.
This is one of the biggest benefits of a water rowing machine- unlimited resistance. The only limit is you. Rowing slowly will provide less resistance, pull harder and you get more.
That said, you can also adjust the water level of the tank to adjust overall resistance provided. The Obsidian Surge has 6 different fill levels, with 1 being the least resistance and 6 being the most.
Regardless of how much water is in the tank, you can still pull harder for more resistance, but having more water in the tank will provide more overall resistance.
Users mostly agree that the rowing performance is very smooth and fluid. As a water rower, you do get some of the "swishing" sound from the water moving in the tank, but most find that sound soothing. For a silent rower, you may want to consider magnetic models.
Overall, the water resistance system on the Obsidian works as intended, providing a comfortable feel with each stroke.
Frame
Rowing machine frames need to be strong enough to hold your weight safely. They also need to be stable during use so that you don't feel the frame rocking or wobbling.
The best way to get an objective idea as to how stable the frame is is to look at the machine's weight capacity. Higher limits indicate stronger, more robust frames.
The Obsidian Surge comes with a light weight steel frame that can safely hold users weighing up to 300 lb.
This is an impressive weight capacity for a rower in a price range where it's not uncommon to see 250 – 265 lb limits. There are plenty of water rowers that cost 2x as much that offer an identical weight capacity (like the Newport Challenge AR).
This rower also uses a belt drive, which is common for water rowers. Belt drives are a little quieter than chain drives, but chain drives usually hold up a little longer. But unless you're a competitive rower, you shouldn't have any issues with the belt breaking down.
The sweat resistant handlebar offers a comfortable grip and the non-slip foot pedals are larger and more robust than you'd expect from a budget rower (even a lot of more expensive rowers are a little lacking in the foot pedal department).
The large heel cups accommodate shoes of all sizes and the velcro straps make them easy to adjust. These pedals do move during use- the idea is that letting your ankle flex and extend some will keep it in a more comfortable position during your workouts.
This might help a little if your ankles are particularly tight or stiff, but I actually prefer my foot pedals to be stationary.
The seat is padded and contoured for comfort. This is something all rowing machines say and I guess it helps a little. By design though, most rower seats are pretty uncomfortable. This seat doesn't seem to be any more or less comfortable than the rest.
This rower doesn't fold, but it can be stored vertically when not in use. You don't even have to take the water out of the tank.
Overall, the Obsidian Surge scores highly with an impressive 300 lb weight limit and large foot pedals. The rest of the components are pretty average by rowing machine standards.
Monitor
Most home rowers in this price range have tiny LCD screens for a monitor. They do nothing more than display time, distance, strokes, and maybe calories.
There's nothing wrong with this, because after all, there are reasons budget machines cost less.
That said, the monitor on the Obsidian is more advanced than most in this price range.
The R2 Meter is equipped to track all the standard data you'd like a rower to track: total time, 500m time, strokes per minute (spm), total strokes, calories, ambient temperature, and heart rate (yes, this rower is heart rate monitor compatible, but one isn't provided).
The R2 has a couple of surprising features too though, like a race feature that allows you to race the meter based on the pace you set it at. You determine how fast it takes the meter to finish the race and then you have to beat that time.
You can also do workouts based on preset distances or times.
Another cool feature is the "recovery" mode, that measures how long it takes your heart rate to recover after a workout (heart rate monitor necessary of course). This is a great way to measure your fitness as well as your progress with time.
The R2 is pretty large and you shouldn't have any problems reading the outputs during your workouts either. You can see all of the workout metrics at the same time on the same screen (no scrolling necessary).
Overall, SHF did a great job on the monitor, very sophisticated for a budget machine.
Assembly
Getting the Obsidian Surge put together shouldn't be that challenging. Most users agree it's very doable as a one man or woman job.
The assembly manual is pretty easy to follow. There are images and written instructions for each step (there's only 6 by the way) and they're all pretty detailed.
It would be nice if the images were a little larger, it would make it a little easier to tell what goes where. Overall though, I don't think most users will have too much trouble on this one.
Some folks had issues with screws not fitting in holes and stuff not lining up correctly. These are cases for customer service. Speaking of service, most folks that had to contact SHF were pleased with them.
Overall, assembly shouldn't be an issue. Most people should be able to get the job done on their own without professional assistance.
Warranty
The SHF Obsidian Surge Water Rowing Machine comes with the following warranty:
3 year frame
180 day parts
Three years on the frame is fair considering the price. Even the most expensive, highest-end rowers rarely come with frame warranties longer than 5 years.
It would be nice to see a longer guarantee on parts. Years are always preferred to days or months, but 6 months for a $400 rower isn't that bad.
Overall, I think SHF is providing a decent warranty on this rower.
Final Thoughts
There aren't many true water rowers that cost less than $500. At roughly $400, I think the SHF Obsidian Surge is a great bargain- this rowing machine has specs that can compete with rowers that literally cost 2x as much.
Specifically, I like the 300 lb weight capacity that indicates a solid frame and the advanced R2 monitor that will make your workouts more enjoyable. The smooth rowing action is a plus too.
I also think SHF offers a pretty fair warranty on this rower.
Overall, if you're looking for a budget friendly water rower, I think the Obsidian Surge is the best option currently available (it even made my list for best rowers of the year). It's also easily one of the best water rowers around. Definitely a smart buy.