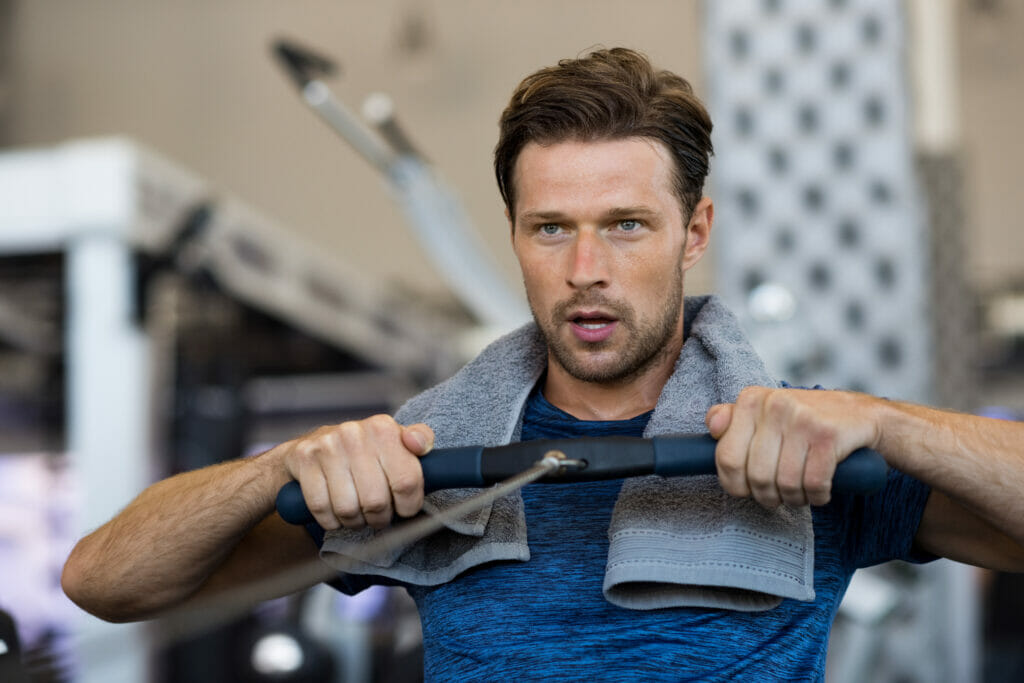 If you're looking for a sophisticated water rower that won't destroy your budget, XTERRA's ERG650W is worth considering.
With an adjustable level water tank, a heavy-duty frame, and 15 built-in workout programs, the ERG650W is one water rower with a lot to be proud of.
It doesn't hurt that it's backed with a great warranty either.
But with so many rowing machines to choose from these days, is the ERG650W really worth investing in?
Well, that's exactly what I plan on helping you figure out.
In this review, we'll go over everything XTERRA's ERG650W has to offer, including all key specs and features. I'll also discuss price and how this model compares to other similarly priced rowers.
After reading, you'll know everything you need to in order to decide whether or not this is the right option for your home gym.
The XTERRA ERG650W Water Rower
I'm a fan of XTERRA.
I'd even go as far as saying I think they're one of the best budget home fitness brands around these days. Their MO is to provide quality, affordable equipment that works better than most.
But if I'm being completely honest, it's their warranties that really set them apart. Few budget brands can compete with XTERRA's warranties and I think that fact alone says a lot.
XTERRA has a huge lineup of home cardio machines to choose from, including several rowing machines of all resistance types.
The ERG650W is one of their highest-end rowers, with only the ERG700 matching it in price.
But with a price of roughly $1000, the ERG650W is still priced very competitively, especially in a market where Ergattas and Hydrows are going for over 2x that.
Pros
Water resistance system
6 water levels for adjustable resistance
Heavy-duty frame
350 lb weight capacity
15″ seat height
Stores vertically
15 built-in workout programs
Tablet holder
Adjustable pedals
Contoured seat
Chest strap heart rate monitor compatible
Easy assembly
Great warranty
Cons
Chest strap not included
Not compatible with fitness apps
Resistance
The easiest way to compare and group rowers is by the type of resistance they use. Rowing machines basically come in 4 varieties, based on their resistance system and these include: hydraulic, magnetic, air, and water.
There are also plenty of models these days that use a combination of magnetic and air resistance systems, but even most of these still operate mainly as magnetic rowers.
Each type of rower has its advantages and disadvantages, but since we're here to talk about the ERG650W (which is a water rower), I'm going to skip over the other types and concentrate on these.
If you're like to hear more about the differences between the different types of rowing machines, check out my full rowing machine guide for more info.
Anyway, water rowers in general are great because they use a tank full of water to provide the resistance.
This is the closest thing you can get to recreating the feel of rowing a real boat because you're actually rowing against water.
Inside the tank, there is a flywheel with paddles attached to it. Every time you row, that flywheel spins and the paddles cut through the water, like oars on a river.
Not only do you get to see and hear the water as you row, but the water resistance system acts just like the river or lake would if you were on a boat.
If you row faster (or harder), you're going to get more resistance and vice-versa if you row slower.
The ERG650W, like many water rowers, gives you the option of adjusting how much water you put in the tank.
Adding more water will increase your overall resistance and taking water out will lower your overall resistance.
Keep in mind your resistance will still depend on how hard/fast you're pulling regardless of what your water level is.
But with the ERG650W, you can choose between 6 different water fill levels, with 1 being the lowest (easiest) and 6 being the hardest.
XTERRA provides a siphon to be used for adding/removing water from the tank.
Most folks will probably want to start somewhere in the middle, around level 3, to see how it feels and go from there.
You'll also notice that the water tank on this rower is tilted 45°. This is more of a cosmetic feature than anything else, but I do think it looks pretty sharp.
It also gives you a better view of the water swooshing around as you row.
Users have been quite satisfied with the overall amount of resistance this rower can provide, as well as when it comes to smoothness of operation.
Overall, the ERG650W scores highly with its water resistance system.
Frame
The last thing you want on a new rower is a flimsy frame that feels like it could snap in half at any moment. Luckily, this won't be a worry on the ERG650W.
This rower comes with a solid frame that includes a dual aluminum rail for added stability and structural integrity.
I know, that doesn't mean much.
But if you look at the weight capacity (which I like to use as a structural strength gauge), the ERG650W scores highly with a 350 lb limit.
Not only does this allow heavier users to row on this model, but it's also a good indicator of overall quality.
According to XTERRA the ERG650W should be able to comfortably holder most rowers between 5'1″ and 6'4″, which mean most folks out there.
Something to keep in mind though, is that this rowing machine can't fold for storage. You can, however, store it vertically, which is essentially the same thing.
Another feature worth mentioning is that the ERG650W sits up higher than most standard rowers. With a 15″ seat height, this rower is about 6″ taller than most, making it easier to get on/off of.
Overall, the ERG650W comes with a heavy-duty frame that can safely hold larger and taller folks comfortably. And with a taller seat height, accessing the seat shouldn't be an issue.
Console
The ERG650W comes with an LCD console that's just over 5″ in diagonal length.
This console is pretty basic and certainly can't compete with some of the HD displays on some rowers these days, but it's easy enough to see and straightforward to operate.
And in a world where everything seems to be "smart" and "connected", sometimes you just want a simple option that doesn't take 5 min to set up every time you work out.
The console displays all the key metrics you'd expect from a rower, as well as a few you might not expect. These include: time, 500m split time, SPM (strokes per minute), drag force, distance, total strokes, calories, watt output, and pulse.
Yes, this console is compatible with chest strap monitors, however one isn't included with purchase.
This console also comes with 15 built-in workout programs, which is more than most rowers have to offer.
Workouts include things like time, distance, or calorie targets; quick start; manual; interval workouts; and even a race mode.
The console is powered by 2 AA batteries, which are included with purchase.
Overall, the ERG650W comes with a fairly sophisticated console when compared to most rowers in this price range. The only thing missing is bluetooth compatibility to fitness apps.
Assembly
Getting the ERG650W unpackaged and put together should be a piece of cake. There are only a few steps to get done and they are very straightforward.
All you really have to do is connect the seat to the rails, attach the rails to the main body, and then attach the console.
That's really it.
There are only 3 assembly steps in the manual, which is easy to read with the large provided images.
You'd then have to fill the water tank too, of course.
But overall, assembly is quite easy on this model. I suspect most folks should be able to get this rower put together and ready to operate in 15-20 min.
Warranty
XTERRA Fitness provided the following residential warranty on the ERG650W Water Rower:
Lifetime frame
2 year parts
1 year labor
I think this is a really good guarantee, especially for a rower in this price range. And I say this based on the comps, not my personal opinion.
When you look at the WaterRowers (which are world-renowned for being some of the best rowing machines, period), they only offer a 5 year warranty on their frames and 3 years on their parts.
Even the Hydrow, with its single piece frame and luxurious price only offers a 5 year frame guarantee as well.
In other words, it's rare to see a lifetime guarantee.
Two years on parts is pretty par for the course, as is a year on labor.
Overall, XTERRA lives up to their reputation of being generous with their warranties.
Final Thoughts
So, that's about all there is to the ERG650W.
Rowing machines are actually pretty simple devices when you stop and think about it- not that many components to go over.
Overall, I think XTERRA has a nice water rower here.
I like the dual rail design and I like that the seat sits 15″ off the ground. I also think the console is surprisingly sophisticated, considering most affordable rowers come with very basic monitors.
This rower is lacking compatibility with fitness apps, but I don't personally count that against it that much.
The ERG650W is a nice machine, but there are a lot of nice rowers in this price range.
For this price, you can get a Concept2 (arguable the best air rower on the planet) as well as some of the lower end WaterRower models mentioned earlier.
Does it make sense to invest in the ERG650W with so many other great options available?
I would say yes, depending on what you're looking for.
If you prefer the look of a metal frame, this rower could make sense, considering a lot of the best water rowers come with wood frames.
I love a wood frame, but not every water rower needs one.
And if you're just looking for a dependable rowing machine that's easy to use (and you don't want to mess with streaming and monthly fees and all that jazz), I think this rower makes sense.
Lastly, if you're like me and are a sucker for long warranties, than the ERG650W definitely makes sense- you can't beat that lifetime frame guarantee.
Long-story-short: I think XTERRA has a winner here. If you're looking for a well-built, easy-to-use water rower that won't break the bank, the ERG650W is a smart buy.