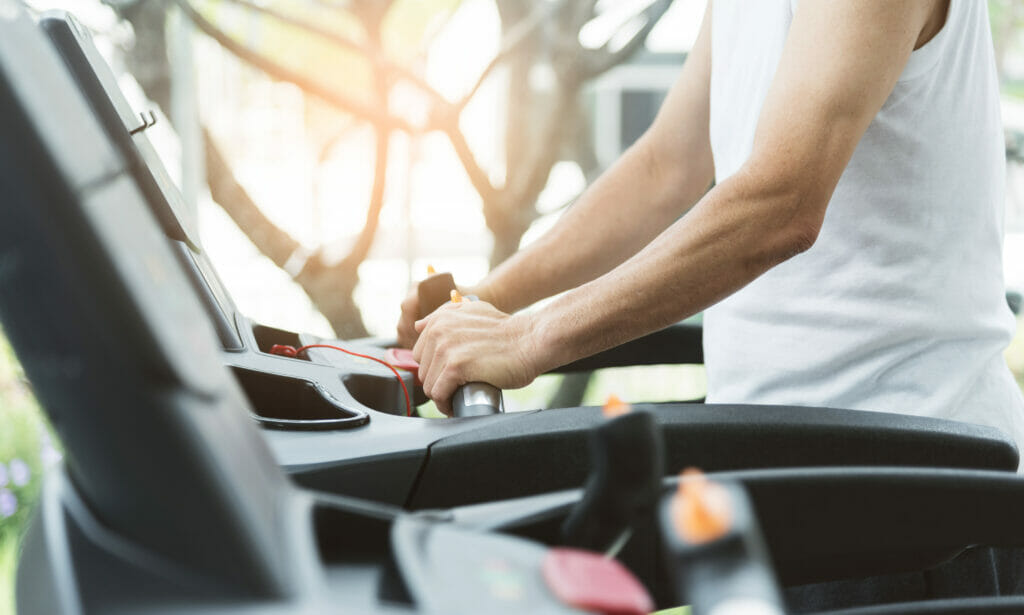 The TRX5500 is XTERRA's highest-end treadmill to date and it comes with a pretty impressive collection of specs and features for the price.
When it comes to performance, this treadmill is packing some legit muscle – with a 3.25 HP motor, the TRX5500 can smoothly handle runners and walkers alike.
And with a 20″ x 60″ running surface, it also offers a spacious workout area for folks of all sizes.
But honestly, it's the console that really stands out here.
This treadmill comes with a 10″ touchscreen console with 30 workout programs and pre-installed entertainment apps and guess what… you don't need to pay a monthly streaming fee to access 'em.
Ahh, now that's refreshing.
Long-story-short, the TRX5500 isn't the most powerful or the most technologically advanced treadmill in this price range, but it does offer a nice combination of the 2 (especially for folks who want to avoid streaming fees).
If you're interested in hearing the longer story, keep reading.
In this review, I'll go over everything this treadmill does and doesn't have going for it – after reading, you'll know whether or not this is the right treadmill for your home gym.
Let's do this.
The XTERRA TRX5500 Treadmill
XTERRA's thought of as mostly a budget brand, but if you check out their full lineup, you'll see that they offer some higher-end cardio machines too.
And by "higher-end", I'm talking about machines like the TRX5500 that cost around $2k (which is still well within the "mid-range" level when it comes to home fitness equipment).
Semantics aside, XTERRA's generally considered a pretty solid brand and they enjoy a positive reputation.
They're actually owned by the same parent company that owns Sole and Spirit Fitness – talk about a dynasty.
Like those 2 other brands, XTERRA usually goes by the blueprint of offering simple, heavy-duty machines that are backed by great warranties.
But with the TRX5500, they stretched beyond their comfort zone a little and gave it a higher-tech console… but more on that in a bit.
Let's start with a rundown on the performance side of things.
Pros
20″ x 60″ running surface
3.25 HP motor
350 lb weight limit
Top speed of 12 mph
Top incline of 15%
10″ touchscreen console
30 built-in workouts
Built-in entertainment apps
Bluetooth compatible
Chest strap heart rate monitor included
Screen mirroring
USB charging port
Handlebar controls
Cooling fan
Decent warranty
Cons
Lot of competition in this price range
No quick touch speed/incline buttons
Running Surface
A treadmill's running surface is an important spec to check out because it instantly tells you how much room you're gonna have when using it.
Sure, its footprint is important for rooms with limited space, but it's the running surface that really tells you how big a treadmill is.
And if you ask me, bigger is always better.
Running surfaces are measured in inches and usually written as "width x length" and most quality treadmills in this price range come with running surfaces of at least 20″ x 60″.
Although now, there are plenty of treadmills coming with 22″ widths, giving just a little more wiggle room (like Sole's F85 or Horizon's 7.8 AT).
Anyway, the TRX5500 comes with a 20″ x 60″ running surface, which is pretty average for this price range.
As I just mentioned, there are identically priced treadmills with larger running surfaces, but at 20″ x 60″, folks of all sizes should have enough room to stretch out comfortably regardless of running speed.
So, no issues there.
While we're talking about decks and whatnot, something else I like to compare is assembled weights.
I know this isn't the most interesting thing to talk about, but I think it's smart to consider because this spec can help give ya an idea as to how stable or "heavy-duty" a treadmill is.
With being heavier being a good thing because it'll make the treadmill feel more secure during workouts.
I mean, the heavier the treadmill physically is, the less likely it should be to wiggle or shake right?
Well, theoretically, I think this makes sense and if you look at commercial grade treadmills, you'll notice that they weigh a lot more than most home models.
Regardless, the TRX5500 comes with an assembled weight of 223 lb, which sounds pretty heavy, but it's actually a lot lighter than some of the other top treadmills in this price range.
For example, Sole's F85 weighs around 308 lb and Horizon's 7.8 AT weighs a whopping 330 lb (and I own this treadmill and it's very solid during workouts).
To be fair, those are 2 of the heaviest-duty treadmills in their class – ProForm's Pro 2000 (which is a nice treadmill in its own right), comes with a similar assembled weight.
So, by comparison, the TRX5500 is quite a bit lighter, but even so, most users agree it feels secure during use.
And even though it's a bit on the light side, it still comes with a great weight limit of 350 lb, which is a good sign when it comes to overall build quality.d
Overall, the TRX5500 isn't bad when it comes to this category, but there are certainly heavier-duty, more spacious treadmills in this price range.
Motor
Ok, I hope I didn't bore you too much with all that weight talk because now it's time to talk another important spec – motor strength.
This one's a little more interesting to talk about because it's easy to think about how having a stronger motor is beneficial.
Basically, stronger motors don't have to work as hard, so they can provide smoother, often quieter, operation.
And stronger treadmills usually accelerate faster, reaching those top speeds more efficiently.
Most home treadmills come with motors somewhere in the 2.0 – 4.0 HP range and if you plan on running regularly, it's a good idea to go with one that has at least 3 HP under the hood.
That way you should be pretty safe when it comes to smooth running function.
With all of this in mind, the TRX5500 comes with a 3.25 HP motor.
This is over 3 HP, so runners should be able to rest assured this treadmill can keep up with 'em, but this is still pretty average for treadmills in the $2k range.
The Sole and Horizon treadmills mentioned earlier are both packing 4.0 HP motors and the ProForm treadmill I just mentioned is also packing a 3.25 HP motor.
The TRX5500 comes with a top speed of 12 mph and a top incline of 15%, again, all of which is pretty expected from a treadmill of this caliber.
I will say, the step-up height on this treadmill is only 7.75″, which is a little lower than the 8 – 8.5″ average, so if you have a hard time getting up steps, this could be a perk.
And XTERRA doesn't disclose the roller size for this treadmill, but if I had to guess, I would say they're in the 1.9 – 2″ range (based on the treadmill's weight and similar comps).
FYI, the rollers are what the belt glides over and having larger rollers is a good thing (most higher-end treadmills come with 2 – 2.5″ rollers).
Overall, the TRX5500 scores pretty well in the motor department – yes, there are stronger treadmills out there, but it should still be strong enough to provide smooth operation for walkers and runners alike.
Features
The XTERRA TRX5500 Treadmill comes with the following included features:
10″ touchscreen console- this treadmill comes with a good sized touchscreen display, making it easy to make all selections and see all workout stats, but unlike most touchscreen treadmills, the TRX5500 isn't exactly designed for streaming. This means you don't have to pay any monthly membership fees, which is awesome, but you also don't have direct access to instructor-led workouts either. But, this console does come with wi-fi and built-in entertainment apps, including Netflix, Hulu, YouTube, and several news apps, which you can use directly through the console.
30 workout programs- and even though it isn't designed for streaming, it does come loaded with 30 different workout profiles, giving you a ton of workouts to choose from (but no instructor-led programs).
Bluetooth- it's also bluetooth compatible with Zwift and other third party fitness apps you can access by connecting your tablet or phone to the console. Bluetooth headphones would also work, allowing you to hear the apps better.
Screen mirroring- this is all pretty awesome, but what's even cooler is the fact that the screen on the console can mirror what your phone is showing. Doing this, you can essentially access streaming workouts (Peloton, iFit, etc) and view them through the console on the TRX5500. You'd have to pay those memberships separately of course and have your phone nearby, but it's still a great feature. This screen mirroring feature is basically a hack to display any streaming app you want through the console.
Heart rate monitoring- the TRX5500 is compatible with bluetooth heart rate monitors and XTERRA even includes a strap with purchase.
USB charging port- there's a USB port for charing your tablet or phone during workouts.
Speakers- there are built-in speakers, so you can hear everything with the entertainment apps and there's also an audio jack so you could plug an mp3 player up and listen to your music through the console.
Handlebar controls- you can control the speed and/or incline through built-in controls on the handles for convenient adjustments during workouts.
Cooling fan- there's a built-in fan to help keep you cool and comfortable during workouts. Honestly, these fans don't put out much air, but it's better than nothing.
Water bottle holders- and finally there's room for 2 water bottles on this treadmill, so you have no excuses not to stay hydrated.
Assembly
If you decide to purchase the TRX5500 and assemble yourself, you can rest assured it's a pretty straightforward process.
Like most home treadmills, the deck comes pre-assembled, so you won't have to mess with any internal stuff there.
You'll be responsible for attaching the 2 uprights, attaching the console, making a few cable connections, connecting the cross bar, and attaching a few covers.
The process itself is pretty simple, but it's still a lot easier with a second person around to assist – especially when it comes to connecting the console.
As always, take care not to pinch any console wires because you don't want to get this thing assembled only to find something isn't working.
Overall though, most folks should be able to get this job done fairly painlessly (assuming they're at least a little handy and know how to follow directions).
Warranty
XTERRA backs their TRX5500 Treadmill with the following home warranty:
Lifetime frame/motor
5 year deck
2 year parts
1 year labor
Ok, a lifetime guarantee on the frame/motor is great, can't beat that.
5 years on the deck is ok I guess, but Sole offers lifetime deck guarantees too, so, there's that.
2 years on parts is a bit on the low side, but it's not unheard of – NordicTrack offers 2 year parts guarantees on all their treadmills, but Sole and Horizon offer 5 year parts warranties on their higher-end models.
And a year on labor is standard stuff.
Overall, there's room for improvement here, but a pretty decent warranty.
Final Thoughts
Ok, that does it for the TRX5500.
Looking at all the specs and features this treadmill offers, I've come to the conclusion that this is an interesting machine.
In terms of performance, it's pretty average on all accounts – decent strength, reasonable running surface, adequate heavy-dutiness (yeah, that's probably not a word), but it doesn't really stand out in any single category.
The warranty is the same way – not bad, but not great either.
Personally, it's the console that grabs my attention more than anything else.
I like the idea of having a touchscreen loaded with workout profiles that gives me access to Netflix and the ability to screen mirror streaming apps from my phone.
This is a really cool take on a treadmill console, giving folks the ability to choose for themselves the kind of workouts they do… and without forcing a streaming membership on them to take advantage of the entertainment apps (yes, I'm talking to you Bowflex).
So, I could see forgiving the less than superlative performance specs to get your hands on this console, except for the fact that Sole's F85 comes with a very similar console with almost identical features, including the built-in entertainment apps and screen mirroring.
And the F85 comes with a stronger motor, heavier-duty frame, larger running surface, and much better warranty.
It's also priced identically, at the time of writing this anyway.
So personally, I see no reason to choose the TRX5500 over the F85 – I think the F85 makes a whole lot more sense (if XTERRA dropped the price on this treadmill by $200 or so, I could see it making a lot of sense).
Regardless, I think the TRX5500 is an interesting treadmill.