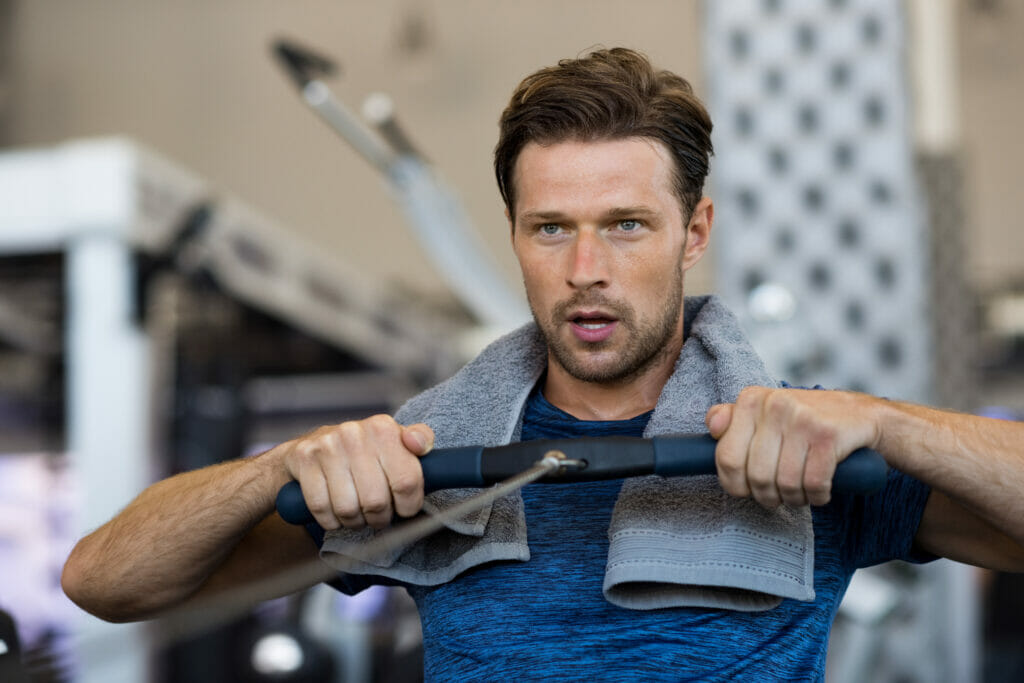 XTERRA has added another budget-friendly water rower to their lineup, the ERG550W, giving them one of the largest selections of affordable rowing machines around.
The vertically oriented water tank creates a sleeker profile than you'd expect to find on a rower in this price range, but it's the smaller details that really catch my attention.
Like the 16.5″ high seat for easier access, the padded handlebar for added comfort, and the adjustable angle console that comes with a tablet holder.
I also like that the ERG550W can be stored vertically and is backed with a reasonable warranty, stuff you don't always see in this price range.
But with a smaller frame, this rowing machine isn't going to be for everyone – it's only designed to fit users up to 6'1″, so taller folks should look else where.
Overall, I think the ERG550W is a nice rower for the price, but I should probably slow down a little before I get ahead of myself.
In this review, I'll be going over everything this rowing machine does and doesn't have going for it.
I'll also try to include a few comparisons to other similarly-priced rowers, so you can see how it stacks up against the competition.
After reading, you'll know whether or not this is the right rower for your home gym.
The XTERRA ERG550W Water Rower
As budget fitness brands go, I consider XTERRA to be one of the best options out there.
I say this because their products tend to be a little heavier-duty than their competitors' and their warranties tend to be longer as well.
Now they aren't perfect and some of their products make more sense than others, but overall, I think they're a solid brand for the under $1k price range.
They're kinda like a cheaper Sole Fitness, another great brand for its price range (which makes sense, considering both brands are  owned by Dyaco).
Anyway, XTERRA has a pretty extensive lineup of cardio machines to choose from, including several rowing machines.
The ERG550W is their newest addition (at the time of writing this) and as I'm writing this, XTERRA is selling it for around $630, making it about $200 cheaper than their higher-end, ERG650W.
That said, you can save an extra $50 on the ERG550W by using the code "THEHOMEGYM50" at checkout.
Pros
Water resistance
6 water levels
Sleek design
300 lb weight limit
16.5″ seat height
Padded handle
Adjustable angle console
Bluetooth compatible
Heart rate monitoring
Tablet holder
Can store vertically
Good warranty
Cons
Only fits users up to 6'1″
Frame could be heavier
Water purification tablets not included
Resistance
Let's start things off with a quick discussion on the ERG550W's resistance system.
As its name implies, this is a water rower, meaning it uses water to create the resistance you work against each time you pull the handle.
Water rowers are great because they offer the closest experience to actually rowing a boat (although Hydrow may disagree here), but there are some things you should know about 'em.
For starters, water rowers tend to be some of the loudest rowing machines out there (second only to air rowers).
Some, like myself, like the noise of the water gurgling in the tank each time you pull, but if silence is what you're after, a water rower might not be the best fit.
Secondly, the resistance you feel with a water rower depends on how hard you pull – if you pull harder, you get more resistance; lighter and you get less resistance.
This has to do with the physics of the fans cutting through the water and it's exactly how it works when you row a real boat.
This is great because you don't have to mess with resistance levels and you can get as much resistance as you want by simply pulling faster/slower.
But if you like setting a resistance level and forgetting about it, again, a water rower might not be for you.
Now that said, XTERRA boasts that their ERG550W comes with "6 resistance levels".
This is a bit misleading because there are no "resistance levels" with water rowers – instead, you can change the amount of water in the tank to fine tune your rowing experience.
The ERG550W comes with 6 water level indicators on its tank, so you can choose how much water you put in the tank to match the output you're looking for.
Putting more water (level 6) in the tank increases the overall resistance you feel, less water (level 1) reduces it.
But regardless of which water level you're on, your resistance is still going to depend on how hard you pull.
Water is added or removed from the tank by using the included funnel and siphon pump and at max capacity (level 6), the tank holds around 2.6 gallons, so it shouldn't take too long to fill.
Oh, it's recommended to use water purifying tablets every 6 months or so to help keep your water clean and clear (nobody wants a bunch of gunk in their rower's tank).
XTERRA doesn't include any with purchase, but you can get them separately through XTERRA's site (it's like $10 for 2 years worth).
You'll notice that the water tank on this rower is placed vertically.
XTERRA reports this "provides greater resistance" and that seems unlikely to me, but it does look pretty sleek.
Some water rowers are placing the tanks underneath the frames and sure, this looks kinda cool, but I also think it could increase the chances of something breaking down.
The farther the tank is away from the handle, the more cable and pulleys you need to operate it – meaning there's more opportunities for something to malfunction.
The ERG550W has a simple pulley system located directly above the tank, which sounds a lot more reliable to me.
Overall, I don't see anything especially unique about the ERG550W's resistance system, as most water rowers make it easy to adjust the water level.
But I do like the vertical tank placement design.
Frame
Ok, moving on, let's take a look at the rower itself.
The ERG550W comes with a footprint of roughly 77″ x 20″, which is pretty standard for a rower in this price range.
It's constructed with a steel frame and aluminum rails and weighs in at around 61 lb (without water), making it pretty lightweight for a water rower.
There are a lot of water rowers in this price range and most weigh somewhere around 70 lb, although SHF's Obsidian Surge weighs in at around 92 lb.
Personally, I like the idea of having a heavier, bulkier rower because the extra weight usually makes it feel more stable.
But being lightweight is certainly more convenient when it comes to moving the rower around (and storing vertically).
The ERG550W comes with a max weight limit of 300 lb, which is impressive for an affordable rower, but according to XTERRA, it'll only fit most users who are between 5'1″ – 6'1″.
This means taller folks are out of luck, as this rower is designed with smaller users in mind.
Again, not uncommon for the price range though (the Obsidian Surge is roughly the same size).
Overall, the ERG550W is a smaller, lightweight rowing machine best suited for smaller people.
Features
The XTERRA ERG550W Water Rower comes with the following features:
5″ LCD console- the console on this rower is surprisingly large and easy to read for a rower in this price range. It's easy to use and all your metrics can be seen clearly during use. You can also adjust the angle for better viewing.
5 workout programs- the console doesn't come loaded with tons of workouts, but it does come with a handful of options. These include time countdown, strokes countdown, distance countdown, calories countdown, and race mode.
Bluetooth- the console is bluetooth compatible with fitness apps, allowing you to connect to your favorite rowing app for more workout options.
Heart rate monitoring- the ERG550W is also compatible with heart rate monitors for accurate pulse tracking, however one isn't included with purchase.
Elevated seat- the seat on this rower is contoured and 16.5″ high, making it easier to access than most (your average rower seat is around 14″ high).
Padded handle- the handle has a little padding on it to make it more comfortable to hold.
Vertical storage- this rower can be stored vertically after workouts, reducing its footprint by quite a bit (and no, you don't have to take water out of it to store).
Tablet holder- there's a built-in tablet holder above the console, making it easy to view your favorite apps during workouts.
Assembly
Putting the ERG550W together should be a relatively pain free task.
There are only a few steps to get through and the rower itself doesn't weigh a whole lot, so it'll be easy to move around and manage.
Assembly involves attaching the front/rear stabilizers, attaching the rail to the main frame, sliding on the seat, attaching the pedals, and connecting the console.
That's about it.
All the necessary tools are included and the assembly manual is easy enough to follow.
Overall, assembly should be pretty easy for most.
Warranty
XTERRA backs their ERG550W Water Rower with the following home warranty:
3 year frame
1 year parts
Not bad for a $600 rower.
3 years on the frame is as good as we can expect for this price range, matching what Sunny Health & Fitness (SHF) and Stamina offer on their similar water rowers.
A year on parts is also pretty good for the price, especially considering SHF only offers 6 months and Stamina only offers 90 days.
Overall, as good a warranty as I've seen for this price range.
Final Thoughts
Well, I think that'll about do it for the ERG550W.
All things considered, I think this affordable water rower has a lot to offer for the price range.
I think it looks sleek, but again, it's the elevated seat, adjustable angle console, and padded handle that really make a difference here.
And of course I like that it's backed by a generous warranty for its price.
The biggest downsides I see is that it can only handle folks up to 6'1″ and its frame is a bit lightweight compared to some of the other comps.
Speaking of comps, there are some other good rowers in this price range.
SHF's Smart Obsidian Surge is another good option: it's heavier-duty and comes with a 17″ high seat, but its parts warranty is half as long as XTERRA's.
There's also Stamina's Wave, which is similar, although it's even lighter-weight and only backed by a 90 day parts guarantee.
Overall though, I think the ERG550W holds it own nicely against the comps and could make a lot of sense for folks looking for a budget-friendly water rower.
And don't forget to save an extra $50 with the code "THEHOMEGYM50".