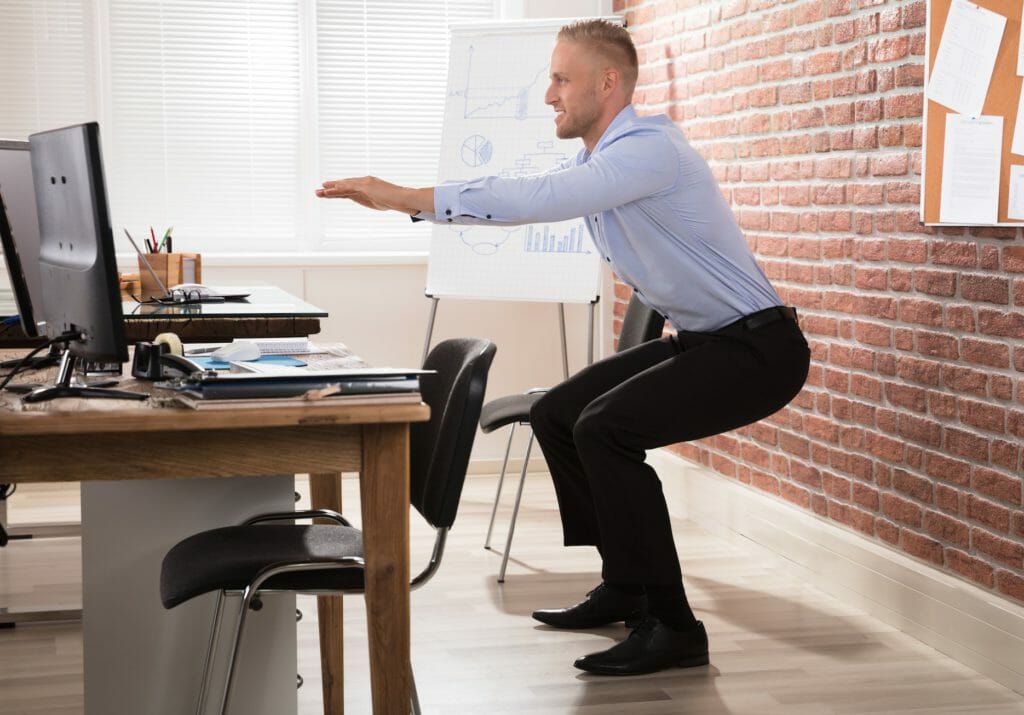 You know what they say- sitting is the new smoking.  And no under desk treadmill takes this mantra more seriously than the Unsit by InMovement.
Unlike most treadmills designed to fit under desks, the Unsit is designed with a wider walking surface, giving you more wiggle room to work with.
And when you're concentrating on your work, the last thing you want to have to worry about is falling off the edge of your treadmill.
Although the wider deck may be reason enough to choose the Unsit over the competition, this impressive treadmill also comes with a powerful motor, its own app, and a great warranty.
If you're interested in joining the walk while you work revolution, the Unsit Under Desk Treadmill is a great choice.
But instead of simply taking my word for it, keep reading.
In this review, we'll go over everything this treadmill has to offer. After reading, you should know everything you need to in order to determine whether or not this is the right choice for your office.
Unsit Under Desk Treadmill
With folks spending more and more time in front of a desk or computer these days, finding time to get a work out in is becoming a bigger challenge.
Enter the age of the under desk treadmill.
Giving you the ability to walk while you work, lack of time is no longer a valid excuse with one of these devices.
The idea of exercising while you get your work done sounds great and an under desk treadmill should definitely make it easier to get more movement in your day.
And that's what the folks at InMovement are selling.
They have a couple of products in their lineup, but it's the under desk treadmill that's the real star of the show.
The Unsit treadmill is designed to be paired with a standing desk- regular work desks are going to be too short, so please don't try to pair this treadmill with a traditional work desk.
You can pair the Unsit with a standing desk you already have or pair it with the option InMovement sells.
This treadmill will cost ya about $2000, which is on the higher-end for under desk treadmills, but you know what they say- you get what you pay for.
Pros
30″ wide walking surface
Space saving length
2.75 CHP motor
Quiet operation
No max use time
Bluetooth app for metric tracking
Safety features
Simple to use controls
No assembly necessary
400 lb weight capacity
Great warranty
Cons
Walking Surface
When it comes to treadmills (under desk or traditional), the first thing I always look at is the running/walking surface.
This spec tells you how much usable space you have during your workouts and it's a crucial one when it comes to overall comfort.
For traditional treadmills designed for running, larger is better because you have more room to stretch out (which comes in really handy when running at faster speeds).
Traditional home treadmills will come with running surfaces in the 20″ x 60″ range, which is spacious enough for pretty much any user to workout comfortably.
Under desk treadmills are sized a little differently, because they are designed for walking only (even the most talented athletes would have a hard time getting any work done while running).
Most under desk treadmills come with walking surfaces that are a little more narrow and a lot shorter.
But just because you're walking on these devices, doesn't mean that roomier isn't better.
Quite the opposite if you ask me.
On a walking treadmill, you won't need the extra length that would be used for the longer strides during running, but extra width is still beneficial because it gives you more room to sway without falling off the machine.
One of the biggest factors that sets the Unsit apart from any under desk treadmill I've come across in the past is the incredibly wide walking surface.
At a whopping 30″, the Unsit is a good 10-12″ wider than most.
The extra width gives you a lot more usable space while you walk.
Depending on your desk width, the Unsit might even allow you to reach work areas that smaller treadmills don't (because you have to stay in the middle of the narrow belt).
This treadmill is very wide, but it's also shorter than most.
At only 40″ in length, you won't have to worry about the end of the treadmill sticking out too far into the rest of your office (or home).
And 40″ will still give you plenty of room to walk comfortably.
The extra large walking surface is great, but I also like how heavy-duty the frame is.
The Unsit is tough enough to hold users weighing up to 400 lb, which is impressive for any treadmill.
And the 162 lb weight of the Unsit is another indicator of how heavy-duty it is (and this is without a console). When it comes to any exercise equipment, heavier is always better when it comes to stability during use.
Something to keep in mind is that if you decide to purchase this treadmill, the standing desk you'll be using needs to have at least a 40″ separation between the legs for the Unsit to fit.
This means this treadmill won't be compatible with every standing desk out there.
You can play it safe and get your standing desk through InMovement if you want this treadmill, or simply check the dimensions on whichever desk you decide to go with.
Overall, when it comes to walking surface, the Unsit scores very highly with the extra-wide space to work with.
The frame is also rock solid, meaning you should feel sturdy and safe while walking at your desk.
Motor
Motor strength is another important spec to consider when it comes to treadmills, under desk or otherwise.
Stronger motors make for smoother, quieter workouts.
They also tend to last longer than their weaker counterparts because they shouldn't have to work quite as hard to achieve the same output.
Most under desk treadmills come with motors in the 2.0 – 3.0 CHP range.
With this in mind, the Unsit comes with a 2.75 CHP motor.
This is at the higher-end of available motors and this extra power allows the Unsit to run smoothly and quietly at slower speeds (walking speeds).
And by quiet, we're talking 42 decibels at 2.0 mph.
For comparison's sake, most refrigerators run between 40-55 decibels.
Speaking of speeds, this treadmill has a max speed of 2.0 mph.
This is a slow pace, even for walking, but keep in mind that theoretically, you'll be working while you walk.
And most people need to slow their walking pace down significantly in order to work effectively.
That said, it would be nice if the Unsit had the option to walk at a faster pace.
You know, maybe you want to speed things up a little when taking a break from the computer.
On the plus side, the Unsit is a commercial grade unit, meaning it can withstand all day use.
Unlike some under desk treadmills, the Unsit doesn't have a max usage time- you can walk all day if you want.
And even at the slower speed, you can clock in some serious mileage. For example, if you walked at 2.0 mph for 5 hrs throughout the day, you'd cover 10 miles.
Overall, the Unsit has a powerful motor that runs smoothly and quietly. The max speed is a little slow, but the ability to run continuously all down is a huge perk.
Features
The Unsit Under Desk Treadmill comes with the following features:
Bluetooth app- the Unsit comes with its own app for tracking all your walking metrics, including steps, distance, time, etc. It can even track how long you stand on the treadmill when not walking.
Simple controls- there is no console with this treadmill, but the controls are very simple to use. It comes with a single dial used to turn the treadmill on and adjust the walking speed.
Safety stop- the Unsit automatically turns off any time you step off the treadmill. It also will only start when someone weighing over 70 lb steps on it, making it impossible for small children to start it.
Transport wheels- the built-in transports wheels make it easy to roll the treadmill into position.
Assembly
There isn't any assembly necessary for the Unsit- it's ready to go right out of the box. All you have to do is position it under your chosen desk and plug it in.
Speaking of positioning, InMovement recommends positioning the treadmill so that the desk extends about 10 inches over the treadmill.
Most people find this position comfortable to walk and still be able to reach everything.
Otherwise, no assembly required. Plug her in and flip the power switch on the back and you're ready to walk.
Warranty
The Unsit Under Desk Treadmill comes with the following warranty:
Lifetime frame
2 year parts
1 year labor
I think this is a very nice warranty on this treadmill.
You can't do better than a lifetime guarantee on the frame and I think 2 years is fair for parts, especially considering the Unsit is designed for continuous use.
One year on labor is pretty standard regardless of price range.
Overall, great warranty.
Final Thoughts
That about does it.
Under desk treadmills are pretty simple devices- not a ton of fancy features to discuss, it's really all about the performance specs.
And when it comes to the specs, I think the Unsit scores very highly.
The 30″ wide walking surface is awesome.
I think folks will notice the extra wiggle room and appreciate that they have a lot more freedom to move laterally without running out of space.
I also like how powerful and quiet the motor is. The 2.0 mph speed is on the low side, but realistically, it's not very doable to go faster than this while working.
Finally, I love the generous warranty that InMovement offers here. It's a great sign when the manufacturer is willing to back a treadmill with a good warranty- it means they believe it will last.
Overall, I think the Unsit probably is the best under desk treadmill around at the moment. So, if you're looking to move more during the work day, it's a great choice.