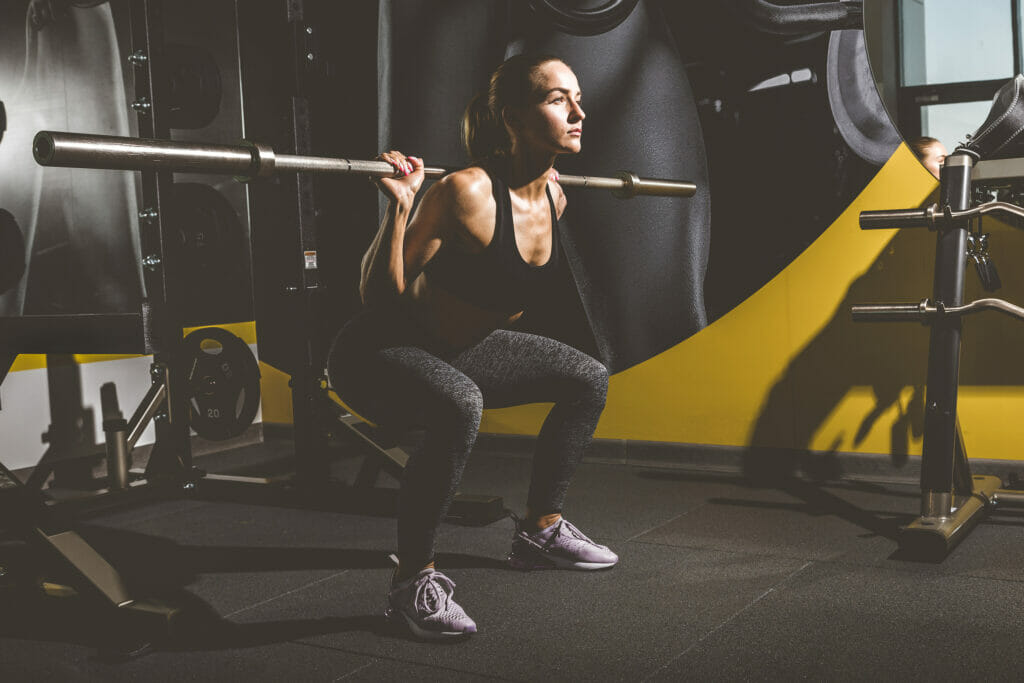 Titan's aptly named Titan Series Rack is the budget brand's most impressive power rack to date and as such, it's packing some impressive stats.
With 3″ x 3″, 11-gauge steel uprights, and 1″ hardware, the Titan Series Power Rack comes with a rackable capacity of 2000 lb, allowing it to handle even the most gifted power lifters out there.
Other notable features include numbered laser cut holes, 2 plastic covered J-hooks, 4 band pegs, and a standard pull up bar.
It's also customizable, allowing you to choose your rack height, depth, and even color of your powder coating.
Long-story-short: the Titan Series rack has a lot to offer, but it is lacking a few key features you might expect in this price range.
Like Westside spacing and a generous warranty.
If you're thinking about adding the Titan Series to your home gym, you've come to the right place. In this review, I'll explore everything this rack does and doesn't have going for it.
After reading, you'll know whether or not this rack is a smart investment.
Let's begin.
The Titan Series Power Rack
Titan is a budget-friendly brand that specializes in lifting equipment that takes it relatively easy on your wallet.
They offer a handful of racks to choose from, as well as all the bars, plates, and accessories you could ever need to turn your home into a fully functioning gym.
As a brand, they've developed an interesting reputation.
Some folks swear by 'em, others swear they'll never purchase another Titan product again.
Individual experiences vary greatly, but the folks they had bad experience with Titan usually complain about quality control – sometimes racks arrive with irregularities that shouldn't be there.
Unfortunately, this is common with budget brands- after all, some racks cost more than others for good reason.
Anyway, Titan offers 4 different classic power racks to choose from these days and the Titan Series is their highest-end model.
Prices may vary a little depending on promotions and time of year, but this rack will cost ya roughly $1000.
Pros
3″ x 3″, 11-gauge uprights
1″ hardware
2,000 lb rackable capacity
Can be bolted to floor
Options for height and depth
Get to choose rear crossmember
Heavy-duty J-hooks included
4 band pegs included
Pull up bar included
Compatible with many attachments
Cons
No Westside spacing
Very short warranty
Uprights
When you think about it, power racks are very basic pieces of equipment – there really just isn't much going on with these things.
They're really just 4 posts and a few stabilizing bars designed to hold barbells.
Well, even though power racks aren't too complicated, it's still important to pay close attention to the details.
And when it comes to these racks, that means checking out the upright specs.
As you've probably guessed, the uprights are the weight bearing posts and they're the most important part of the rack.
These guys are what determine how strong and stable your rack's gonna be.
These uprights come in several different sizes, but bigger (and thicker) is always better when it comes to strength.
The Titan Series rack comes with 3″ x 3″ uprights, which is as big as you'll find on any home rack.
These uprights are also made out of 11″ gauge steel, which also happens to be the thickest steel you'll find on any home rack.
Recall that when it comes to gauges of steel, smaller numbers indicate thicker metal (11-gauge is thicker than 14-gauge, etc).
These 3″ x 3″, 11-gauge steel uprights allow the Titan Series to hold up to 2000 lb safely on the rack at one time, which is several times more weight than most of us could ever dream of lifting.
It has a whole rack capacity of 10,000 lb, meaning you can load this thing with plates till the cows come home and still not even come close to reaching its full capacity.
The Titan Series comes in a few different sizes too. You can choose between 90″ and 100″ for the height and between 36″ and 42″ for the depth.
Price will vary depending on the sizes you choose, but it's nice Titan gives you options to customize a little.
This rack comes with 2″ hole spacing from top to bottom, which is ok, but many high-end home racks include 1″ spacing throughout the bench zone (Westside spacing).
I'm a little surprised the Titan Series doesn't come with Westside spacing, considering their less expensive X-3 Series Rack does include it.
Lastly, the Titan Series can be bolted down to the floor – a nice feature for folks looking to maximize the stability of their rack.
Overall, the Titan Series scores highly with its 3″ x 3″, 11-gauge uprights and huge rackable capacity. The only thing really missing is the Westside spacing.
Attachments
Some racks are compatible with a lot of attachments, others aren't.
Attachments can significantly expand the versatility of a power rack over time, turning it into a fully functioning home gym system.
Let's start with the attachments that are included with the Titan Series and then we'll check out all the other attachments that it's compatible with.
The following attachments are included with the Titan Series Power Rack:
2 plastic covered J-hooks
4 band pegs
Single pull up bar
Second pull up bar (or nameplate for additional cost)
Ok, that's all the included stuff; not a lot, but pretty much everything you need to get started.
You'll notice that no safety bars are included, so you'll have to purchase some separately. You'll also notice no bars, plates, or benches are included.
The Titan Series Power Rack is compatible with the following attachments (sold separately):
Weight plate holders
Leg press attachment
Dip bars
Rack mounted H-PND
Adjustable lever arms
Roller J-hooks
Various pull up bars
Neck machine
Monolift attachment
Safety straps
Barbell holders
24″ extension kit
So, this rack is compatible with a good amount of attachments, but there is one big one I see missing… a lat pulldown tower.
I also don't see a landmine attachment mentioned anywhere.
Otherwise, I think the Titan Series has ya covered pretty well when it comes to expanding your rack over time.
Warranty
Titan covers their Titan Series Power Rack with the following residential warranty:
Yeah, there's no sugar coating it- that's an awful warranty.
I think the short warranty is without a doubt the Titan Series' biggest flaw.
To be fair, this is a steel rack we're talking about, so it's not that there's that much that could really go wrong with it, but still – it would be nice to see a longer warranty here.
Especially considering other top brands (like Rogue) offer lifetime frame warranties on their racks.
Overall, this is a very short warranty for a power rack in this price range.
Final Thoughts
Ok, that's about all there is to say about the Titan Series.
I feel like this review came out really short, but the reality is power racks are just very simple devices – there isn't that much to talk about.
Anyway, I think this is a very solid rack with some great specs.
The uprights are large and thick, allowing this rack to hold huge amounts of weight safely.
I also like that it can be bolted down to the floor for added stability and that you can choose your size.
I also think Titan does a nice job in terms of all the accessories this rack is compatible with.
But I do have some issues with this rack…most notably that crazy short warranty.
I'd also like to see Westside spacing in the bench zone, but that's not necessary a deal breaker for me.
But something else worth noting is that at a minimum of 36″ deep, the Titan Series is one of the deeper racks in this price range- certainly something to consider if you're looking for a spacious rack.
Overall, even with that really short warranty, I do consider the Titan Series to be a smart investment. I'd even go as far to say this is one of the best power racks in this price range.