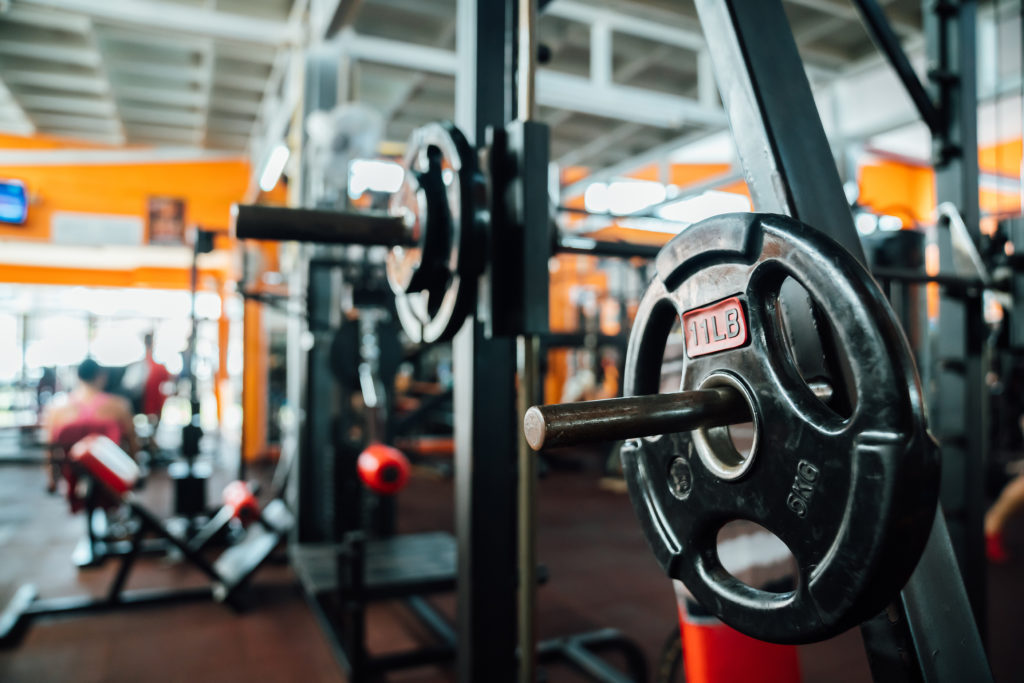 The Valor Fitness BE-11 is a simple, no thrills home Smith machine. With a heavy-duty frame, smooth operating barbell action, and 4 Olympic plate storage pegs, the BE-11 resembles the type of machine you'd find at your local gym.  If you're looking for a solid Smith machine without all the bells and whistles to add to your home gym, this could just be what the doctor ordered.
But we're here to help you make that decision. This review will take you through all the features and specs this Smith machine has to offer so you can decide whether or not this is the right one for you.
Let's start with a few suggestions on some of the key specs you should consider when comparing Smith machines. It's a good idea to have a game plan when searching for the best product. That way, you can use the same criteria to compare each option, keeping everything on a fair playing field.
You know, compare oranges to oranges.
How To Pick A Smith Machine
I don't want to assume we all know what a Smith machine is, so I'll define it real quick. A Smith machine is a rack with an attached barbell. The barbell glides up and down and can be locked in place every few inches along its path. If you've ever been to a commercial gym, you've seen these devices.
They're commonly used for squats and bench press because having the barbell attached to the frame makes these exercises a lot safer to do. And since you can lock the bar out by rotating it, it's like having a built-in spotter with you at all times.
Smith machines come in a lot of different shapes and sizes (surprisingly). Here are some of the most important specs I suggest you consider when trying to decide on one:
Features
Home Smith machines can be simple or complex. The most basic models are just the Smith mechanism. More complex machines can come with all kinds of extras like attached weight stacks, pulley systems, dip stations, pull up bars, and you name it.
I suggest you decide whether you want just a Smith machine or a machine that can act as a fully functioning home gym system at the beginning. This will really help you narrow your search.
Linear Bearings
Smith machines with a linear bearing system operate a lot more smoothly than one without (called a bushing I believe). The linear bearings are actually ball bearings that allow the barbell to glide effortlessly up and down the posts.
Not all home Smith machines come with linear bearing systems. The nicer, more expensive models should, but I suggest you always check to make sure. If you want a machine that mimics the feel of a commercial grade Smith machine, then you really need to find one with linear bearings.
Weight Capacity
The total amount of weight the Smith machine can hold is something you should really consider. Unfortunately, not all machines tell you up front and it can be hard to find this info. When in doubt, contact the manufacturer directly.
Budget machines may have a max weight limit of 300 lb. More heavy-duty frames can hold 1,000-2,000 lb. Consider your lifting needs and try to find a machine that can safely handle it.
Warranty
I always recommend taking into account a product's warranty, regardless of what you're buying. The warranty is your insurance policy and longer is always better.
The warranties on home Smith machines can vary greatly. Some might come with a 2 year warranty on the frame where others will provide a lifetime warranty on everything.
More expensive racks tend to have longer warranties.
The Valor Fitness BE-11 Smith Machine
Valor Fitness started back in 2006 and has been providing home strength training equipment ever since. They also provide a lot of the equipment used in CrossFit gyms and competitions, something they say has really helped them in designing quality products.
I believe the BE-11 is the only Smith machine they offer, but they have several different squat and bench press racks.
Pros
Heavy-duty, solid steel frame
1,000 lb weight capacity
Linear bearing system included
4 Olympic weight storage pegs
Easy assembly
Decent warranty
Affordable price
Cons
Counter balance system sold separately
Construction/Features
The BE-11 is constructed with 4'x2′ heavy-duty 12 gauge steel components. Combine this with solid steel latch supports and a solid steel, knurled barbell and you've got a Smith machine that can safely handle 1,000 lb on the frame.
Valor did include a linear bearing system on this Smith mechanism. This is crucial for a smooth operating barbell. Users almost unanimously agree that the operation of the barbell is exceptionally smooth, especially for a Smith machine in this price range.
The BE-11 doesn't come with a counter balance system, but you can buy one separately and add it on if you so please. In case you aren't familiar, a counter balance essentially reduces the weight of the barbell. It comes in handy if you are doing an exercise where you don't need much resistance.
Smith machines in this price range rarely include counter balances, however they're often found in commercial grade machines.
There's an adjustable safety on each side of the rail. This is a great safety feature and should be expected on any reputable Smith machine. Valor added a steel spring on each one to absorb the force of the bar, a nice touch for those instances where you're barely making it through that last rep.
The frame has 4 Olympic weight plate storage pegs attached for storing your plates when not in use. This is a nice touch, should save you the hassle of having to purchase a storage rack separately.
In terms of features, that about does it. The BE-11 is a good ol' fashioned Smith machine, no additional pulleys or attachments included here.
Fully assembled, this machine has the following dimensions (according to Valor): 85″ (W) x 53″ (D) x 80″ (H). The 85″ width is counting where the barbell ends stretch out past the frame. When measuring your floor space, you need to include this extra width, even though it's not part of the frame's footprint.
Assembly
Most users agree assembly for this unit is pretty straightforward. You'll need a good ratchet set and another wrench or so to tighten all the bolts. It's possible to assemble it alone, depending on your level of handiness of course. Several users report being able to put it together within 2 hrs.
A few users complained that putting the spring pins in for the bar locking mechanism was the most difficult part. With a little effort they were able to get them in and everything worked fine.
In terms of maintenance, it's a good idea to clean and lubricate the Smith bar periodically.
Warranty
Valor backs their Smith machine up with the following warranty:
3-year frame
1-year hardware
For a Smith machine in this price range, this warranty is pretty solid. It would be nice to see a longer warranty on the frame, but this is pretty par for the course when compared to other similarly priced machines. The Marcy Diamond Elite, for example, is similarly priced and only offers a 2-year frame warranty.
Price
Speaking of price, at well under $1000, the BE-11 should be considered a budget Smith machine. There are a few units cheaper than this, but I can't vouch for them. Cheaper machines won't come with linear bearings or a 1,000 lb weight capacity.
I mentioned the Marcy machine above which is priced similarly. There's also the Caribou III Smith machine, which is priced a little cheaper if you get the bare bones model. It's a nice system, but you have to buy the linear bearing system separately. When you include that into the price, they're about even.
Final Thoughts
The Valor Fitness BE-11 Smith Machine is a budget friendly unit that is of a lot higher quality than you'd expect for this price range. What it lacks in additional features and attachments, it more than makes up for with quality construction and value.
With a solid frame, linear bearing system, and 1,000 lb weight capacity, the BE-11 is designed to deliver a smooth workout regardless of how much weight you're pushing. Add in the fact that this is one of the most affordable options on the market and it's easily one of the best Smith machines around.
With so many gimicky strength training products out there, it's refreshing to know that real fitness equipment still exists.