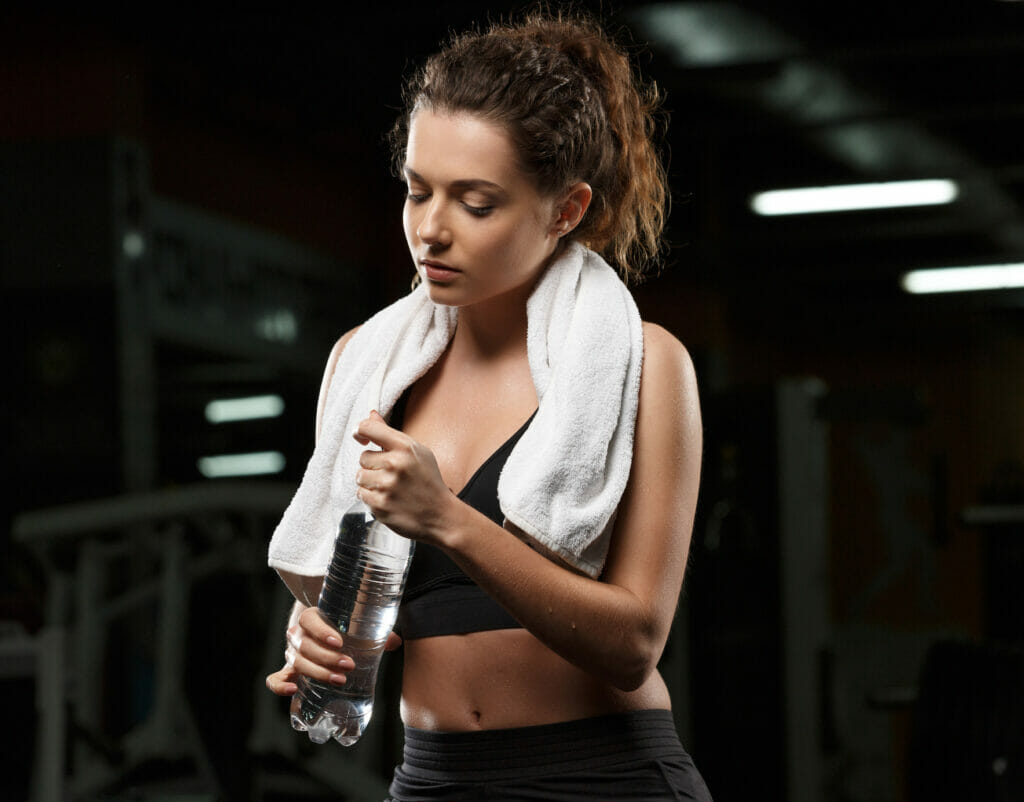 If you're looking for an affordable home gym system that can offer a ton of exercises to choose from, Teeter's FitForm could just be what you're looking for.
With a compact frame and versatile dual pulley system, the FitForm gives users the ability to choose from a ton of strengthening exercises while taking up little floor space.
And unlike most resistance band systems, you get 9 feet worth of cable to work with, so you shouldn't have to worry about limiting your range or motion, regardless of how tall you are.
Another perk is the 24 levels of resistance it comes with, offering the ability to make small, incremental changes in resistance over time.
Long-story-short: I think the FitForm has a lot to offer, but it certainly has some flaws and it isn't right for everyone.
If you're interested in the longer story, you'll just have to keep reading.
In this review, I'll go over everything this home gym has to offer. After reading, you'll be well equipped to decide for yourself whether or not this is the right option for your home gym.
Teeter's FitForm Home Gym
If you've never heard of Teeter before, you're not alone- this brand certainly doesn't have the type of mainstream name recognition as a NordicTrack or Bowflex.
But that doesn't mean they aren't worth familiarizing yourself with.
Teeter offers a limited lineup of recovery, strength training, and cardio machines to choose from.
The family owned business actually started out by providing quality inversion tables to help folks suffering from back pain (like the pain the founder suffered from himself).
But even though their lineup is small, they've earned a stellar reputation for the quality of their products.
The brand is especially well-known for their affordable recumbent trainer, the FreeStep LT1, which I consider to be the best in its price range.
The FitForm is really the only home gym machine they offer (at the time of writing this anyway) and like everything else they offer, it takes it very easy on the wallet.
The FitForm is designed to work as a full body strength training machine. It essentially consists of 2 low pulleys, a frame, and a base.
You basically use it as you would a functional trainer, minus the ability to adjust the position of the pulleys.
Pros
Offer a ton of exercises to choose from
Full body workout
Low impact
Dual pulleys
24 levels of resistance
2 handles and 2 wrist cuffs included
Compact frame
Folds for storage
Handlebars for added safety
300 lb weight capacity
Good price
Cons
Max resistance only 65 lb
Resistance shared between pulleys
Short warranty
Resistance
Let's start this review off by going over what I consider to be the most important aspect- the resistance.
After all, this is a home gym designed to help build strength and condition, so it seems pretty reasonable to consider the resistance it can offer to be a fairly important aspect.
The FitForm comes with an adjustable resistance system that is controlled by turning a dial located in the center of the main base.
According to Teeter, you can make micro adjustments in 1 lb increments up to a max load of 65 lb.
This is pretty nice, because it gives you the ability to make fine adjustments to the resistance, but it's also a little misleading.
If you read the fine print, you'll find that the FitForm comes with 24 resistance levels and the increases in resistance aren't linear.
This means the change in resistance isn't the same for each level and the higher your level gets, the more change in resistance you'll find with each adjustment.
As I write this, I feel that's a little hard to understand, so let's give an example:
Changing from resistance level 2 to 3 is going to add less resistance than changing from resistance level 20 to 21 (and so forth).
The higher your resistance, the more resistance you're going to get with each additional turn of the dial.
So, you might get a 1 lb increase or decrease with the first few levels, but after that you'll be adding (or subtracting) more than 1 lb with each level.
Also keep in mind the resistance level doesn't correlate to pounds of resistance in any way, so it's difficult to estimate the weight equivalent of what you're lifting at any given level.
But at the highest resistance level (24) the load is equivalent to about 65 lb worth of resistance.
Something else worth noting is that regardless of what resistance setting you're on, the total load is split between the 2 handles.
So, if you're at level 24 and you're doing a row, you'll be lifting approximately 32 lb through each handle.
In terms of strength training, this isn't a lot of resistance, especially for moves like rows and shoulder presses where you might want significantly more weight.
But, if you only use 1 handle at a time, all of the weight will be applied to that handle.
This is nice, because that essentially doubles the total amount of resistance you can do for single extremity moves.
Even thought the resistance if fairly light on the FitForm, I would say the fact that you can adjust the resistance at all gives it an advantage over most resistance bands (I say "most", because there are a few bands out there, like the HyFit Gear 1, that come with an adjustable resistance).
And given the lighter resistance, I think this gym would be better suited for folks looking to tone up and condition- if you're looking to pack on some serious muscle, this isn't the gym for you.
Overall, the whole 1 lb increment thing is a bit misleading, but the fact that it comes with 24 resistance levels is pretty impressive.
Frame
The first thing I notice about the FitForm is that it's a very simple machine.
You've got a set of pulleys at the bottom, a small frame with handlebars and a station to hold the cables at the top, and an adjustable position base at the bottom.
There's also a tablet holder at the top too, which will come in handy if you're using the free Teeter app (which provides exercise instruction as well as instructor-led workouts).
Anyway, like I was saying, it's a simple device.
It's also really compact- fully assembled, it only takes up a footprint of roughly 37″ x 29″ (L x W) and it can fold away for storage if necessary.
(Just keep in mind you'll need a lot more space than that to actually use the device, depending on what moves you're doing).
The base comes with a max weight capacity of 300 lb, which is pretty solid for a device in this price range the FitForm itself only weighs about 39 lb, making it very easy to move.
What I think is more impressive though, is the fact that each cable can extend up to 9 ft in length.
This gives you a lot of room to perform exercises like standing shoulder presses, trunk diagonals (golf swing), and lunges that require a lot of length.
It also means even taller folks shouldn't have to shorten their range of motion.
I also like the inclusion of handles on the frame. This gives folks somewhere to hold onto during exercise if necessary, especially when doing lower body moves like hip extensions or hip abductions.
Overall, I like the compact design of the FitForm and I think the extra long cables are a good idea.
Exercise Variety
According to Teeter, you can perform 100 exercises with the FitForm. Did I try to count 100 different exercises? No, I did not, but I don't think it's that much of a stretch.
Especially counting single extremity moves separately.
The dual pulleys give you a ton of freedom when it comes to exercise variety- you can pretty much do any exercise you would do with a resistance band or dumbbell.
Looking at the design, it could be difficult to get an effective chest press in, but you could still do a standing variation.
When it comes to accessories, Teeter includes the following with purchase:
2 soft-grip handles
2 adjustable ankle wraps
The ankle wraps add a lot of lower body exercise options, as well as core moves (ever tried doing a resisted mountain climber…brutal).
If you're a little intimated by all of the options, don't worry- you can always stick the classic moves you know and love.
And if you do want to experiment, Teeter's app can instruct you on proper form and technique with a ton of exercises.
Something else to consider- you could use the FitForm as a functional trainer too. With the long wingspan of the cables, you could totally practice your golf swing or any other functional movement against resistance.
Assembly
Teeter does an amazing job with their assembly manuals- other brands really should be taking notes.
No kidding, Teeter's manuals come with large, easy to read images and well written instructions making it easy to figure out what goes where.
I also really like that Teeter breaks the process up into smaller segments, so there isn't too much going on in each step.
That said, there isn't much assembly necessary for the FitForm, most of it is preassembled.
The main unit is ready to roll as is. All you really have to do is put the base together and attach that to the main frame.
You also have to attach the media rack.
But that's about it.
I'd imagine most folks should easily be able to have the FitForm unpacked and assembled within 30 minutes.
Warranty
Teeter backs the FitForm with the following warranty:
90 days main body (including pulleys and all moving parts)
1 year everything else
Ok, so, 90 days is a really short warranty for anything.
A 1 year guarantee on everything would be better, but for a product in this price range, this is typically what you see.
I want to be fair and point out that the warranty I quoted above is directly from the assembly manual for the FitForm.
If you look at the product info this home gym on Teeter's site and click on the "1 year warranty" link, the warranty info pops up and there it states a 2 year guarantee on the whole product.
If Teeter really is doubling down on the warranty, that would be pretty amazing (but a 2 year warranty on a machine this affordable sounds a little too good to be true, so you might want to check that before purchasing).
Final Thoughts
That's about all she wrote for the Teeter FitForm.
All things considered, I think this home gym has a lot to offer, especially for people who aren't particularly excited about using resistance bands.
The compactness of the FitForm will allow it to fit in most homes pretty easily and since you can perform so many different exercises with it, it really could be the only piece of equipment you need.
I like that it comes with so many resistance levels to choose from- it would be nice if it was capable of providing more overall resistance, but that would be asking a bit much of a machine in this price range.
Given the lighter-duty nature of the FitForm, I think it would be best suited for people looking for lower-intensity strength training.
If you're looking for a gym that can provide a lot of resistance to work against, you need to consider other options.
I could also see the FitForm working well for folks who are rehabbing or who have achy joints to begin with- the lower intensity, full range of motion exercise could be beneficial.
Overall, even though this machine isn't appropriate for all users, I think it has a lot to offer for folks looking for a low impact, versatile home gym.