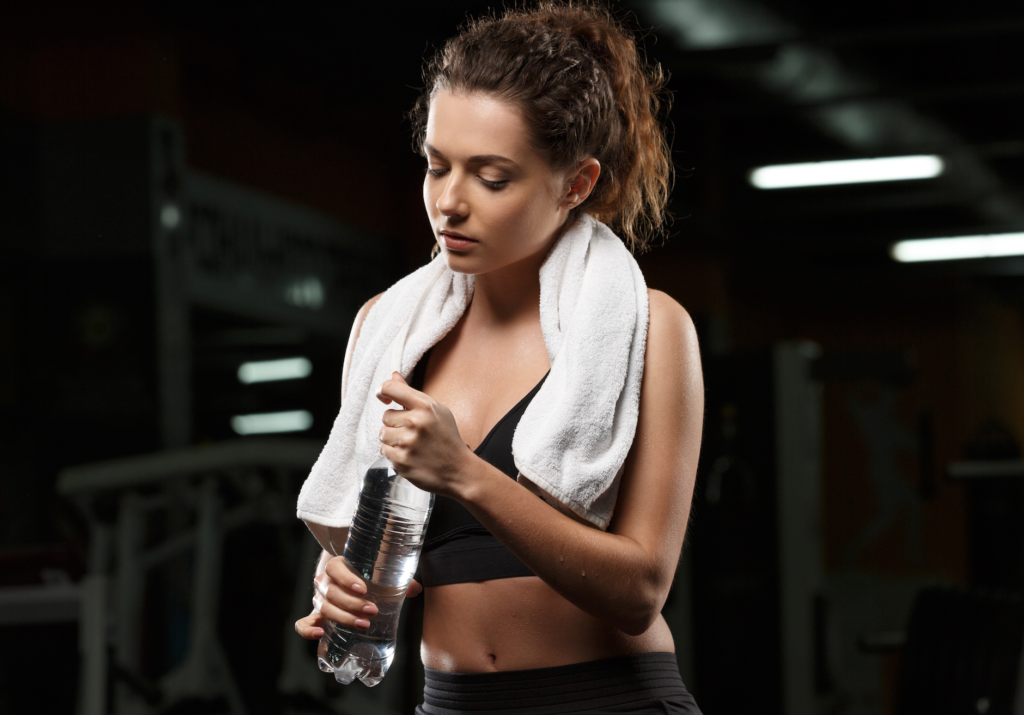 The Teeter FreeStep LT1 Recumbent Cross Trainer is a budget friendly home fitness machine designed to offer a safe, low-impact workout.
With its compact size and reasonable asking price, the Teeter FreeStep LT1 is rapidly becoming one of the more popular recumbents out there.
But just because something's affordable, doesn't mean it's worth buying.
My goal for this review is to offer an in-depth look at what the this recumbent cross trainer has to offer. By discussing the key specs, we can make an objective assessment of this machine's quality (or lack there of).
If you're unfamiliar with recumbents, no worries. Let's start with a quick intro to get everyone up to pace.
Recumbent Cross Trainers 101
Unless you've ever spent some time in a therapy clinic, you may not know what a recumbent cross trainer is. Although a lot of commercial gyms have them now too.
Which is great, because they really do provide a great low impact workout. But I get ahead of myself.
A recumbent cross trainer (or "recumbent", as I'll refer to them from now on) is what you get when you combine a recumbent bike and an elliptical trainer.
If you've ever used a Nu-Step, that's a recumbent. Nu-Step created the first recumbent machine for therapy clinics and they're still going strong. They also offer home units, but be prepared to pay a pretty penny for one (a whole bunch of pretty pennies).
This fitness machine is comfortable to use, because you are sitting in a recumbent position with your back well supported- just like on a recumbent bike.
But instead of pedaling in a circular motion, your legs are going in a more linear, back and forth motion. Kinda like a stepper. Your arms also get involved with the included handles.
Like an elliptical, this exercise movement is very low impact. Even more low impact than an elliptical because you are seated.
This is why these machines have become so popular in therapy clinics and rehab settings: they offer a mode of cardiovascular and strengthening exercise that is safe and comfortable to do.
Even folks with arthritis and achy joints can usually workout on a recumbent pretty comfortably.
Due to their popularity, home fitness equipment providers have started producing home versions. Makes sense. Home versions are usually a little smaller, a little cheaper, and a little less heavy duty.
If you're looking for more information on recumbents, you should check out my recumbent cross trainer guide. I go into more detail about the machines and all the features to expect.
Ok, now that you've been properly introduced, on to the Teeter FreeStep.
The Teeter FreeStep LT1 Recumbent Cross Trainer
The Teeter company was started by Roger Teeter, an engineer that started designing inversion tables after he'd discovered first handedly the pain relieving benefits.
Teeter still specializes in inversion tables and other products designed to improve spine health.
Their LT1 Cross Trainer is part of their "stabilization" series- a group of products designed to strengthen muscles  in an attempt to avoid injury, as well as keep you fit and active.
This machine has a footprint of 54″ (L) x 38″ (W) and weighs about 110 lb fully assembled.
Pros
Compact size
Affordable price
Low impact, linear pedal motion
Adjustable seat
Quiet, magnetic resistance
Adjustable handles
Easy to move (built-in transport wheels)
Cons
Poor warranty
No workout programs
Seat
The Teeter FreeStep comes with a pretty adjustable seat. It allows you to adjust the height and recline positions independently, which is a nice feature because it gives you a better chance of finding a comfortable fit.
Some users where a little surprised they couldn't independently adjust the horizontal and vertical positions of the seat. This is true, there is only one height adjustment available.
But if you look at the angle of the seat post- it's not purely vertical, meaning you are increasing or decreasing the horizontal position a little too any time you adjust the seat position.
Which makes sense if you look at the angle of the pedals.
In terms of seat comfort, there are conflicting opinions. The general consensus is that the seat could be softer, but users are happy with the size of the seat.
The seat on the FreeStep is significantly larger than a traditional exercise bike seat, which will increase comfort during use.
By the way, according to Teeter, this recumbent can sit anyone between 4'11" – 6'6″ tall.
Some users had issues with the backrest not staying in place during use. This isn't normal and will be fixed by Teeter if it happens within the warranty time period.
If you're worried about the comfort level, you might want to go with Teeter's LT3 Recumbent Cross Trainer– it comes with a larger, more comfortable seat (as well as a few other upgrades).
Pedal Motion
Recumbent cross trainers can have either a linear of circular pedal motion. Recumbents traditionally have a more linear, stepping like motion because it's usually more comfortable, especially for arthritic knees and hips.
The FreeStep utilizes a linear pedal motion. This is a good thing because it will put less stress through your lower body joints. It's also a pleasant surprise because many of the more affordable recumbents adopted a more circular pattern.
The pedals themselves are large enough to comfortably fit your shoes. If you watch the video above, you'll notice that the pedals move back and forth a little with your ankle as you push- this is good because it will feel more comfortable than if the pedals were rigid and locked in place.
Features
Recumbents aren't known for having a ton of fancy features, and the FreeStep isn't any different. Here's what you can expect to come with this model though:
Magnetic Resistance- this recumbent comes with a quiet, magnetic resistance system that is easily adjusted by turning a dial near the seat. Great feature, but some users have commented that it could use more resistance to offer a more challenging workout
Adjustable Handles- the upper body handles can be adjusted to emphasize different muscle groups during use. For example, you can rotate the handle if you want to concentrate on biceps vs triceps, or chest vs back.
Digital Console- this recumbent comes with a small, battery operated digital console. Nothing fancy here, but it is helpful for tracking a few key workout stats: time, distance, speed, and calories.
Device Stand- I'm surprised all fitness machines don't include this one these days, but they don't. This simple little feature can make your workouts much more enjoyable. If you have a tablet (or phone), you can prop it up and watch a movie or listen to music while you exercise. The tablet won't block the display either, which is nice.
Water Bottle Holder- I know this is a real game changer for ya, but don't worry, yes, there is a water bottle holder!
TeeterMove app- Teeter now offers their own, free fitness app that you can use for workout ideas and general guidance in using their recumbent trainer.
Assembly
Putting the FreeStep together is pretty straightforward. The instructions include large, easy to follow illustrations for each step. I like how clearly all of the pieces are identified at the beginning.
The only too you will need is a little Allen wrench/screwdriver combo and it's included.
You have to tile the machine on its back to attach the pedals- depending on your size and fitness level, it may be handy to have a second person available with this step.
Overall though, assembly shouldn't be an issue here.
Weight Capacity
I always stress the importance of checking a machine's weight capacity before buying. First and foremost, you have to ensure you're safe to use it.
Second, it gives us a good idea of how durable and sturdy the machine is. Higher is always better.
The FreeStep comes with a 300 lb weight limit. This is high enough to accommodate most home users as well as give us peace of mind that in terms of design and quality.
Three hundred pounds is par for this type of home fitness equipment, any less and we should start asking questions.
Warranty
At first glance, it looks like the FreeStep comes backed with a 1 year warranty by Teeter. This is really short, but if you read the fine print on their warranty info, you'll notice that the 1 year warranty is only on the frame.
There's a 90-day warranty on the base and all moving parts.
Budget machines usually have shorter warranties, after all, there are reasons why these machines cost less than the higher-end models.
But there's no easy way around it- 90 days on all moving parts is a really short warranty. Even for an affordable recumbent.
Final Thoughts
Recumbent cross trainers are a great way to get a comfortable, low impact workout. Even people with arthritis and painful joints can usually use them safely.
This is why they've become such a popular workout option for seniors.
The Teeter LT1 is compact and budget friendly. It's really one of the most affordable recumbent cross trainers I've come across.
You can easily spend thousands on one of these machines.
Overall, I think this recumbent has a lot to offer considering the price. The adjustable seat and handles are well designed to provide a reasonably comfortable experience.
It's true, this machine isn't going to be as comfortable as a commercial grade recumbent, but we need to have realistic expectations here.
The magnetic resistance system is quiet and easy to adjust with the turn dial. Keep in mind these machines are designed with rehab in mind, where you usually don't need a ton of resistance to get the job done.
The biggest flaw in my opinion is the lackluster warranty. The warranty is shorter than I'd like to see, but given the price, it's still probably a relatively safe bet.
I think the LT1 would be best suited for seniors or folks looking for a gentle workout. The low impact workout provided by this machine can be incredibly beneficial.
In other words, I think the Teeter LT1 is indeed a good buy. Recommended.