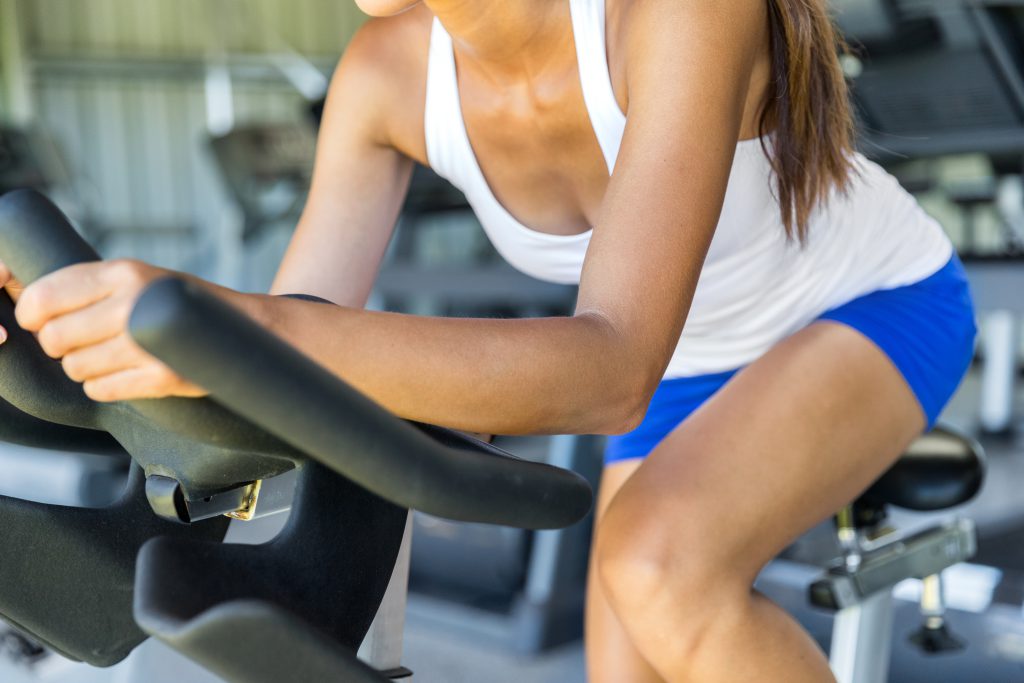 If you're looking for an affordable upright exercise bike to add to your home gym, the Schwinn 170 should be on your short list of contenders.
As Schwinn's most technologically advanced upright model, this bike comes with a nice combination of features for the price.
Like 29 workout programs, 25 levels of resistance, and bluetooth connectivity.
This bike also comes with USB charging, built-in speakers, and a fully adjustable seat – not bad for a budget friendly bike.
To make things better, Schwinn also offers a generous warranty on the 170.
All things considered, I think this is easily of the best upright bikes in this price range, but like everything else in life, it isn't perfect.
The real question is whether or not the 170 is worth investing in?
Well, that's what I'm here to help with.
In this review, I'll go over everything this bike has to offer. After reading, you'll know whether or not this is the right bike for your home gym.
A Quick Word On Schwinn
Schwinn is easily the most recognizable name in bicycling in the world. The name is really synonymous with bicycle, kind of like Kleenex is with tissue.
But does fame and popularity mean that they are always the best? That every product they produce is a winner?
Of course not.
But if considering one of their products, you may want to stop and think how this company achieved such a reputation in the first place.
For Schwinn, it's all about history.
The Schwinn bicycle heritage goes all the way back to the late 1890's when they started developing racing bikes. This is a time when bicycling had become very popular and there was a lot of competition.
Winning races was the best way to get your company name known- turns out Schwinn bikes one more races than anyone else.
The Schwinn company has a pretty interesting history with all the ups and downs of the bicycle market going through the early part of the 20th century.
Fast forward to the 1960's and Schwinn starts producing indoor exercise bikes- this could've been due to the need to diversify, as the bicycle market wasn't always as booming as it started out to be.
Did you know Schwinn also produced motorcycles for awhile?
Our history lesson is coming to an end, but I just wanted to illustrate how long the Schwinn brand has been in the game. They've been in the bicycle business for over 100 years and have been making exercise bikes for over 50 years.
A lot of companies come and go, it happens.
But when you see a company that has been around for so long, it makes you stop and think- there's got to be a reason why they've been able to make it for so long, right?
Is it quality of product? Luck?  Maybe a little of both?
Regardless, I have a feeling Schwinn is here to stay.
Now back to the 170 Upright.
The Schwinn 170 Upright Bike
As the name implies, the 170 is a classic upright exercise bike, not a spin cycle. If you need a refresher on the differences between these bikes, check out my buyer's guide.
With an upright, you get a more comfortable (larger) seat than a spin bike and a smaller footprint than a recumbent.
It's a nice mid-ground between the two styles.
The 170 is the highest-end upright model Schwinn offers. They only offer 2 actually, with the other being the slightly more affordable Schwinn 130.
Quick Stats
| | |
| --- | --- |
| Resistance Levels | 25 |
| Workout Programs | 29 |
| Bluetooth | Yes |
| Weight Capacity | 300 lb |
| Warranty | 10 year frame, 2 year mechanical, 1 year electrical, 90 day labor |
Resistance
With 25 levels of resistance, the Schwinn 170 gives you a lot of control over your workout.
I like to remind people that more levels of resistance doesn't necessarily equate to more overall resistance- it just means you have the ability to fine tune your effort more.
That said, users have no complaints about this exercise bike lacking in the resistance department.
The flywheel is only 13 lb, which is pretty light though. Heavier flywheels are usually preferred because they offer smoother, more road-like feels during use.
Spin bikes are known for coming with massive flywheels – these days even budget cycles are packing flywheels in the 40 – 50 lb range.
Upright models aren't known for packing that kind of heat, although some of the nicer uprights will come with pretty substantial flywheels too (30 lb or so).
The 13 lb flywheel on the 170 is light compared to these types of bikes, but it's actually quite average for bikes in this price range.
For example, Nautilus' U618, another very popular upright bike, comes with a 10 lb flywheel.
Workout Programs
The 170 comes loaded with 29 different workout programs, giving you a ton of workout variety.
With so many options to choose from, there's bound to be a workout for everyone in your home to enjoy. You may never use all of these workouts, but it's nice to know you have them if you ever want to.
The 29 programs include:
12 profile workouts (fat burn, hills, intervals, etc)
9 heart rate workouts
4 custom workouts
2 fitness tests
1 recovery test
1 quick start
I wanted to point that there are 9 different heart rate monitored workouts here.
I'll get to the additional features down below, but the fact that a bike at this price has this many heart rate workouts is pretty rare. This would be a good exercise bike for folks who enjoy these type of routines.
Seat and Pedals
The Schwinn 170 comes with a padded, contoured seat.
That said, the seat isn't the most comfortable. It is going to feel less comfortable than the commercial grade exercise bikes you may have used in your local gym.
But bicycle seats are rarely comfortably. It's really something you have to get used to.
Unless you want to switch out the factory included seat with a custom one. That is easy to do on the 170 because it is designed to easily exchange with any standard bicycle seat.
You could also just throw on a gel cushion- that's what I had to do on my spin bike.
The seat is fully adjustable, both vertically and front to back. This adjustability should ensure a comfortable fit for almost any user.
Nothing too fancy in the pedal department here. Just a single strap and a textured surface to reduce chances of your shoes sliding.
Simple, but effective.
A nice feature on the 170 is the fact that the angle of the handlebars can be adjusted. They're also padded for extra comfort during your longer rides.
Features
For a budget exercise bike, the Schwinn 170 is pretty loaded with extras. The console has 2 LCD blue backlit screens so that you can view all of the workout stats and workout profiles at the same time.
The console isn't fancy or anything, but it's simple to use and effective.
This upright bike is bluetooth compatible with a few fitness apps, like Explore the World, that allows you to ride along virtual routes across the world.
You would have to use your smart phone or tablet to view the trails as your ride, of course.
Luckily, the 170 has a built-in media shelf which makes this pretty easy to do.
There is a speaker installed directly in the console. With the mp3 port, you can connect and listen to your motivational tunes directly from the bike.
Theres also a USB port for charging your smart phone or tablet while you ride. You could even charge your device while you using fitness apps if you like.
The 170 includes a 3-speed cooling fan to help keep you comfortable during your workouts.
I like the workout fans because you can pretend it's the open breeze on your face while you're riding outside.
You can also save 4 different user profiles on this exercise bike. This is actually pretty good considering the price range we are in here.
A lot of the budget bikes don't offer any saved profiles, and if they do, it's usually limited to 2.
4 is a generous feature – helpful if you have multiple family members using the same exercise bike.
The 170 has a grip contact heart rate monitor in the handlebar, that's pretty standard these days.
But it's also set up for wireless heart rate monitoring- this is something usually reserved for the more expensive fitness bikes.
One isn't included, so you would have to buy your own separately.
Lastly, there's a water bottle holder attached to the frame. Let's make sure you stay hydrated on those long rides!
Assembly
Putting the Schwinn 170 together is pretty straightforward.
You're basically installing the base stabilizers to the base (duh), adding the mast to the base, attaching the handlebars and console to the mast, and then adding the seat and pedals.
The most complicated part is probably fishing the console wire through the mast, but that isn't too bad.
The instructions are easy to follow and all of the required tools are included.
Most users agree it can be assembled completely in less than an hour. It can also be put together by one person.
Weight Limit
The 170 Upright has a max user weight limit of 300 lb.
Personally, I prefer home fitness equipment to have at least a 300 lb weight limit because it indicates quality construction.
Budget machines tend to have lower weight capacities because they are constructed out of cheaper, less durable materials.
With a 300 lb weight limit, the 170 will be able to comfortably accommodate most users.
In this price range, it's common to see bikes with 250-275 lb limits.
Warranty
Schwinn offers the following residential warranty on this bike:
10 year frame
2 year mechanical
1 year electrical
90 days labor
For this price range, I think this is actually a pretty solid warranty.
Believe it or not, 10 years on the frame is a lot longer than the 5 year warranty some luxury brands offer (Peloton).
A couple of years on parts is pretty good too.
90 days on labor is pretty weak, but in this price range, it's no guarantee that you'll get any labor warranty.
Overall, I think Schwinn offers a good warranty on the 170. It's actually the same warranty they offer on the more affordable 130 too (which is even a better warranty for that bike, given the lower price).
Price
Last, but maybe most importantly, is price.
The Schwinn 170 normally costs about $500, give or take.
I hate to get too specific with prices because they tend to change, but the takeaway here is that this is definitely a budget bike.
You can obviously find home exercise bikes that are a lot cheaper, but you may not bee too happy with what you get.
You have to be careful with buying budget equipment and you have to be realistic about your expectations.
The Schwinn 170 is a good example of a quality exercise bike that happens to be priced exceptionally well.
It offers a lot of the same features and qualities the more expensive bikes offer, but it's priced a bit lower.
Final Thoughts
Overall, I think the Schwinn 170 Upright Exercise Bike is a smart buy.
It's reasonably priced and can offer some of the more advanced features you don't always see on bikes in this price range (like telemetry heart rate monitoring and bluetooth).
It also comes from one of the most trusted names in home exercise bikes.
Is the 170 perfect?
No.
But nothing is.
It could certainly use a heavier flywheel and a larger, more comfortable seat.
But this upright bike can deliver in the categories that are most important for most of us- it's built sturdy, easy to use, and has enough workout programs to keep us interested.
The 170 Upright has become one of the most popular home fitness bikes over the last couple of years and it's easy to see why.
All things considered, I think the 170 is easily one of the best uprights in its price range as well as one of the top stationary bikes of the year. Recommended.