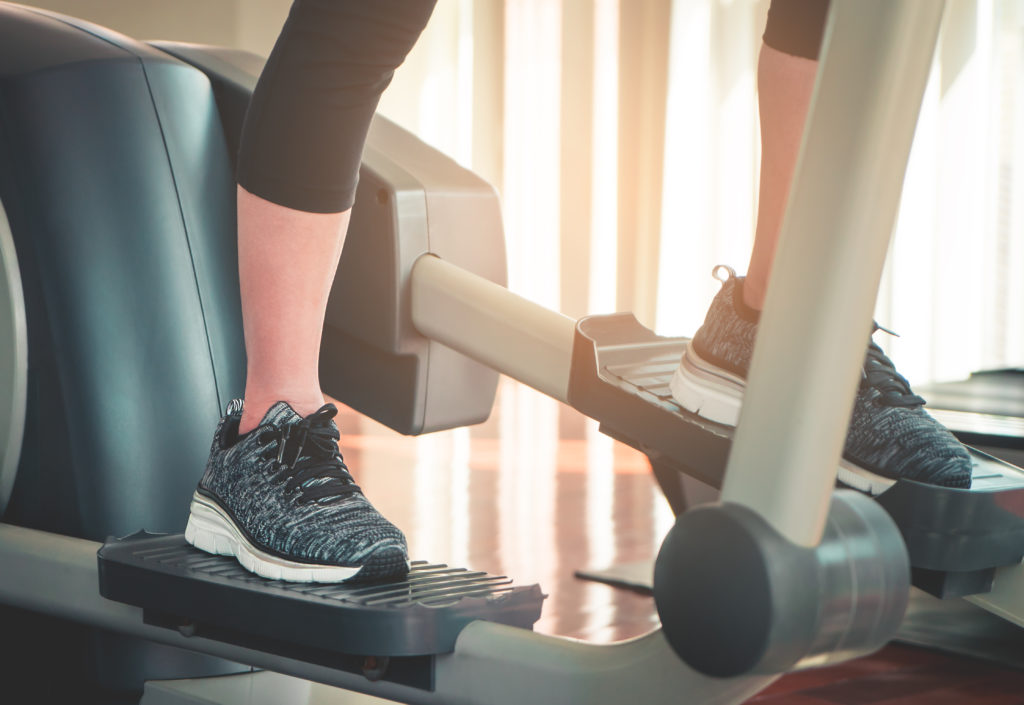 Horizon's Evolve 3 is a moderately priced home elliptical machine that's packing some pretty impressive specs, including a 20″ stride length and 18 lb flywheel. It's also backed by one of the better warranties you're going to find in this price range.
The Evolve 3 also comes with a space-saving folding frame- which is a game changer for folks who thought they'd never be able to fit a full size elliptical in their home.
If you're looking for an easy to use elliptical with a ton of workout options, this might just be the model you're looking for. To help you make that decision, this review will take you on a tour of everything the Evolve 3 has to offer.
Choosing An Elliptical
I usually start my reviews with a quick guide on what to look for when purchasing the particular type of equipment the review is on. I think it's a good idea to know what you should be looking for when comparing whatever type of fitness device you're looking for.
It also gives you a good idea of why I break down my reviews the way I do. Hopefully it makes things a little easier, if not, I apologize.
When it comes to ellipticals, the 3 most important features/specs you should examine are:
Stride Length
I think running surface is the most important spec for a treadmill and I think stride length is the most important spec for an elliptical.
The two specs are pretty synonymous.
On an elliptical, the stride length is measured as the distance your feet move front to back during use. Just like the running surface of a treadmill, if the stride length is too small, the elliptical isn't going to feel very comfortable to use.
Although it does depend some on your height, most people are most comfortable with a stride length of 20″. It's been shown that ellipticals with this stride length can accommodate most users comfortably.
So, most high-quality ellipticals come with stride lengths of 20″.
More affordable ellipticals tend to come with smaller stride lengths- many are in the 16-18″ range, although some very affordable models come with 13-14″ stride lengths.
At 20″, you should be able to stretch out comfortably (think of this as mimicking running). In the 16-18″ range, it'll feel more like mimicking walking. Anything less than that and you might as well be marching in place.
Flywheel
The flywheel is another important characteristic of an elliptical because this is the part that provides the resistance. When you push the pedals and use the handles, it causes the flywheel to turn. Just like on a spin bike.
When it comes to flywheels, heavier is usually better. It all has to do with the momentum that builds up as the weighted disc rotates. Having a heavier disc usually equates to a smoother feel during use.
Flywheel weights vary greatly on home ellipticals and cheaper models usually have lighter flywheels.
Flywheels usually weigh anywhere between 13-30 lb, although most quality ellipticals usually come with flywheels around 20 lb or heavier.
Warranty
Warranty is a crucial spec to consider when buying any type of fitness equipment (or anything period for that matter). Elliptical warranties are usually broken down into:
The frame is always the longest warranty of the bunch because the frame is the most durable part of the machine. You should expect "lifetime" frame warranties on quality ellipticals- especially on ones over $1000.
The parts warranty can vary greatly and it usually varies a lot on price. Most quality ellipticals will offer 3-5 years on parts.
The labor warranty is always the shortest of the bunch because it's too expensive for companies to pay for the labor to have their products serviced. Even the best warranties rarely have labor guarantees longer than 2 years.
There ya have it. When looking for a new elliptical, I'd start with the running surface, flywheel weight, and warranty. Only after I've compared those specs when I go farther and start looking at features.
Ok, time to get to the review now.
Horizon Evolve 3 Elliptical
Horizon currently offers 4 different elliptical cross trainers. The Evolve 3 is the most affordable model in their "Evolve" series (no duh). They used to offer an "Elite" series, but Horizon doesn't seem to produce these anymore.
At roughly $1200, I consider the Evolve 3 a moderately priced elliptical. The Evolve 5 is the only elliptical Horizon offers that is more expensive- it comes with a few upgrades over this model, including a heavier flywheel, larger display, and more workouts.
Pros
Large, 20″ stride length
18 lb flywheel
Low, 10″ step-on height
300 lb weight capacity
Folding deck
20 resistance levels
32 built-in workout programs
Passport compatible
ViaFit compatible
Easy assembly
Good warranty
Cons
No adjustable incline
No bluetooth capabilities
Passport player sold separately
Stride Length
The Evolve 3 starts off strong with a 20″ stride length. If you read through my intro, you know that 20″ is the preferred stride length because it can comfortably fit most people, regardless of height.
Honestly, in this price range, 20″ should be expected (but you never know).
This elliptical also has a low step-on height of 10″. Actually, all of Horizon's ellipticals share this quality. The step- on height, as the name implies, is how high off the ground you are when you step on the pedals to start exercising.
If you have plenty of ceiling space, this isn't an issue. But for people dealing with low ceilings, having a small step-on height is a good thing.
The Evolve 3 also has a folding frame- something that is common in treadmills, but rarely seen in ellipticals. After you are finished working out, you can simply pull the handle and fold the pedals vertically, saving a ton of floor space (2 feet of floor space to be exact).
Not only does folding save you room when the elliptical isn't being used, but it also keeps young children and pets off the machine.
Personally, I'm always dealing with trying to keep my kids away from my workout equipment, but that's a tale for a different day.
This treadmill comes with a max weight capacity of 300 lb. This is pretty much the standard for home ellipticals in this price range, though there are several that can hold significantly more than this.
Flywheel
The Evolve 3 comes with an 18 lb flywheel. This is a nice upgrade from the 14 lb flywheel found on their EX-59 elliptical, but I'm a little disappointed it isn't a little heavier. For this price range, I'd like to see at least a 20 lb flywheel.
Does 2 lb make that much of a difference? Probably not, but if heavier is supposed to be better, we might as well ask for heavier.
Although it would be nice to see a heavier flywheel, I don't think it's a deal breaker in this situation.
To give you control over that flywheel, the Evolve 3 comes with 20 levels of resistance. This is another significant upgrade over the EX-59, which only comes with 10.
This elliptical doesn't have an adjustable incline. Not all ellipticals offer power incline settings, but in this price range, I'm a little disappointed it doesn't. The 7.0 AE is the only Horizon elliptical to date that does offer an adjustable incline.
Features
The Horizon Evolve 3 comes with the following features included:
32 workout programs- this elliptical comes pretty loaded with workouts, much like most of Horizon's equipment. This provides you a lot of exercise variety, which will hopefully help keep your routines fresh and prevent you from getting too bored.
Passport compatible- the Passport player is a device you can hook to your tv and sync with your elliptical to give you a virtual experience of walking or running in various scenic pathways around the world. Several of Horizon's machines are Passport compatible. It's a cool feature, but unfortunately you have to pay for the player separately (~$200).
ViaFit compatible- ViaFit is just another free fitness app you can use to collect and track your workout data. I think you can also share directly to social media from the app.
Grip heart rate monitor- the stationary handles have a grip heart rate monitor you can use to keep an eye on your heart rate if you so choose. These grip monitors are notorious for being less than accurate- it would be nice if this machine were compatible with chest straps, but it isn't.
Built-in speakers- you can hook your phone or mp3 player up to the elliptical and hear your motivating tunes through the built-in speakers. Nothing fancy here. Some of their models come with bluetooth speakers, the Evolve 3 doesn't.
Water bottle holder- nice to have a place to put your water bottle, gotta stay hydrated during those workouts.
Assembly
One of the best things about Horizon products is how easy they are to assemble. Putting the Evolve 3 together is a piece of cake- there's only 3 steps.
All you have to do is attach the console and each of the handles. Without exaggerating, you should be able to have this machine unpacked and operational within 15 min or so.
The instructions are well labeled and easy to follow. Each step has written instructions as well as a hardware guide to ensure you are using the correct bolts and nuts.
The required wrenches are included, but you'll need your own screwdriver.
Warranty
The Horizon Evolve 3 comes with the following warranty:
Lifetime frame
3 year parts
1 year labor
This is a pretty great warranty for a moderately priced elliptical. We should expect lifetime on the frame for any self-respecting elliptical in this price range and 3 years on parts is also par for quality machines.
One year on labor is standard.
Overall, a nice guarantee from Horizon, who is known for offering nice warranties on all their equipment.
Final Thoughts
Horizon's Evolve 3 is a pretty simple, straightforward elliptical. We don't see many advanced features like bluetooth or adjustable incline settings, but when it comes to the specs that count, it scores pretty highly.
The Evolve 3 has a large, 20″ stride length that allow even taller users to comfortably stretch out during their workouts and the 18 lb flywheel is heavy enough to provide a smooth ride.
It's also loaded with tons of workout options and backed by a great warranty.
That said, I think the Evolve 3's best feature is its FeatherLight folding deck. Having the ability to cut the footprint in half when not in use is a serious perk for people struggling with small workout areas.
Overall, I like this model, but for the price there are more sophisticated ellipticals with better tech and heavier flywheels, like the NordicTrack C 12.9 and the Sole E35.
But if you're looking for a folding elliptical that is easy to use, the Evolve 3 will definitely get the job done.