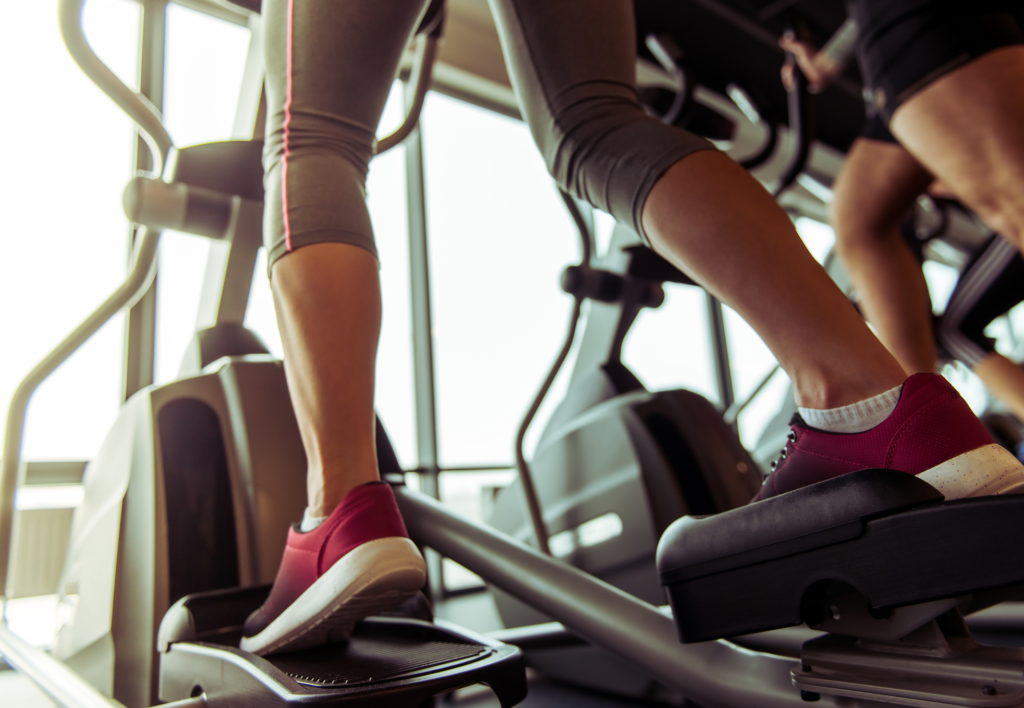 The Evolve 5 is Horizon's premiere home elliptical. As such, it comes with a heavier flywheel, larger display, and more workouts to choose from than any other elliptical in their lineup. It's also Passport compatible and has a convenient folding deck.
This all sounds great (and it is), but the problem here is that there's a ton of competition in this price range ($1000 – $1500).
With so many similarly priced, quality ellipticals to choose from, does the Evolve 5 have what it takes to stand out from the pack? Can it hang with the best in this class?
Perhaps, but you'll have to keep reading to find out.
This review will explore everything the Evolve 5 has to offer, as well as provide a quick comparison to some of the other big competitors out there.
After reading this review, you should have a better idea of whether or not this is the right elliptical for your home gym.
I want to start off with a quick guide on what you should expect from ellipticals in this price range.
Moderately Priced Ellipticals
I consider home ellipticals in the $1000 – $2000 range to be moderately priced. Anything with an asking price under $1000 should be considered a budget machine, although that price range is huge and includes a wide array of selections at varying quality levels.
I'm a pretty firm believer in the old saying, "you get what you pay for". I don't mind paying more for something if I know it's a superior product (and I have the money to begin with of course).
Ellipticals at this price point should offer a lot more than the budget machines. To be more specific, we should expect:
Longer Stride Lengths
The stride length is probably the most important aspect when it comes to an elliptical's comfort level. It's measured in inches and describes the distance your feet are moving apart from front to back.
High-quality ellipticals, and all moderately priced ellipticals, should offer a stride length of at least 20″.
This is long enough for most users to extend fully and mimic the feel of running on their elliptical. Budget machines often come with smaller stride lengths, ranging anywhere from 13″ to 18″.
Heavier Flywheels
Flywheel weight is another important spec to consider when looking for an elliptical machine. The flywheel is what the pedals and handles attach to and what provides the resistance for the machine.
When it comes to flywheels, heavier is usually preferred because it often results in a smoother, more fluid feel. The heavier weight builds up more momentum as it spins.
Moderately priced ellipticals should have flywheels that weigh at least 20 lb. Many offer flywheels that weigh significantly more.
Better Warranties
If you're going to spend over $1000 on an elliptical, you want to make sure it's backed by a solid warranty. Luckily, there are many ellipticals in this price range that are offering great warranties.
You should expect a lifetime warranty on the frame for any quality elliptical in this range. Parts warranties vary more, but you should expect at least 3-5 years from these machines.
Labor is always the lowest and is rarely any longer than 1-2 years.
More Hi-Tech Features
One of the nice perks about opting for a moderately priced elliptical is that you get more fun stuff to play with. In this price range, expect to see:
Larger display screens, some even HD and touchscreen
Bluetooth capabilites
WiFi capabilities
Built-in speakers and fans
Tons of workout options
Incline options
Wireless heart rate monitoring
And more
Now that we know what to expect, let's see how the Evolve 5 stacks up.
Horizon Evolve 5 Elliptical
Horizon currently only has 4 different models in their elliptical lineup. The Evolve 5 is their most expensive model and is an upgraded version of their Evolve 3. The extra $200 gets you a larger flywheel, bigger screen, and a few more workouts.
Horizon as a brand is pretty well-respected. They're known for building solid fitness equipment and backing them with good warranties.
The specialize in budget and moderately priced equipment. I don't think they offer anything that costs over $2000.
Pros
20″ stride length
23 lb flywheel
FeatherLight folding frame
300 lb max weight capacity
20 levels of resistance
39 built-in workout programs
Passport ready
ViaFit compatible
Easy assembly
Good warranty
Cons
No adjustable incline settings
No bluetooth
Not compatible with chest strap monitors
Stride Length
The Evolve 5 comes with a comfortable, 20″ stride length that should be long enough to accommodate most folks regardless of what type of workout they're doing.
This should be a given in this price range, so we can check that mark off our list.
This elliptical, like all other Horizon models, comes with a 10″ step-on height. I didn't mention step-on (or step-up) heights in the intro, but this is how high off the ground you are when you get on the machine.
Lower step-on heights come in handy if your workout area has an unusually low ceiling height (less than 8 ft). At only 10″, this is about as low a step-on height as you're going to find on an elliptical.
Another interesting feature the Evolve 5 has is its folding frame. Many ellipticals take up a good chunk of floor space even when they aren't being used. With Horizon's FeatherLight folding design, you can easily fold the frame vertically, saving you over 2′ of floor space.
This elliptical has a 300 lb max weight capacity, which is pretty standard for home ellipticals. In this price range, many offer higher weight limits, with some reaching as high as 400 lb. But this elliptical can safely hold most users.
Overall, the Evolve 5 has a long stride length and the folding feature is a great touch. The 300 lb weight capacity should suffice for most of us, but many ellipticals in this price range offer higher limits.
Flywheel
This elliptical comes with a 23 lb flywheel, which ties their 7.0 AE as the heaviest flywheel in their lineup. This is over 20 lb, so I'm satisfied here.
Although heavier is considered better, I don't think it's a good idea to put too much emphasis on the exact weight of the flywheel. As long as it's over 20 lb, it should be good.
What I'm trying to say, is that I doubt many of us could tell the difference between a 23 lb flywheel and a 25 lb flywheel. Maybe I'm wrong, but just try to look at the flywheel as part of the whole machine.
That said, if I'm stuck between 2 similar ellipticals and one has a 23 lb flywheel and the other has a 25 lb flywheel, assuming everything else is equal, I'd go with the heavier flywheel.
Users seem to agree that the flywheel provides a very smooth, quiet ride.
To control that flywheel, the Evolve 5 comes with 20 levels of resistance. This gives you a lot of play to fine tune the intensity of your workouts.
I'm a little disappointed that this elliptical doesn't have any adjustable incline settings. In this price range, most ellipticals do (the 7.0 AE is the only Horizon elliptical that comes with an adjustable incline).
Although thinking back to my club gym days, I used a lot of commercial ellipticals that didn't have incline settings either.
And you can get a great workout without them.
Overall, with regards to the flywheel, it's definitely heavy enough to provide a smooth ride. The only downside here is that the incline isn't adjustable.
Features
The Horizon Evolve 5 comes standard with the following features:
39 workout programs- Horizon usually loads their equipment up with a ton of workout options and this elliptical is no different. With this many built-in workouts to choose from, getting bored shouldn't be an issue.
Passport compatible- this elliptical can pair with a Passport player (sold separately), which allows you to sync your elliptical with your tv. As you watch videos of scenic paths from around the world, the elliptical will adjust the resistance to give you a virtual experience of exercising on that terrain.
ViaFit compatible- ViaFit is a fitness app that uses wifi to track and store all your fitness data. It's free and can sync with most of your other favorite fitness apps.
6.25″ blue backlit display- the screen is large enough to see all your metrics easily while you workout. No fancy touchscreen displays here or anything, but definitely simple and effective.
Grip heart rate monitor- grab the stationary handles and you can measure your heart rate while you workout. Unfortunately, the Evolve 5 isn't compatible with chest strap monitors.
Built-in speaker- connect your phone or mp3 player up to the elliptical and you can hear your favorite tunes through the built-in speaker
Water bottle holder- you can, um, hold your water bottle here. It comes in handy during tough workouts.
Assembly
Horizon does an amazing job and designing their products to be very easy to assemble. Please don't pay for any expert assembly on any of their products- I promise you, you can do this.
The Evolve 5 only has 3 steps to assemble. Most people should have this bad boy out of the box and running within 30 minutes.
Horizon's instructions are easy to follow. The illustrations are large enough to see and the written instructions detail each step, including what hardware is needed.
The necessary wrenches are provided, although you may have to provide your own screwdriver.
Overall, assembly couldn't be any easier.
Warranty
The Evolve 5 comes with the following warranty:
Lifetime frame
3 year parts
1 year labor
This is a pretty good warranty for this treadmill. In this price range, we should expect lifetime on the frame and at least 3 years on parts for quality ellipticals.
The 1 year labor warranty is standard.
The Competition
We've taken a pretty close look at what the Evolve 5 has to offer. And honestly, it offers a lot. But I mentioned earlier that this price range is super competitive- there are some really nice machines to choose from that are similarly priced.
Let's take a quick look at a couple of them for comparisons sake.
The first one that comes to mind is the Sole E35. This elliptical is priced identically to the Evolve 5 and comes with a 25 lb flywheel, power incline, bluetooth speakers, and a better warranty (5 year parts, 2 year labor).
Another top elliptical in this price range is the NordicTrack Commercial 14.9. With a 32 lb flywheel, 10″ HD touchscreen, power incline, and included chest strap heart rate monitor, this beast is tough to compete with. Oh, and it only costs $50 more than the Evolve 5.
As you can see, there are some awesome ellipticals in this price range.
And I don't mean to shame the Evolve 5 with this comparison, but I want to illustrate what's out there for the same asking price. If you aren't looking for the extra bells and whistles, it might make sense to go with a simpler model.
Final Thoughts
The Evolve 5 is a straightforward, easy to use home elliptical. It's built solid and is packing some respectable features. The 23 lb flywheel provides a quiet, smooth ride that users love and the folding deck is a game changer for folks with smaller workout spaces.
It's also backed by a great warranty.
But as you can see from the 2 machines mentioned above, there's a lot of competition in this price range.
And honestly, the Evolve 5 is outmatched by the 2 ellipticals I just mentioned. But to be fair, those are 2 of the best home ellipticals around.
But for this price range, the Evolve 5 is lacking some key features we should expect. Most notably, power incline and bluetooth capabilities.
Overall, the Evolve 5 is a nice elliptical, but there are better options for the price. That said, if you're looking for an easy to use elliptical that can fold away for storage, the Evolve 5 won't disappoint.