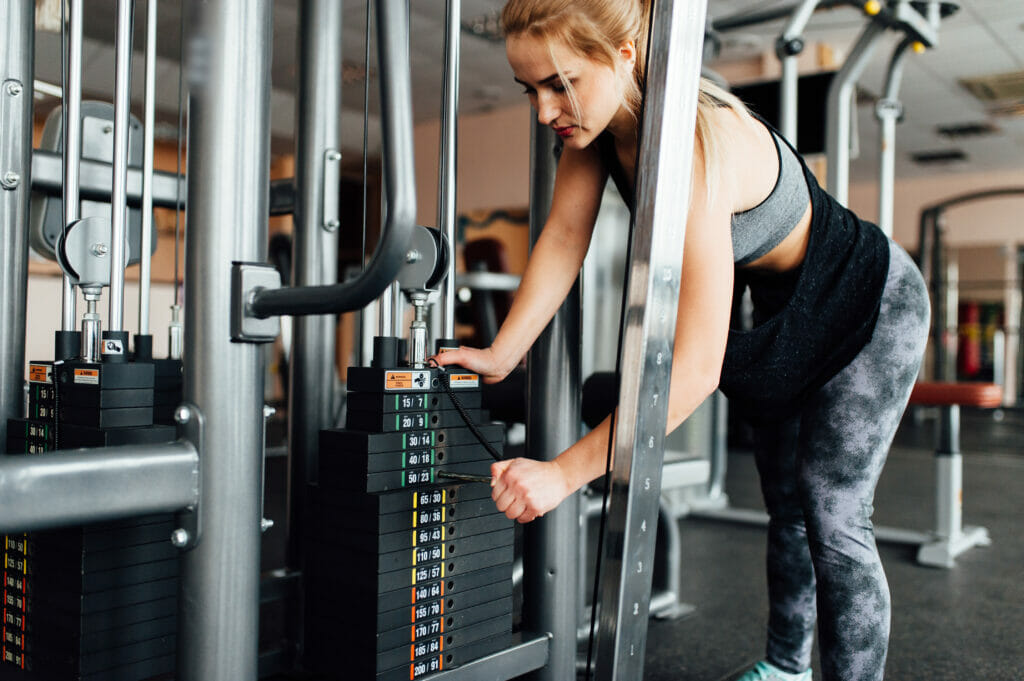 If you're looking to create your own home gym and you're space is limited, you may not have the room to accommodate a set of dumbbells, a bench, and a rack or two.
Luckily, there are plenty of great compact home gym machines out there that allow you to get a full body workout in a fraction of the space that more traditional gym equipment takes up.
It's all about knowing what to look for and where to look.
And if you've found your way here, you're in luck, because I'm going to share my top picks for compact home gyms that don't take up that much floorspace.
In this guide, I'll also discuss what you should look for in a compact home gym as well as a few additional considerations I think are important when looking for the right option.
Let's start with the good stuff first though.
Note: "compact" probably means something different to all of us, so we should probably set some ground rules. For the purpose of this article, a compact home gym is one that takes up a floor space of roughly 6′ x 4′ (72″ L x 48″ W). Some of these gyms might be a little larger, but this was my goal. 
The 7 Best Compact Home Gyms
#1 Bowflex Xtreme 2SE
Dimensions: 53″ x 49″ x 82″ (L x W x H)
I'm sure you're all at least a little familiar with the Bowflex name- it is one of the most recognizable home fitness brands in the world after all.
Bowflex came to fame with their home gym systems, and even though they've branched out considerably over the years, their home gyms are still legit.
Especially if you're looking for an all-in-one machine that doesn't take up a ton of floor space.
Now not all Bowflex home gyms are that compact. The biggest deciding factor when it comes to how much space Bowflex gyms are going to take up is whether the bench is vertical or horizontal.
The models that use a vertical bench (like the Xtreme 2 SE and the Xceed) are going to take up a lot less space than the ones that use a horizontal bench.
The Xtreme 2 SE is one of the highest-end Bowflex models currently available (only the Revolution tops it). And as such, this gym has a lot to offer.
Like most Bowflex gyms, it uses their patented power rod resistance and comes with 210 lb of resistance to work against (upgradable to 410 lb if you need more).
If you've never used a Bowflex before, the power rods feel kinda like nice resistance bands- the more you stretch them, the more resistance you get.
And just like resistance bands, they're very safe to use- you won't have to worry about dropping a weight or needing a spotter.
Besides being safe, this home gym is very versatile. It comes with all the attachments necessary to perform over 70 exercises (a feat few gyms can match).
You'll be able to get a versatile, full body workout with the Xtreme 2 SE, and you'll even be able to perform squats with the included squat bar (something else most compact gyms can't offer).
The included manual even shows you how to perform all of those 70 different exercises in detail.
The biggest downside to the Xtreme 2 SE is that if you're used to lifting good ol' fashioned iron, you may not like the feel of the power rods.
But if you're ok with the power rods, the Xtreme 2 SE is easily one of the nicest compact home gyms around. See full review.

#2 Body-Solid Powerline P2X Home Gym
Dimensions: 71″ x 50″ x 83″ (L x W x H)
Body-Solid is a popular brand, known for creating exceptional home and commercial grade fitness equipment. They offer an extensive lineup of home gym machines, racks, bars, plates, and pretty much any other accessory you'd ever need.
Basically, if you're looking for higher-end fitness equipment that's pretty fairly priced, Body-Solid is a good brand to check out.
They offer several single-stack home gyms to choose from, but when it comes to the combination of compactness to quality, their P2X is tough to beat.
And the folks that are looking for a traditional home gym that uses plates will appreciate this single stack system that comes standard with 160 lb of resistance.
The P2X doesn't offer the same versatility as the Bowflex mentioned above (few do), but as single stack systems go, it has a lot to offer.
This gym comes with multi-press arms that can be used for chest/shoulder presses, a high pulley station that works great for lat pulldown, a mid-pulley station that can be used for abdominal training, and a lower pulley that's paired with a leg developer.
There are also fixed pulleys in the middle of the gym that can be used for several different moves, including pec flys, shoulder internal/external rotations, and rows.
The P2X is also compatible with an optional leg press add-on as well as an additional 50 lb of resistance (adding the leg press will increase width of gym to 74″).
The biggest downside to this gym is probably the assembly process, which is a bit extensive (expect to spend 4+ hrs getting the job done). But as long as you or a friend is good at following directions, you should get through it unscathed.
Overall, if you're looking for a high-end single stack home gym system, Body-Solid's P2X is a smart choice. See full review.

#3 Marcy 150 lb Stack Home Gym
Dimensions: 68″ x 36″ x 79″ (L x W x H)
Marcy is a producer of budget-friendly home gym equipment. Their lineup contains a little bit of everything, from bars and benches to treadmills and cardio equipment.
But it's their single stack home gym machines that put them on the map.
Their 150 lb Stack Home Gym is probably one of the most popular home gym machines around. It's well-built, easy to use, and affordable (no wonder it's become such a hit).
I've actually seen several patients over the years that have owned this home gym and we've used it as part of our treatment plan. Given the price, it works remarkably well.
Marcy's home gym comes with 3 pulley systems for added exercise versatility: the upper pulley can be used with the lat pulldown bar, the middle pulley pairs with the dual action press arms, and there's a lower pulley that connects to the leg developer.
The result is single stack system that can provide over 30 different strengthening exercises for a total body workout.
As the name implies, this gym comes with a 150 lb stack, but there's also a 200 lb option if you think you'll need a little more resistance down the road.
I mentioned the dual action press arms- this just means the handles can move freely from the bar, allowing you to perform pec flys as well as chest press from the same starting position.
One thing Marcy has over the P2X above is the inclusion of a removable preacher curl pad, which gives you the option of performing the popular biceps isolating move.
With dimensions just under 6′ x 3′, the Marcy home gym fits well in most spaces. I've seen it in bedrooms and living rooms alike (and it works fairly well in corners too).
The biggest downfall to this gym machine is that, because of it's smaller frame, taller users might have a hard time fully extending during chest press and leg extensions (users under 6′ should be fine).
Overall, if you're looking for a great home gym machine that won't break the budget, the Marcy 150 lb Stack is a fine choice.

#4 Gold's Gym XRS 50
Dimensions: 63.3″ x 37.6″ x 78.6″ (L x W x H)
The Gold's Gym brand of home fitness equipment shares its name and logo with the famous line of commercial gyms, but the equipment itself is made by a separate company (ICON I believe, the same company that makes NordicTrack and ProForm).
I say this only because I don't want anyone to think these machines are actually used in the Gold's Gym facilities or anything like that.
Other than the name, there's no affiliation.
Ok, that said, the Gold's Gym brand is a very budget friendly one, that offers a little bit of everything fitness related. Like Marcy, I think it's their home gym machines that are the most worth investing in.
The XRS 50 is one of a few home gym machines this brand offers. There's nothing too fancy going on here, but it does come with everything you need to get a solid full body workout in.
Much like the Marcy model mentioned above, this gym comes with an upper pulley, a chest press/fly station, and a leg developer.
With this combination, you can perform all the basic strengthening moves you'd expect, including lat pulldown, tricep extensions, chest press, pec flys, rows, curls, leg extensions, ham curls, etc.
The XRS comes with a 112 lb weight stack that, through the use of pulleys, can provide up to 280 lb worth or resistance. This gym also comes with an included exercise chart showing you how to perform each move correctly.
Like the Marcy, this is a very compact home gym, which means taller users might not fit that well.
Overall though, it's going to be hard to find a better home gym in this price range.

#5 Weider Pro 6900
Dimensions:  77″ x 43″ x 82.5″ (L x W x H)
Weider is another ICON owned home fitness brand that specializes in budget friendly equipment. They also have a lineup of vitamins and nutritional supplements as well.
The Weider Pro 6900 is another budget friendly gym that's in the same league as the Marcy or Gold's Gym model we've already discussed.
This home gym comes with the same 3 pulley positions and includes a lat pulldown bar and a leg developer. Like the Marcy, the Weider Pro 6900 also comes with a preacher curl pad, which is great for isolating those biceps.
P.S.- the lat bar can be used to perform those preacher curls.
This machine comes with a 125 lb stack that, according to Weider, can provide up to 330 lb of total resistance.
The biggest downside to this gym is in the warranty department: Weider only offers a 90-day guarantee. Normally, this would be a big red flag, but in this price range, it's nice that they offer any warranty at all.
Speaking of price, the Weider Pro 6900 will cost ya around $400 on sale, making it the most affordable gym on this list (I must say, prices tend to change, so I apologize if the price is significantly different at the time of you reading this).
Overall, the Weider Pro 6900 is another simple, affordable home gym system that won't take up a ton of space. Although you'll notice that this gym is about a foot longer than the XRS above (something to keep in mind if space is very limited).

Bonus: The BodyBoss Home Gym 2.0
Dimensions: 19.75″ x 34″ x 1″ (L x W x H)
The BodyBoss isn't a "home gym" in the sense that the other home gym machines mentioned above are, but I wanted to include it in case your workout space is reallllly limited because it is a nice resistance band system.
The BodyBoss consists of a foldable platform that comes with attachment points for your resistance bands.
As simple as this system is, it's the find details that make all the difference. Having this platform will make your resistance band workouts a lot more comfortable because you won't have to stand on the bands to perform you're pulling exercises.
Instead, you can attach the bands to the platform in whatever orientation you need. You can also use the multiple attachment points to shorten the bands, which will increase resistance.
This package includes the base, 2 30 lb bands, a collapsable bar, set of handles, a set of ankle cuffs, a door anchor, and a workout manual.
Between the platform and the door anchor, you should be able to replicate pretty much any strengthening exercise you can think of (although bench press and deadlifts are a little tough to do).
And with the bar, you can even do squats, something that is usually tough to do with resistance bands.
The base takes up very little floor space and folds for easy storage.
And not only does the BodyBoss work well as an all-in-one home gyms system, but it's one of the best portable home gyms around.

---
Finding The Right Compact Home Gym
I hope you enjoyed the list above and I hope you found a gym that'll work for your home. I wanted to include a few guidelines to consider during your search to make sure you find the best possible option.
When looking for a compact gym machine, I recommend you consider the following:
Type of Resistance
Home gym machines, compact or huge, come in several varieties. One way to categorize them is by the type of resistance they use. Most compact home gyms use a single stack system, as you probably noticed above.
Stack systems have several advantages. First of which, is that it's easier to make these gyms compact- after all, the stack is vertical, so it doesn't add much to the total floor space necessary.
Stack systems use weighted plates, which means the resistance will remain consistent throughout the arc of your movement. This gives a more traditional feel, and more closely resembles the feel of lifting dumbbells or barbells.
On the other hand, resistance bands or Bowflex's power rods provide a variable resistance- this means the resistance will change throughout the arc of the movement.
In the case of bands and power rods, the more you stretch them, the more resistance you feel.
This means you'll fee less resistance at the beginning of the movement (when your at a mechanical disadvantage) and more resistance toward the end (when you're at a mechanical advantage).
Some folks will love this, because it makes for a very comfortable feel throughout the exercise. Purists may not like this because the move is easier at the beginning (which you might consider cheating).
There are other home gyms out there that use weighted plates as the resistance. None of these gyms made it on this list because they tend to take up more space, but they're out there.
These systems feel comparable to weight stacks, but they give you the option of piling on more resistance usually.
Either way you go, it's a good idea to consider the type of resistance a gym uses before making any decisions.
Space
It's a really smart idea to measure your available floor space out so you have a good idea as to how big a gym you can get. When talking floor space, we're talking about the length and width, but if you have low ceilings, you'll have to consider height as well.
Most homes these days have at least 8′ ceilings, in which case any home gym on this list would fit easily.
But if you plan on putting your home gym in a basement or attic, you might come across significantly lower ceilings. You'll need at least a 7′ ceiling for most of these gyms.
And when it comes to floor space, keep in mind that you'll need some extra room to actually uses these machines!
So when measuring out your floor space, make sure you have a couple of feet of wiggle room on each side so that you can move around and actually exercise on your machine.
Exercise Variety
Most of these compact, single stack gym systems are going to more or less offer the same exercise options. All of the best gyms will come with 3 pulleys, a lat pulldown bar, a chest press bar, and a leg developer.
Some will also come with a removable preacher pad, which is a nice bonus if you ask me.
Depending on the attachments and handles that are included, you should be able to perform at least 30 different moves or so with these systems.
This is more than enough for most of us mortals, but if you're looking for added variety, Bowflex is worth considering (Total Gym is also worth considering, but they are usually pretty long).
Warranty
I didn't discuss the warranties in much detail above, but I think it's a good idea to consider a gym's warranty before purchasing. A product's warranty tells you a lot about the quality of the machine, with longer being better of course.
Generally speaking, more expensive items tend to come with longer guarantees, although this rule isn't set in stone.
The more affordable a home gym is, the shorter that warranty is likely to be.
I mentioned the 90-day warranty on the Weider Pro 6900 above- there's no sugar coating it, this is an awful warranty. But we have to keep in mind that this gym only costs $400, which is really really cheap for a home gym machine.
When looking at gyms in this price range, it's unrealistic to expect 5-10 year guarantees because it just isn't gonna happen. Like I mentioned above, it's surprising they make the effort to provide any warranty, given the price.
I also want to say that just because a gym has a short warranty, doesn't mean it won't last.
These home gyms are build pretty solid, even the cheap ones. If you use them correctly and take care of them, they should last. Keep in mind though, that these machines aren't designed for professional athletes…
These gyms are small (which is the point- they have to be small to fit in a small workout space) and best suited for people in the  beginner to moderate fitness levels.
Larger or more advanced users will likely outgrow these compact gyms rapidly.
Final Thoughts
Well, that about does it. I hope you enjoyed reading this guide as much as I enjoyed writing it. I've been spending a lot of time reviewing cardio equipment lately, so it was nice to get back to some good ol' fashioned strength training machines.
The biggest takeaway from this guide is that there are plenty of quality options out there for homes with limited workout space.
When looking for your home gym, I recommend you think about the type of resistance you're looking for as well as the type of strengthening exercises you'd like to perform.
Ultimately, the gym machine you choose will have to fit in your home, so considering the dimensions is a necessity.
It's also a good idea to consider price (duh) and warranty, but you'll have to be realistic with your expectations depending on your budget.