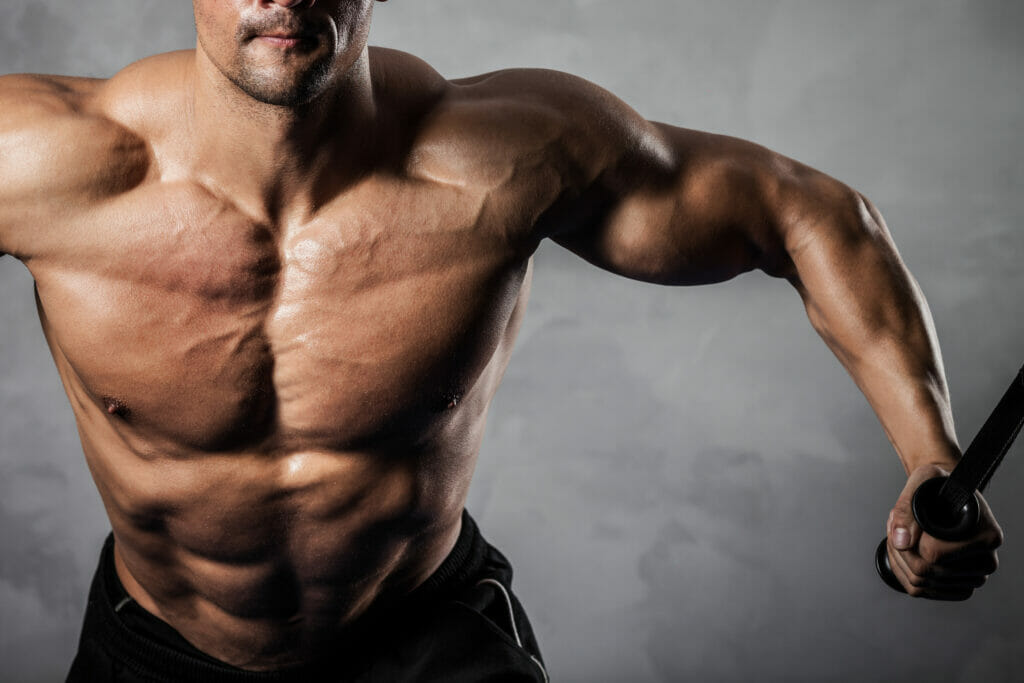 Body-Solid's Powerline P2X is a compact, single-stack home gym machine with a lot to be proud of.
With 6 stations at your disposal, the Powerline allows you to perform multiple exercises for each body part, ensuring a total body workout in the comfort of your own home.
Highlights of the P2X include multi-press arms, hi/mid/low pulley systems, fixed functional pulleys, and a leg developer attachment.
And with the ability to upgrade to 210 lb and attach an optional leg press station, this gym can grow with you over time.
If you're looking for an all-in-one home gym machine, Body-Solid's P2X is a solid choice (see what I did there?)- but is it the right home gym for you?
Well, that's what this review is here to help you figure out.
In this article, I'll take you on an up close and personal tour of everything this gym has to offer. After reading, you'll have a better idea as to whether or not it's the right option for your home.
The Body-Solid Powerline P2X Home Gym
Body-Solid is an American based home fitness company that's been doing there thing for over 30 years. The Illinois based company specializes in strength training equipment, although they've got a few cardio machines on their lineup as well.
Body-Solid is a well-known and respected brand. They've earned a stellar reputation in the industry for creating high-end products that are priced fairly.
They also claim that they offered the first lifetime warranty on a home fitness product back in the early '90s.
Currently, the brand is happy to boast that they score an A+ with the Better Business Bureau. More importantly, customers seem to be very happy with their home fitness products.
Body-Solid offers a generous selection of single and double-stack home gym systems to choose from. Their Powerline P2X is one of their mid-range gyms in terms of price, and will likely cost ya around $2000.
Pros
Heavy-duty frame
Compact footprint
6 workout stations
Full-body, strengthening workout
160 lb weight stack (upgradable to 210 lb)
Lat bar, ab harness, row bar, and handles included
Compatible with optional leg press station
Good warranty
Cons
Assembly can be difficult
Frame
Let's start with a quick look at the frame. The P2X is constructed out of 1.5″ x 3.25″ oval steel tubing and all frame components are continuously weld for superior durability.
There are sealed bearings at every pivot point and the cable is 2200 lb rated aircraft cable.
If you're like me, these specs might not mean a lot, but the takeaway should be that the frame is pretty robust for a home unit.
All legit home gyms use aircraft cable, so that isn't really saying a lot, but it does mean that you shouldn't have to worry about the cable snapping during your workouts.
The P2X weighs about 391 lb fully assembled- this is heavier than a lot of the more budget friendly gyms, but I see this as a good sign (a heavier frame will be more stable).
This gym has the following dimensions: 71" x 49" x 83" (L x W x H).
Believe it or not, this is pretty compact in terms of home gyms. You'll need a floor space of roughly 6′ x 4′ to house this gym, plus additional wiggle room of course to actually move around and use it.
Overall, the P2X comes with a stable frame that should feel secure during use. With nearly 400 lb to its name, you shouldn't encounter any unwanted wiggling or moving as well as everything is securely assembled.
Stations
Ok, now that we've gotten some of the more boring specs out of the way, let's get to the more interesting stuff- the work stations. I mentioned in the intro that the P2X comes with 6 stations, these include:
Lat pulldown (high pulley)- this is a staple for any self-respecting home gym because the lat pulldown is one of those essential back exercises that we all love. The high pulley station can also be used for moves like triceps extensions and high rows.
Multi-press arms- this is where you'll do your chest press and shoulder press moves. There are multiple grips to choose from, which is helpful for finding the most comfortable fit. You can adjust the height of the seat as well as the angle of the backrest (which allows you to perform moves like incline press).
Mid-pulley- this area can be used for resisted abdominal crunches and tricep kickbacks.
Functional pulleys- there's a set of fixed pulleys that can be used for a wide variety of exercises, including pec flys, shoulder external/internal rotations, and shoulder abduction/flexion/extension.
Leg developer- the included leg attachment allows you to perform leg extensions and ham curls.
Low pulley- the low pulley system can be used for a wide variety of exercises, such as seated rows, bicep curls, upright rows, and all kinds of hip exercises using the ankle cuff.
You can also purchase a leg press attachment separately if you so choose, giving you the option of performing the classic gym favorite from your own home.
Overall, the P2X comes with all the workout stations you'd expect from an all-in-one home gym machine. The added functional pulleys are a nice touch, as is the ability to add a leg press station down the road.
Oh, almost forgot, the P2X comes with the following attachments: lat pulldown bar, low row bar, ab harness, and set of handles.
Resistance
The Powerline P2X is a single stack machine. It comes standard with a 160 lb weight stack that can be used as the resistance for every exercise you do on this gym.
The weight stack goes up in increments of 10 lb, which is nice because you can make fairly gradual changes in resistance as needed.
If you need a little more resistance, the P2X is compatible with a 50 lb upgrade package, brining the total stack weight up to 210 lb.
This is pretty standard for single stack home gyms, it's rare to see a single stack that comes with more resistance than this. Most home gyms come with stacks ranging between 120 – 160 lb.
Which is a fair amount, if you consider the type of exercises you'll be doing on this machine (with that said, if you're a serious weight lifter, looking to move hundreds of pounds, this isn't the right machine for ya).
Overall, the P2X comes with a standard amount of resistance to work with. It's nice that you can upgrade to the 210 lb stack if you want to.
Assembly
Ok, the assembly process is probably the biggest downside to the P2X. I take back that "probably", the assembly is definitely the biggest downside here.
There's no getting around it, putting this thing together is going to be a hassle.
I mean look at it- see all of those pulleys and cables routing through it? You'll be responsible for putting all of that together.
Seriously though, putting these home gyms together is kind of a pain in the a**, but that's the story for any cable machine. Body-Solid does a pretty good job on their assembly instructions and if you're good at following directions, the process if very doable.
That said, I highly recommend having a family member or friend available to help, it will make your job a lot easier.
And if you have a hard time with assembly manuals or aren't particularly handy in general, I'd hire someone to assemble this for you. The headache you save will likely be well worth it.
Expect to spend the better part of a day getting the P2X out of the box and ready to use.
Warranty
Body-Solid offers the following warranty on the Powerline P2x:
10 year frame
1 year parts
Unfortunately, this home gym isn't one of the products that Body-Solid covers with their famous lifetime warranty. That said, 10 years on the frame isn't bad when compared to other budget gyms that offer a year or 2.
The one year on parts is pretty standard- again, nothing too spectacular, but not below average either.
Overall, if would be great to see a lifetime warranty on the frame here, but I guess that's just not that realistic. All things considered, I'm satisfied with the guarantee Body-Solid is offering here.
Final Thoughts
Body-Solid's Powerline P2X is a nice home gym. It comes with all the standard stations you'd expect from a quality single stack system, but also has a few pleasant surprises (like the set of functional pulleys and the optional leg press station).
It comes with a heavy-duty frame and smooth acting pulleys that should make for a comfortable workout.
Speaking of workouts, the P2X comes with everything you need for a full body strengthening routine. And with the ability to upgrade to 210 lb, this gym will be able to grow with you as you get stronger.
It's also backed by a decent warranty, which is nice.
The biggest downside I see is the assembly process, but this is a necessary evil for any home gym, so I can't hold it against the P2X.
Overall, if you're looking for a high-end single stack home gym, the Powerline P2X is a great choice (I actually think it's one of the best compact home gyms around). Recommended.