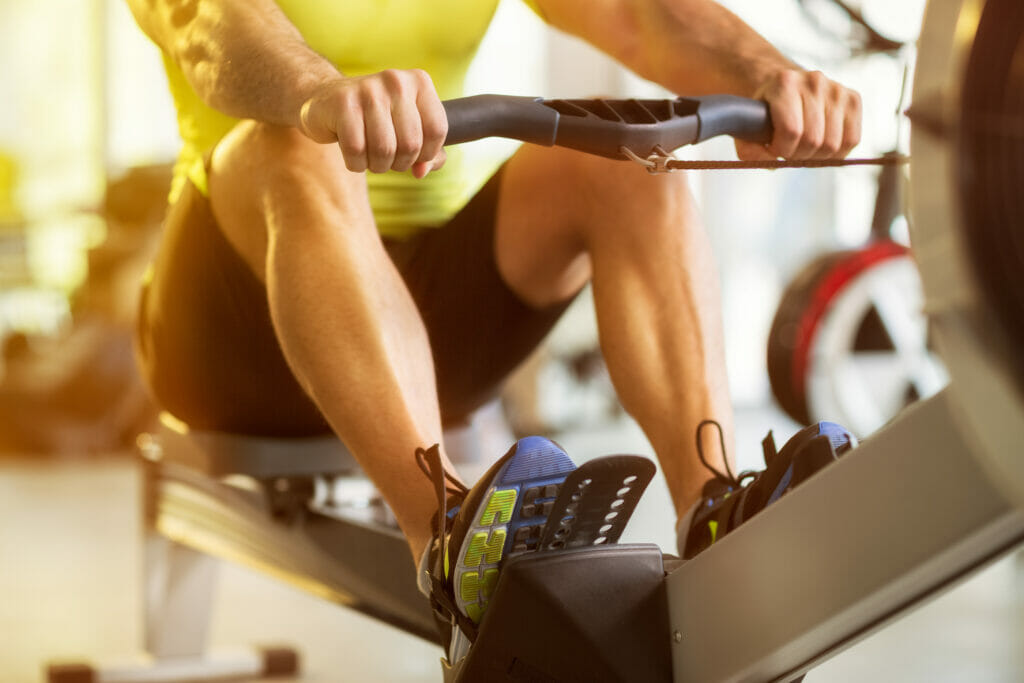 Rowing machines work well for home gyms for several reasons, but most notably because they offer full body workouts, they don't take up much space, and they can be very affordable.
And these days, considering everything feels more expensive, the latter can be of the utmost importance.
If you're looking for a quality rower and find yourself dealing with a smaller budget, the good news is there are tons of great options out there.
You just have to know what to look for and where to find 'em.
But don't worry, that's what I'm here for.
In this guide, I'll not only present my top picks for rowers in the $500 range, but I'll also go over some of the different specs and features you should be on the lookout for when comparing machines.
This way, you'll know why I think these rowers deserve a spot on this list (and you'll also be well prepared to find a better option if none of these rowers meet your needs).
Before we dive into the rowing machines themselves, let's start with some quick pointers on what we should focus on when comparing models.
How To Find The Right Affordable Rower
Like any other kind of fitness equipment, rowing machines come in a wide range of prices.
You've got your elite streaming rowers like the Hydrow at the top of the rower food chain and your simple, hydraulic rowers at the bottom.
And even though the type of rowing machine may vary its price a little, with a $500 budget you'll have access to all the different styles.
And by this, I'm really talking about the different resistance systems: hydraulic, magnetic, air, water (or combo).
Regardless of which style of rower you're looking for, I think it's important to focus on the performance specs when comparing models though.
But choosing your rower style is the best place to start, so let's start there.
Type of Resistance
Ok, the easiest way to categorize rowers is by the type of resistance they use.
Home rowers basically come in 4 varieties based on their resistance and these include: air, magnetic, water, and hydraulic,
A lot of rowers these days also use combo resistance systems that combine air and magnetic systems, but most of these rely mostly on the magnetic system (especially in this price range).
I'm going to skip the discussion on the differences between the different kinds of rowers right now, but for more info on this, check out my full rowing machine guide.
Just know, there are tons of options for all styles within a $500 price range.
The hydraulic rowers are usually the most affordable, with many falling under $300; magnetic rowers can also be very affordable.
The air and water rowers tend to be a bit more expensive, but there are still plenty that fall well under $500.
If going with a magnetic rower, most in this price range come with a standard of 8 resistance levels to choose from, selected by using a turn-style dial.
Some, as you'll see below, come with 16 resistance levels.
I always say having more resistance levels is a good thing because it allows you to make smaller changes to the resistance between levels.
But more levels doesn't mean more total resistance.
If I'm stuck between 2 similar magnetic rowers, I'm going with the one with more resistance levels.
Weight Capacity/Size
I like to think of the weight capacity as an indicator as to how heavy-duty or robust a rower is, with higher numbers being preferred to lower ones.
I also like to compare assembled weights with the same rationale.
You won't see as quite a large discrepancy when comparing rowers in the $500 price range, but it's still worth looking.
Most rowers in this price range have a weight limit somewhere between 250 – 300 lb, although there are a few that go a bit higher.
I wouldn't go with a machine with a limit lower than 250 lb, unless it really came with some cool feature you had to have.
Aiming for at least a 300 lb weight limit is always a good goal.
It's also a good idea to think about how long these affordable rowers are and most provide the rail length.
Affordable rowers tend to be a little smaller than the more expensive models, but that isn't always the case – many of these budget-friendly machines are still long enough to supposedly support folks as tall as 6'6″.
But bigger and taller folks should still be aware.
Warranty
I'm a stickler for a quality warranty, so I'm always preaching the importance of comparing between models.
Unfortunately, budget rowers tend to come with really short guarantees, but to be fair – this is one of the reasons these rowers cost less in the first place.
Affordable fitness machines aren't usually as heavy-duty as the more expensive models and quality control isn't usually as strict.
And fitness companies know this, so they're not going to provide extended warranties on these products.
These companies aren't stupid, they want to save their money.
Even so, some brands offer better warranties than others, although 1 year on parts is pretty standard for this price range.
Sunny Health & Fitness offers 3 year frame warranties, which is pretty awesome for this price point.
Other brands might not offer any warranty at all.
Long-story-short, it's always a good idea to compare warranties, even if they all kinda suck.
Other Stuff
Ok, that about does it when it comes to the performance side of things.
You'll also likely want to compare other stuff too, like consoles, seat heights, and any additional features.
Honestly, in this price range, there really aren't many "other features" to look for, but some rowers come with tablet holders and whatnot.
Consoles in this price range are basically just timers that may or may not track speed and calories, although a few do come with built-in workouts.
Some may also be compatible with heart rate monitors, but this feature isn't a given in this price range.
If you're worried about getting up and down from the seat, you might want to look for one with a taller seat height – your average rower seat is about 14″ off the ground, so anything taller than this could be a perk.
Alright, I think it's time to get to the good stuff already…
The 6 Best Rowing Machines For Under $500
#1 The Sunny Health & Fitness Obsidian Surge (SF-RW5713)
Sunny Health & Fitness (SHF) is easily one of the best budget fitness brands out there and they've got a ton of products to choose from (especially when it comes to exercise bikes).
The only real complaint I have about SHF is that a lot of their products come with really generic names, making it hard to tell 'em apart.
But this certainly isn't an issue with the awesomely named Obsidian Surge.
Wicked names aside, this affordable rower is about as good as it gets in this price range.
As the name may or may not suggest, this is a water rower, so you get the advantage of having unlimited resistance that's related to how hard you row.
This rower has a sleek exterior, but more importantly it's quite heavy-duty for a rower in this price range.
With an assembled weight just over 90 lb and a weight limit of 300 lb, the Obsidian Surge is able to offer a stable workout for folks of all sizes.
The seat is also just over 16″ off the ground, making it a little easier to get on/off of than most rowers in this price range.
It's also got one of the most advanced consoles you'll find on a $500 rower, allowing you to track stuff like 500m split times, strokes per minute, calories, and heart rate.
It also comes with pre-programmed workouts and the ability to create your own custom ones.
This advanced rower comes with a 3 year frame and 180 day parts guarantee.
Overall, if you're looking for a water rower that takes it easy on the budget, SHF's Obsidian Surge is a great option. See full review.

#2 The XTERRA ERG500 Air Rower
XTERRA is another great budget brand who I think gets overlooked a lot, which is unfortunate because they offer some top notch stuff.
XTERRA also offers some of the best warranties.
This shouldn't be surprising though, considering XTERRA is owned by the parent company Dyaco, who also owns Spirit Fitness and is a partner with Sole Fitness.
Anyway, the ERG500 is XTERRA's only true air rower and it has a lot going for it.
As an air rower, you get a similar feel as the water rower mentioned above, but with a damper with 8 different settings, you get to fine tune the resistance by controlling how much air gets to the fan.
The ERG500 also comes with an assembled weight of 79 lb and a 300 lb weight limit, both of which are respectable in this price range.
The seat sits about 15″ off the floor, so just a little higher than normal.
The console on this rower is more advanced than most as well, allowing folks to track all their metrics as well as participate with countdown style workouts.
What really sets this rower apart from the pack though, is the warranty – XTERRA backs the ERG500 with a 5 year frame, 2 year parts, and 90 day labor guarantee.
The biggest downside is that according to XTERRA, this rower is best suited for folks 6'1″ or shorter, so taller individuals might not fit.
But if you do fit the requirements, it's going to be hard to find a better air rower in this price range.
Full disclosure, the ERG500 doesn't always cost under $500 – the full retail price on XTERRA's site is over this limit, but it's usually under $500 on Amazon.

#3 The Stamina ATS Air Rower
Stamina's ATS is another highly popular air rowing machine that's priced to move.
This rower is a little lighter-duty and a little more basic than the rowers already mentioned, but if you're just looking for a no-BS rower that's easy to use, it might do the trick.
The ATS is a simple air rower that doesn't come with a damper, so all you have to do is sit down and start rowing.
This model only has a weight limit of 250 lb and an assembled weight of around 54 lb, so it's not a good choice for larger folks.
The console isn't nearly as advanced as the ones found on the Obsidian Surge or ERG500 either. Instead, it's just a simple LCD device that displays time and a few simple metrics.
But this lighter-weight rower is easy to move and can fold in half for storage when not in use.
Stamina also offers a fairly generous warranty on this machine: 3 year frame, 90 day parts.
Overall, if you're of smaller stature and looking for a straightforward air rower, Stamina's ATS is one of the better options around.
And with a sales price of around $300, it's no wonder it tends to sell out. See full review.

#4 The ECHANFIT Magnetic Rowing Machine
I've never heard of the ECHANFIT brand before, but I'm guessing it's a Chinese based company – there's a lot of these popping up these days.
Regardless, when you check out this rowers stats, it's hard to deny it's got a lot going on for such an affordable model.
As the generic name indicates, this is a magnetic rower, which has the benefit of offering a quiet, consistent resistance regardless of how fast/hard you row.
The ECHANFIT comes with 16 resistance levels, offering 2x as many as most magnetic rowers in this price range.
And even though the rower itself is lightweight (only weighs about 57 lb), it comes with an impressive weight limit of 350 lb.
This rower also folds up for easy storage, something that may come in handy for homes with limited workout space.
The console on the ECHANFIT rower is a little larger than many in this price range, but it still only tracks the most basic workout stats.
It does come with a tablet holder though, allowing you to follow along with streaming workouts if you so choose.
This affordable rower is also backed by a 1 year parts warranty, as well as a 30-day money back guarantee, all of which is pretty decent for a rower in this price range.
Speaking of price, the ECHANFIT rowing machine is going for around $300 at the time of writing this, making it one of the most affordable models on this list.
Overall, it's easy to see why this rower is rapidly becoming one of the most popular budget machines around.

#5 The JOROTO Magnetic Rowing Machine
I first came across the JOROTO brand when researching affordable indoor cycles and I was impressed by what their bike had to offer – heavy flywheel, magnetic resistance, great price.
JOROTO is another Chinese based brand that specializes in really affordable fitness equipment, including cycles, rowers, and treadmills.
As its name implies, the JOROTO rower is a magnetic machine, utilizing a 4.4 lb flywheel to create a smooth, quiet feel (I didn't mention flywheel weights above, but many cheaper rowers come with flywheels in the 2-4 lb range).
This model comes with 10 resistance levels to work with, giving you a fair amount of control over the intensity of each workout.
And even though this too is a lightweight rower (assembled weight 53 lb), it comes with an impressive 300 lb weight capacity.
The console on this rower is pretty typical for the price range and really only displays time and a few simple metrics, but it does offer a tablet holder for those who would rather watch Netflix or access other fitness apps.
The JOROTO also folds away for easy storage.
This model also comes with a standard, 12 month parts warranty, so nothing too special there.
Overall, the JOROTO is a sharp looking, straightforward magnetic rower that's priced to move.

#6 The Sunny Health & Fitness Magnetic Rowing Machine (SF-RW5515)
Rounding out my list is another SHF rower that's become so popular on Amazon it's kinda hard to ignore.
This is another magnetic rower that's very similar to all the other magnetic models mentioned above, but with a sales price well under $300, the SF-RW5515 is one of the most affordable machines out there.
This model comes with 8 magnetic resistance levels that are adjusted via a turn dial in the center of frame.
Speaking of the frame, this rower is quite lightweight, weighing only about 60 lb assembled.
It also comes with a lower weight limit of only 250 lb, making it best suited for smaller users.
The console, as expected for this price range, is very simple and only displays time, calories, and stroke count, but at least it's easy to use.
This rower does fold, so it should work well for homes with smaller workout areas too.
And this being SHF, it also comes with their 3 year frame warranty and 180 days parts guarantee.
Overall, this is another straightforward magnetic rower that takes it really easy on the wallet, but unlike some of the other machines mentioned above, this rower is rocking an average user rating above 4/5 (with over 15,000 reviews).
Impressive.

Final Thoughts
If nothing else, I hope this guide shows that you can get a legit rower for $500, and for much less in some cases.
When thinking about these affordable rowers, I'd start off by considering which kind of rower you want (air, magnetic, etc) because this will instantly help narrow down your search.
Then I'd compare the performance specs we discussed at the beginning to help find the most fit.
There are a lot of magnetic rowers in this price range and a lot of them look very similar and come with almost identical specs.
In these cases, it's not bad practice to go by the user reviews.
There aren't quite as many water and an air rowers in this price range, but we are seeing a lot more affordable water rowers enter the market.
Overall though, there are a ton of decent rowers in this price range.
I hope you enjoyed this guide and as always, if you have any questions or comments, leave 'em below and I'll get right back to ya.