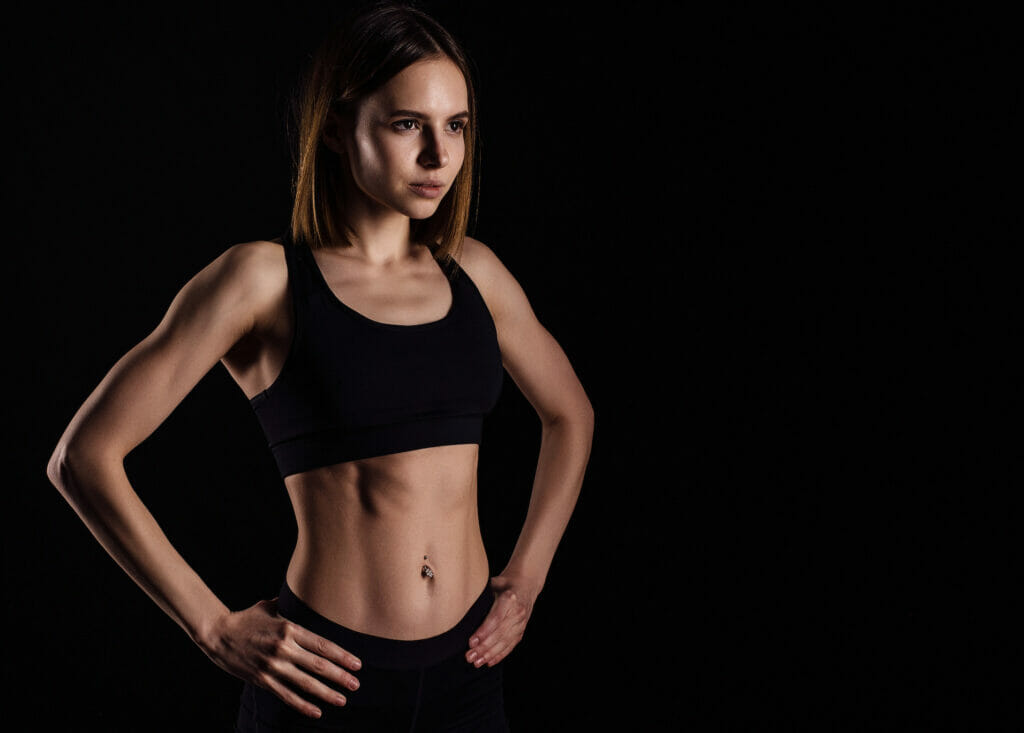 Teeter's Power10 Elliptical Rower offers an interesting take on the traditional home rowing machines we all know and love.
For starters, this is the only rowing machine I've ever seen that uses an elliptical-like movement pattern (hence the name).
This movement pattern has a few advantages, most notably giving you the ability to push or pull the handles during your workouts.
This alone is a game changer for rowers because it instantly gives you the ability to work all your "pushing" muscles (like your pecs and triceps) as well- something traditional rowers can't offer.
The Power10 is also significantly more compact than most traditional rowers, allowing it to fit comfortably in smaller spaces.
Overall, if you're looking for a compact cardio machine that offers a fresh taking on rowing, the Power10 could be a good fit- but it's got its fair share of drawbacks too.
So, before you decide, it's a good idea to read this review in full.
In this article, I'll go over everything the Teeter Power10 has to offer, including all the benefits and drawbacks you should expect.
After reading, you'll know whether or not this is the right fitness machine for your home gym.
The Teeter Power10 Elliptical Rower
If you're not familiar with the Teeter brand, you probably aren't alone- they certainly don't have the name recognition as some of the other more well-known home fitness brands.
Teeter is actually a family run business that started out by providing quality inversion tables to help people suffering from back pain.
As a therapist, I can appreciate this- I see a lot of folks suffering with bad backs and I understand how debilitating it can really be.
Anyway, Teeter started out with inversion tables and they've gradually branched out to offer a handful or so of cardio and strength training machines.
Their FreeStep LT1 Recumbent Cross Trainer has become especially popular, allowing folks to exercise comfortably without breaking the budget (I actually think its the best recumbent trainer for home use around).
The Power10 could be classified as both a cardio machine and a strength training machine because you can get both benefits from working out with it.
At the time of writing this, the full retail price of the Power10 is about $1200, but it's usually on sale for around $1000.
Pros
Push or pull against resistance
Full body workout
22.7 lb flywheel
Compact frame
Multi-grip handles
Adjustable seat position
Adjustable handle position
Access to free instructor-led workouts
Chest strap heart rate monitor included
Heavy-duty frame
300 lb weight capacity
Cons
Only 7 resistance levels
Short warranty
Resistance
Let's start this review off by examining the resistance system this unique rower uses. By the way, I'm not quite sure if I'd consider this a rowing machine or not.
It uses a rowing movement pattern, but it's a whole lot different too.
Based on the way it works, it would be most closely related to a hydraulic rower I think, even though the resistance on this machine is completely different.
Hear me out on this.
Like a hydraulic rower, the Power10 comes with a very compact frame (more on that below). Also, like a hydraulic rower, you're pulling fixed handles, instead of a handle attached to cable or chain.
But, unlike a hydraulic rower that uses one or 2 hydraulic pistons to create the resistance, the Power10 uses a weighted flywheel with a magnetic resistance system.
Just like an elliptical.
To be more exact, the Power10 uses a 22.7 lb flywheel, which is actually pretty heavy for an elliptical in this price range.
Heavier flywheels are usually preferred for home bikes and ellipticals (and rowers now) because the extra weight makes for a smoother feel.
This is due to the extra momentum a heavier flywheel creates.
Users seem to agree that the rowing movement on this machine is quite smooth, although some users have noticed that the momentum that builds during use actually helps the handles keep moving, making your job a little easier.
This is to be expected with a heavier flywheel, but it also shows that you shouldn't expect the Power10 to feel like the traditional rowers you might've used in the past.
I think Teeter was smart to call this an "elliptical rower" because it is so different.
Teeter pairs the heavy flywheel with 7 levels of magnetic resistance.
The resistance is adjusted from a dial that's attached to the left handle, making it pretty convenient to change resistance settings during workouts.
It would be nice to see more resistance levels from a machine in this price range though- 7 isn't that many.
Having more levels at your disposal is a good thing because it allows you to make smaller adjustments, thus fine tuning your intensity level.
Most users agree that the resistance is adequate for beginners to moderate fitness levels, but it might not be difficult enough to challenge more elite athletes.
Especially those trying to gain strength.
This makes sense- I wouldn't expect a cardio machine in this price range to be best suited for challenging a gifted athlete.
If you watch the video, you'll notice the circular pattern the seat goes through during a workout. This too is different than the completely linear movement you experience on a typical rower.
I think the circular pattern is a good thing though because it's going to active your core more.
Since there isn't a backrest, your core muscles are going to have to stay encaged to help keep you upright and balance on that seat as its moving.
And the circular pattern is going to make that more difficult, thus forcing your core to kick in more (which is a good thing).
And as I've already mentioned, you can pull or push the handles with the Power10.
This is because of that elliptical style design with the flywheel.
Not only does this allow you to work your pusher muscles too, but it also means you can switch between pushing and pulling as you please, making for a full upper body workout.
Your legs and core are working too, by the way, so the Power10 really provides a full body workout.
Overall, I like that this machine is packing such a heavy flywheel, but I wish it came with more resistance levels to work with. I love the design though, which allows you to push and pull against resistance.
Frame
I've mentioned already that the Power10 is a pretty compact machine, meaning it doesn't take up a lot of floor space, but let's be a little more exact.
This rower takes up a floor space of 62.75″ x 37.5″.
The Power10 is actually about a foot wider than most full size rowers, but it's about 30″ shorter.
You can also store this rower vertically if you like, which is a nice feature.
But even though it's compact, it's still comes with a 300 lb weight capacity, allowing it to safely hold most folks.
And, according to Teeter, the Power10 can comfortably fit people between 4'8″ – 7′ tall, but I'd take that with a grain of salt.
Especially considering some users have mentioned that they weren't able to fully extend during the rowing movement (and they were only 6'1″).
The Power10 weighs 180 lb fully assembled, making it a fairly heavy-duty machine. With fitness equipment like this, heavier is better, because the extra weight will make for a more stable product.
Heavier machines are less likely to rock or wobble during use.
So, you shouldn't have to worry about the Power10 feeling flimsy- most users agree it feels stable during workouts.
Overall, the Power10 scores pretty highly in this department. The smaller footprint is nice for smaller homes and I like that it comes with a generous weight capacity.
Features
The Teeter Power10 Elliptical Rower comes with the following features:
Multi-grip handles- you can choose between several different handle position to optimize comfort, as well as target different muscle groups when pushing or pulling.
LCD monitor- the monitor displays your time, strokes/min rate, total strokes, distance, calories burned, and pulse. You can set the timer to count up or set a time goal and have it count down. There are also quick set time buttons (2, 5, or 10 min) and a mode button that allows you to set a time, distance, or calorie goal.
Chest strap heart rate monitor- the monitor is compatible with Polar heart rate monitors and Teeter even includes a chest strap with purchase, allowing you to monitor your heart rate from day one.
Adjustable seat- you can choose between 12 seat positions to find a comfortable fit based on your height.
Adjustable handles- you can also choose between 3 different handle positions, to increase or decrease the depth of your movement.
TeeterMove App- you can access Teeter's free app for access to instructor-led workouts on the Power10. There's also a built-in phone holder, allowing you to follow along with the app if you so choose.
Assembly
Teeter does a great job of making the assembly process for this machine as painless as possible.
Their assembly manual is great- they provide a large images that make it easy to see where all the hardware goes, as well as clearly written instructions for each step.
I also like that there isn't too much going on in each step, making it a lot easier to follow along with.
You can even get your hands on 3-D instructions through your phone with the free BILT app- it's pretty cool.
Overall, the assembly process for the Power10 should be pretty easy for most folks. All the necessary tools are included and the instructions are really easy to follow.
I'd even go as far as saying that Teeter offers one of the best assembly manuals I've ever come across.
Warranty
Teeter backs their Power10 Elliptical Rower with the following warranty:
90 day base (including all moving parts inside the drive mechanism)
1 year everything else
There's really no getting around the fact that this is a pretty awful warranty for a fitness machine in this price range.
Other high quality rowers in this price range offer lifetime frame guarantees and parts warranties in the 2-3 year range.
Teeter's 90 day parts guarantee is really short.
If you ask me, the short warranty the Power10 comes with is its biggest drawback.
Teeter does offer a 60 day money back guarantee though, which is very nice. This allows you to try it out for 2 months to see if you like it.
Final Thoughts
Ok, that's about all I got when it comes to the Power10 Elliptical Rower.
I think this machine has a lot to offer, especially for folks who are looking for something a little different.
I really like the fact that you can push with the Power10, because it allows you to work a whole new set of muscles that usually can't be worked with traditional rowers.
I also like that you can adjust the seat position and the handle position to customize your fit.
And I was pleasantly surprised to find that this rower is packing a 22 lb flywheel.
The biggest downside I see is the really short warranty.
But Teeter is a trusted brand and the frame is pretty heavy-duty, which are definite pluses.
Overall, I think the Power10 is a unique fitness machine that's capable of providing a pretty solid workout. If you're in the market for something different, it's worth checking out.