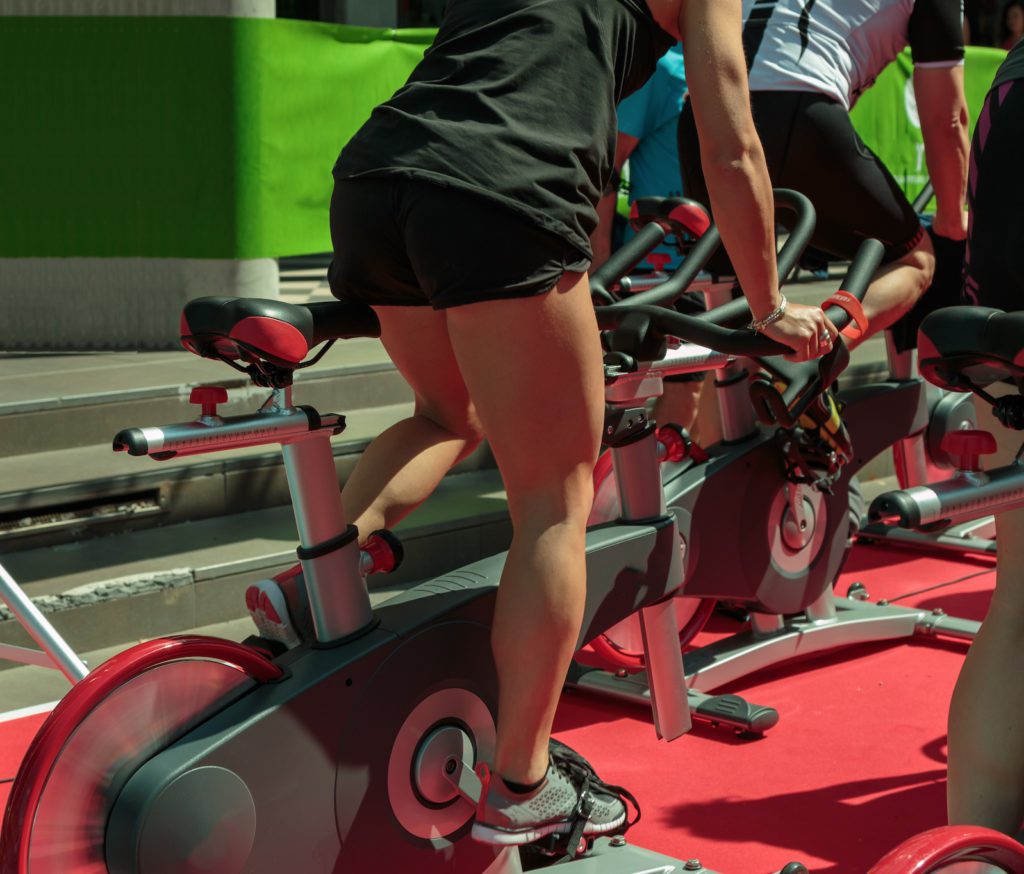 The ASUNA 6100 Sprinter Commercial Indoor Cycling Trainer is one of Sunny Health & Fitness's commercial grade spin bikes. And yes, this is the same Sunny we all know and love for their high-quality, affordable fitness equipment.
At just over $1000, the ASUNA 6100 falls into that mid-range price point, where it's more expensive than the budget cycles, but still not as luxuriously priced as the highest-end options.
But it is definitely one of Sunny's most expensive machines, no doubt about that.
For the price, the 6100 has a lot going for it. This bike comes with a heavy, 37 lb flywheel, a micro-adjustable magnetic resistance system, and fully adjustable handlebars and seat.
That's all fine and good, but the real question is whether or not it's worth investing in- and that's what this review is here to help you answer.
In this article, we'll take a close look at everything the ASUNA 6100 does and doesn't have going for it. After reading, you'll know everything you need to in order to make the right call.
The Sunny Health & Fitness ASUNA 6100 Sprinter Commercial Indoor Cycling Bike
Before getting into the meat of the matter, let's have a quick background check of the  ASUNA 6100's manufacturer.
Sunny Health & Fitness (SHF) is one of the more popular names in the fitness industry. They've been producing and distributing quality, yet affordable machines for over 15 years.
Their products are manufactured in Taiwan and China, allowing them to market their goods at more comfortable prices.
Sunny has pretty much everything you need to build a commercial gym or a home gym. Treadmills, rowers, bikes, ellipticals – you name it, they have it. They also offer other exercise accessories like dumbbells.
Budget-friendly machines are their specialty. Most of us would hesitate to buy cheap fitness equipment because, well, speaking honestly, they're often junk.
But you can usually expect a little more from SHF. 
In fact, their SF-B1001 spin bike has made it to our list of the best exercise bikes under $200. Well, their products are always on the "best of" lists for the budget-price ranges.
Their ASUNA collection is their take on commercial grade equipment. They have a handful of spin bikes and treadmills in their ASUNA lineup, which are supposed to be their highest-end collection of equipment.
The 6100 comes with a full retail price of just over $1000, which is a bit pricey for a home spin cycle (though still a lot less than bikes like the Peloton).
Whether or not it's better to pay a little less for a budget bike or to save up a little more for a nicer machine is a tough call. In this review we'll try to help ya answer it, but first let's get to know this bike. 
Pros
37 lb flywheel

Micro-adjustable magnetic resistance

Bi-directional pedaling system

Heavy-duty frame

4-way adjustable seat and handlebars

Multi-grip handlebars

Large monitor display

Tablet holder

Water bottle holder

Wireless heart receiver (chest strap included)

Pedals with SPD cleats

350 lb max user weight capacity
Cons
No way to track resistance setting

Standard warranty
Flywheel
In exercise bikes, the quality of your workout will depend on the resistance you're getting as you pedal. Of course, higher resistance yields better performance and more calorie-torching activities. 
Resistance is achieved by spinning the flywheel (that big round disc at the rear of this bike) as you pedal. That's why I like to prioritize the flywheel as I review exercise bikes as they dictate whether you'll get a nice workout to achieve your fitness goals or not.
Flywheels come in different weights. The heavier the better for a smoother and more fluid operation. For home use, a flywheel of 20 lb is usually enough to give you a satisfying workout.
The 6100 comes with a 37 lb solid flywheel, which is heavier than a lot of the competition. 
Heavy flywheels also help in keeping a machine more stable (that no matter how crazy you pedal, it remains still).
It's a spin bike after all, so it's meant for higher intensity cardio workouts. With a flywheel this heavy, you shouldn't have any issues in the smoothness department either.
It's bi-directional, meaning it allows reverse pedaling. And since the flywheel is located on the rear, you won't worry about sweat dripping onto that flywheel, unlike in front-mounted flywheel machines.
On top of its heavy flywheel, the 6100 has a micro-adjustable magnetic resistance system. 
Micro-adjustable systems are great- each time you turn the resistance dial, you get more or less resistance based on how much you turn it.
The problem with the ASUNA 6100 is that it doesn't have any way of telling you which level you're on, which makes it difficult to reproduce workout intensities.
There's a monitor on this bike, but the monitor doesn't display a resistance setting (which I personally think is this bike's biggest flaw).
For a bike in this price range, I'd expect the monitor to display the resistance level, especially if you're going the extra effort to include the awesome micro-adjustable system.
FYI- there are several comparable spin cycles out there that do just this, making them great Peloton alternatives.
On the plus side, this bike is powered by a heavy-duty belt that's resistant to stretching. Contrary to a chain drive, a belt drive doesn't need lubrication and it makes less noise.
Folks who've tried the 6100 are satisfied with its performance. It's sturdy and challenging. It provides quick, easy, and reliable changes to the resistance level. It operates similarly to riding outdoors.
Overall, I like that the 6100 has a heavy flywheel and operates quietly and smoothly with the belt drive. I just wish they had included a way to track what resistance you're on.
Seat and Handlebars
I'd like to stress the importance of ergonomics in exercise equipment. When you have the correct seating adjustment or position, you can have a more comfortable ride without risking falls or injuries later on. 
As I've said earlier, the 6100 has great ergonomics to make you super comfortable with every ride. In fact, it has a better seat and handlebars than other bikes in the higher-end tier.
The saddle has a standard size of 6.5″ wide and 10.5″ long. Its rear part integrates approx. 2.5″ of foam padding to improve comfort. It has a longitudinal groove for improved airflow.
It has met the basics of an ergonomic seat. But like any other bike saddles, it's not really as comfortable and plushy as sitting in couches. If you're new to spinning, don't worry, you'll get used to it after several uses.
Nevertheless, the seats and handlebars are 4-way adjustable. I like the versatility of the 6100's seat and handlebars. You can move it up and down as well as horizontally (fore/ aft).
For its saddle, the upright post can be adjusted to 22 different positions, with the distance between them being approx. 1/2″. The horizontal slider also provides several inches of front to back adjustment. 
Hence, the 6100 can accommodate users with an inseam between 28″ and 42″.
The handlebar has an upright post with 15 adjustment positions. The horizontal slider offers several inches of fore-aft adjustments as well.
It's multi-grip. It's perfect for aero, cross, bull-horn, drop-down, and more. It's covered with rubber foam for better grip, sweat absorption, and general hand comfort. 
Many users like how the 6100 comes with a dropped handle. It allows them to exercise in the racing back horizontal position. They find this spinning position more comfortable.
Both seat and handlebar posts are made of high-grade aluminum. Compared to steel posts, these are stronger and lighter. Thus, adjusting them should be a breeze. 
Overall, the 6100 has good ergonomics so you can find your perfect fit. Short and tall members of your family can cycle naturally and comfortably with the 6100. It's very convenient and avoids straining your muscles when exercising for long periods of time.
Frame
The 6100 has a commercial-grade frame featuring a heavy-duty construction. It comes with an impressive weight capacity of 350 lb. 
Most parts are made of steel tubing. The seat and handlebar posts are from high-grade aluminum. Only the belt and crank covers are made in plastic. 
It has the flywheel in the back that offers exceptional stability. Together with the rubberized stabilizers on its base, the 6100 won't wobble or rock even during intense sprinting (and that's backed by most users). 
The rear flywheel design makes it a low-maintenance unit, as you won't have to keep the drive mechanism free from sweat.
There's also a metal guard around the flywheel. It keeps kids safe whenever they feel extremely curious about the spinning wheel.
With the frame fully assembled, the 6100 measures 58.5″ L X 22″ W X 53.5″ H. It's fairly larger than other bikes. I'd recommend you keep a clearance of at least 2 feet around the unit, just so you can perform any of your sprinting routines safely.
The 6100 is also heavy at 105 lb. But transporting the unit from one place to another is easy because of its 2 large silicone wheels.
Overall, the 6100 has a durable, rust-resistant finish frame. It's rock-solid and can readily support you even when you're sprinting like crazy.
Features
Monitor: All Sunny spin bikes don't have a monitor, except for the 6100. It's not back-lit and certainly not as fancy as those hi-tech units. But the monitor does its job well by displaying your important workout stats like time, speed, distance, calories burned, RMP/Cadence, pulse, and scan. 
Wireless pulse receiver: The 6100 is telemetric, meaning it can read and retrieve your heart rate wirelessly. This technology is very convenient compared to other units that offer only grip pulse monitoring (wherein you need to grip the sensors located on the handles for it to read your heart rate). 
The Fitness Trackers in this bike can provide accurate progress of your strokes, heart rate, and pulse recovery. A chest strap is also included (ANT+). It adjusts to any chest size and is comfortable to wear.
Pedals: This bike has one of the best Q-Factors in the market. In case you're wondering, the Q-Factor is the distance between the pedals. Less gap/distance between the pedals is ideal to provide better knee, hip, and foot alignment for users.
The 6100 has a 176 mm Q-Factor and is biomechanically correct. 
The pedals are dual-sided with SPD cleats. This means you can personalize it according to how you want to bike. You can exercise with regular shoes or proper cycling shoes.
The foot cage is also great to give you a maximum level of comfort and security. It prevents slippage and improves your performance.
Tablet holder: It's placed behind and above the fitness meter, which was a good thing because it won't block the view of your progress metrics. It's large enough to fit magazines, tablets, phones, and other devices to keep you entertained at every ride.
Water bottle holder: The compartment is located in the handlebar assembly. It's large enough to fit most types of hydration bottles.
Assembly
Most parts of the 6100 come pre-assembled, like the main body, flywheel, resistance elements, and the seat (a nice touch). You just have to attach the handlebar post, console, tablet holder, pedals, and base bars.
Everything you need is included in the package. There's a manual that provides clear assembly instructions and schematics and the images are actually big enough to see clearly. 
The assembly should take more or less around 30 minutes. Since the 6100 is quite heavy, it's ideal to ask someone to help you, especially during the unpacking and piecing together some parts.
Warranty
The SHF ASUNA 6100 Sprinter Commercial Indoor Cycling Trainer comes with the following warranty:
5 year frame
180 days parts
Sunny isn't known for being the best warranty providers in the market and their ASUNA 6100 is no exception. Although to be fair, Peloton only offers 5 years on their frame and it costs over 2x as much.
I'm actually ok with the frame warranty, but 6 months on parts is pretty short. For a bike that's coming with a $1000 price tag, I'd expect at least a year on parts.
Overall, this warranty isn't embarrassing, but it could be better.
Final Thoughts
Is it me, or do SHF products come with the worst names? I mean seriously, typing the name of this bike is painful.
Jokes aside, Sunny's ASUNA 6100 is a nice cycle with a lot to offer. It's well-built with a heavy-duty frame and massive flywheel and it's fully adjustable everywhere it should be.
I also like that they put the flywheel in the rear of the frame- it looks cool and does work nicely to keep the flywheel cleaner during workouts.
My only real problem is that you can't track the resistance setting, which is going to be a problem if you plan on streaming workouts (which is increasingly popular these days).
I know a lot of classic spin bikes don't let you track the resistance, but with technology now and for this price, why not?
If you want a micro-adjustable magnetic resistance system that CAN track your resistance settings, I'd recommend checking out Schwinn's IC4 or Bowflex's C6– both of which come with dumbbells and a better warranty.
Overall, I like SHF and I think the ASUNA 6100 is a nice spin bike, but for the price, I do think there are better options.