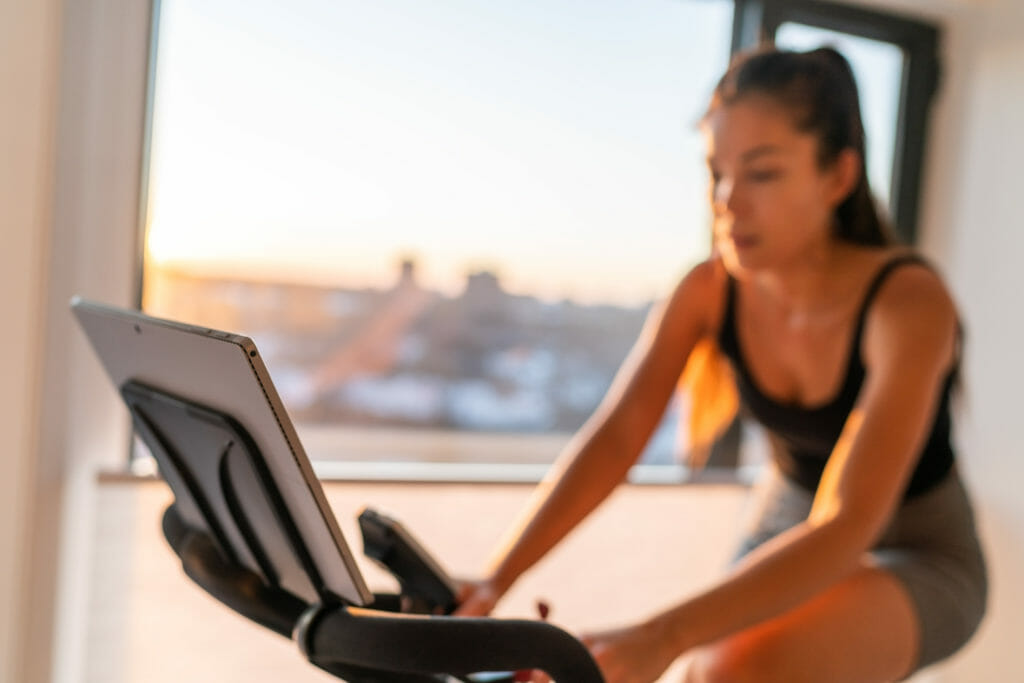 If you're looking for a more affordable way to join the streaming studio cycle craze, Bowflex's C6 Bike is worth checking out. At under half the price of the Peloton, the C6 offers a lot of the same high-end finishes at a fraction of the cost.
And with a design that allows you to access multiple fitness apps (including Peloton digital), you can still take advantage of unlimited on-demand classes.
Highlights of this spin bike include a 40 lb flywheel, 100 micro-adjustable resistance levels, a fully adjustable seat, and a great warranty.
Overall, I think Bowflex has a real winner here- the C6 is easily one of the best Peloton alternatives currently on the market.
But you shouldn't just take my word for it- it's important to do your own homework.  And this review is here to help.
In this article, we'll take an in-depth look at everything Bowflex's C6 does and doesn't have going for it. After reading, you'll know everything you need to in order to determine whether or not this is the right spin bike for your home gym.
The Bowflex C6 Bike
Bowflex has been an innovative leader in home fitness ever since they introduced their home gyms to the masses back in the '80's.
Their power rod technology changed the way many people thought about resistance training and to this day they continue to lead the race in home fitness innovation.
More recently, their Max Trainers and TreadClimbers have gotten a lot of attention for providing fitness enthusiasts new and exciting forms of cardio training.
But when it comes to the good ol' fashioned basics, Bowflex still knows how to deliver. Their treadmills and ellipticals can stand toe to toe with any home fitness brand around.
Their C6 is currently the only traditional spin bike they offer – it looks like Bowflex wanted to throw their hat in the on-demand streaming race that's been going on for the last few years
And I say "traditional", because they also have their VeloCore Bike, which is takes your average spin bike and adds an exciting twist.
Even though there's a lot of competition in this field (with names like Peloton, Echelon, and NordicTrack leading the the way), I have a feeling Bowflex will do just fine.
After all, there's always room for a company that produces durable equipment that's backed by generous warranties.
Pros
40 lb flywheel
100 levels of magnetic resistance
Fully adjustable seat
Fully adjustable handlebars
Heavy-duty frame
330 lb max weight capacity
Dual compatible pedals
LCD console included
Bluetooth heart rate monitor included
Compatible with many fitness apps
Great warranty
Well priced
Cons
Flywheel
I like to start all my spin bike reviews with a discussion on the flywheel. To make sure we're all talking about the same thing here, the flywheel is the big wheel (often found in the front, but can also be in the back) that spins when you pedal.
The flywheel is arguably the most important part of a spin bike because it's responsible for creating the resistance during your workouts.
Although opinions vary, it's generally believed that heavier flywheels are better for home spin bikes because the extra weight builds more momentum as it rotates.
This extra momentum results in a smoother ride because the wheel helps keep the pedals rotating between pedal strokes, reducing any unwanted lag.
Heavier flywheels also take more energy to get moving from a dead start, which mimics the feel of riding a bike outside.
Flywheels seem to be getting and heavier and heavier these days and even budget friendly spin bikes are starting to come with really heavy flywheels.
The C6 doesn't skimp at all in the flywheel department- quite the contrary. With a 40 lb flywheel, this spin bike is well-equipped to provide a smooth and substantial ride.
This bike also utilities a magnetic resistance system, which allows users to experience a nearly silent workout.
Unlike bikes that use felt pads, magnetic resistance require no direct contact, which makes for a quieter and smoother feel (plus there's no need to replace anything).
Something that sets the C6 apart from many of the other Peloton alternatives, is the fact that this bike comes with 100 levels of micro-adjustable resistance.
This is the same resistance set up Peloton uses and it works great because you essentially have 100 different resistance levels at your disposal.
You can make small, gradual changes in your resistance as well as larger, more drastic changes by simply turning the knob.
As a happy Peloton owner, I love the micro-adjustments. Not only does it give you a lot of play over the intensity of your workouts, but it makes it really easy to gauge your progress over time.
And since all the Peloton workouts are designed around this resistance system, it makes the C6 an obvious choice for those planning on using Peloton's Digital App.
Overall, Bowflex's C6 scores very highly with its 40 lb flywheel and 100 levels of magnetic resistance. This bike is designed especially well to pair with Peloton's app.
Seat
Most bike seats (especially spin bike seats) are fairly uncomfortable. They tend to be small, kinda hard, and difficult to sit on for prolonged periods.
Well, the seat on the C6 isn't any different. Most users, especially those not used to spin bikes, found the seat hard and a bit uncomfortable.
This shouldn't be a deal breaker because this is the case with all spin bikes.
The good news is that your bum will get used to it with time. And if it doesn't, you can always fix the issue with a gel seat cover.
The important thing to consider when it comes to the seat isn't how comfortable it is or isn't, but whether or not it's fully adjustable.
The C6 comes with a fully adjustable seat, meaning you can easily adjust both the height and the horizontal (fore/aft) position of it.
Being able to adjust the fore/aft position is good because it gives you more control over customizing your fit (and makes it a lot more likely that you'll find your optimal riding position).
Handlebars
When it comes to handlebars, it's a good idea to check whether they are multi-grip or not and whether or not they're fully adjustable.
Personally, I don't think it's as big a deal for the handlebars to be fully adjustable as it is for the seat, but it's still nice to have that extra layer of customization.
Luckily, the handlebars on the C6 are fully adjustable, so it's not really an issue either way. You can adjust the height and fore/aft position of these handlebars, making it easier to find the perfect fit.
These handlebars are padded and offer multiple grips as well.
Overall, it's nice to see that the handlebars on this bike are fully adjustable. They should be comfortable during use, whether you're sitting for a flat road or standing to climb a hill.
Frame
Frame integrity is important for any piece of home fitness equipment, but it's especially important for a spin bike. Even though pin bikes are some of the smallest fitness machines around, they end up getting put through some of the most intense workouts.
And the last thing you want is for your bike to wobble or feel flimsy while you're trying to stand and climb during a workout.
Product weight and user weight capacity are good specs to consider when trying to determine how stable or well-built a spin bike is.
Heavier is better in both cases.
The C6 comes in with a fully assembled weight of 106 lb and a max weight capacity of 330 lb, both of which are impressive and indicative of a quality build (especially for a sub-$1000 bike).
Spin bikes tend to be on the lighter side, with many weighing in the 90-100 lb range (quality ones anyway). Flywheel weight plays a big part in this of course.
At 106 lb, Bowflex's C6 has substantial weight behind it, allowing it to remain stable during intense use. For comparison's sake, the Peloton Bike weighs about 135 lb (and Sole's SB900 weighs an astonishing 160 lb).
A weight capacity of 330 lb is great, considering many (especially in this price range) top out at 300 lb.
Overall, this bike comes with a heavy-duty frame that should provide a stable base during even the most intense workouts.
Pedals
Most spin bikes come with pedals that are designed to be used with either cycling shoes with cleats or sneakers. Both pedal types have their advantages and disadvantages.
For example, connecting your shoes to the pedals via cleats allows you to pedal faster and more efficiently, however you have to make sure you have the compatible cleats to use with those pedals.
With sneakers, you can wear any pair of shoes you like without worrying about them being compatible.
Some bikes, like the C6, come with dual-compatible pedals that allow you to use cleats or sneakers.
One side of the pedal is designed to be used with SPD compatible cleats. The other contains a toe cage that can be used with any type of sneaker you like.
You can also easily replace the pedals on the C6 with any pair of road pedals you like.
Overall, the C6 scores highly with dual-compatible pedals that work with both cleats and sneakers.
Console
Believe it or not, a lot of spin bikes don't come with a monitor or console. This is a problem if you want to use that spin bike to join on-demand workouts through a fitness app because you need some way to track your workout metrics.
Other bikes, like Echelon, don't come with a console but are designed to pair with a phone or tablet in order to be used with fitness apps.
This also can be problematic because you are dependent on the connection with said tablet for seeing your stats as well as operating the bike.
Bowflex added a small LCD monitor to the C6 that can track basic metrics like cadence, time, calories, speed, etc. The C6 is also bluetooth compatible with fitness apps like Peloton, Zwift, and MyFitnessPal.
Having the small LCD console means you can operate this bike independently from any fitness app (you don't have to use a fitness app to see your metrics and operate the bike; which is my biggest complaint about Echelon btw).
It also gives you the freedom to choose any cycling app you like for access to their workouts.
The C6 doesn't come with any built-in workout programs- it is designed to be used with fitness apps like Peloton.
This bike is compatible with bluetooth heart rate monitors and even includes an armband monitor with purchase.
Warranty
Bowflex backs the C6 Bike with the following warranty:
10 year frame
3 year mechanical/electrical
1 year labor
I think this is a really nice warranty on this bike. 10 years on the frame is pretty awesome given the price (especially considering Peloton only gives us 5 years on the frame).
3 years on parts is also pretty generous and better than expected for this price range. A year on labor is pretty standard operating procedure.
Overall, a great guarantee on this spin bike.
Final Thoughts
Bowflex is a respected fitness brand for good reason- they come out with some of the best products around. Their C6 Bike is no exception.
I really don't have much to criticize here, this bike is a class act from top to bottom.
I love that it comes with a massive 40 lb flywheel and that it utilizes a magnetic resistance system with 100 micro-levels to work with.
It also comes with a fully adjustable seat, fully adjustable handlebars, and dual-compatible pedals. The fact that it comes with a small LCD console is crucial too, because you can still use this bike in the off chance that your tablet or smart phone is malfunctioning.
Bowflex also backs this bike up with a great warranty.
The only negative thing I can say is that the bike seat is uncomfortable- but all bike seats are uncomfortable, so I don't even hold that against it.
Overall, if you're looking for an affordable alternative to the Peloton, Bowflex's C6 is a perfect choice. Just keep in mind that you need to use your own tablet, one isn't included with purchase.