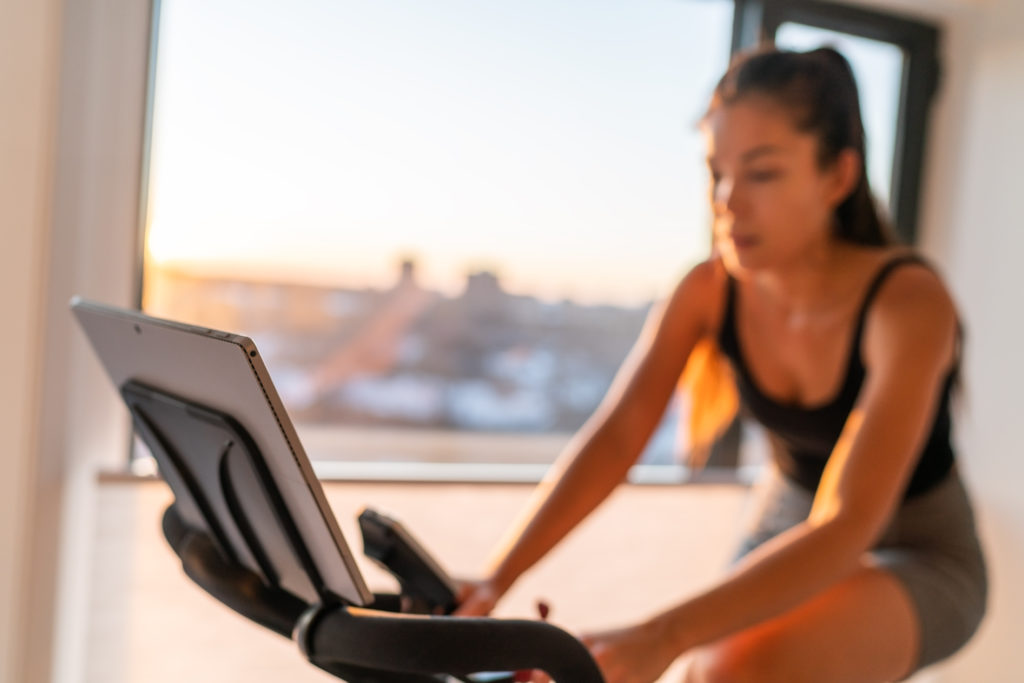 Sunny Health & Fitness' SF-B1709 Magnetic Rear Belt Drive Indoor Cycling Bike is an easy head-turner, both for its distinct look and because of its very long name.
With its sleek, rear-mounted flywheel design and Sunny's budget-friendly pricing, it easy to see why this model has become so popular.
Looks aside, this bike has plenty going for it, including a fully adjustable seat, dual-compatible pedals, and a small performance monitor for tracking your basic workout stats.
But unlike most home spin bikes these days, the SF-B1709 doesn't come with a massive flywheel. Instead, it comes with a much lighter one that weighs in just over 7 lb.
Is the SF-B1709 a smart buy at roughly $600?
That's exactly what this review is going to help you answer. In this article, we'll take a look at everything this budget spin cycle has to offer. After reading, you should know everything you need to in order to make the right call.
The Sunny Health & Fitness SF-B1709 Magnetic Rear Belt Drive Indoor Cycling Bike
Sunny Health & Fitness (SHF) is a popular name in the home fitness world. They're known for their budget-friendly exercise machines, like bikes, treadmills, rowers, and so on.
They also offer fitness accessories like dumbbells and jumping ropes.
They're equally known for their ridiculously long worded names and model numbers that make it hard to discern their bikes from each other (just playing Sunny, you know I love you).
SHF is based in Los Angeles, but their products are made in Asia, particularly in China and Taiwan. It makes sense of how they are able to market affordable and quality machines.
SHF is especially well-known for their exercise bikes. They're one of the best in their respective price categories, they've received awards and commendations from many users and reviewers.
They currently have around 70 products in their exercise bike lineup- talk about variety.
The SF-B1709 Magnetic Rear Belt Drive Indoor Cycling Bike has a monitor so you can track your workout metrics, but it's not as sophisticated as other brands. We'll get into this later on.
It seems like SHF focuses more on machine performance than the bells and whistles. Not that I'm complaining though, as I think this is what should matter in any fitness machine.
But this may not attract hi-tech users, especially when today's competition involves modernized gadgets and so on.
So, going back to SF-B1709. With a sale price of below $700, many people are eyeing this rear mounted flywheel model as a possible alternative to the popular Keiser M3i (which is priced at roughly $2000).
Pros
Rear mounted flywheel

Magnetic resistance

13 resistance levels

Heavy-duty frame

4-way adjustable seat and handlebars

Multi-grip handlebars

Hand pulse sensors

2 front-mounted wheels

Decent monitor 

Water bottle 

Pedals with SPD cleats

300 lb max user weight capacity
Cons
Can't track your resistance level

Monitor not backlit

Short warranty
Flywheel
I'd like to begin with the flywheel, as I see it as the most important factor in an indoor cycle. It directly relates to the overall performance quality of a machine.
Flywheels are that big round disc usually located on the front of a bike. In the case of the SF-B1709, it's placed on the rear-end, which makes it distinct from its competitors. This is also similar to SHF's ASUNA 6100, fyi.
It's a good practice to check the weight of a flywheel and there are generally 2 schools of thought when it comes to flywheel weights.
The first and most common, is that heavier flywheels are better because they create more momentum. This results in smoother and more consistent feel during your workout.
This is true to a certain extent, for exercise bikes that are designed for a heavy flywheel (that is, they're banking on the weight of the flywheel to build the needed momentum, or inertia).
The second school of thought is that lighter flywheels are better because the flywheel can spin faster, which is another way of building that important inertia.
I'd like to mention that the lighter flywheels will only spin faster if the bike is designed to let it do so (which is the case for Keiser's M3i, which also uses a 7 lb flywheel).
If you're a proponent of the school that lighter is better (or that flywheel weight isn't all that important to begin with), then you'll be fine with the SF-B1709's 7.36 lb flywheel.
One more note on flywheel weight- lighter flywheels are easier to start and stop, which is a plus for people with achy joints. Heavier flywheels are a little tougher to start and stop, but tend to mimic the feel of a real road bike a little better.
The SF-B1709 is powered by magnetic resistance, which adds to the entire smoothness and quietness of its operation. 
There's no rubbing noise or wear of the pads as the magnets don't touch the flywheel. It keeps maintenance at a minimum while keeping the noise level down, so you won't disturb folks who are working from home or attending their online classes.
It has 13 different levels of resistance that you can control with a lever. Most users find the available levels enough to give them the variation and setting needed for their exercises.
Also, your resistance level won't be displayed on the monitor. I find it an issue since there's no way to tell or duplicate the resistance setting. It's all about gut instincts when estimating the level.
Overall, the SF-B1709 uses a rear mounted, light flywheel and users seem very pleased with the feel. It would be nice if the monitor displayed your resistance level, but with 13 levels to choose from, this bike should be able to challenge most users effectively.
Seat
The seat is well-padded. Like most exercise bikes, the saddle may be a bit uncomfortable if you're new. But with regular use, you'll get the hang of it.
The seat has 4-way adjustability. It can be adjusted up and down, forward and backward (fore/aft). 
Having these many options can suit a wide range of different body types and sizes. You can find your most comfortable fit and effective positioning for your workouts.
The seat adjustments can cater to those with an inseam ranging from 28″ to 39″ (inseam is the length measuring from the top inside thigh to the sole of the foot).
The SF-B1709 can accommodate users between 5'0″ to 6'3″. They should be able to get a comfortable exercise position where the legs can be slightly bent at full extension. 
You can easily adjust the seat and handlebars as there are markings on the poles. This way, you can quickly return to your preferred setting if you're sharing the bike with other people.
Overall, the SF-B1709 offers good seat ergonomics. It can be used for everyone in the household.
Handlebars
The handlebar is also 4-way adjustable. It's covered to improve grip. Your hands shouldn't blister or slip during your workouts.
It's multi-grip too, which is great. You can enjoy different hand positions, like aero and drop bars, to cater to many riding styles and get the most out of your exercise. 
There are hand pulse sensors on the outside bars. It's conveniently located and won't interfere with your grips. But of course, you need to grip these sensors otherwise they won't work.
Overall, I like that the handlebars are multi-grip and adjustable (some users have complained about their handlebars being off centered, which definitely warrants sending the unit back).
Frame
The SF-B1709 has a steel frame and stabilizer bars that do their jobs well in preventing any rocking or wobbling at any intensity level or speed.
In case you're exercising on an uneven floor, you can adjust the 4 levelers located at the end of the stabilizer bars. They help in bringing balance to your bike, removing any minor unevenness, and keep your workout steady.
The SF-B1709 can support users of up to 300 lb. It's okay as it's standard at this price point. But higher weight limits are still preferred as the machine would be sturdier and allow larger folks to use it.
Users of this bike don't have any issues with the frame integrity. It feels robust and gives them the safety and stability needed to enjoy their workouts.
It's slightly larger than many bikes at 53.2″ L X 23.6″ W X 54.3″ H. With regards to ease of transport, there are 2 large silicone wheels at the front base. You can easily relocate it whenever you're hosting a party or saving space after exercising.
The SF-B1709 is lighter than other indoor bikes too. But that's mostly because of its lighter flywheel. It weighs 89 lb (still more than twice the weight of a regular road bike), and it reflects on the overall stability of this bike.
Overall, the SF-B1709 has a heavy-duty construction. It's sturdy, but it may take a bit of extra space at home with its larger size. 
Pedals
The SF-B1709 comes with dual pedals with toe cages on one side and SPD clip-in on the other. 
This supports users wearing any kind of shoes. You can also progress from athletic shoes to specialist shoes (with SPD cleats) without having to buy and fit pedals.
Clip-in shoes are beneficial as you get a better connection to the bike. You can cycle more effectively, especially when pedaling at faster cadences.
If you're more comfortable using other pedals, you can change them as they come with a standard bike fit. But I don't think you'll come down to it. 
Most people like the pedals of the SF-B1709, and I believe it makes you comfortable getting the cardio exercise you need.
Features
This bike has a console located at the front of the handlebars. It's a basic monitor and it's not backlit. It shows calories, speed, time, distance, cadence (RPM), and pulse rate.
It's convenient to see in good light, but it may be a struggle looking at the stats when the light is dim.
There are buttons for you to set your targets for time, calories, and distance. You can also choose which values you'd want to display. Removing the batteries clears the metrics (except total distance).
Unfortunately, you can't recalibrate the metrics. Many folks think that it's not accurately measuring your workout stats. But what seems a real bummer is how Sunny doesn't take resistance into account.
I like that it comes with a heart rate monitor (the pulse grip sensors at the handlebars). But I'd still prefer a chest heart rate strap or an armband. 
Pulse sensors don't always provide accurate measurements. Some factors could come into play, like too dry or too wet hands or not gripping the sensors hard enough.
There's a water bottle holder, which seems standard for every bike.
Assembly
Most people find assembling this bike to be pretty easy.
The SF-B1709 is mostly put together before it reaches you. There are instructions and tools included to add the remaining parts and accessories, like the seat, handlebars, pedals, post, and console.
The instructions include an exploded diagram and parts list. Folks say that the guide is too small for the naked eye, that you have to squint or use a magnifying glass to see the diagrams.
And I agree, SHF could do a better job with their images, there's a lot going on for each step. But the process itself is pretty straightforward, luckily.
I'd expect to spend 30-45 min getting this bike unpacked and ready to ride.
Warranty
SHF backs the SF-B1709 with the following warranty:
3 year frame
180 day parts
SHF isn't known for their long warranties, really quite the opposite. That said, 3 years on the frame here isn't awful given the price range (and considering bikes like Peloton are only offering 5 years).
I'd like to see at least 1 year on parts though, 180 days is pretty weak.
Overall, not the worst warranty I've ever seen, but definitely room for improvement.
Final Thoughts
I think SHF is currently one of the best providers of budget friendly exercises bikes around. They offer a ton of affordable options and their bikes come in all shapes and sizes.
Their SF-B1709 is a great example of what an affordable rear mounted flywheel spin cycle should look like.
If you're looking for a more affordable version of the Keiser M3i, this bike might just be what you're looking for. The light flywheel provides a smooth, comfortable feel and the fully adjustable seat/handlebars make it very customizable.
The biggest downside I see is that the monitor doesn't display the resistance, but I don't think that's a deal breaker.
Overall, I think the SF-B1709 is a nice bike with a lot to offer at this price point. Recommended.