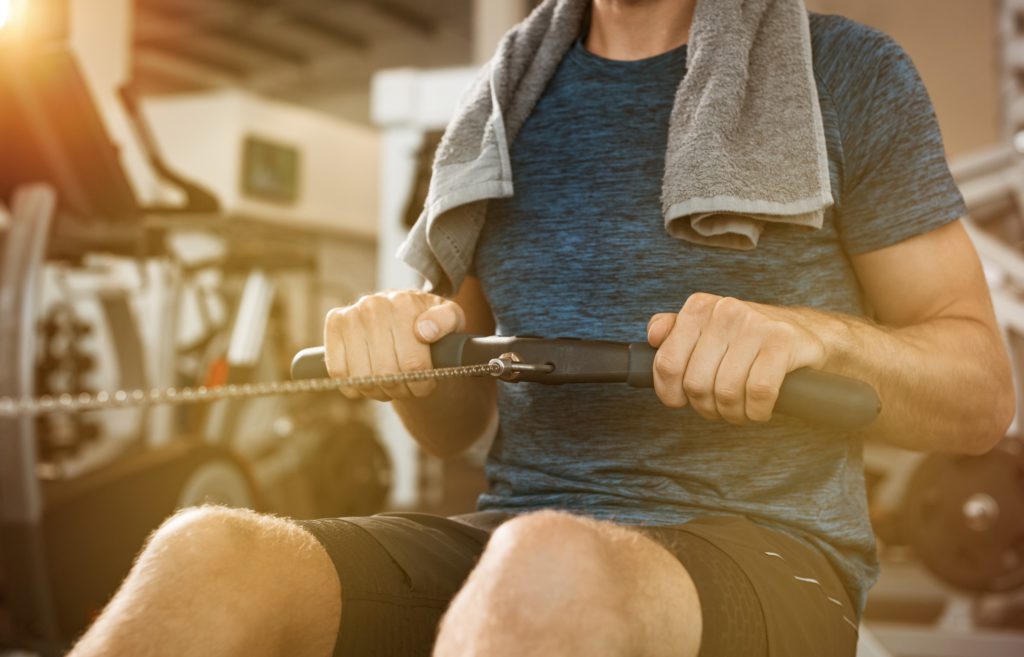 Sunny Health & Fitness's Phantom (SF-RW5910) is a mid-priced rowing machine that sounds more like a super hero than a fitness machine. 
But can it perform at a level we'd expect from a rower with such a cool name?
Yeah, pretty much. 
The Phantom is powered by 16 hydro blades and a 60° angled water tank, giving a resistance that mimics the feel of rowing a real boat and that can challenge even the most talented athletes.
It also has a solid frame and a swivel monitor to keep you on top of all your workout stats.
The Sunny Health & Fitness Phantom Hydro Water Rowing Machine SF-RW5910 (*inserts a dramatic pause to catch my breath*) is currently sold at about $600, which actually makes it pretty affordable when it comes to water rowers.
To cut to the chase: if you're in the market for an affordable water rower, the Phantom is a great choice. But before you decide, it's important to get all the facts.
And that's where I come in.
In this review, I'll tell you everything you need to know about the Phantom rower. 
After reading, you should be able to determine if Sunny's villain-named rower is the right choice for your home gym. 
Let's start.
The Sunny Health & Fitness Phantom Hydro Water Rowing Machine (SF-RW5910)
Whoever named this rower is a genius.
There's a nice ring to it like it's meant to give you some super-human performance. In fact, just hearing its name automatically sets high expectations.
But saying it out loud can be a real tongue-twister. Also, for the sake of my fingers, I'll just use "Phantom" when referring to this hydro machine.
The Phantom is crafted by the famous Sunny Health & Fitness (SHF). They specialize in creating budget-friendly exercise machines, offering a little bit of everything related to home fitness.
Most of their products are priced below $500. Their SF-RW1205 rower is probably the cheapest for under $100. 
As for their rower lineups, they have air, magnetic, hydraulic, and water models. Sunny's magnetic rowers are named almost the same with the entire gang that it can be confusing to know which is which.
The trick is to look at the model numbers so you can easily tell them apart.
Their water rowers have cool names (and are easier to remember), Obsidian Surge and Phantom. The Obsidian is more affordable at around $400.
Pros
16 hydro blades

60-degree tank angle

7 water levels

Compact design

Foldable frame

Transport wheels

Large screen

Swiveling monitor

11 pre-set programs

2-way adjustable footrests

Non-slip, well-cushioned handles

Tablet holder

Water bottle holder

300 lb user weight capacity
Cons
Chest strap not included

Standard warranties 
Resistance
The tank at the front holds water that provides the resistance for the hydro blades whenever you pull the handle. Your resistance is the result of these hydro blades pushing through the water.
The same is also true with rowing on boats. You get resistance from rowing the oar against the water. That's why water rowing machines are the closest you can get to rowing on boats.
The harder you pull, the more resistance is created. If you want a very challenging routine, pull harder and you'll get more resistance for your workouts.
Due to this, water rowing machines offer unlimited resistance . You can also adjust the overall resistance by adjusting the water level in the tank.
The Phantom has 7 different water fill levels. 1st level gives the least resistance and the 7th offers the most. Adding or removing the water seems easy enough, but you obviously need to decide which level suits you for a whole workout.
Luckily, it's not that tough to adjust the water in the tank. I'd start with a lower level, try it out, and then add more water as needed.
Users of the Phantom are generally quite pleased with its smooth and fluid performance. The experience seems almost the same as rowing on boats, just without having to go off on lakes.
FYI- water rowers aren't really that quiet. Unlike magnetic rowing machines, water rowers create noise as the blades move through the water.
You'll get some "swishing" or "sloshing" sounds from the tank, but most people find it rather soothing to listen to (again, it mimics the feel of being on the water).
But if you're worried about noise levels, a water rower probably isn't the right choice for ya.
Overall, the Phantom offers powerful performance with its 7 water levels to work against. And being a water rower, the harder you pull, the more resistance you get, allowing this machine to keep newbies, pro athletes, and even Superman busy.
Frame
The Phantom has a sleek, steel frame design. It can safely hold users of up to 300 lb.
Higher weight capacities directly relate to the sturdiness of the unit- makes sense, stronger frames should be able to hold heavier people. 
That's why I always recommend considering the weight capacity when comparing fitness machines. All other things equal, I'd go with the model with the heavier weight capacity.
The Phantom's 300 lb limit is pretty average for this price range. It's high enough to hold most users safely and it's also high enough to indicate a solid frame.
This rowing machine has the following dimensions: 81.5" L x 21.25" W x 39.5" H.
At only 81.5″ long, this machine is pretty compact when compared to other full size rowers. If you're worried about floor space, you might like that the frame can easily fold up for storage after your workouts.
You can also move this rower fairly easily with the built-in transport wheels.
Overall, the Phantom has a solid frame. Plus, its space-saving benefits could be a hallelujah to those living in tiny apartments or cramped spaces.
Seat & Handles
The Phantom's seat is reasonably comfortable. It's an oversized padded seat with dimensions of 11.5″ L x 14″ W x 2.5″ H, offering great ergonomics to reduce tailbone pressure.
It's not too low, so most people should be able to easily get on and off the rower with no problem at all. 
The Phantom has a 42″ slide rail length and 40.5″ slide rail inseam. These sizes are suitable for users of up to more or less 6'2″. 
It comes with large foot pedals that can be adjusted in 2 ways (length and width) so you can find your perfect fit. The velcro straps also make sure your feet stay safe and secure all the time.
The sweat-resistant handles are well-cushioned and are comfortable for your hands.
Overall, the Phantom has good ergonomics, making it pretty comfortable to use for most users. 
Monitor
The Phantom has a large LCD screen. It comes with 6 control buttons on either side with clear labels to know which function is which. 
The monitor swivels for your convenience. It also makes its display like workout time, time over 500 m, strokes-per-minute, distance in meters, total strokes, calories burned, and your pulse rate easy to read.
Note that the Phantom has 11 onboard programs, allowing you to set your targets for your distance, time rowed, number of strokes, or pulse rate. Whenever you hit your goal or quota, the monitor beeps to indicate your success.
If you're the competitive type, you'll like the race program. It sets a target time for a distance you'd want to row. This can also be a nice practice program if you're into rowing sports.
After finishing your workout, you press the "recovery" button to start the countdown from 60 seconds before displaying your heart rate before and after the program. This way, you can rate your fitness based on your heart rate recovery.
The monitor needs 2 x AA batteries to work. You won't get real-time, online workouts using the Phantom's LCD screen, but there's a dedicated tablet holder for you to follow Sunny's workout videos or to watch your favorite movie.
There's also a water bottle holder for convenient hydration.
Overall, the Phantom has a large, user- and reader-friendly, swiveling monitor to show your important workout stats. Its 11 pre-set programs are great to spice up your routine or give you that extra push to row harder. 
Assembly
Most folks shouldn't have much trouble putting this rower together. It's a fairly straightforward process, where you'll have to attach the seat to the frame, add the stabilizers, and attach the console.
That said, the instructions could be a little better.
There are written instructions for each step, which is nice, but there's a lot going on for each step. Plus, the images are kinda small and not the easiest to follow.
All necessary tools are included in the package. 
Overall, I think most people should be able to get this rower assembled themselves without paying for expert assistance. I'd expect to spend 30-60 min getting the job done.
Warranty
SHF backs their Phantom rowing machine with the following warranty:
Frame: 3 years

Parts and components: 180 days
Sunny isn't really known for giving the longest warranties, after all, they specialize in budget fitness equipment. Considering the price, 3 years on the frame isn't bad (for comparison's sake, the luxury Hydrow only offers 5 years on the frame).
It would be nice to see at least a year on parts, but again, we're talking about a budget friendly model here.
Overall, I'm ok with the guarantee on this rower. When compared to more expensive machines, it holds up pretty well.
Final Thoughts
The Phantom is a great rowing machine for the price. It's sturdy and ready to beat you with its unlimited resistance capabilities. It's comfortable with a cushioned seat and adjustable handles and footrests. 
There are no fancy extras with the Phantom, but it does have a large, swiveling monitor for you to track your workout metrics and choose from any of those 11 pre-set programs. 
It's difficult to find a loophole in the Phantom, but if I were to nitpick, it would be its warranty. What can I say, I'm a sucker for longer warranties.
Overall though, I think SHF's Phantom is a smart choice if you're looking for a budget-friendly water rower. Recommended.