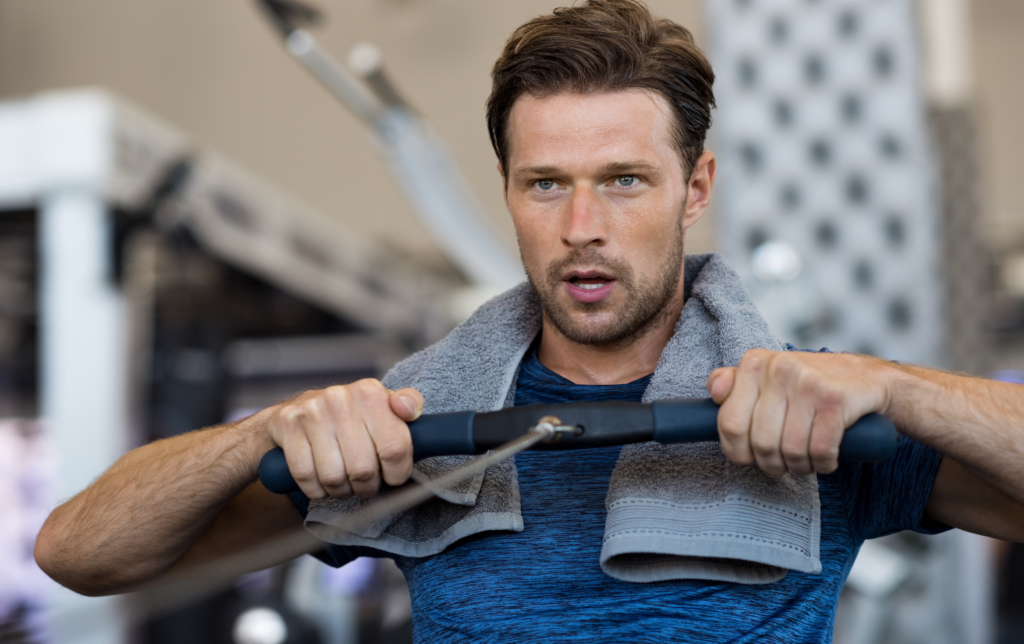 The Sunny Health & Fitness SF-RW1205 Rowing Machine is probably the cheapest rower on the market today. At well under $100, it's hard to imagine how any rowing machine could cost less. If it were any other brand, I probably wouldn't look twice at a rower this cheap, but given Sunny's reputation for making affordable equipment that actually works, I have to admit I'm intrigued.
Hydraulic rowers are known for being affordable, but can a rowing machine under $100 really provide any type of worthwhile exercise?
My gut says no, but I'm going to keep an open mind. I'm hoping this review will help you determine whether or not the SF-RW1205 is worth investing in.
A Quick Word On Hydraulic Rowers
I wanted to start off with a quick intro to hydraulic rowers. When doing your research and comparing different models, it's always a good idea to know what you should expect. This way, it makes it a little easier to compare similar machines- after all, we need to make sure we're comparing apples to apples here (or hydraulics to hydraulics).
These rowers get their name from the hydraulic piston used to create the resistance. This is the least high-tech type of rowing machine and one of the main reasons these rowers usually cost significantly less than the others (air, magnetic, and water rowers- which I'll refer to collectively as "full size rowers" from now on).
If you'd like more info on these other rowing machines, check out my rowing machine buyers guide.
Hydraulic rowers are known for being affordable, but they're also well known for being compact. Using this simple piston system doesn't take much space, allowing these rowers to be a lot smaller than their full size counterparts.
And by smaller, I mean like half the size. A full size rower is usually 7-8 ft long, but a hydraulic rower is usually only 4-5 ft long.
This is an obvious advantage for people with limited workout space. Hydraulic rowers open up the world of home rowing to a lot of people who otherwise simply wouldn't have the room for it.
Back to price though. Hydraulic rowers have become popular too because they are more affordable than the others. Most hydraulic rowing machines cost somewhere between $100 – $300, again roughly half that of full size rowers. There are a few high-end hydraulic machines that cost more, like the Kettler Kadett, who's price rivals some of the full size machines.
These rowing machines are also popular with the folks who want a quiet workout. Hydraulic rowers are very quiet, especially compared to the more noisy air and water rowers.
Ok, now we're all up to speed. Let's check out the SF-RW1205.
The Sunny Health & Fitness Rowing Machine (SF-RW1205)
Sunny Health & Fitness (SHF) has made a name for themselves by providing high-quality home exercise equipment at very affordable prices. They've only been around for about 15 years or so, but in that time they've developed a pretty extensive product list. The SF-RW1205, which I'll be referring to as simply the 1205 for the sake of my fingers, is by far their most budget friendly rowing machine (and one of their most popular).
Resistance
The 1205 has a single hydraulic piston providing the resistance for your workouts. Some rowers have a single piston, others have 2. Machines with 2 pistons can offer a little more resistance because each arm has a piston dedicated to it, instead of both arms working against a single piston.
The piston the 1205 does have is adjustable, which is a nice feature because it gives you more control over your workout. The resistance is adjusted easily by turning a dial at the top of the piston- there are 12 levels to choose from.
Some hydraulic rowers that offer adjustable resistance make it pretty awkward to actually do it. Instead of having a handy dial to turn, you actually adjust the height at which the piston attaches to the arms.
With hydraulic rowers, as the piston warms up with extended use, the resistance decreases. This is because the oil in the piston warms up and provides less resistance. This is common to all hydraulic rowers, but some users really noticed a drop in resistance on this rower.
Seat
The seat on the 1205 does slide for improved lower body involvement and a generally more comfortable row. The seat is padded, but that isn't saying much because all of them are. In reality, no rower seat is particularly comfortable, especially for long workouts, and this seat isn't any different.
That said, the seat on this affordable rower isn't any less comfortable than the rest of the competition. Users seem to be fairly happy with the comfort level of the seat and most feel it's pretty sturdy considering the size of the machine.
Arms
The 1205 uses a single horizontal bar with padded grips as the "arms". Some hydraulic rowers use fixed independent arms, others use free motion arms that give you more play with your rowing arc. Each have their perks and disadvantages.
Having both hands pulling on a fixed arm makes the 1205 very simple to use. The biggest disadvantage is that your movement pattern is fixed. That is, if for some reason the arc is uncomfortable for a shoulder or elbow, you really can't change the positioning of the bar.
Frame
This rowing machine has a lightweight, compact frame constructed out of steel. When I say lightweight, I mean this whole rower only weighs about 20 lb when fully assembled. No one should have any trouble lifting and moving the 1205.
Fully assembled, the 1205 has the following dimensions: 54″ (L) x 20″ (W) x 23″ (H).
This means you only need a footprint of about 4.5 ft x 2 ft to use this rower. It's compact size and lightweight makes it a popular choice for small homes and apartments.
Because of it's small size though, it has a max weight capacity of only 220 lb. This is lower than most other hydraulic rowers that average around 250 lb.
The 1205 is intended for smaller users. Larger folks simply aren't going to fit on it. I doubt larger folks would find the resistance sufficient either.
When it comes to assembly, most users are pleasantly surprised at how easy the 1205 is to put together. The instructions are easy to follow and there's only 4 steps. If you're not very handy, don't worry, you should be able to handle this without any problems.
Footplates
Sometimes the footplates on these small rowing machines can be, kinda, um, crappy. They can be too small to hold your feet in place. Users haven't been complaining about this on the 1205. The footplates are pretty large and the velcro strap is big enough to do its job.
The footplates themselves pivot a little back and forth as you row. This design element is meant to keep your ankles in a more comfortable position as you extend your knees. The movement is pretty small, so you may notice a difference and you may not.
Overall though, the footplates are pretty good considering the price and size of the 1205.
Monitor
The 1205 comes with a simple monitor that will track time, row count, total count, and calories. There's a scan feature that will roll through the different stats as well if you prefer. There's nothing fancy at all here, but honestly, at this price, I'm kind of surprised it comes with a monitor at all.
There aren't any workout programs or heart rate monitor compatibility here. The monitor itself is fairly appealing cosmetically though, especially when compared to some of the other displays out there.
Warranty
Warranties can't be assumed when looking at rowing machines in this price range. However, SHF does back the 1205 up with the following warranty:
3 year frame
6 months parts
I think this is actually a great warranty for this rowing machine. Considering this machine costs well under $100, the 3 year frame warranty is pretty awesome. It's more generous than I'd expect, nice work SHF.
Final Thoughts
The Sunny Health & Fitness Rowing Machine is a compact, single piston hydraulic rower designed for smaller users. With an adjustable resistance piston and sliding seat, it has more to offer than it probably should at this price range. It's even backed up by a respectable warranty.
To answer my original question: I'd say the 1205 is a steal.
The user reviews are overwhelmingly positive and most agree you can actually get a solid workout on this rower. Most seem pleasantly surprised to have had their expectations passed.
Be prepared to keep nudging that resistance dial up though- as that single piston heats up it's going to get easier.
Considering the features and the great asking price, I think the 1205 can be a smart buy for folks on a tight budget. Keep in mind this rower is designed for smaller users- even though the weight limit is 220 lb, you should always allow a little wiggle room, I'd think twice if your weight is over 200 lb.