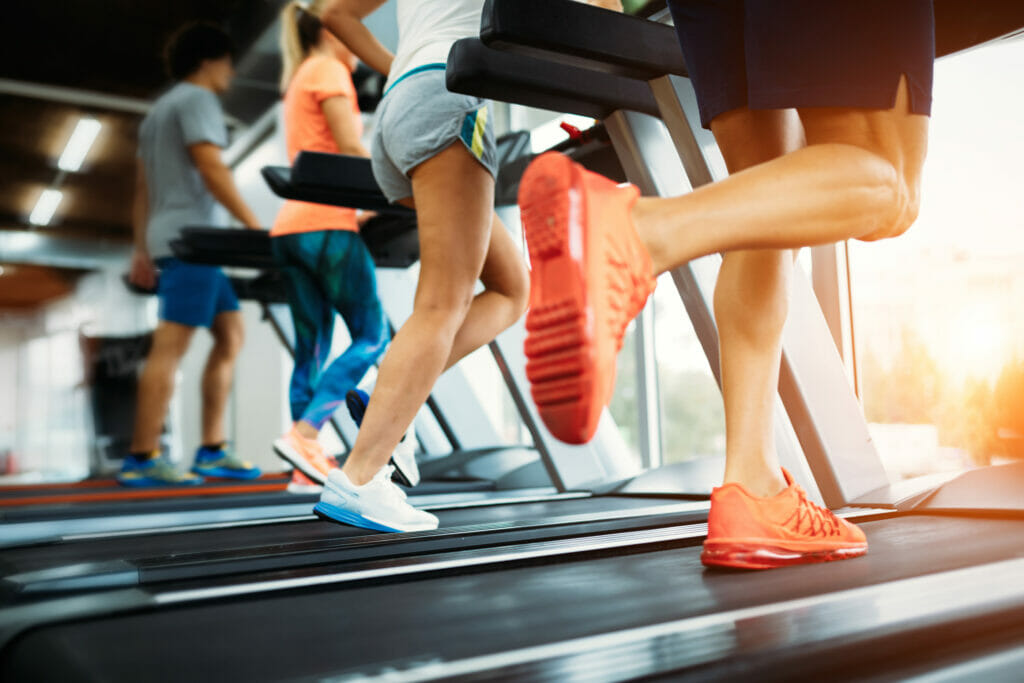 The XT685 is Spirit's most advanced residential treadmill to date. This bad boy is actually commercial rated too, which is pretty darn impressive for a treadmill under $3000.
A quick peek at the specs and it's easy to be impressed by what the XT685 has to offer.
More specifically, we're talking a 4.0 HP motor, a 22″ x 60″ running surface, 3″ rollers, 12 workout programs, and 15 levels of power incline.
It's also backed by the longest residential warranty you're likely to come across (as well as a generous commercial warranty too).
Overall, the XT685 is a class-act from top to bottom- so if you're looking for an elite treadmill in this price range, it's a great choice.
But before you get trigger happy and start pulling out credit cards, it's important to do your due diligence (see what I did there?), and that's where I can help.
In this review, I'll go over all the specs and features you should be aware of before deciding on whether or not to purchase the XT685.
I'll also provide my 2 cents regarding some of the other top models in this price range and how they compare to this model.
After reading, you'll be well equipped to decide for yourself whether or not this is the right treadmill for your home gym.
The Spirit Fitness XT685 Treadmill
If you've read any of my other Spirit reviews in the past, you know I'm a big fan of the brand. Like Sole (another of my favorites), Spirit specializes in providing performance driven machines that are built to last.
I also love that they back their products with such long warranties, but more on that later.
Spirit has a pretty large selection of residential and commercial treadmills to choose from. All of their residential models fall within the moderately priced range, meaning they cost between $1000 – $3000.
Personally, I think Spirit's best buys are found in their higher-end models. I think some of their lower-end models are a bit pricey for what ya get.
But that said, every Spirit treadmill is very well-built and comes with a great warranty.
The XT685 is the brand's premiere residential treadmill. As such it comes with the most powerful motor and the largest rollers of the pack (although one could argue there aren't that many upgrades over the XT485).
The full retail price for the XT685 is listed as $2,999, but you can usually find it a little cheaper on Amazon.
Pros
22″ x 60″ running surface
4.0 HP motor
3″ rollers
425 lb weight capacity
15 levels of power incline
9″ LCD console
12 workout programs
Bluetooth compatible with Spirit app
Chest strap included
Direct access speed/incline buttons
Handlebar speed/incline controls
Amazing warranty
Cons
Frame doesn't fold
No bluetooth speakers
Running Surface
When looking at treadmills in this price range, we should expect larger running surfaces. And by this, I mean a running surface of at least 20″ x 60″.
The XT685 checks this box nicely, with a running surface that measures 22″ x 60″.
With a belt this large, folks of all sizes will be able to run at top speed without having to worry about shortening their stride- something that tall runners should be concerned about with smaller treadmills.
The extra wide belt is nice too because it allows for a little extra lateral sway during your workouts without having to worry about stepping off the belt.
All of the top treadmills in this price range come with a running surface of this size, so the XT685 is right where it should be.
When we look at the frame, we see that this treadmill is pretty heavy-duty as well.
The fact that Spirit offers a commercial warranty on this machine is a good sign of its overall durability, but I also like to look at the treadmill's assembled weight and weight capacity to get an idea as to how heavy-duty it really is.
Seeing higher numbers in both specs is a good thing and indicative of a more durable machine.
The XT685 weighs about 269 lb fully assembled.
This is heavy, sure, but it's actually a little lighter than some of the other top models in this price range (like Sole's TT8 or Horizon's 7.8 AT) that weigh well over 300 lb.
All of Spirit's treadmills run on the lighter side, but that doesn't seem to affect their durability or weight capacities.
The XT685 can still safely hold users weighing up to 425 lb, which is higher than the weight limits on both of the models mentioned above.
Seeing a weight limit this high is awesome because it allows folks of all sizes to safely use this machine, but it also tells us this treadmill is built strong.
Oh, something else worth noting is that the XT685 does not fold- so if you have limited floor space and are hoping to fold your treadmill up for storage, you'll want to consider a different model.
Overall, the XT685 scores highly in this department- the running surface is large and the weight capacity is higher than most in this price range.
Motor
I like to start with the running surface/frame category with my treadmill reviews because I think that's the most important spec to look at.
That said, the motor is a close second.
Having a stronger motor is beneficial because the treadmill will be able to perform more efficiently than a model with a weaker motor.
Simply put- stronger motors don't have to work as hard to provide the same output.
This makes for a smoother feel, but it also tends to make for a quieter workout too.
The XT685 comes with a 4.0 HP, DC motor that can reach a top speed of 12 mph.
I wouldn't usually mention the "DC" part, because pretty much all residential treadmills come with this type of motor, but since this model is commercial rated, I thought it was necessary (although it's unlikely any treadmill in this price range would come with an AC motor).
Anyway, at 4.0 HP, the XT685 is packing one of the strongest motors you'll find in a residential treadmill.
This added strength means serious runners will be able to hop on and go to town without worrying about whether or not the treadmill will be able to keep up.
The XT685 is strong enough to handle faster speeds for sustained periods without showing signs of struggling.
By the way, a top speed of 12 mph is standard for any self-respecting treadmill in this price range.
So, the motor on this model is quite impressive, but I'm also impressed by the 3″ rollers that Spirit paired with it (the rollers are the parts that allow the belt to glide seamlessly over the deck).
Having larger rollers (anything >2″ in my book) is a huge benefit because it makes for smoother operation during workouts.
Larger rollers make more contact with the belt, which not only creates a smoother feel, but it also puts less stress on the belt, the rollers, and the motor.
At 3″, the rollers on the XT685 are about as large as rollers come (this is also one of the upgrades this model has over the XT485).
The XT685 also comes with 15 levels of power incline, which may come in handy for those looking to add extra variety or intensity to their workouts.
Overall, the XT685 scores very highly in the motor department. Not only is the motor powerful, but the large rollers will help prolong the life of the entire drive train.
Features
The Spirit XT685 Treadmill comes with the following features:
9″ display- the screen on this treadmill's console is fairly simple, but it's blue backlit and large enough to see clearly during workouts. It's also large enough to display all your workout metrics at the same time, which is nice.
12 workout programs- this machine comes with 12 total workout programs built-in. These include all the standards like manual, hill, and fat burn, but it also includes 2 custom user workouts, 2 heart rate guided workouts, and Spirit's unique "Fusion" profile, that combines both strength and cardio intervals.
Bluetooth compatible- you can connect this treadmill to the Spirit Fit App for fitness tracking, if you so choose.
Chest strap included- this treadmill is compatible with telemetry heart rate monitors and Spirit even does ya one better and includes a chest strap with purchase.
Direct access buttons- you can instantly set the speed and/or incline with the use of these buttons (a handy feature for creating your own interval workouts).
Handlebar controls- you can also control both the speed and incline from the conveniently located handlebar controls.
Audio jack- this allows you to connect your mp3 player up to the console and listen to your music through the built-in speakers (does anyone still use mp3 players?).
Cooling fan- there's a swivel fan that can help cool ya off during those more strenuous workouts.
Dual storage compartments- there are 2 large compartments on each side you can use for storing remotes, keys, water bottles, phones, or anything else that might need storing.
Assembly
The assembly process for this treadmill should be fairly straightforward for the handy individuals out there. And even those that struggle with following directions will probably do ok too.
The process for putting the XT685 together is pretty simple.
The deck comes pre-assembled, so you'll be responsible for attaching the 2 console uprights, attaching the console itself, attaching a few covers, and then connecting the horizontal stabilization bar.
Overall, there's only 5 steps and the assembly manual is pretty easy to follow.
Spirit provides written instructions and easy to follow images for each step along the way.
The thing you have to keep in mind is the size and weight of this treadmill- remember when I said this thing weighs 269 lb?
You're gonna want at least 2 people to get this treadmill assembled safely.
Warranty
Spirit backs their XT685 Treadmill with the following residential warranty:
Lifetime frame
Lifetime motor
Lifetime deck
10 year parts
1 year labor
See, I told ya Spirit warranties were no joke!
In all seriousness, this is as good as home treadmill warranties get. You can't beat a lifetime guarantee on the frame, motor, and deck.
And 10 years on parts is amazing too, considering most high-end brands top out at 5 years.
A year on labor is standard operating procedure.
Overall, the extended warranty on this treadmill is one of it's most impressive specs- and that's saying something considering everything we've already gone over.
The XT685 also comes with a commercial warranty:
Lifetime frame
5 year motor
3 year deck
3 year parts
1 year labor
Final Thoughts
That's about I've got regarding the Spirit XT685.
Given the impressive performance specs and generous warranty, I think it's pretty safe to say this treadmill has a lot going for it.
The running surface is spacious, the motor is strong, and the frame is heavy-duty.
It also comes with solid console features, although nothing too mind-blowing there.
I also think this treadmill is priced well, although I'll admit I like it a lot better at its sale price.
In terms of comps, Sole's TT8, Horizon's 7.8 AT, and NordicTrack's Commercial 2950 come to mind.
The TT8 and the 7.8 AT match the XT685 in terms of pretty much all performance specs, but both of those treadmills only offer 5 year parts warranties.
The 2950 comes with a slightly stronger motor (4.25 HP), but smaller rollers, a significantly lower weight capacity, and a warranty that can't even come close.
Overall, the XT685 can hold its own with any treadmill under $3000- and that warranty leaves 'em all in the dust. Highly recommended.