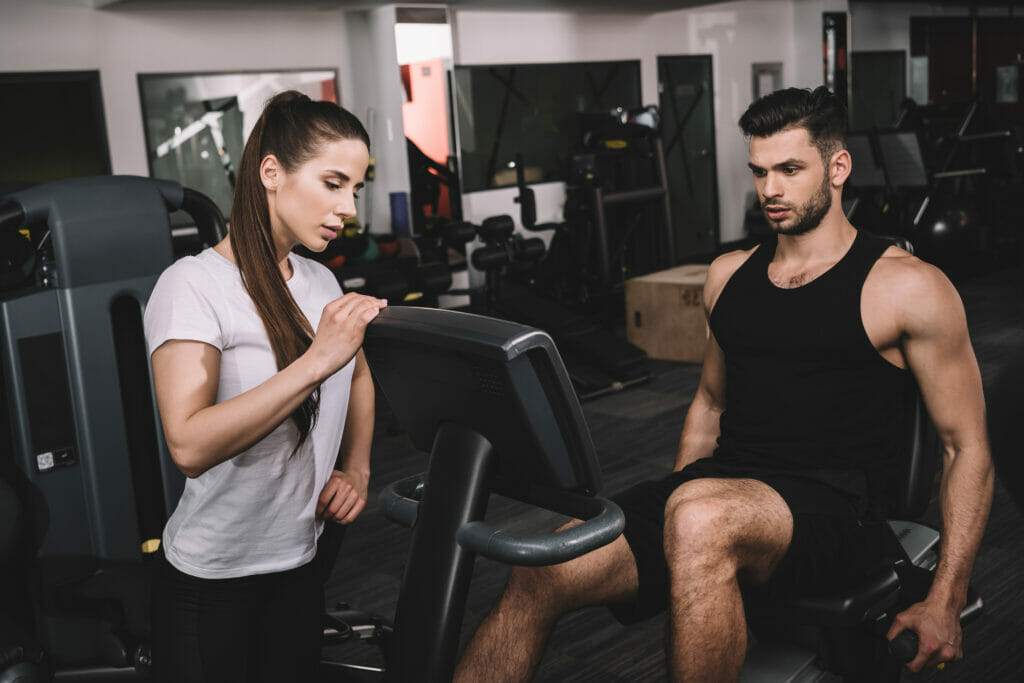 Spirit's CRS800S is a commercial grade recumbent stepper that's priced pretty effectively for home use. This is great, because it gives folks the option to buy a very high-end piece of equipment, but without the commercial price that often comes with it.
Being a recumbent stepper, the CRS800S offers a safe, low-impact, full-body workout that can be both challenging and easy on the joints at the same time.
And not only is the CRS800S a great way to get your cardio in, but it can be quite effective and building strength as well.
Highlights of the CRS800s include a heavy-duty frame, a swivel seat with retractable arm rests, and 20 levels of magnetic resistance.
It's also backed by one of the best residential warranties on the market.
Basically, if you're looking for a high-end recumbent stepper that's easy to access, Spirit's CRS800S is one of the best options around.
And in this review, we'll go over everything you need to know in order for you to decide whether or not it's worth investing in for your home gym.
Let's get started.
The Spirit CRS800S Recumbent Stepper
If you're not familiar with Spirit Fitness, they're definitely a brand you should familiarize yourself with. Well, that's if you're looking for home fitness equipment anyway.
I've been a Sole guy for years, and still am, but I've got to say- Spirit is rapidly winning me over.
They remind me a lot of Sole in the fact that their machines are high-end, well-priced, and not overly complicated to operate. And like Sole, they're also backed by great warranties.
Although Spirit's warranties are actually a little better than Sole's.
And their lineup is a little more diverse too.
Spirit has a great selection of treadmills, bikes, and ellipticals to choose from- you know, the standard home fitness machines you'd expect to see.
But they've got a nice selection of less common products too, like recumbent cross trainers and stair climber machines.
Speaking of recumbent trainers, they only offer 2 at the moment- the CRS800s, which is designed for both residential and commercial use, and the MS300, which is meant to be used in rehab facilities.
Pros
20 levels of resistance
Large, contoured seat
Adjustable recline back rest
Adjustable/retractable arm rests
Seat swivels 360°
Low-impact, linear pedal motion
Large, multi-grip handles
Large, cushioned pedals
10 workout programs
Easy to use console
USB charging port
Heavy-duty frame
450 lb weight capacity
Amazing warranty
Cons
No bluetooth
Assembly instructions could be easier to follow
Resistance
Recumbent steppers (aka "recumbent cross trainers" or "recumbent ellipticals") are great because they can offer a very low-impact mode of exercise.
This makes them a popular choice for rehab facilities and therapy clinics because people with joint pain or mobility limitations can usually get on and use them fairly comfortably.
But just because you have achy joints, doesn't mean you don't still want to get a great workout in.
Recumbent steppers don't have to just be for range of motion and cardio, they can be quite effective at providing strength training as well.
Especially a trainer like the CRS800S that comes with 20 levels of smooth acting resistance.
And unlike most home cross trainers, that simply tell us how many resistance levels it comes with, Spirit tells us exactly how much resistance their CRS800S can provide- in watts.
Through the 20 resistance levels, you can choose between 5 watts to 750 watts of resistance.
If you've never used a spin bike with a watt meter before, you might not have a reference as to how much resistance 750 watts really is.
I can tell ya from experience that it's a ton.
I'm not an elite cyclist or anything like that, but I do ride regularly and I'm working very hard at a watt output of 300 (and I almost never top 400).
So with a max output of 750 watts, the CRS800S is more than capable of challenging even the most advanced users out there.
And with a minimum output of 5 watts, it's also designed to accommodate people dealing with pain and other limitations and aren't looking for intense workouts.
The resistance levels are controlled conveniently by pushing the '+' and '-' buttons on the console- no messing with turn dials on this model.
Overall, Sole's CRS800S comes with a wide range of resistance levels to choose from, giving users complete control over the intensity of their workouts.
Seat
One of the key features of a recumbent cross trainer is how comfortable they are to use. Or at least how comfortable they should be to use.
After all, this is why most people opt for one of these machines.
And a comfortable seat is paramount to a comfortable workout.
The Spirit CS800S comes with a thick, foam-padded seat that is contoured for added comfort. The backrest is also padded with thick foam and comes with built-in lumbar support.
Going a bit further, on this recumbent trainer you can adjust the recline angle of the backrest- a great feature for people who have bad backs.
The seat on the CS800S also swivels 360°, making it a lot easier to get on and off of for people with mobility issues. Speaking of easy access, you'll also notice the walk-through frame (which means you don't have to step over the frame to get on).
There are also 2 armrests on either side of the seat, another comfort feature that'll come in handy if you decide not to use the handles during a workout.
And, the armrests are height adjustable and can be retracted out of the way when not in use (or when getting on/off).
Overall, when it comes to comfort and ease of access, few home models can compete with the CS800S. It's designed like a commercial machine you'd find in a rehab setting, allowing for easy stand-pivot transfers to and from.
Pedal Motion
Home recumbent steppers can come with pedal motions that are circular or linear. A circular pedal motion would be more like the pattern you'd see on an elliptical or bike; a linear motion being more like a stepper.
One isn't necessarily better than the other, both can offer great workouts. But most people looking for a recumbent cross trainer are looking for the linear pattern.
And the linear pattern does usually offer a more comfortable, less impact form of exercise.
Which can be important for achy people suffering from achy joints.
The CS800S utilizes a very linear motion, eliminating any possible rotational torque on your knees or hips- it's really like doing a mini leg press on each leg every time you push.
The arm handles are linked to the foot pedals, so as you pedal, the handles will move as well (but you can always rest your arms on the armrests if you don't want to use them).
The max step length for each pedal is 12.5″, but you can stop short of that if you like. The result is a comfortable, very low impact movement that doesn't put much stress through your joints.
Overall, the pedal motion on this machine is similar to what you'd find on a NuStep in a rehab facility.
Features
The Spirit CRS800S comes with the following features:
Simple console- this stepper comes with an easy to use, simple LCD console that displays all your key metrics during your workouts (steps, distance, time, calories, etc). No HD touchscreens or anything like that, but there is a built-in cooling fan.
10 workout programs- there's a handful or so of workouts to choose from. These include things like "hill", "fat burn" and "cardio". You also get the "manual" option as well as 2 custom workouts to create and store. There's also 2 heart rate workouts (yes, this stepper is compatible with chest straps).
USB charging port- you can plug your phone or tablet in and charge during workouts.
Multi-grip handles- the handles are large, soft, and offer several grip options to choose from. You can target different upper body muscle groups by choosing different grips.
Large pedals- the pedals are over-sized and cushioned for a comfortable feel during your workouts. There are straps to help keep you feet in place if you need 'em.
Water bottle holder- yup, there's a little cup to hold your beverage of choice during your workouts.
Assembly
The assembly directions are organized so that there are only 4 steps to get this recumbent stepper up and working. This doesn't sound like much, but in reality there are several steps in each one of those.
Personally, I'd rather see more steps with less going on in each one- I think this makes it easier to see which hardware is going where.
That said, the assembly process itself is pretty straightforward.
The main unit comes pre-assembled, you'll be responsible for attaching all the components to the frame (pedals, handlebars, seat, console, etc).
All of the necessary hardware and tools are included with purchase.
Overall, I think most people will be able to handle the job themselves, assuming they're able-bodied and halfway decent at following directions.
Keep in mind this is a heavy machine- it weighs about 260 lb fully assembled, so if you do plan on assembling yourself, you might want to have another person around to assist.
Warranty
The Spirit CRS800S Recumbent Stepper comes with the following residential warranty:
Lifetime frame
10 year brake and parts
2 year labor
Spirit offers the best warranties you're gonna find on residential machines (and they're especially awesome given the prices).
A lifetime frame warranty is great and although it should be expected on quality machines, it's not a given.
What really stands out here is the 10 year parts warranty- this is 2x as long as most high-end brands will offer. And honestly, 5 years on parts is pretty good too.
And two years on labor is better than the 1 year labor guarantee most brands offer as well.
Overall, I have zero complaints about the warranty on the CRS800S- it's perfect.
Spirit also backs the CRS800S with a commercial warranty, fyi: lifetime frame, 5 year parts, 2 year labor.
Final Thoughts
That about does it for the CRS800S. Recumbent steppers are actually pretty simple machines when you think about it. There aren't a lot of fancy features to go over- it's more about the comfort and accessibility these products offer.
And when it comes to Spirit's CRS800S, I really don't have anything to complain about.
The seat is large, adjustable, and comfortable. And the fact that it swivels and comes with adjustable armrests is something most recumbent steppers can't compete with.
I also like how this machine is capable of adapting to the fitness level of any user through the use of 20 different resistance levels and a max output of 750 watts.
The console is pretty basic, but it's easy to use and it does come with several standard workout programs to choose from.
And when you consider the fact that this stepper is backed by one of the best warranties you'll ever find, I think it's safe to say that the CRS800S is a smart buy.
I'd even go as far as saying it's one of the best recumbent cross trainers for home use– a home run in every category. Highly recommended.
P.S.- Spirit products can be hard to find without going through a dealer, but fitness outlets like Fitness Factory usually have their products in stock.