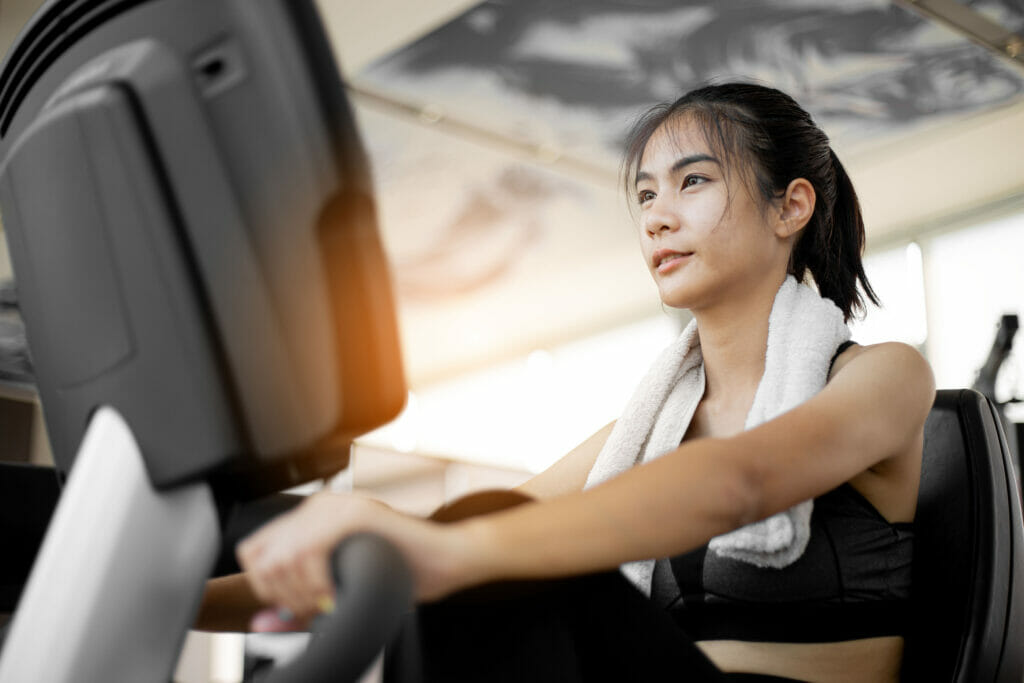 Spirit's XBR55 is a top of the line recumbent bike with a pretty amazing combination of performance specs and console features.
With a 24 lb flywheel, 20 levels of resistance, and a weight capacity of 350 lb, this recumbent is built to handle any workout you can throw at it.
But it's also packing advanced features like bluetooth compatibility, an adjustable angle backrest, and telemetry heart rate monitoring.
It doesn't hurt that it comes with one of the best warranties I've ever seen on any fitness product, period.
Simply put, if you're in the market for a an elite recumbent bike, the XBR55 is a great choice
But you don't have to take my word for it, the numbers speak for themselves.
In this review, I'll go over everything this bike has to offer, from the performance specs to the features and everything else in between.
After reading, you'll know whether or not this is the right recumbent bike for your home gym.
Let's get to it.
The Spirit XBR55 Recumbent Bike
Spirit Fitness has been going strong for almost 40 years now, although I'm a little embarrassed to say how long it took me to learn about their existence.
Anyway, I'm well aware of them now and the more I learn, the more I like 'em.
Spirit is a great brand for people looking for straightforward equipment that works exceptionally well.
You aren't gonna see a bunch of fancy bells and whistles on these machines (although as I mentioned earlier, the console on this bike is pretty sophisticated), but they're built to last and they come with better performance specs than most.
They also come with the best warranties I've ever seen- and that's saying something, given how impressive Sole's warranties are.
Speaking of which, you might notice there are a lot of similarities between Spirit and Sole, besides the fact that both brand names start with the letter 'S'.
Their logos are very similar and their machines compare very well to each other. The biggest difference is that Spirit's parts warranties tend to be longer.
That, and Spirit has a much more extensive commercial lineup.
Anyway, turns out that the company that owns Spirit (Dyaco) is also a partner with Sole Fitness- so I guess all those similarities aren't a coincidence.
I'm getting off point though, sorry. Back to the XBR55.
Spirit currently has 3 residential recumbent bike models- the XBR25, XBR55, and XBR95.
The XBR55 falls right in the middle, in terms of price and specs.
Speaking of price, depending on where you find it, the XBR55 will cost around $1600.
Pros
Heavy-duty frame
24 lb flywheel
20 levels of resistance
350 lb weight capacity
Adjustable angle backrest
10 workout programs
Bluetooth compatible
Chest strap heart rate monitor included
Amazing warranty
Fair price
Cons
Assembly manual could be easier to follow
Frame
One of the nicest perks of buying a higher-end model is that you shouldn't have to worry about it coming with a lightweight, flimsy frame (which is common on cheap models).
This is certainly the case with the XBR55.
This bike comes with a heavy-duty, step-thru frame that should feel solid and stable during workouts. And the fact that its step-thru makes it easy to access (no stepping over).
The best way to determine how heavy-duty a bike is (besides taking it for a test spin) is to look at 2 key specs- the assembled weight and the weight capacity.
Seeing high numbers in both of these categories is indicative of a solid, durable frame that'll be less likely to wobble or feel flimsy during use.
The XBR55 scores very highly in both categories with an assembled weight of 139 lb and a weight capacity of 350 lb.
This assembled weight is quite high for a home recumbent, considering many of the popular models weigh under 100 lb (Schwinn's 270 weighs 87 lb).
And I'm not trying to hate on Schwinn- the 270 is a fine bike for the price, I'm just trying to illustrate that the XBR55 is on a whole other level here.
Many home recumbents will max out with a weight limit of 300 lb, which is plenty to safely hold most users.
But seeing the extra high weight limit on this bike is just another sign of how robust and well-made it is.
I also want to point out that this bike comes with a 24 lb flywheel, which is higher than most home recumbents too.
Having a heavier flywheel is beneficial, because it makes for a smoother ride. It also allows the bike to provide more overall resistance.
Considering many home recumbents come with a flywheel in the 10-13 lb range, the XBR55's flywheel is nearly 2x as heavy as the average.
This is going to make for a more comfortable experience, but it also means this bike can provide more intense workouts for those who are interested.
Overall, the XBR55 scores highly in the frame department. With a heavy-duty frame and heavy flywheel, this bike is well equipped to handle any workout.
Seat
Most folks that decide on a recumbent bike are doing so for the comfort factor. After all, recumbents are the most comfortable style of exercise bike there is.
The horizontal design of the frame, paired with the large seat and backrest, make for a low-impact workout that pretty much anyone can use comfortably.
That said, recumbent seats can vary greatly from model to model.
The seat on the XBR55 is fairly standard, nothing too special going on in terms of shape or padding.
The backrest is mesh, which may help a little with airflow (but I personally don't think it matters much).
When you look at the backrest on this bike, you'll notice there isn't much in terms of built-in lumbar support- something to consider if you prefer lumbar support.
What's great though, is that you can adjust the angle of the backrest.
This is a nice feature for folks dealing with achy backs because you can adjust the backrest to find the most comfortable position for your workout.
It's also easy to adjust the height of the seat by using the hydraulic lever.
Overall, it would be nice if the backrest had a little more lumbar support built-in, but the adjustable backrest feature makes up for it.
Features
The Spirit XBR55 Recumbent Bike comes with the following features:
7.5″ LCD console- the screen on this model is large and blue backlit for good visibility during workouts. No touchscreens or anything like that, but the screen is large enough to show all metrics at the same time.
20 levels of magnetic resistance- having this many resistance levels at your disposal is great because it gives you plenty of control over the intensity of your workouts.
10 workout programs- the XBR55 comes with a nice selection of built-in workouts to choose from. These include: hill, fat burn, strength, intervals, cardio, 2 custom workouts, 2 heart rate workouts, and manual mode.
Bluetooth- this bike is bluetooth compatible with Spirit's Fit app as well as the Zwift app (subscription required), that gives you a virtual community to exercise with, scenic routes, metric tracking, and even more workout options.
Heart rate monitoring- this bike comes with the standard grip heart rate monitors as well as an included chest strap that gives you a more accurate and convenient heart rate reading.
Audio jack- you can connect your phone or mp3 player up to the console and listen to your favorite playlist through he built-in speakers.
Cooling fan- there's a fan built into the console to help keep ya a little more comfortable during those harder workouts.
Water bottle holders- there's a water bottle holder conveniently located on each side of the seat. Hey, you gotta stay hydrated!
Assembly
I don't have many things to complain about with Spirit products, but their assembly manuals could use a little work.
They tend to combine several steps into 1, making it harder to follow and tell what piece goes where.
It would be nice if they split their assembly process into more steps, with less going on in each one. That way, I think it would be a lot easier to follow along.
Their images could be larger too, that would help.
That said, putting this bike together shouldn't be that bad- the process is pretty straightforward.
The main frame comes mostly assembled. You'll be responsible for attaching the stabilizer, the seat, the console, the pedals, and a few covers.
When passing the cables through the console upright, make sure nothing gets pinched- finding that the electronics don't work after you finish is a surefire way to ruin your day.
All of the necessary hardware and tools are included.
Given the size and weight of this bike, having a second person around is probably a good idea.
Overall, as long as you or someone in your household is a bit handy, getting the XBR55 assembled should be very doable without hiring professional assistance.
Warranty
Spirit backs their XBR55 Recumbent Bike with the following residential warranty:
Lifetime frame
Lifetime brake
10 year parts
1 year labor
See, I told you this warranty was no joke.
You can't beat a lifetime frame warranty because that's literally as good as it gets. And surprisingly, there aren't that many brands that offer this on their recumbents.
As good as the frame/brake guarantee is, it's the parts warranty that truly sets Spirit apart from the rest.
10 years on parts is crazy long.
Without exaggeration, it's the longest parts warranty I've come across for any piece of fitness equipment (3G Cardio's Elite RB is close with a 7 year parts guarantee).
A year on labor is pretty standard. If Spirit upped that to 2 years, this would be the perfect warranty.
Even as is, it's an incredible guarantee. Spirit truly lives up to their reputation with this one.
Final Thoughts
That about does it for the XBR55.
I think this is a great recumbent bike from start to finish- I really don't have much to complain about.
This bike comes with a heavy-duty frame, a heavy flywheel, and plenty of workout programs and resistance levels to challenge even gifted athletes.
I also like that you can adjust the angle of the backrest- a nice feature that most recumbents don't come with.
And then there's that warranty, which is incredible.
The only complaint I have is that the assembly manual could be easier to follow, but that's a minor offense considering everything this bike has going for it.
Overall, I think the XBR55 is a home run. Highly recommended.

That said, if you're interested in the XBR55, you should check pricing for the XBR95 (which comes with 40 levels of resistance, a self-generating power source, and a heavier flywheel)- I've seen it on sale on FitnessFactory.com for the same price as the XBR55.