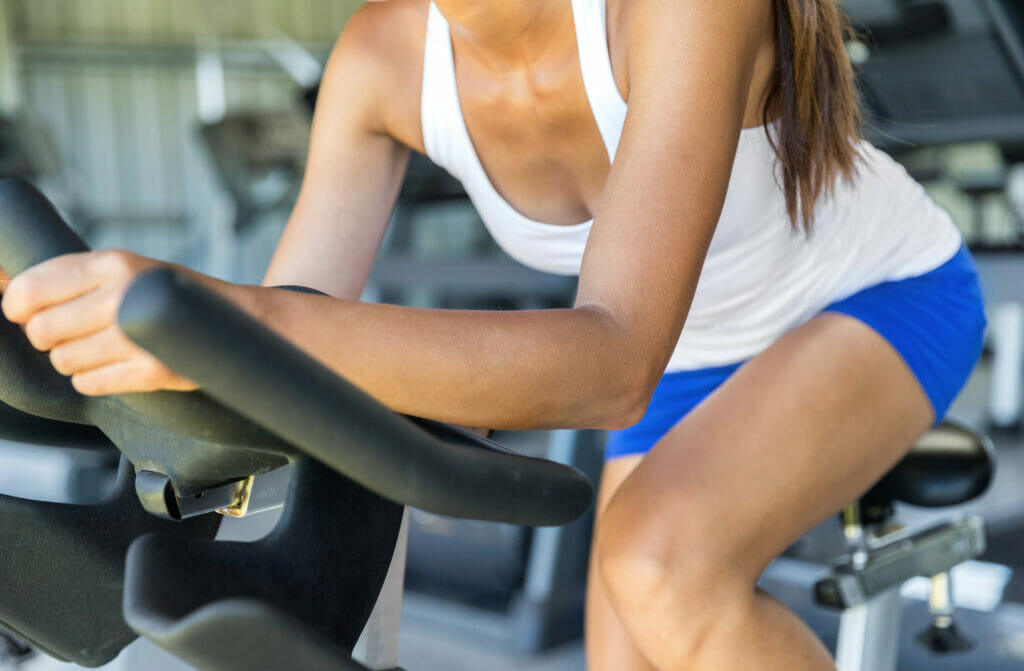 Sole has finally released a new indoor cycle, the SB1200, and with it, they add to their growing lineup of updated cardio machines.
Their newest cycle comes with a lot of the same great features found on their updated SB900, like a 35 lb flywheel, 100 magnetic resistance levels, and dual-compatible pedals.
But the SB1200 also comes with an upgraded, 10.1″ touchscreen console that gives you access to built-in entertainment apps and screen mirroring capabilities.
Sole basically took a heavy-duty cycle and gave it a nicer console – sounds reasonable enough.
Overall, I think the SB1200 is a nice exercise bike, but I am a little concerned about the asking price.
At roughly $1600, the SB1200 is inching into the price range where there's some serious competition.
Can the SB1200 hang with these other elite cycles?
Well, that's what I'm here to help you figure out.
In this review, I'll go over everything the SB1200 has to offer, but I'll also try to compare it to some of the other top options in this price range.
This way, you'll be able to decide for yourself whether or not the SB1200 is worth investing in.
Let's begin.
The Sole SB1200 Indoor Cycle
I've been a fan of Sole for awhile now and I'd even go as far as saying they're one of my favorite home fitness brands.
I like that their machines are usually some of the heaviest-duty in their price range and I like that they back their products with generous warranties.
And I also respected that they kept their cardio machines remarkably simple – even as more and more brands started updating their consoles and offering touchscreens, they continued to use straightforward, LCD consoles.
Well, up until recently that is.
Sole started playing with touchscreen consoles on some of their treadmills a while back, but with their 2023 update, they've given the majority of their products a touchscreen of one size or another.
Hey, I get it, you gotta give the people what they want (and these days, we expect everything to come with a touchscreen).
Anyway, the SB1200 is the newest addition to their indoor cycle lineup and as I'm writing this, it's going for around $1600.
Let's start this review off with a rundown on the performance specs.
Pros
35.27 lb flywheel
100 levels of magnetic resistance
10.1″ touchscreen console
Built-in entertainment apps
10 built-in workout programs
Bluetooth
Bluetooth speakers
Screen mirroring
Belt drive
Heavy-duty frame
330 lb weight limit
Fully-adjustable seat
Dual-compatible pedals
Dumbbell rack
Dual water bottle holders
Solid warranty
Cons
Handlebars not fully adjustable
Dumbbells not included
Resistance
When it comes to indoor cycles and performance, it's all about flywheels and resistance systems.
These days, most indoor cycles are using magnetic systems because they're lower maintenance and provide smoother operation (than friction brakes) and the SB1200 is no different.
With a magnetic resistance system and belt drive, you can expect the SB1200 to provide a nearly silent workout, so noise certainly shouldn't be an issue here.
But back to the flywheel.
The flywheel is the heart of any indoor cycle and most bikes benefit from having a heavier one.
I say "most" because there are cycles out there (like Keiser's M3i) which are designed specifically for lightweight flywheels and they can work great.
But most home cycles, especially in this price range, are designed to benefit from the extra weight of a heavy flywheel.
The extra weight basically builds more momentum as it spins, reducing any lag between pedal strokes and this results in a smoother feel of you.
With this in mind, consider that the SB1200 comes with a 35.27 lb flywheel.
Now indoor cycles come with flywheels ranging greatly in weight and there are certainly much heavier flywheels being used out there, but ~35 lb seems to be the sweet spot where you get a great pedaling motion but without adding an insane amount of weight to the bike.
For example, the Original Peloton uses a 35 lb flwheel and NordicTrack's popular Commercial S22i uses a 32 lb flywheel I believe.
So, around 35 lb is a good weight for a flywheel and is easily heavy enough to provide a smooth pedaling feel.
I like that the SB1200 comes with a heavy flywheel, but what really catches my attention here is that this cycle comes with 100 resistance levels.
This is the same scale Peloton made popular and as a Peloton user myself, I have to admit I love having so many resistance levels to work with.
Not only does this give the rider a lot of control to make small adjustments to their intensity, but it'll also make it really easy to follow along with Peloton workouts if you choose to.
But more on that later.
Overall, I think the SB1200 scores very highly in this department – this bike comes with a heavy flywheel, lots of resistance levels, and a smooth acting belt drive.
Frame
The resistance system is legit, but what about the rest of the bike?
When looking at exercise bikes, I like to check for the assembled weight because I feel this spec gives us a good idea as to what to except in terms of overall stability (and quality).
To me, seeing a heavier assembled weight is a good sign that the bike will feel more secure and stable during use.
You know, the heavier a bike is, the more likely it'll be to feel "heavy-duty" (I try not to use that term too much because it gets overused so much when talking about fitness equipment, but sometimes it's applicable).
And even though this rule isn't written in stone, seeing an indoor cycle that weighs over 100 lb is usually a good sign.
Well, the SB1200 weighs in at 127 lb, which is pretty robust for an indoor cycle.
For the sake of comparison, Schwinn's IC4 weighs in at around 112 lb and the OG Peloton weighs around 135 lb.
So, in terms of mass, the SB1200 scores pretty highly, but it also scores nicely with a weight capacity of 330 lb.
Not only does this allow larger folks the ability to use this bike as well, but it's also a little higher than the 300 lb norm seen on a lot of cycles.
Oh, and with a footprint of 57″ x 21″, it's pretty average-sized for an indoor cycle, so it won't take up too much floor space.
Overall, I like that the SB1200 comes with a heavy frame and generous weight capacity.
Features
Sole's SB1200 comes with the following included features:
10.1″ touchscreen- this bike comes with a generously-sized touchscreen console that makes it easy to make all selections and see all stats during workouts.
Built-in workouts- the SB1200 comes with all the classic workout profiles found on most Sole cardio machines (10 or so I think) and you don't even have to pay a monthly membership fee to access 'em.
Bluetooth- the console is bluetooth compatible with heart rate straps, allowing you to keep an accurate eye on your pulse during workouts.
Entertainment apps- the workouts are fine, but its the inclusion of built-in entertainment apps that most folks are probably going to appreciate here. Most of the top apps are built-in, including Netflix, Hulu, Prime, Max, etc, and you can watch 'em directly through the console while you exercise.
Screen mirroring- you can also hook your phone up to the console and screen mirror any media or fitness apps you might have on your phone. This is actually a great feature because it gives you access to any fitness app you might want to use, including Peloton Digital and iFit.
Dual-compatible pedals- the pedals have a toe cage on one side are SPD compatible clips on the other, so you can wear sneakers or cleats depending on your preference.
Fully-adjustable seat- the seat if fully adjustable, meaning you can adjust both the height and fore/aft position for a more comfortable ride.
Height adjustable handlebars- the handlebars aren't fully adjustable, but you can adjust their height.
Tablet holder- the tablet holder is located above the console, so you won't have to block your view of your media or workouts.
Dumbbell rack- there's an included rack, giving you a place to store small dumbbells in case you want to follow along with any fitness apps (dumbbells not included though).
Dual water bottle holders- and finally, there's room for 2 water bottles so you shouldn't have any problems staying hydrated during workouts.
Warranty
Sole covers their SB1200 Indoor Cycle with the following warranty:
Lifetime frame
2 year parts
1 year labor
I love seeing the lifetime frame guarantee, mostly because few brands still offer these (5- 10 years is the norm for quality cycles these days).
That said, 2 years on parts is pretty average.
For example, NordicTrack offers 2 years for parts on their cycles; Schwinn and Diamondback offer 3 years on parts.
And a year on labor is standard stuff.
So, overall, a solid home warranty, but nothing too spectacular here.
Final Thoughts
Ok, so that about does it for all the performance specs and features the SB1200 has to offer.
Looking at this stuff, I think it's fair to say this is a nice bike with a lot to offer.
I like the heavy flywheel and 100 levels of resistance, the heavy-duty frame, and the fact that you can screen mirror and access entertainment apps though the console is cool.
It would be nice if it came with included dumbbells and had fully adjustable handlebars, but these are small offenses at best.
So, great bike, but let's talk a little more about price.
As I mentioned, Sole has the SB1200 listed for $1599 at the time of writing this.
I don't think this price is especially unreasonable, given what it comes with, but it does put the SB1200 in head-to-head competition with some pretty heavy-hitters.
Most notably, the Original Peloton and NordicTrack's S22i – both of which are selling for under $1500 on Amazon at the time of writing this.
These are both time tested, highly popular indoor cycles, but in terms of performance specs, the SB1200 holds its own quite well.
The S22i and Peloton both come with 22″ HD touchscreens, so they both have nicer consoles – but they both also require a monthly streaming fee (~$40) to access the instructor-led workouts and everything else they offer.
And neither of these other bikes offer screen mirroring or built-in entertainment apps either.
FYI, Peloton now offers a free version of their Digital App that gives you access to 50 or so workouts I think, so you could totally screen mirror Peloton workouts on the SB1200 through your phone for an affordable Peloton hack.
Given the big difference in how these consoles operate, I could see the SB1200 being a good alternative for folks who don't like the idea of being stuck with a monthly streaming fee.
So, long story short – I think Sole's SB1200 is a great cycle that could make a lot of sense for a lot of home riders.