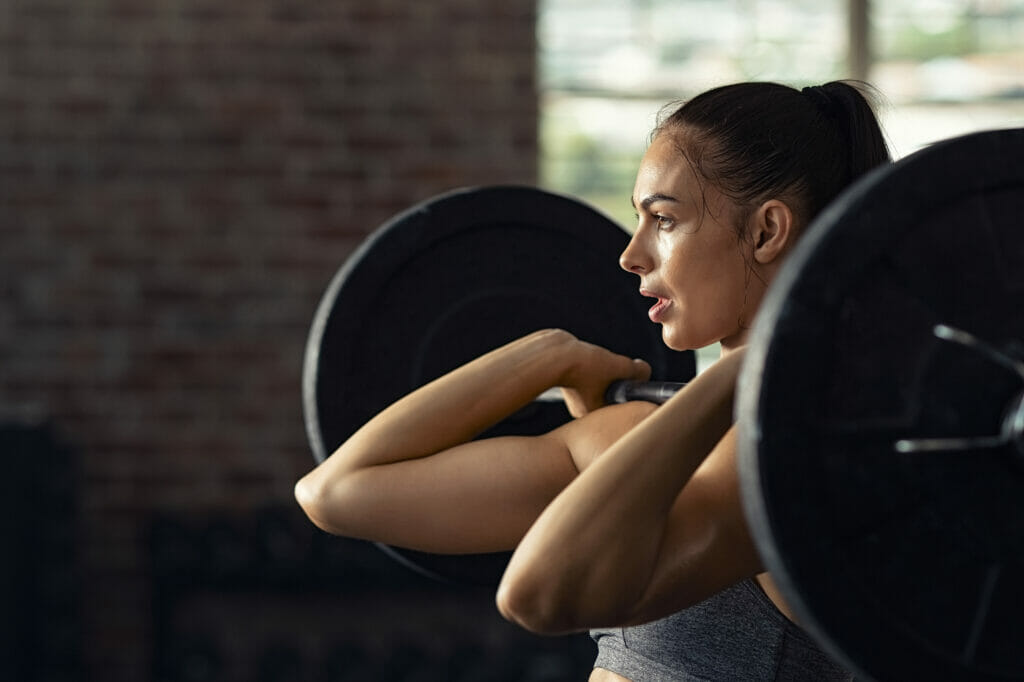 If you're looking for a spacious power rack with built-in plate storage, Rogue's R-6 should be on your short list of contenders.
With the R-6, Rogue basically took their popular R-4 rack and added an extension kit, allowing the extra space needed for plate storage and pretty much anything else you'd like to store back there.
The R-6 certainly isn't the heaviest-duty rack in Rogue's lineup, but with 2″ x 3″, 11-gauge steel uprights and an assembled weight of 300 lb, this rack is still robust enough to handle any workout you can throw at it.
This rack also comes with 3 different pull up bar options and is compatible with all Infinity Series attachments.
Throw in a lifetime warranty and it's pretty safe to say the R-6 is one legit home rack – but is it the right rack for your home gym?
Well, that's what we're here to find out.
In this review, I'll go over all the in's and out's this power rack has to offer, including where it falls a bit short.
After reading, you'll know whether or not the R-6 is worth investing in.
Ok, let's do this.
The Rogue R-6 Power Rack
Rogue's been making a name for themselves for some time now and they've gradually become the gold standard when it comes to power racks and rigs.
And we're talking for both home gyms and elite commercial gyms alike.
Hell, I was watching a movie on Netflix about this guy training to get in the NBA (Adam Sandler was in it, great movie) and they were using Rogue gear in all of the training scenes…
Crazy, but they've earned it.
Rogue equipment tends to be heavier-duty and more appealing to the eyes than most brands, but that doesn't mean everything they do is perfect either – you still have to do your homework and compare specs.
But that's what I'm here for.
Anyway, Rogue offers a lot of different racks to choose from – so many in fact, that it can easily become overwhelming.
But if you keep in mind that all their racks fall into 1 of 3 "series", it makes it a lot easier to keep 'em straight.
The R-6 we're here to talk about now is part of their "Infinity R-Series", which consists of Rogue's lightest-duty, most affordable gear.
There's also their "Monster Lite" and "Monster Series" that are heavier-duty and more expensive.
Speaking of cost, at the time of writing this, the R-6 is going for around $1,750, which isn't cheap, but this is a whole lot of gym.
Pros
2″ x 3″, 11-gauge steel uprights
Westside spacing
Spacious interior
3 pull up bar options included
Plate storage included
2x J-cups
2x pin & pipe safety bars
6x band pegs
Doesn't have to bolted to floor
Compatible with several attachments
Lifetime warranty
Cons
Takes up a lot of floor space
A bit pricey
Not compatible with a lat pulldown station
Uprights
The most important parts or components of any power rack are the uprights – the vertical posts at each corner that anchor the rack.
When you think about it, power racks are basically just metal frames designed to hold barbells and plates and it's these uprights that are responsible for the majority of the weight bearing duties.
So, it would make sense that having heavier-duty, stronger uprights would always be a good thing.
All power racks come with steel uprights, but the size and gauge (thickness) of these uprights will vary from rack to rack.
In terms of size, most home racks come with 2″ x 2″, 2″ x 3″, or 3″x 3″ uprights, although there are racks out there in other various sizes.
Since being larger means a more stable upright, the 3″ x 3″ dimensions are the most preferred of this size just mentioned.
With this mind, the R-6 comes with 2″ x 3″ uprights, falling right in the middle of the bunch.
This means the R-6 isn't quite as heavy-duty as some other racks out there, but these uprights are also made out of 11-gauge steel, which is about as thick as we can expect to find on a home rack.
With steel gauges, remember that lower numbers indicate thicker metal – so 11-gauge would be thicker than 12-gauge, and so on.
Most racks in this price range will be using 11-gauge steel, but more affordable racks will often use 12- or even 14-gauge steel.
So, with 2″ x 3″, 11-gauge steel uprights, you won't have to worry about the R-6 feeling flimsy or failing during workouts, especially considering it comes with 6 uprights.
You also shouldn't have to worry about the R-6 moving on ya much while racking/unracking bars or while doing pull ups, especially if you have plates loaded on the rear storage horns.
Although you could always bolt it down to the floor for even more stability if necessary.
And I didn't see a weight limit listed online, but I'm pretty sure all of Rogue's racks are tested up to 1,000 lb, so the R-6 should come with the same limit.
Each upright also comes with Westside hole spacing (1″) throughout the bench zone, giving you more control over bar placement.
2″ hole spacing is used everywhere else, where precise bar placement probably isn't quite as important.
Overall, like all of Rogue's Infinity R-Series racks, the R-6 comes with 2″ x 3″ uprights, that aren't as heavy-duty as their 3″ x 3″ models, but this rack is still tough enough to handle serious workouts.
Attachments
The Rogue R-6 Power Rack comes with the following attachments included:
Fat/Skinny pull up bar
Multi-grip pull up bar
2x J-cups
2x pin & pipe safety bars
6x band pegs
4x single plate storage horns
2x double plate storage horns
Ok, so Rogue includes all the basic safety stuff you need to get started with your workouts.
Some folks have complained that the pin & pipe safeties are kinda tedious to move, but they work effectively
It's nice that Rogue includes the multi-grip pull up bar with this model, as well as all the plate storage pegs you need to get up and running.
As an Infinity R-Series rack, the R-6 is also compatible with all Infinity attachments, including:
Bar holders
Landmine stations
Matador dip handles
Safety spotter arms
Rope anchors
Various pull up bars
Speed bag platform
Various handles and pull up grips
Overall, Rogue offers a generous selection of pull up bars, grips, and handles to add to the R-6, although I don't see that there's a lat pulldown station compatible with Infinity Series racks, so if that's something you're interested in, it could be a dealbreaker.
Warranty
Rogue backs their R-6 Power Rack with the following residential warranty:
Lifetime frame/structural welds
And considering a power rack is like 100% frame and welds, that means the R-6 is covered for life.
This is as long as it gets, so there's really nothing to complain about here, although given the price, I would say we should expect a lifetime guarantee.
Besides, we're talking about 11-gauge steel here, so there's not really much here that should breakdown with use.
Even so, seeing such a great warranty always adds a little extra peace of mind.
Final Thoughts
That about does it for the R-6.
I don't have many issues with this rack, although looking over the Infinity attachments, I think it would be nice if Rogue offered some kind of lat pulldown tower that could be added separately (and if I just missed it, I apologize).
Especially considering how much room you have inside the cage, I would think there'd be a way to fit one in there easily.
Speaking of room, I forgot to mention it earlier, but the R-6 takes up a lot of floor space – 53″ x 80″ to be exact, so you really need to make sure you have enough floor space in your home/garage to fit this bad boy.
It's also 90″ tall, so you'll need 8′ ceilings at least to make sure you have enough room for pull ups and whatnot.
If you like the R-6, but are a little lacking in floorspace, you might want to check out Rogue's R-4, which is basically the same rack, minus the plate storage.
Overall, I think the R-6 is a nice rack, but I don't see any reason to choose it over Rogue's RML-690, which comes with 3″ x 3″ uprights and is priced almost identically.
To me, this seems like the smarter option given the price, plus as a Monster Lite rack, the RML-690 is compatible with a lat pulldown station (Slinger).
Just sayin'.