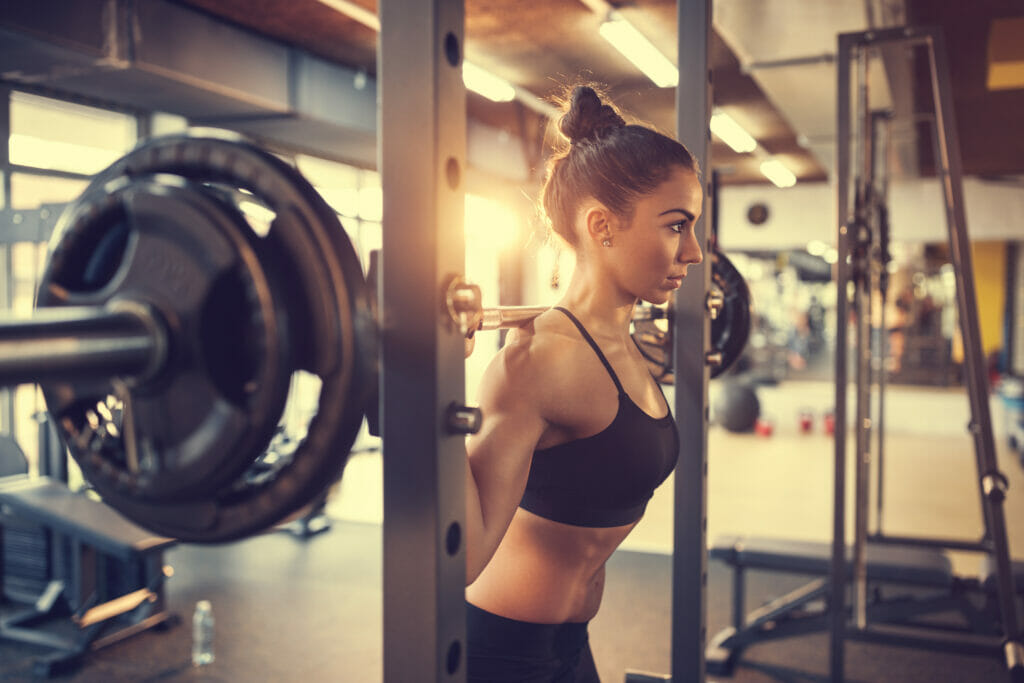 Rogue's RML-690 is an elite home power rack that's heavy-duty from top to bottom, compatible with tons of attachments, and backed by a lifetime warranty.
Wow, I feel like that really sums things up – shortest review ever!
In all seriousness, the RML-690 is no joke.
For this rack, Rogue basically took their popular RML-490 (which is easily one of the best power racks on the planet) and added an extension kit to offer built-in plate storage.
And being a member of the Monster Lite series, the RML-690 of course comes with 3″ x 3″, 11-gauge steel uprights and is compatible with all Monster Lite attachments.
The only real downside I see is that this is a huge rack – most home/garage gyms probably aren't going to have room for it.
But I'm getting a little ahead of myself.
In this review, I'll be discussing all the specs and features the RML-690 has to offer; I'll also talk about how this rack's specs compare to other racks on the market so you can get an ideas as to how it stacks up.
After reading, you'll know everything you need to in order to decide for yourself whether or not this bad boy is worth buying.
Off we go.
The Rogue RML-690 Power Rack
Rogue's generally considered one of, if not the, best brand around when it comes to home power racks and strength training gear.
Their stuff isn't the most affordable (although I'd argue it's worth what you pay), but it tends to be the heaviest-duty and nicest stuff around.
How's that old sayin' go… you get what you pay for?
Anyway, the RML-690 is just one of many racks and rigs they have to choose from.
And even though it can get a little confusing, when looking at their racks, the model number tells you a lot right off the bat.
The "RML" tells us that this rack is part of their "Monster Lite" series, meaning it has to come with 3″ x 3″ uprights and 5/8″ hardware.
Believe it or not, this is Rogue's mid-level series, their "Monster" series (great name by the way) comes with ridiculously large, 1″ hardware.
Anyway, the number part of the model name also tells us how big it is, with larger numbers indicating a larger size (for example, the RML-690 is bigger than the RML-490, and the RML-490 is bigger than the RML-390, etc.).
And at the time of writing this, the RML-690 is going for around $1760 for just the rack, so certainly an investment.
Pros
3″ x 3″, 11-gauge steel uprights
1000 lb weight limit
Spacious cage interior
Westside hole spacing throughout bench zone
Laser cut holes
Powder coated finish
Built-in storage
Multiple pull-up bars included
2x J-cups included
2x pin & pipe safety bars included
4x band pegs included
8x plate storage posts included
Compatible with all Monster Lite attachments
Can be bolted to floor (but doesn't have to be)
Lifetime warranty
Cons
Takes up a lot of floor space
Uprights
The uprights are the real meat and potatoes of a rack, so I think it makes sense to start here.
As their name probably implies, the uprights are the vertical posts in each corner and these structures are responsible for bearing the majority of the weight you throw on the rack.
So it's largely the size and thickness of the uprights that determine how stable and secure a power rack is.
Most home racks come with 4 uprights, however the RML-690 actually comes with 6, including the extension for the rack storage.
And as I've mentioned already, each upright on this rack measures 3″ x 3″ and is made out of 11-gauge steel, allowing this rack to easily hold up to 1000 lb.
3″ x 3″ is about as large as you're going to find on any home rack, although Rogue does offer a rack with 4″ x 3″ uprights (the RM-43), but that's designed for pro and collegiate gyms.
11-gauge is also the thickest steel you'll likely come across being used on a home rack too.
Rogue uses 11-gauge steel for all their racks because that's how they roll, but you'll see other brands that use 12- and 14-gauge steel as well.
Keep in mind, that when it comes to steel gauges, smaller numbers indicate thicker metal.
The cheaper, budget racks will often use 14-gauge steel because it's, well, cheaper… but it isn't as strong since it's thinner.
Plenty of other brands also offer 11-gauge, 3″ x 3″ uprights t00 – REP, Body-Solid, Titan, to name a few. So this in itself isn't particularly unique.
But Rogue's attention to detail usually sets 'em apart from the rest.
The RML-690, for example, also comes with Westside spacing throughout the bench zones, allowing for more precise bar placement to ensure optimal performance (something many Titan and Body-Solid racks don't offer).
Each upright also comes with a thick, black powder coat to help protect it from nicks and scratches, something cheaper racks tend to neglect.
The major selling point for the RML-690 is really its size though.
This is a full size rack, offering a lot of interior cage space.
The RML-690 certainly takes up a fair amount of real estate and comes with the following dimensions: 80″ x 53″ x 90″ (L x W x H).
The extra length on this model comes from the included extension kit which allows for the built-in plate storage (this is the only difference between the RML-690 and RML-490, fyi).
So in no way, shape, or form is this a compact rack – quite the opposite.
But folks looking for a spacious rack with plenty of built-in storage, this size is going to be a good thing.
Let's see, what else…
This rack uses Rogue's standard 5/8″ hardware and can also be bolted to the floor if you like for added security (hardware sold separately); or connected to a wall with Rogue's wall mount kit.
Overall, the RML-690 scores highly with its large, heavy-duty uprights and weight capacity.
The extension kit turns this already spacious rack into a very large rack, so you  just have to make sure you have the necessary space available to contain it.
Attachments
Something else that sets Rogue apart from most other brands is how many compatible attachments they offer for their racks.
The variety of available attachments will vary a little depending on which Rogue series you're looking at, but each lineup comes with a ton of options.
The RML-690 is part of their Monster Lite series, and it just so turns out that that lineup has a lot of compatible attachments to choose from.
Including, but not limited to:
Matador dip handles
Various pull up bars
Additional weight plate storage
Speed bag platform
Landmine stations
Wall-mount kit
Barbell storage
Safety spotter arms
Strap safety bars
Wall ball targets
Monolift attachments
Rope anchors
Hip thruster bench
Slinger attachment (lat pulldown station)
So yeah, there's a lot of different accessories to choose from, giving you a lot of room to grow and expand your rack over time.
The RML-690 also comes with everything you need to get started too. The included attachments are as follows:
2x J-cups (plastic lined)
2x pin & pipe safety bars
4x band pegs
8x bumper plate storage posts
43″ skinny/fat pull-up bar combo
43″ single skinny pull-up bar
This racks gives you a couple of different options for pull-up grips, as well as all the safety gear you need to start lifting.
Just note that this rack doesn't include any barbells, benches, or weight plates.
Warranty
Rogue backs their RML-690 with the following residential warranty:
And considering a power rack is pretty much nothing but frame and welds, that means this rack is backed by a lifetime guarantee.
Yeah, that's as good as it gets, so there's really nothing to complain about here.
Honestly though, with 11-gauge steel, I'm not sure you could damage this rack if you wanted to, but it's always nice to have that extra peace of mind if something does fail.
Final Thoughts
The RML-690 is really just a larger version of Rogue's RML-490, which I consider to be one of the best overall racks around.
I mean as home power racks go, there's just not much to complain about here.
This rack comes with basically the largest and thickest steel uprights that are being used on home racks and it's also compatible with a large variety of additional attachments.
It also comes with all the basic safety stuff you need to get started and is backed by a lifetime warranty.
And it comes with the convenient Westside hole spacing.
The only downside I see is that it takes up a ton of floor space, but that's kind of the point of this rack – it's big and spacious and comes with built-in plate storage.
That said, it's a good idea to measure out your home gym just to make sure you actually have room for it.
In terms of comps, 2 come to mind: REP's PR4000 Build Your Own and Body-Solid's SPR1000BACK.
With the PR4000, you get to choose which features are included, but the base consists of 3″ x 3″, 11-gauge uprights with Westside spacing.
If we add all the features to make it comparable to the RML-690, it looks like it should cost just over $1500 – so a bit cheaper, but certainly in the same ballpark.
Body-Solid's SPR1000BACK also comes with the same size uprights, the same Westside spacing, similar features, and a lifetime warranty.
And the SPR1000BACK comes with an MSRP of over $2k.
So, based on these 2 comps, I think the price on the RML-690 is pretty fair, all things considered.
Plus Rogue racks just look better than most other brands if you ask me, not that looks should matter that much (but of course they do, let's be real).
Long-story-short: if you're looking for a full-size rack with room for plenty of storage, Rogue's RML-690 is a very smart choice.